We've got the goods on how to experience the world's most exclusive South Pacific islands without totally breaking the bank.
By: Jimmy Im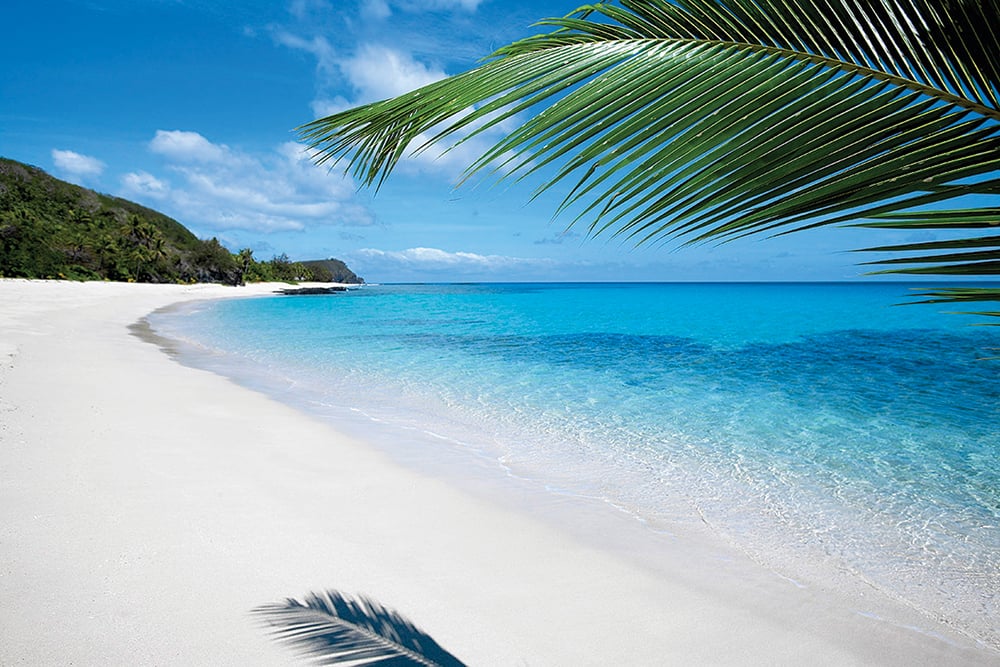 Dream vacation. Trip of a lifetime. Paradise. These are the monikers and synonyms for the tropical daydream of the South Pacific. The triangle that stretches from Hawaii to Easter Island and New Zealand encompasses more than 1,000 islands — only a handful inhabited — is the definition of remote hideaway. Throughout the region, the skies are crystal clear, the sparkling white sands are without footsteps of others and the evening spectaculars — sunsets — are unimaginable. Scattered throughout the Pacific Ocean, romantic island resorts make a jaunt worthwhile, especially since they are the literal birthplace of the ultimate honeymoon must-have — the overwater bungalow. Retreats are authentically retro, while still offering world-class service, fine dining and luxe amenities. Though it's worth the splurge, you don't have to pay fantasy island prices to enjoy an unforgettable getaway. We traveled to paradise and nabbed the best deals around — here are our favorites.
Moorea, French Polynesia
Since the 1970s, the Tahitian Islands of French Polynesia have cast a spell on couples with their storybook romanticism. Honeymooners have canoodled in overwater bungalows, lingered over decadent French-inspired breakfasts delivered via traditional outrigger canoe and sipped champagne while marveling at larger-than-life, magnificent sunsets over crystalline lagoons. While there are almost a dozen unique islands to explore, Moorea is one of the most popular, charming visitors with emerald mountains, sandy-white shores, excellent seafood and a host of luxe resorts.
With the breathtaking landscape of swaying palms and a whole lotta sky, the commanding beauty of Moorea de nes Polynesian Paradise. Barefoot luxury is de rigueur, as are the wealth of land and sea activities. Moorea is one of few places where couples can comfortably whale watch on a budget ($80 per couple), swim with dolphins in the wide, blue sea ($150 per couple), learn to scuba dive in turquoise lagoons (from $60 per person) and sail out to deserted motus for private picnics ($120 per couple). A visit isn't complete without attending a tiki village Polynesian dance show at a traditional Tahitian village ($70 per couple).
Sprawled across 27 lush tropical acres, the Intercontinental Resort & Spa Moorea encompasses an infinity pool with swim-up bar, beachfront and overwater bungalows and an in-house Polynesian dance show and barbecue. Couples can also arrange all the best island activities and excursions right on property (room rates start at $213 a night).
Fiji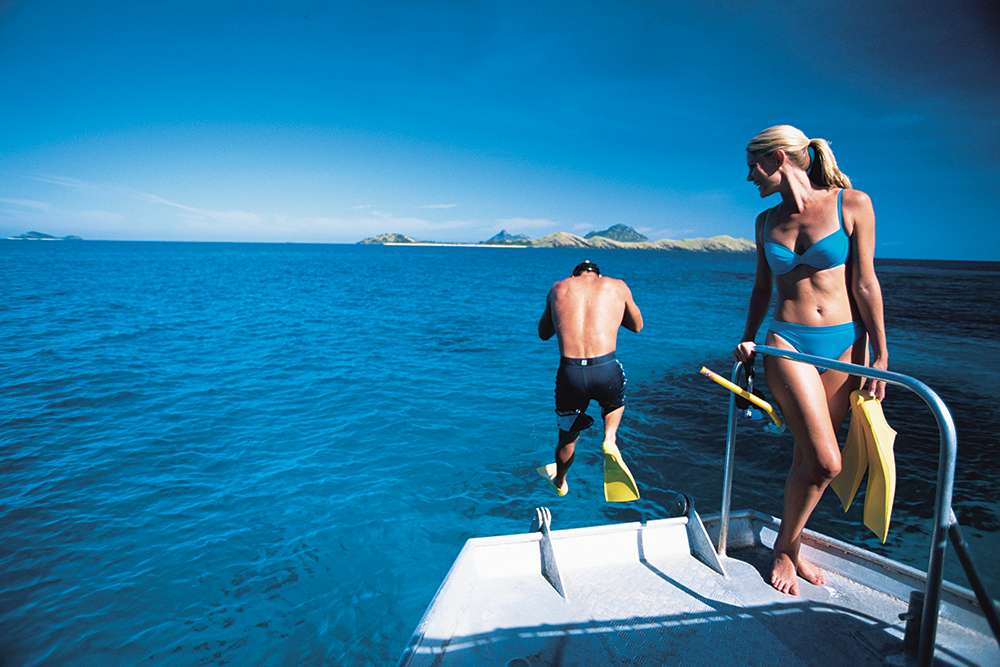 An archipelago of more than 300 pristine islands, Fiji seduces with heaps of white-sand beaches fringed with coconut trees, jungle rivers, magnificent coral reefs, clear lagoons and cascading waterfalls. For culture excursions there are centuries-old island traditions on display at thriving, thatched-roof village communities. Most romantic journeys start on Viti Levu, the gateway to the Fijian Islands, complete with idyllic beaches and myriad water activities. There are rafting excursions in the sublime Navua River ($30), snorkeling day trips to colorful reefs at Nananu-i-Ra ($60) and, not for the faint of heart, diving with resident Tiger sharks at Beqa lagoon ($245). End the day like locals in the buzzy capital city of Suva, which is lined with street vendors, handicraft shops and lively family-run restaurants. The Fijian adventure gets even more #nofilter-worthy the further you go out to sea. An hour boat ride from Viti Levu lie the Mamanucas, a string of tiny, white-sand isles completely surrounded by turquoise waters. Whether you're kayaking or sailing, these sugar sand islands (where Cast Away was filmed) are the definition of photogenic. Island hop over to The Yasawas, a sparsely populated group of some 20 volcanic islands with some of the whitest beaches this side of the planet. Day trips are popular here, which happens to be where the iconic Blue Lagoon movie was shot. ($180 full day and includes lunch). 
Commonly referred to as the "Garden Isle," the lushest of the islands, Taveuni is a magnet to hikers. It teems with tropical flowers and striking waterfalls, and it offers no shortage of gorgeous nature hikes that weave from the magnificent coastline to the verdant peaks. Book into Outrigger Fiji Beach Resort, a rustic affordable waterfront hideaway that is reminiscent of a Fijian village. There's a pretty pool, plenty of outdoor activites and an ample spa menu featuring traditional regional treatments (room rates start at $177 a night).
Palau, Micronesia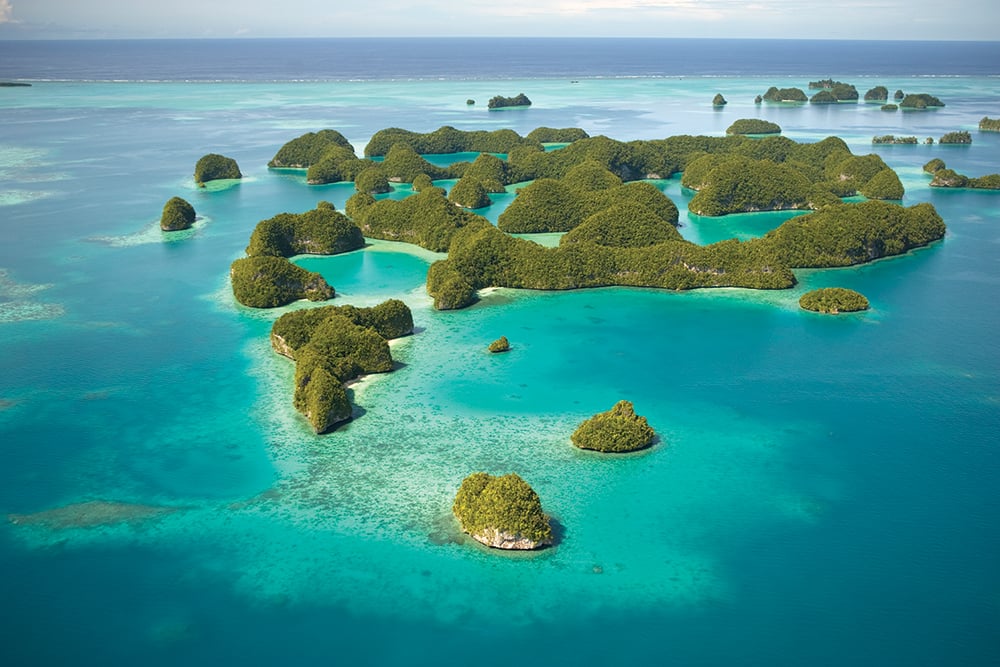 Micronesia remains an undiscovered, sun-kissed gem. Palau is awash with unspoiled beauty from its electric blue waters to lush rainforests. The independent commonwealth comprising 400 islands (of which only 8 are inhabited by a population of 19,000) remains utterly pristine. A kayak or boat ride around the islands offers the sense of being completely off the grid. And there's virtually nothing that makes you feel like you're part of the 21st century (no beach bars, no cruise ships, no jet skis). The rich colors of Palau (deep green forestry, tantalizing blue sky) are intoxicating; it's like a tropical coloring book come to life. And the diving here is unbeatable —Jacques Cousteau wasn't bluffing when he pronounced Palau one of the best diving spots in the world. There are approximately 40 spots ranging from wreck to cavern dives. Don't miss the marquee Big Drop off, considered one of Palau's best underwater dive spots.
If you're not certified, the crystal-clear waters make the perfect underwater paradise for snorkelers, who will find themselves among more than 1,000 species of fish, diverse sea creatures, WWII artifacts and colorful coral reefs. Fish 'n Fins, the premiere tour operator in Palau, offers plenty of diving excursions that start at $160 for a full day. Nothing can prepare you for the divine moment you'll experience at Jelly Fish lake, hailed as one of the most phenomenal natural attractions in the world. ranging in mass from of the size your fingertip to that of your palm, stingless mastiga jelly fish float around you as you snorkel.
Don't worry: The hundreds Easter Island's famous site of pulsating, nonchalant golden invertebrates lost their sting thousands of years ago. The experience is surreal and completely awe-inspiring. Excursions are $50 per couple with Fish 'n Fins. Stay at Palau Royal Resort, a no-frills property with simple island motifs and decor set on a beautiful beach. The watersports are tops (room rates start at $290 a night).
Easter Island
The most eastern destination in the South Pacific (and the most remote inhabited place on earth), Easter Island is a secluded, volcanic isle of the Polynesia triangle, though it's part of Chilean territory (it's predominantly Spanish-speaking rather than French), located a four-hour and 30-minute flight from capital Santiago de Chile. Among the islands of the South Pacific, Easter Island aka Rapa Nui, is the most mythic, world-renowned for its famous and unexplainable archaeological sites created by inhabitants during the 13th and 16th centuries. These statues, known as moai, carved human figures with oversized heads, beckon to all who arrive to these shores, as do the Polynesian-Chilean culture and unique attractions throughout the island.
Rapa Mui is a breathtaking expanse to experience, with the majority of activities celebrating outdoor adventures like mountain biking, volcano hopping and mountain trekking, along with the thrill of gazing upon the moai statues (full-day tours start at $90 a couple). You can get the lay of the land on an ATV and circumnavigate the island ($30 for a 24-hour rental). The scenic vistas are stunning from many vantage points and the journey only takes a couple of hours. It's also common to take a dip in the warm waters (over the winter months), explore the rugged landscape via horseback ($115 per couple) and try surfing ($75 per couple). The chic Hangaroa Eco Village & Spa, a 75-room, environment-friendly boutique property, is a homage to local culture and the island's natural amenities. The resort, right in town, offers two restaurants with locally sourced menus, an outdoor pool, spa and both land and water excursions (room rates start at $300 a night and include breakfast and transfers. Two night minimum stay).