Just the name of this Indonesian island province quickens the senses. Like a suggestive whisper, it speaks of bliss and romance.
By: Becca Hensley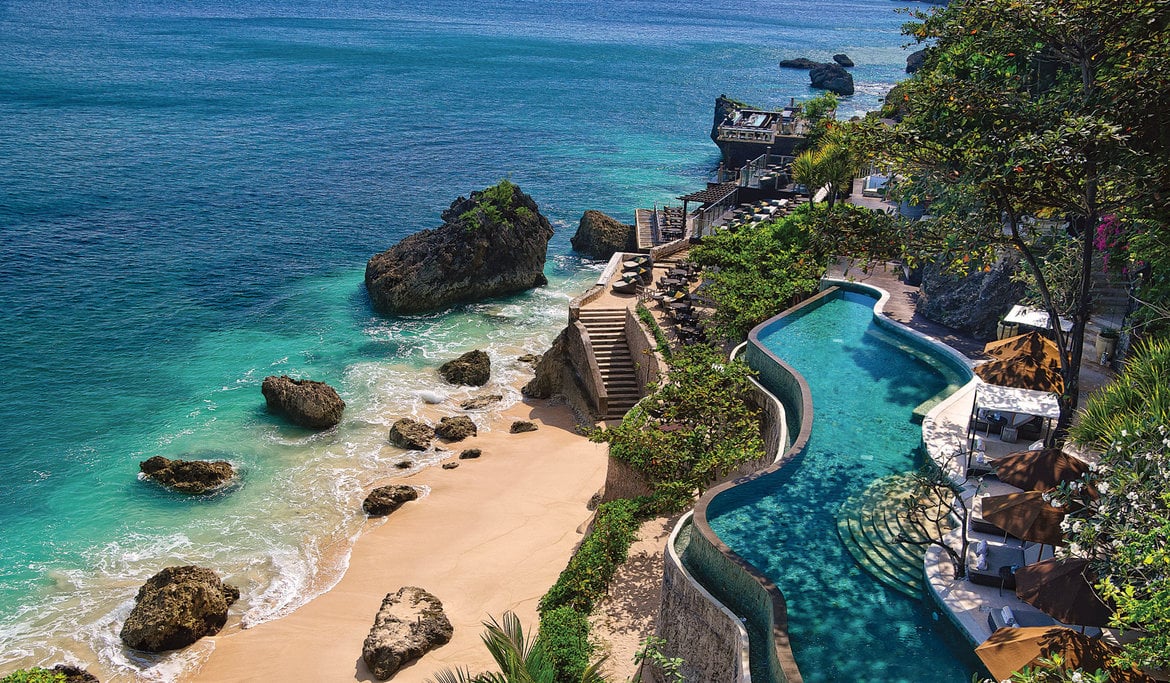 Photo courtesy of Ayana Resort & Spa
This lush Indian Ocean isle is sun-drenched with snow-white beaches, temple floral offerings as elaborate as bridal bouquets, emerald-green rice paddies, picturesque villages shadowed by towering volcanoes and monkeys as frisky as naughty children. Mystical, curative and spiced by the influences of Arab and Indian traders, Bali promises an exotic tranquility, ideal for honeymooners on a love, pray and eat kind of quest.
Get Rocked
And we're not talking about your diamond ring. At Ayana Resort & Spa you'll no doubt experience the best couple's spa treatment of your life. though this 290-room property boasts the award-winning themes Marins Bali spa, the ultimate relaxation happens at spa on the rocks. Capping two adjacent islets of lava rock amid the turbulent, azure Indian Ocean and accessible by a bouncy wooden bridge sit two traditional huts that serve as individual treatment rooms. With the waves as your serenade, bask in the two-and-half-hour diamond miracle, which includes a bath awash with the petals from 500 organic roses. A massage with elements of pearl, silk and pure diamond dust add to the allure (room rates start at about $235 a night; ayanaresort.com).

Photo courtesy of Ayana Resort & Spa
Melting Pot
A melange of historical influences and cultures convene to comprise Indonesian food. And the veritable buffet of Bali embraces international flavors legitimately making them their own. One of the best spots to discover the nation's European legacy is at Mozaic in Ubud, where French gastronomic traditions meet Balinese flavors. In an indigenous setting helmed by a top chef, linger over fine wines paired with multi-course tasting menus, which change daily. Finish the night at Jazz Café and its euphonious ambience. In Jimbaran, try Ayana Resort's Padi eatery, which celebrates the Asian heritage of this floral island.
Namaste
Though yoga originated in India, Bali's long been a yogi's paradise, with the verdant town of Ubud as its center. Practice beneath the palm fronds at Yoga Barn, beside a bubbling brook. Or commit to a retreat-style wellness getaway at the luxe Como Shambhala Estate, a rainforest-ensconced enclave that suggests a misty dream. With Javanese-style structures, round-edged infinity pools and nooks and crannies aplenty, you'll feel like you are the only guest. Floating treatment rooms, healthy menus and an emphasis on the healing arts define your stay (room rates start at $850 a night and include some meals and activities; comohotels.com).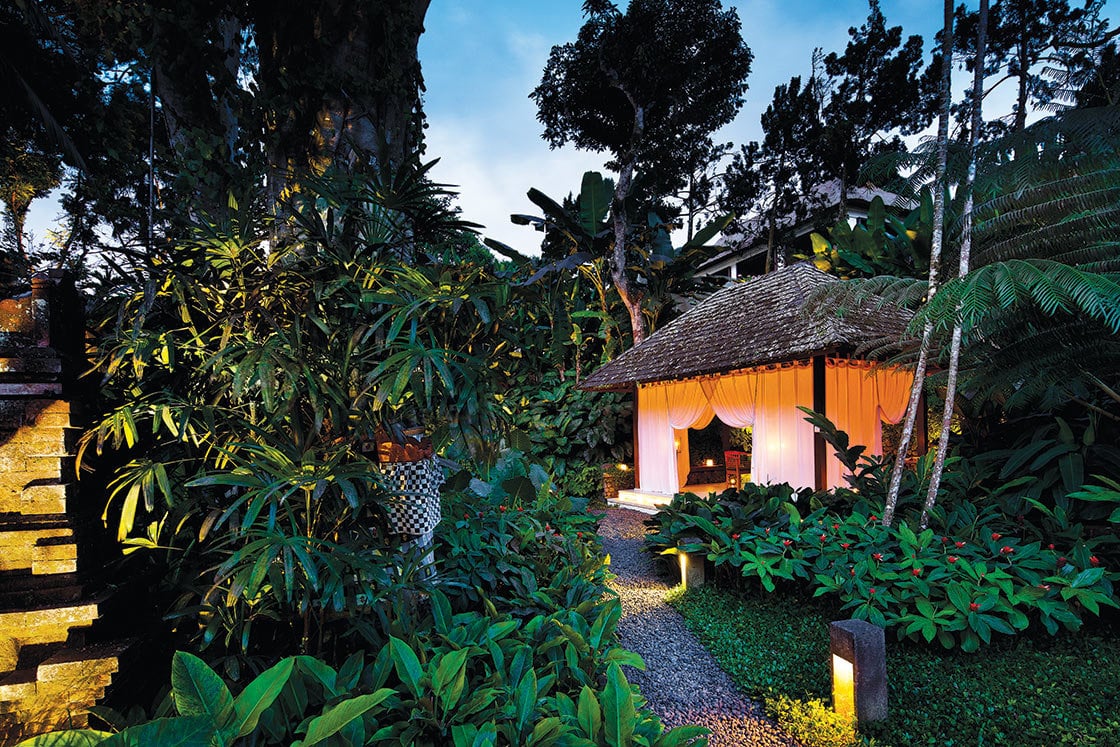 Photo courtesy of Como Hotels and Resorts
Sun Salutation
You'll have to wake up early — but it's worth it. Hike up Mount Batur, Bali's most sacred mountain, still an active volcano. With flashlight in hand, you'll negotiate the challenging ascent for about two hours, to arrive at the top just as the sky bursts into fuchsia, lavender, and tangerine — the colors of a Balinese garden. Your guides will cook breakfast by the stream before you descend to enjoy a day at the beach.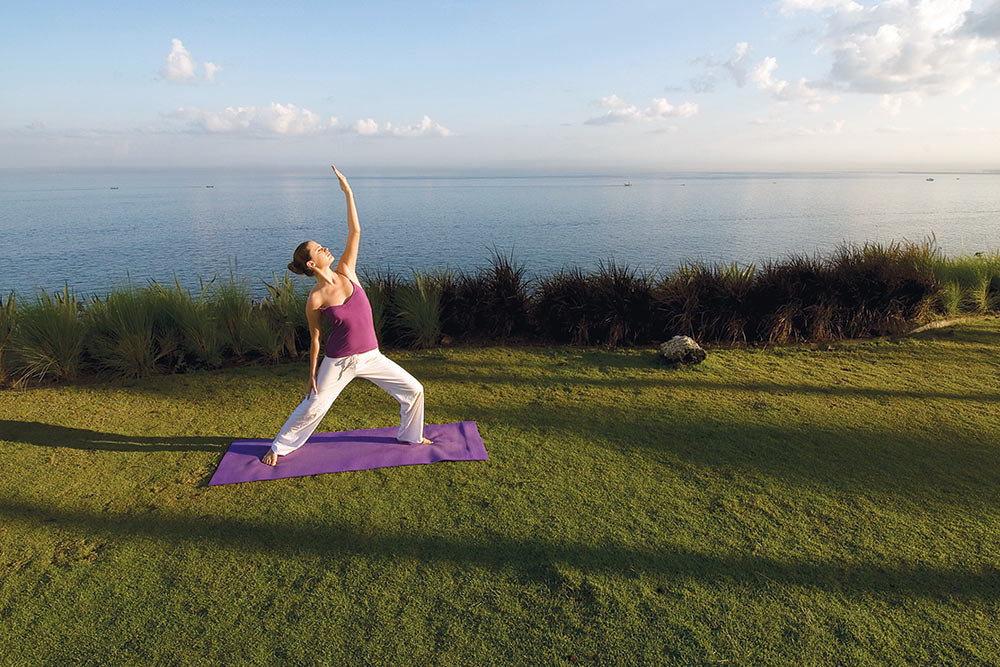 Photo courtesy of Ayana Resort & Spa
Starry Night
You won't need a telescope to see the stars — though one can be provided. Splurge on a romantic dinner next to the dazzling lotus pond, which occupies the rooftop at the Four Seasons Bali Jimbaran Bay and you'll marvel at the night sky. This crow's nest is an ethereal space with 360-degree views, and seems to hover above the property. Candles, flowers and a dedicated server delivering your choice of indonesian or Western fare combine to make the evening unforgettable (room rates start at about $475 a night; fourseasons.com).

Photo courtesy of Four Seasons Hotels & Resort
Beach It
It may seem obvious, but in fact, some visitors stay inland to enjoy the jungle in Bali and seem to forget that they've come to an island. Tempting crescents of both black and white sand abound. Relax amid the wild mangroves, palm trees and orchids at Nusa Dua Beach, boasting fantastic snorkeling and crystalline water. Surfers enjoy Kuta Beach, which has a plethora of beach clubs, late-night party venues and that cowabunga vibe. Near Uluwatu temple, Padang-Padang Beach is quintessentially Balinese, with large otherworldly rocks, dotted with greenery and flowers, hidden caves and watchful monkeys.
Temple Time
Upon seeing the abundant, artfully created prayer baskets, left in homage far and wide by residents, you'll have a yen to make one for yourself. Balinese roadside vendors happily assist from their stands, where they hawk the ingredients for your oeuvre: flowers, fruits, rice in many colors, palm leaves, candy, incense and bits of ribbon. Then take your sacred creation along to visit any of Bali's 20,000 temples, most of them historic. A favorite is Goa Gajah, known as elephant Cave. Dating from the 11th century, this homage to shiva and Ganesh (the elephant-headed god) has a threshold carved to look like an ancient face.

Photo courtesy of balitourismboard.org
Travel tip: Bring an extra suitcase. Wonders await in the treasure trove of markets, which offer hand-painted sarongs, scarves, leather purses, carved wooden items, paintings, shoes, hats, hand-made kites and more.