Level up your happily ever after with a stay on a private island resort.
By: Jenna Mahoney
-AS SEEN IN BRIDAL GUIDE MAGAZINE-

The Pacific archipelago the Maldives is one of the world's most fantastical destinations. It is a place where coral atolls, islets and larger beach-fringed land masses are surrounded by crystalline waters. At this sanctuary just 20 minutes from the main island of Male, three-, five-, and seven-day wellness programs parallel the spiritual and local-based philosophy on sustainability. Breezy overwater bungalow accommodations are crafted with local woods and feature furnishings made from sustainably sourced bamboo and teak, among other materials.
The holistic spa is the centerpiece of this barefoot-luxe retreat where hammocks swinging over the water are a common sight. Healing rituals are based largely on Ayurveda practices and are customized (room rates start at $1,140 a night and are all inclusive).
After landing at an airport that inhabits its own island, visitors to this ultra-luxe retreat transfer via private yacht. The ride is nothing short of spectacular thanks to the water's myriad shades of blue punctuated by verdant islands ringed with powdered sands. The resort itself excels in all the accoutrements of French Polynesia, including overwater bungalow accommodations and spectacular snorkeling along the shoreline of the secluded island. An ultra-pampering spa beckons with traditional healing practices and private yoga sessions looking out onto the painterly surroundings. And excursions, including a sunset cruise, are available on that aforementioned yacht (room rates start at about $1,015 a night)
This stately family-owned hideaway stands in one of Maine's most famous bays—Casco, a source for seafood (did someone say, lobsters?) sailing excursions and only-in-Vacationland rocky shore vistas. Guests here relish in classic New England offerings of the seasonal destination including biking, beaching, tennis and golf. Of course, there's also kicking back and enjoying the surroundings in Adirondack chairs on the grand lawn, and spending evenings around the fire roasting marshmallows. Meals are garden-fresh and sourced both on-island and locally as are the shellfish and other seafood (room rates start at $199 a night).
Brilliant may be too weak a word to describe the intense — and varied — hues of blue that stretch between the sun-soaked islands of the Caribbean Turks and Caicos. Here, everything feels a little more vibrant thanks to the saturated technicolor show that is nature and her offerings. Add a dash of luxury, a blend of stellar service, and the ultimate in privacy, and you've got the makings of an ultra-romantic hideaway.
This private island resort encompasses villa and suite accommodations; the latter with stunning beach views (room rates start at $3,600 a night for two and are all inclusive.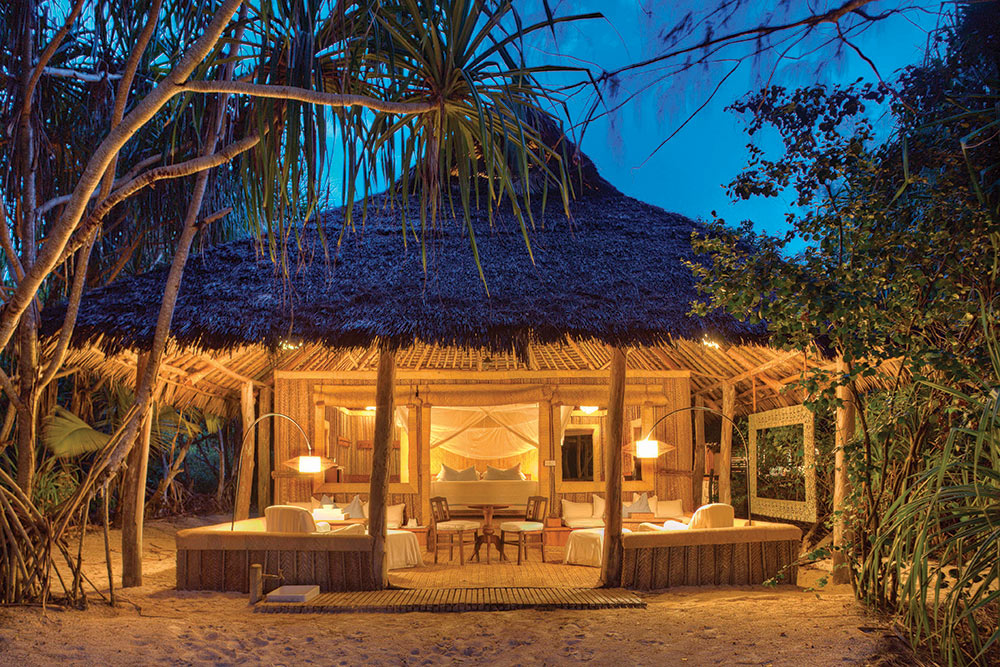 Eleven bandas (palm-frond, thatch-roofed accommodations) occupy this mile-around islet positioned to the northeast of Tanzania's Zanzibar, the African island that was once at the center of the world's spice trade. Barefoot luxury is the ethos on Mnemba, a coral atoll, where guests are led on nature excursions including scuba, snorkeling, fishing and bird watching.
Sails aboard traditional dhow (single mast) boats glide by dolphins and turtles. Star-laden nights welcome dinners-for-two that can be arranged on the beach or in your villa (room rates start at $1,830 per person, per night and are all inclusive).
This paradise on earth has been welcoming guests to its pristine sugar sands shores in the British Virgin Islands since 1934. Today's castaways splash in the waters of those same seven beaches, explore those untouched 850 tropical acres latticed with hiking trails and dense with gorgeous flowers and retreat in just 18 bespoke accommodations. Guests also enjoy all manner of pampering from an attentive staff that specializes in everything from nature walks and watersport instruction to spa treatments and exquisite cuisine. Day trips include snorkeling adventures and excursions to a neighboring island that inspired the classic novel Treasure Island (room rates start at $890 a night and are all inclusive).
Fun Fact: Marlon Brando, Johnny Depp, Tyler Perry and Leonardo DiCaprio all own private islands. DiCaprio is said to be developing his property in Belize into an eco-lodge. The Brando in French Polynesia is one of the world's most exclusive island resorts.