A recent stay at Atlantis, The Palm, Dubai revealed a world of honeymoon-perfect delights for couples not only seeking post-wedding R&R but also fun, romance, fabulous dining, and more.
By: Diane Forden
This magnificent, nautical-themed 1,544-room resort sits at the center of Palm Island on the Arabian Gulf affording dazzling views of the Dubai skyline in the distance.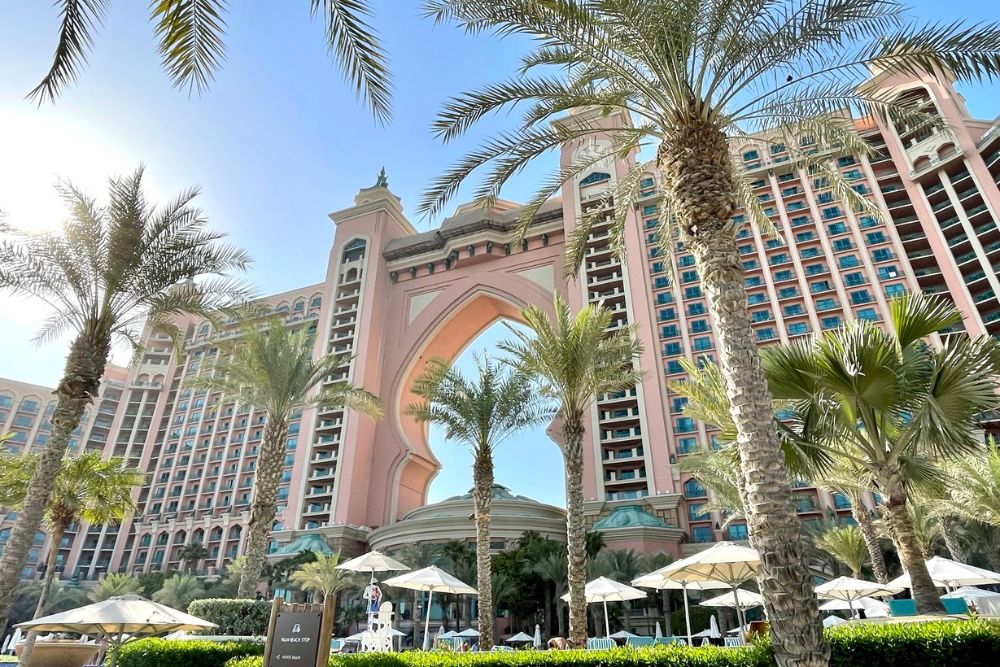 Upon entering the Grand Lobby, I was immediately awe-struck by the towering Dale Chihuly glass sculpture featuring 3,000 pieces of colorful hand-blown glass surrounded by tall, shell-motif columns.
Throughout the resort, the nautical décor and floral displays are stunning.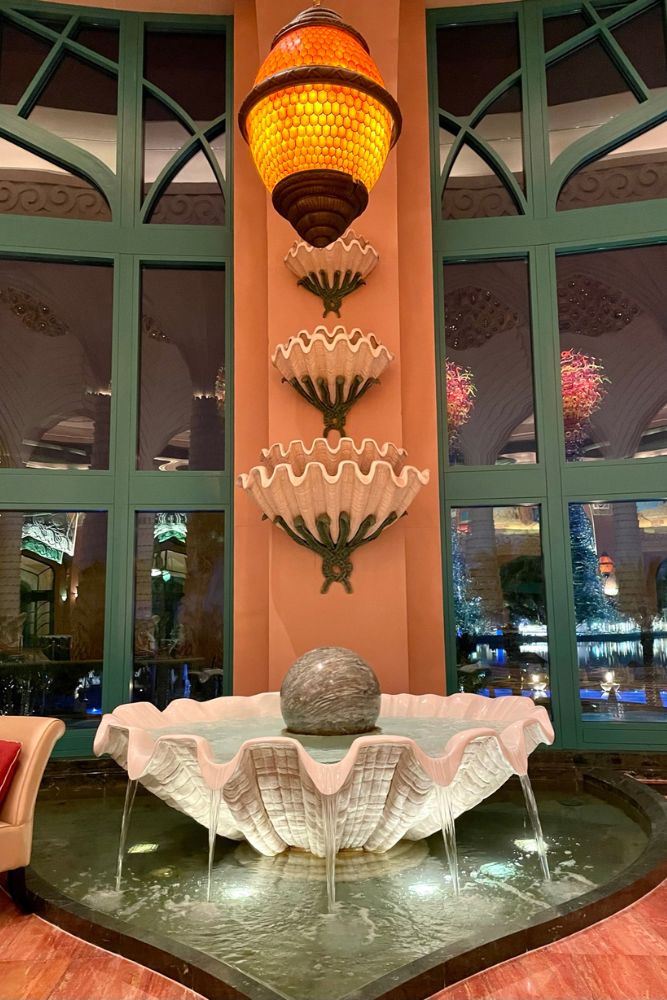 The luxe, spacious accommodations boast an elegant, contemporary design appropriately done up in shades of sand and sea. This personal oasis will have you feeling right at home in no time. Each room comes fully equipped with Wi-Fi, a flat-screen TV and a sleek, modern bathroom with marble floors, stand-alone tub, double vanity, and rain shower. My room, with a balcony, overlooked the pools, beaches and glittering Dubai skyline across the way, providing incredible views both day and night.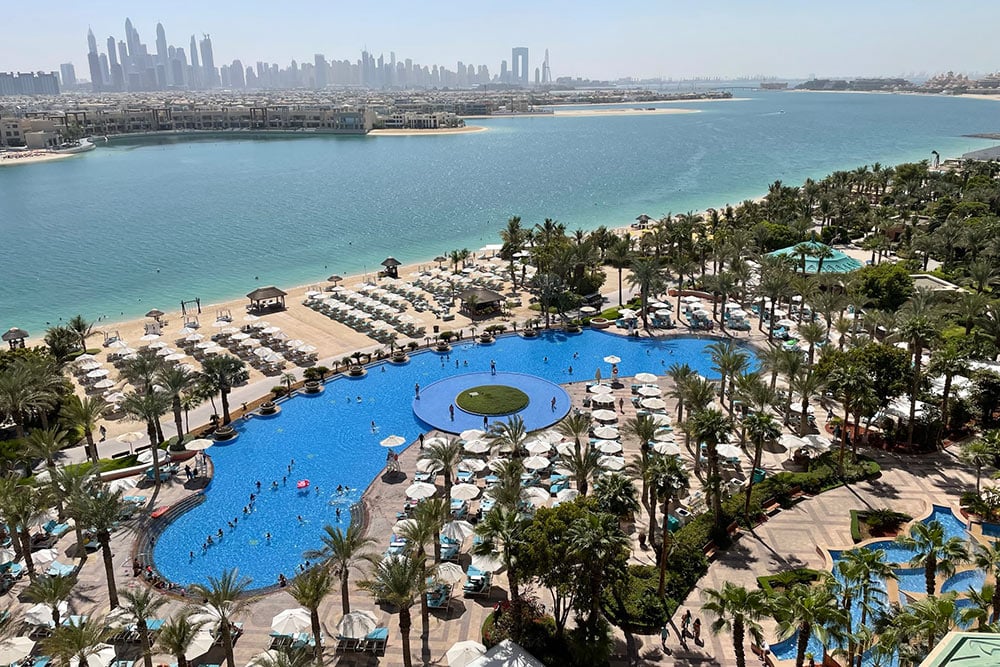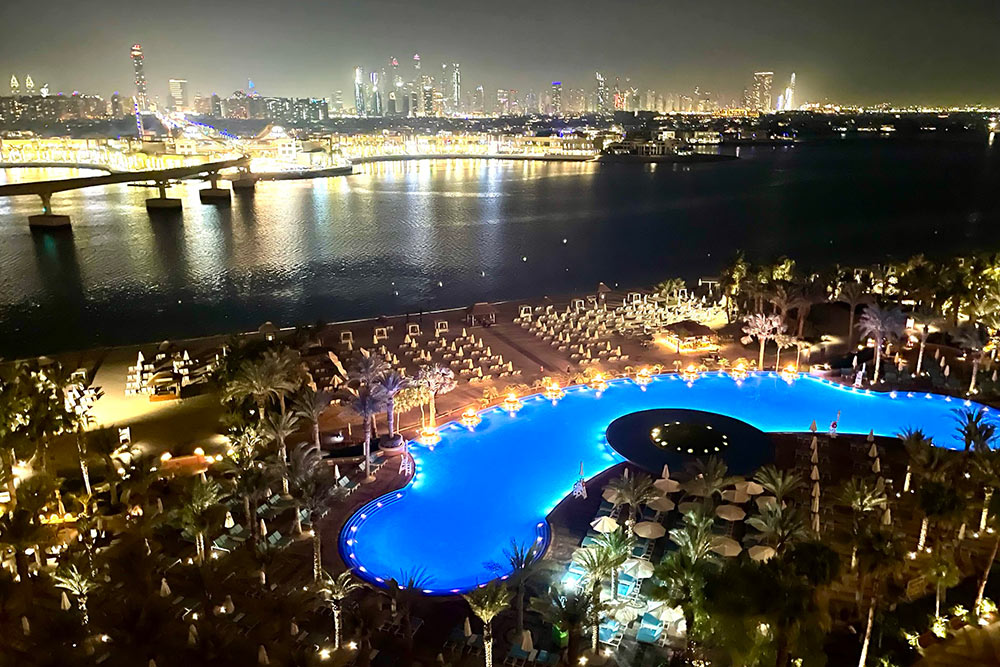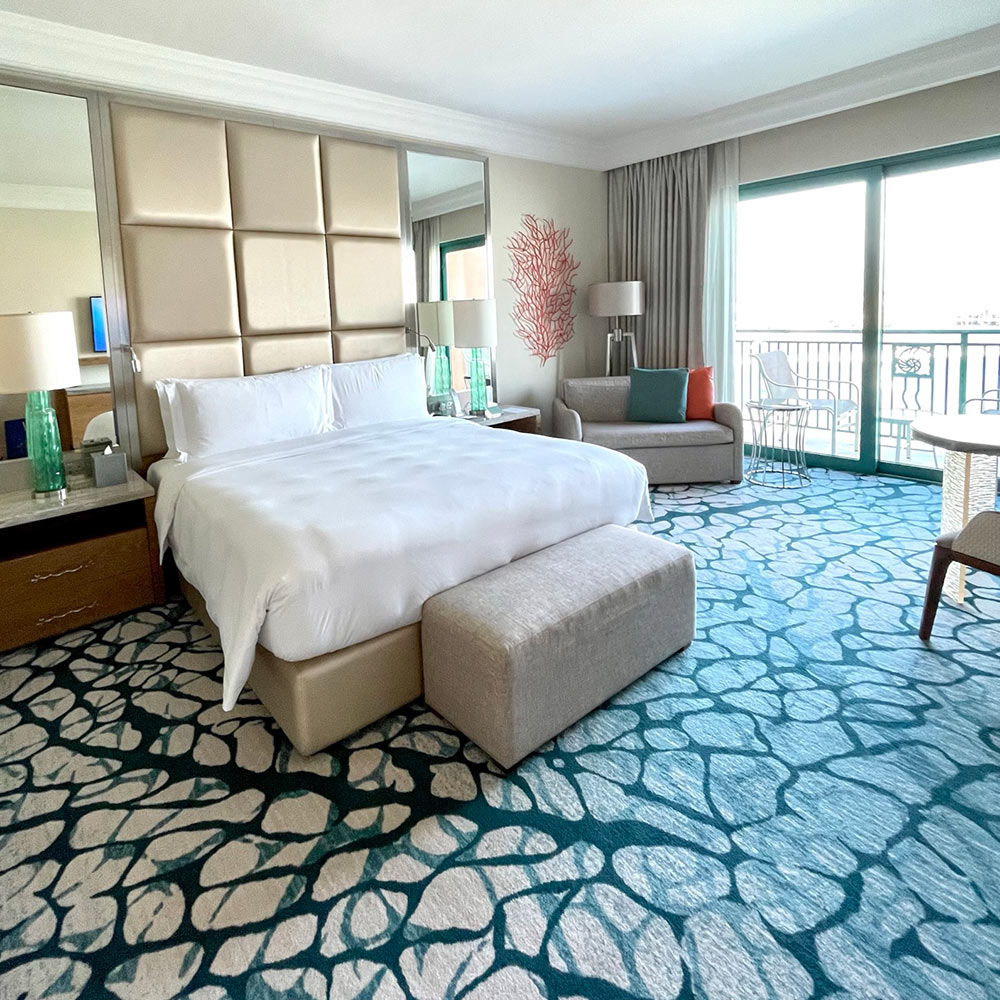 By the Sea
Unwinding fat a pool or beach is a given, and you'll find plenty of comfy lounge chairs in the sun or shade available. There are several scenic beaches, including White Beach and Palm Beach, where you can chill in a lounge chair or rent a cabana. Take a dip in the gulf or check out the water sport options at nearby Watersports Beach.
Waterpark Wonders
After spending time recharging and relaxing, head over to Aquaventure, one of the world's largest waterparks that recently set a Guinness World Record for having 50 waterslides. Meander throughout the waterpark (over 55 acres), and you'll discover more beaches and pools and over 105 slides, rides, and other attractions. Ride the rapids or chill on a lazy-river tube.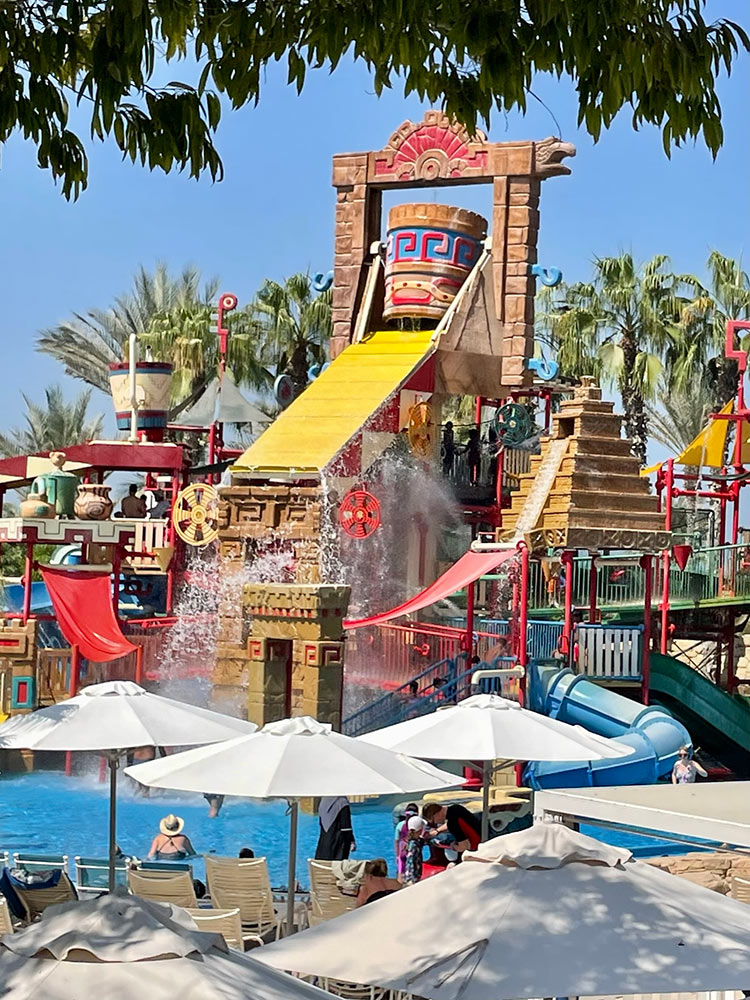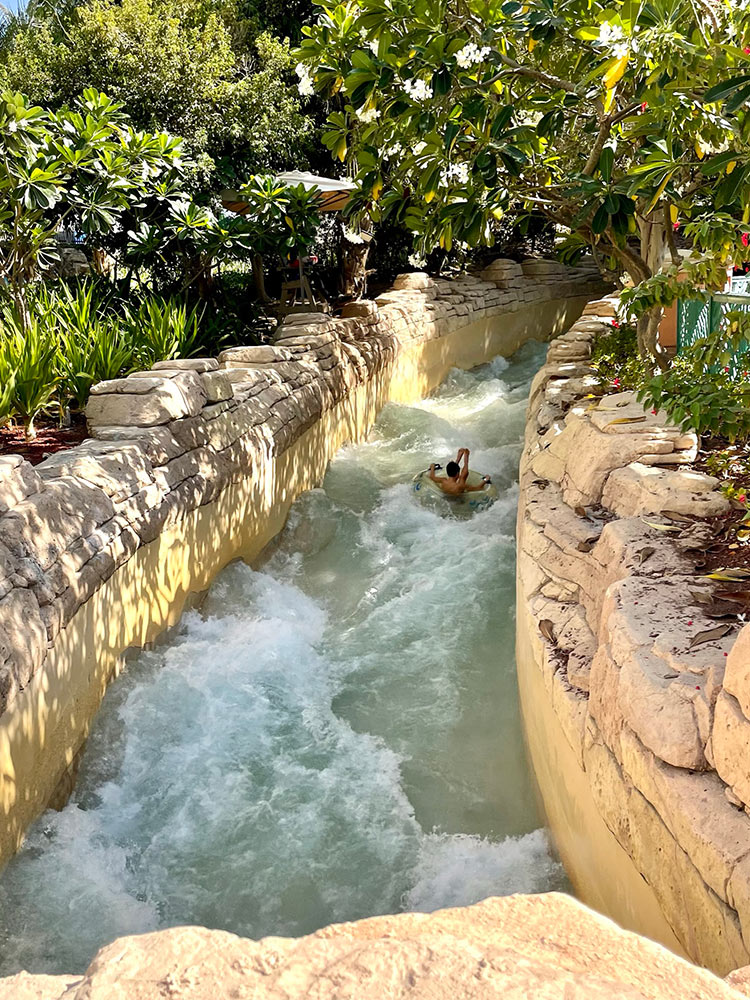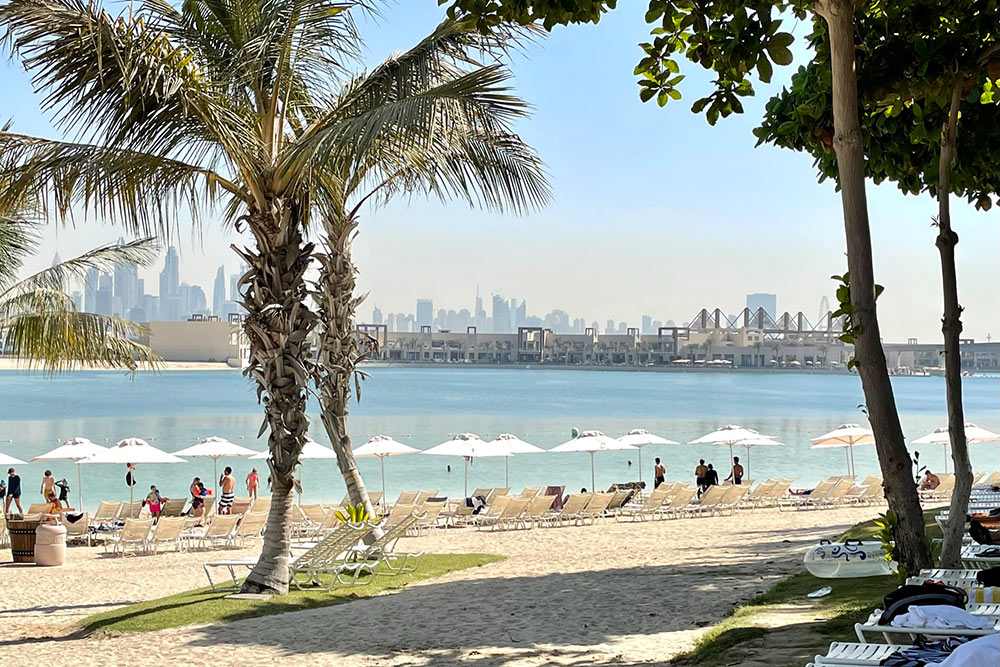 If you dare, plunge down the Leap of Faith waterslide (9 stories high!) at the Tower of Neptune, or snorkel with sharks, stingrays, and tropical fish in the Shark Lagoon. I passed on the waterslide but did enjoy the perfectly-safe Shark Snorkel, which was a thrill. The guide is in the water with you, and beforehand gives a snorkel how-to tutorial and shows images of the sharks and stingrays that will be swimming all around you.
Get Pampered
Back at the resort, treat yourselves to spa treatments at ShuiQi Spa & Fitness, which houses 27 treatment rooms, a Jacuzzi, sauna and steam rooms, and gym. The spa's serene ambience features lounges and relaxation areas. Facials, body massages, and couples' massages are available — there are over 60 treatments — and my hour-long, soothing relaxation massage went by all too quickly.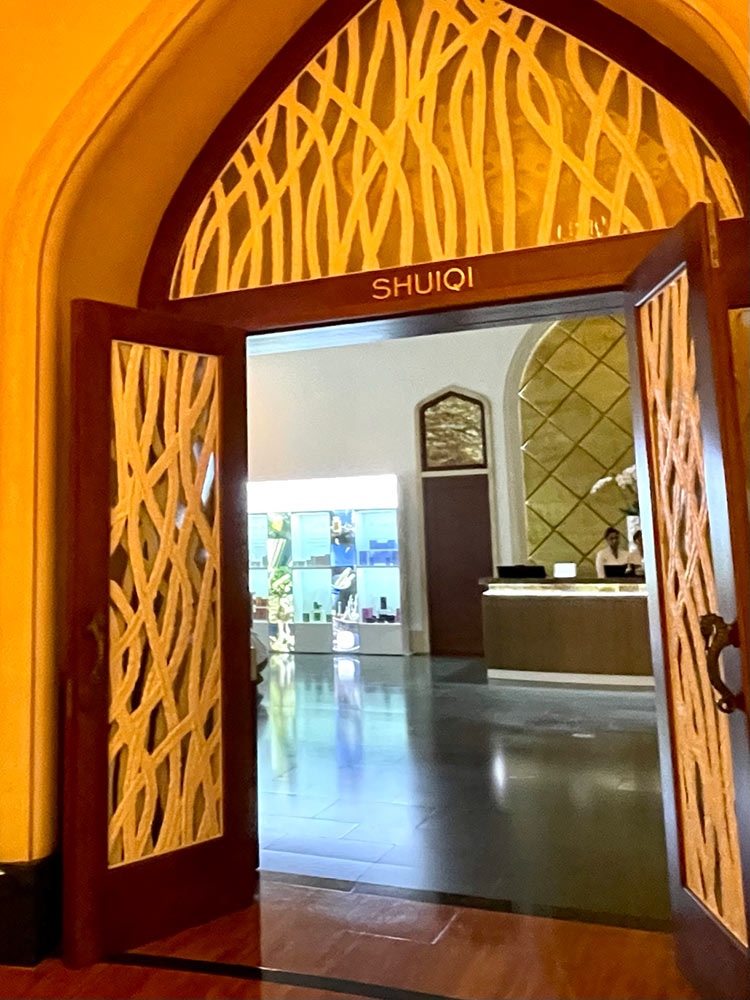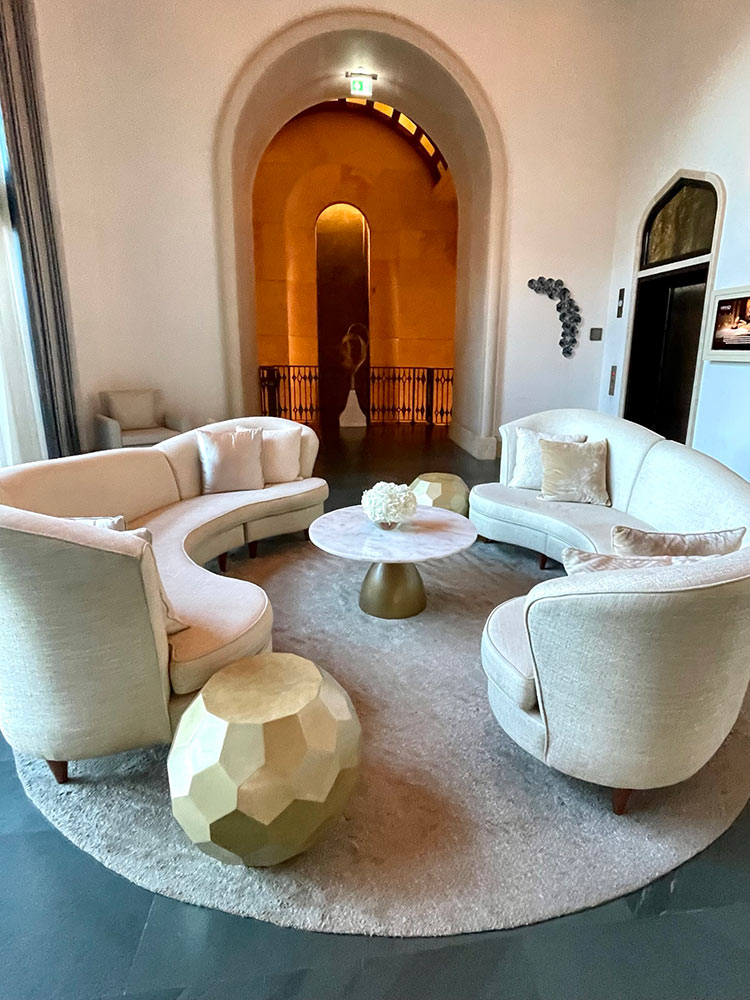 Across the way, you'll find Nailology, and I highly recommend either a manicure, pedicure, or both. My manicure had to be the best ever. Bonus: Any rings you're wearing are placed into a jewelry cleaner on the table, and a hand mask treatment is an unexpected plus. You can also order a cocktail or mocktail to enjoy as you revel in your hand mask, massage, and polish application.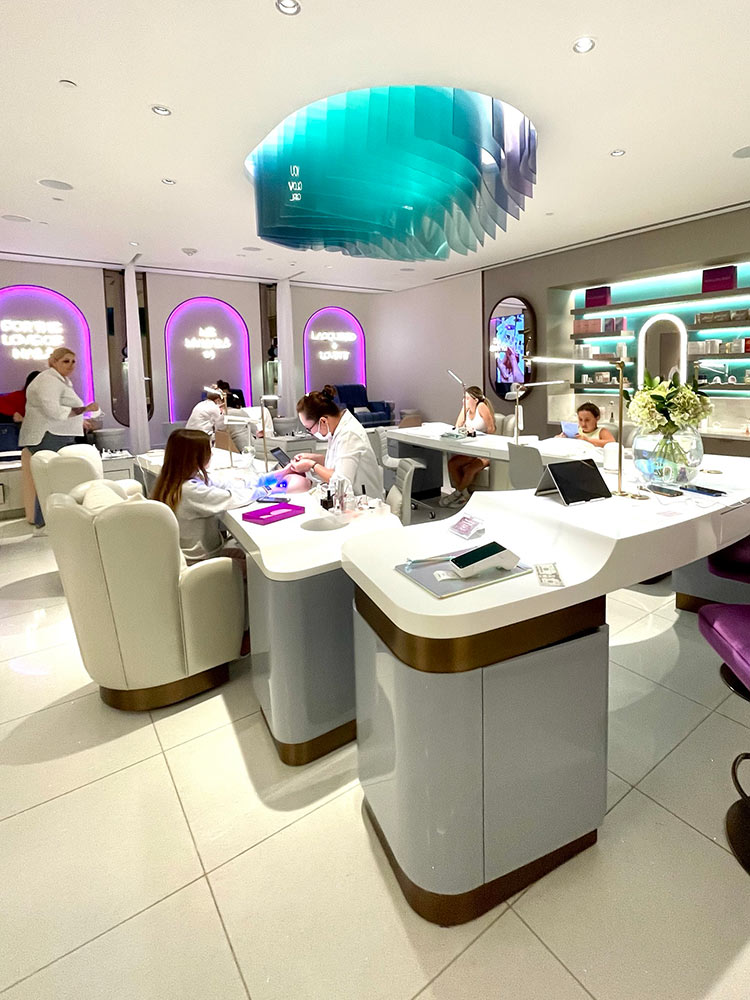 Under the Sea
One of the most unique attractions at The Atlantis is the incredible Ambassador Lagoon and The Lost Chambers Aquarium, home to 65,000 marine animals and 250 species. This mesmerizing display of sea life, viewed by guests through glass panels on the lower level of the East Tower, is fascinating and allows you to get up close and personal with a variety of aquatic creatures. Yoga classes are also offered in The Lost Chambers of the Aquarium. Although not a Yogi aficionado, I thoroughly enjoyed the class and afterwards strolled throughout the chambers to view more sea life.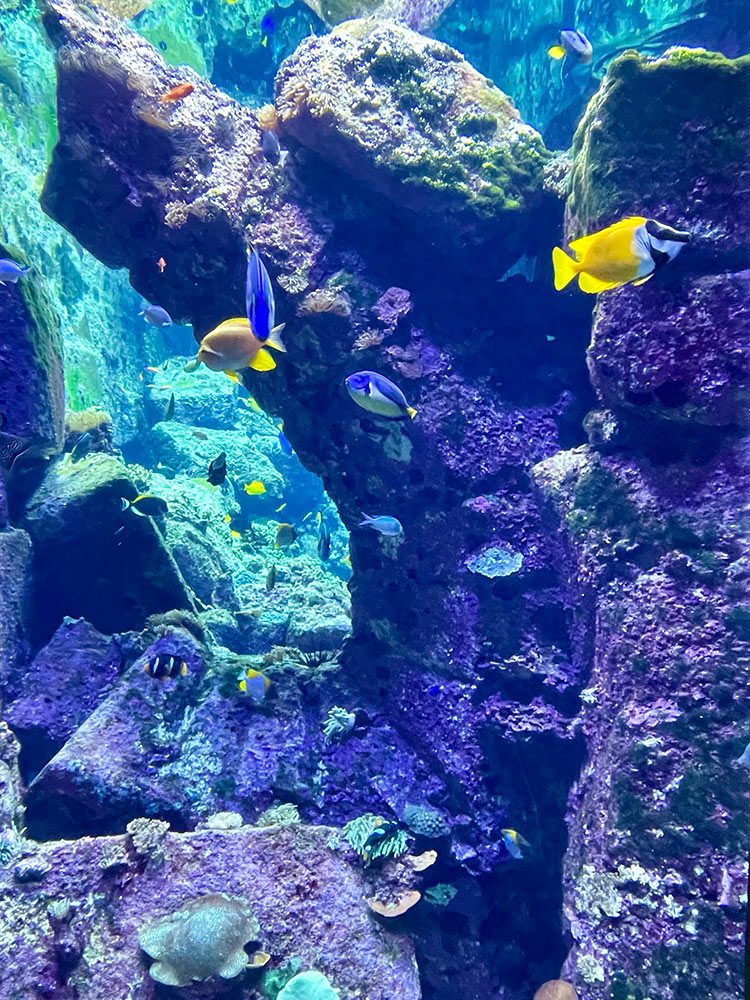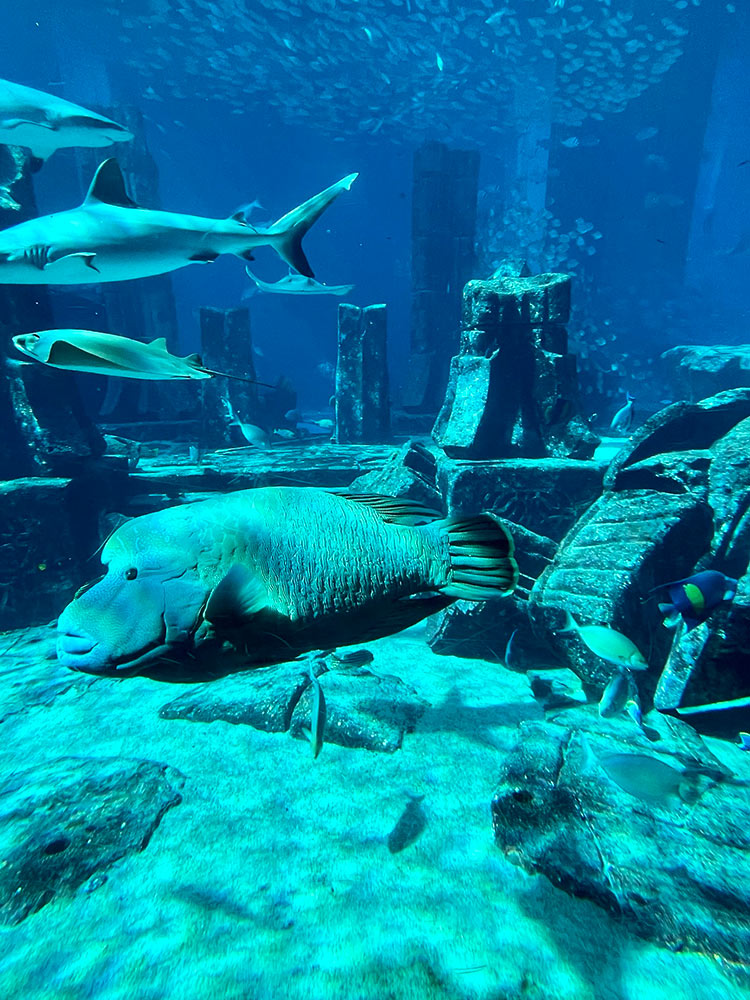 On the Menu
There's no shortage of fabulous culinary options available at Atlantis, with its 35 restaurants, bars, and lounges, including four celebrity-chef eateries (Nobu, Hakkasan, Gordon Ramsey Bread Street Kitchen, and Street Pizza by Gordon Ramsey). I guarantee you're in for a treat: Every meal I enjoyed was an exemplary palate-pleasing experience.
There are two buffet restaurants, Saffron and Kaleidoscope, with extensive choices that range from Western to Asian dishes. Breakfast, lunch, and dinners are served here, with Saffron specializing in Asian fare. There are live cooking stations, carving stations, sushi stations, Korean BBQ, and Dim Sum, as well as plenty of American-style dishes. And, needless to say, desserts are plentiful. It can be overwhelming deciding on just what to eat, so take time perusing the buffets to check out the many dishes on offer. You can always go back for more!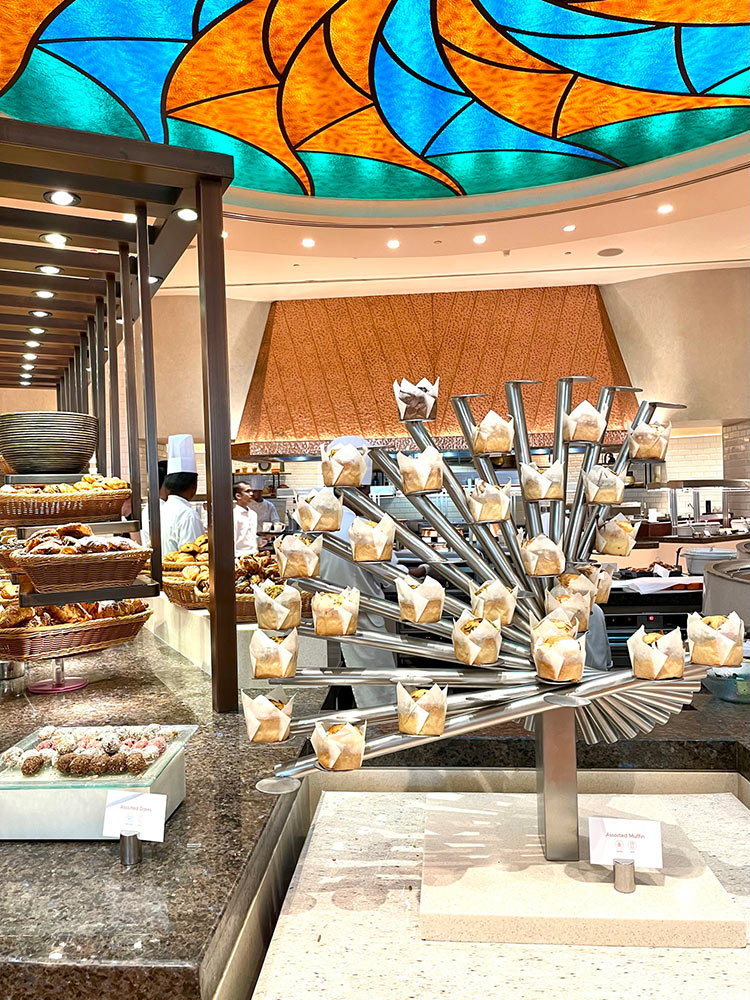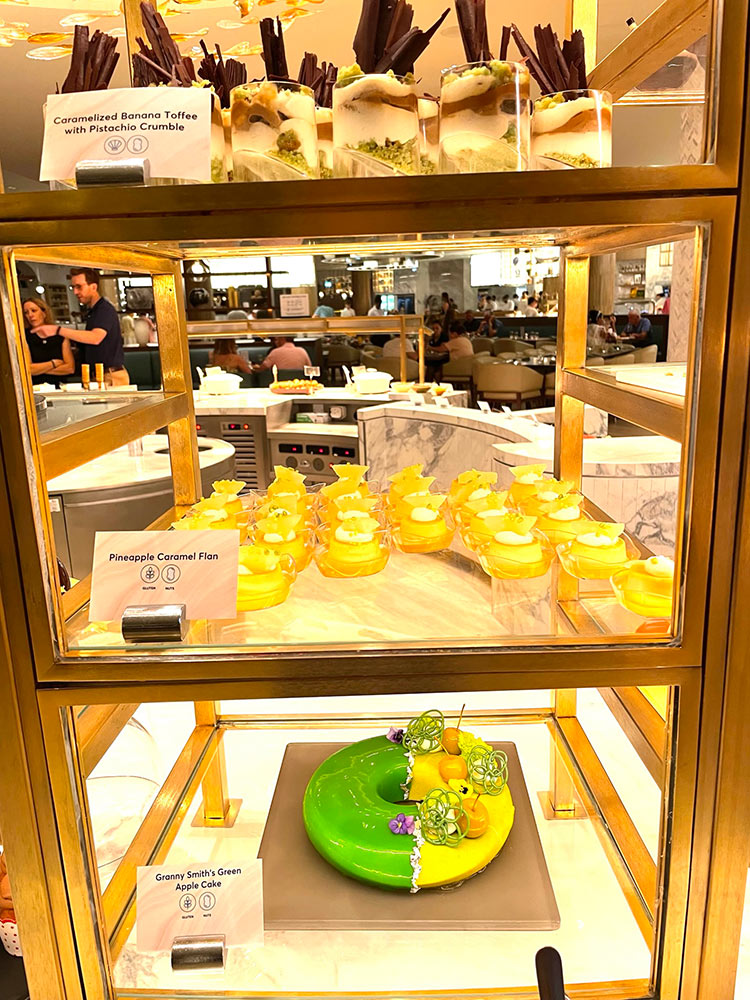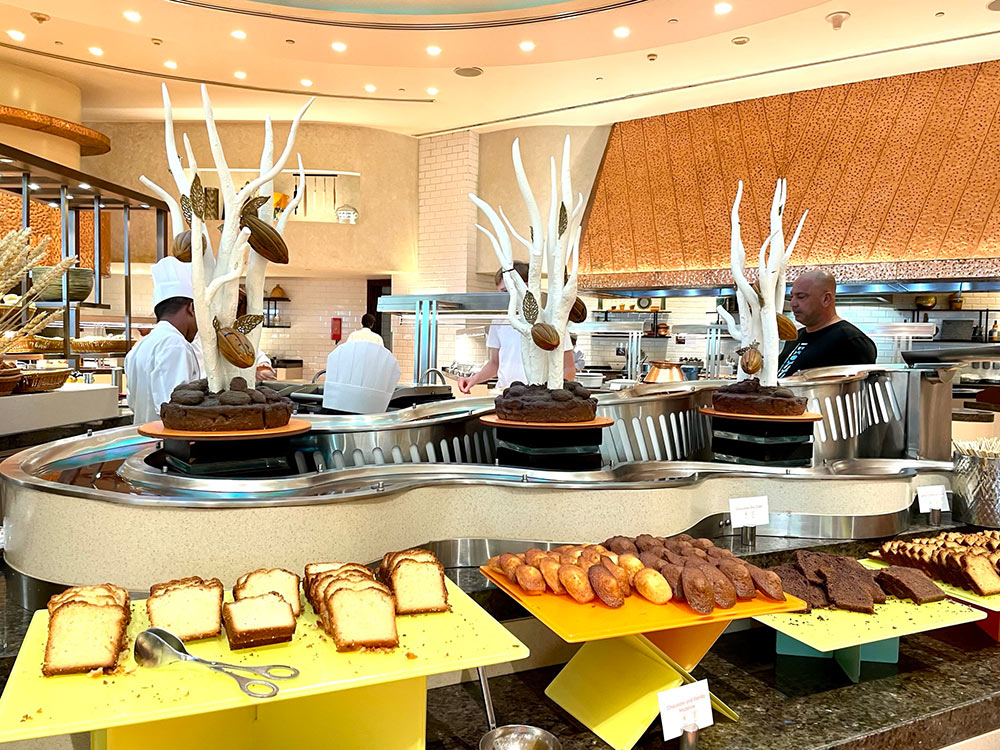 You'll also want to toast your marriage many times over in the resort's sleek, modern restaurant and lounge bars.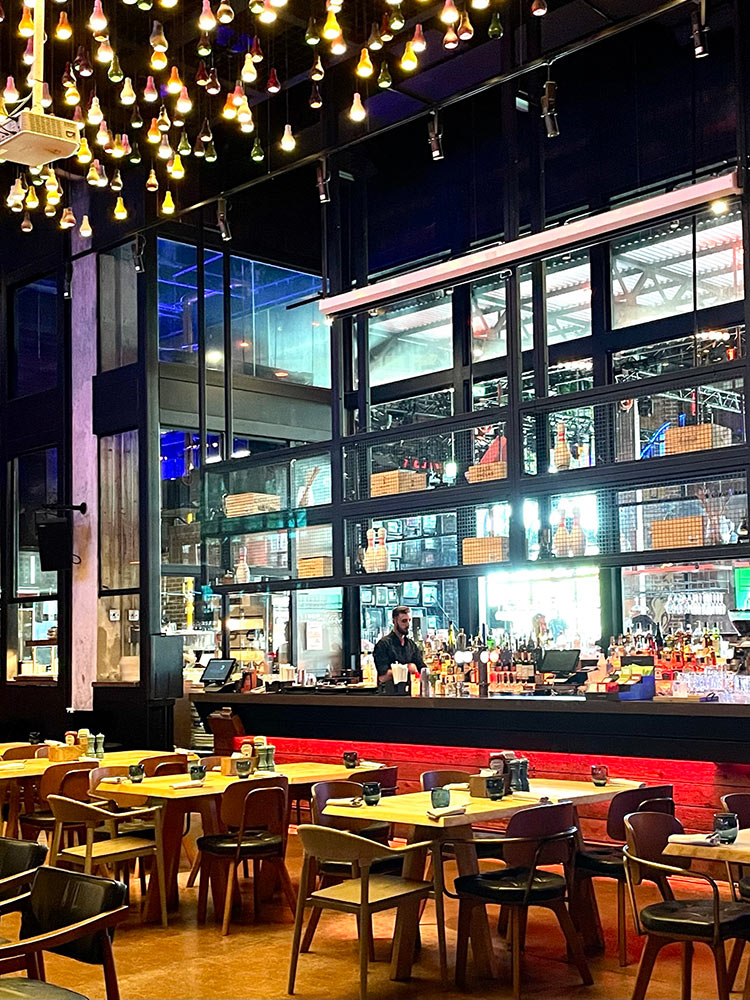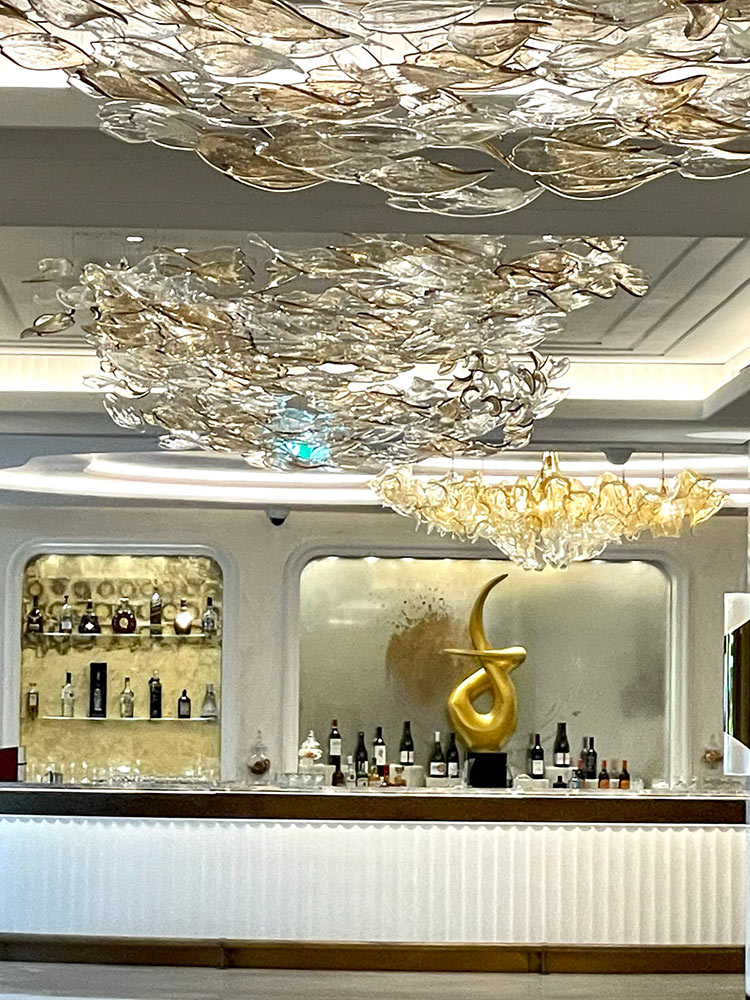 One of my favorite spots was at Hakkasan, where I stopped by for a cocktail before dinner. The lounge was ultra-chic and the drinks menu extensive. I ordered the "Mistress of Deception." (The "bubble" of smoke dissipates as soon as the orange peel is twisted on top!)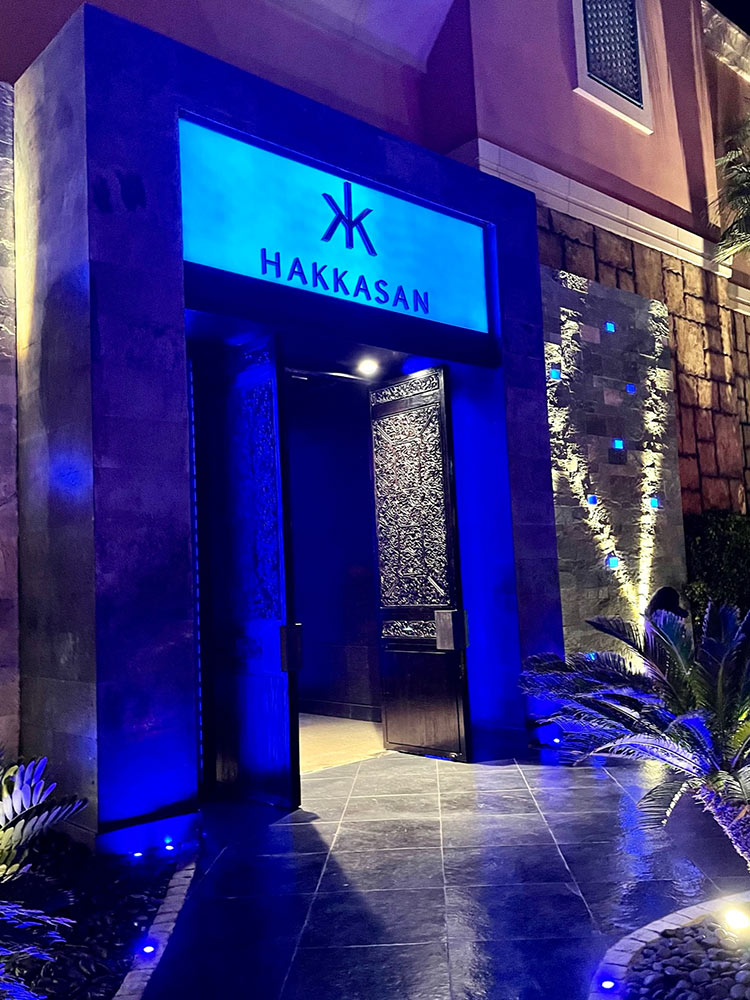 There's at least a half-dozen casual restaurants throughout the resort, but for delicious Tex-Mex fare, be sure to dine at The Shore, an outdoor restaurant near the Palm pool. Cool down with the refreshing Painless Colada mocktail, and complete your meal with the 3 leches cake.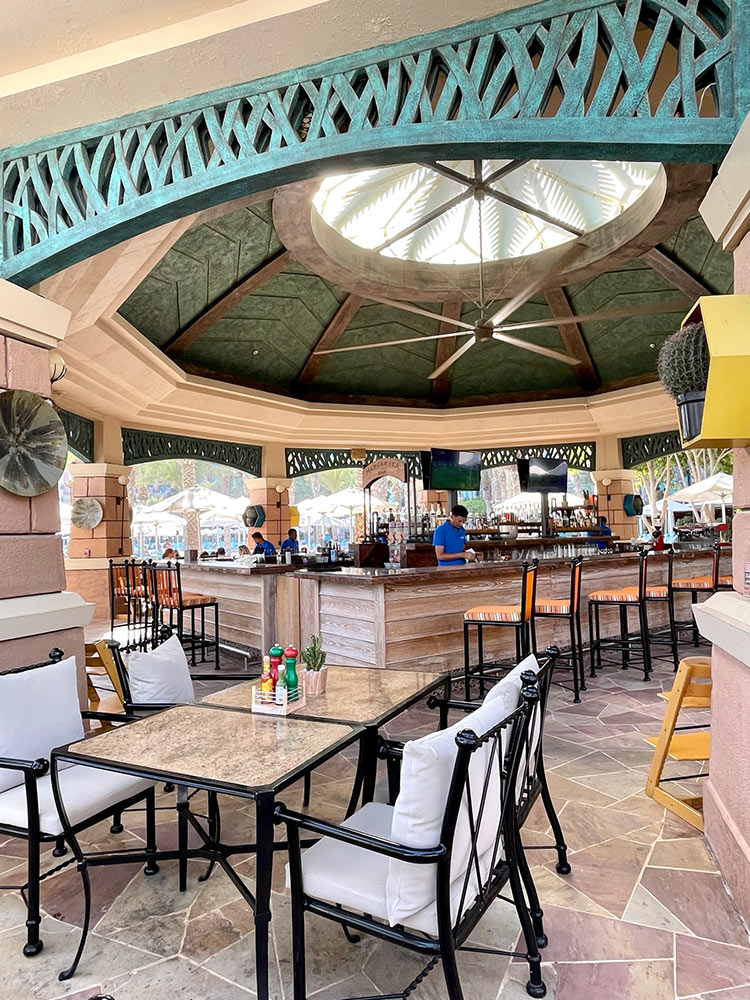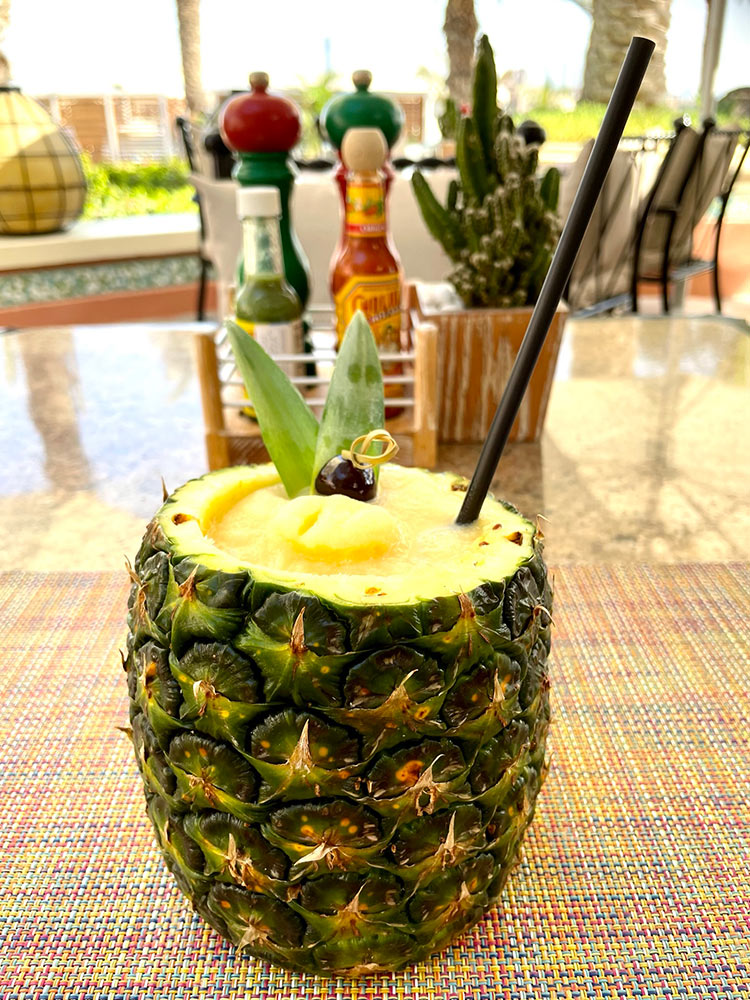 The resort's signature restaurants are outstanding. At the Seafire Steakhouse & Bar, I indulged in a melt-in-your mouth filet mignon. Modeled after a New York City-style steakhouse, the Seafire offered a wide range of beef and seafood dishes. (The Maryland crab cakes did not disappoint.) And dessert was a delectable Lotus Cheesecake (disguised as a donut!).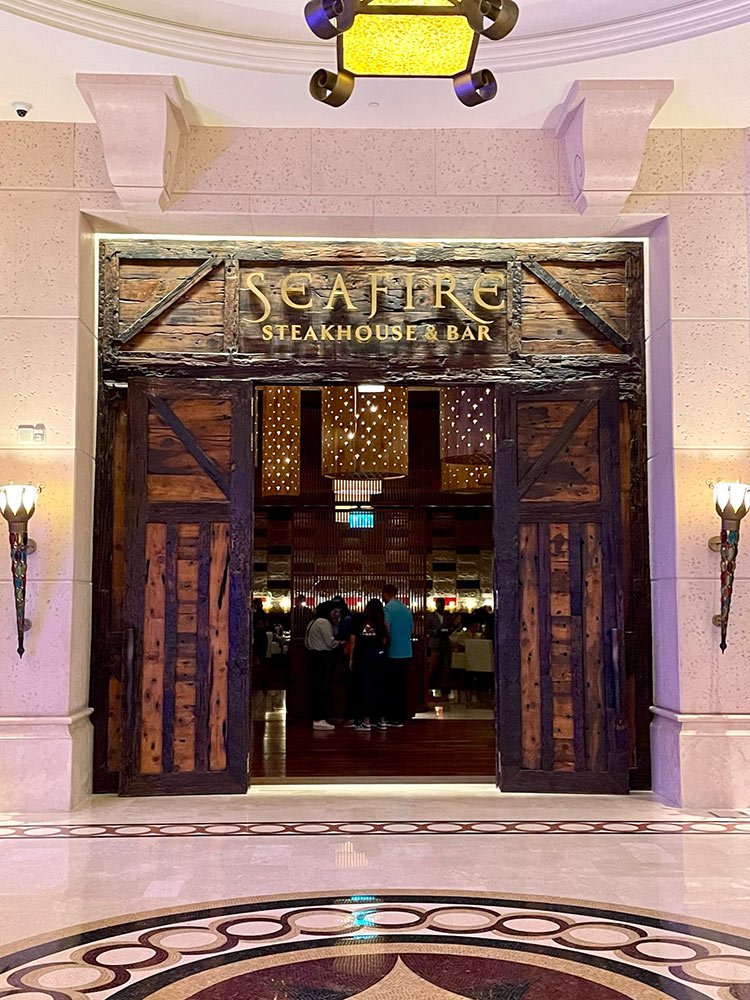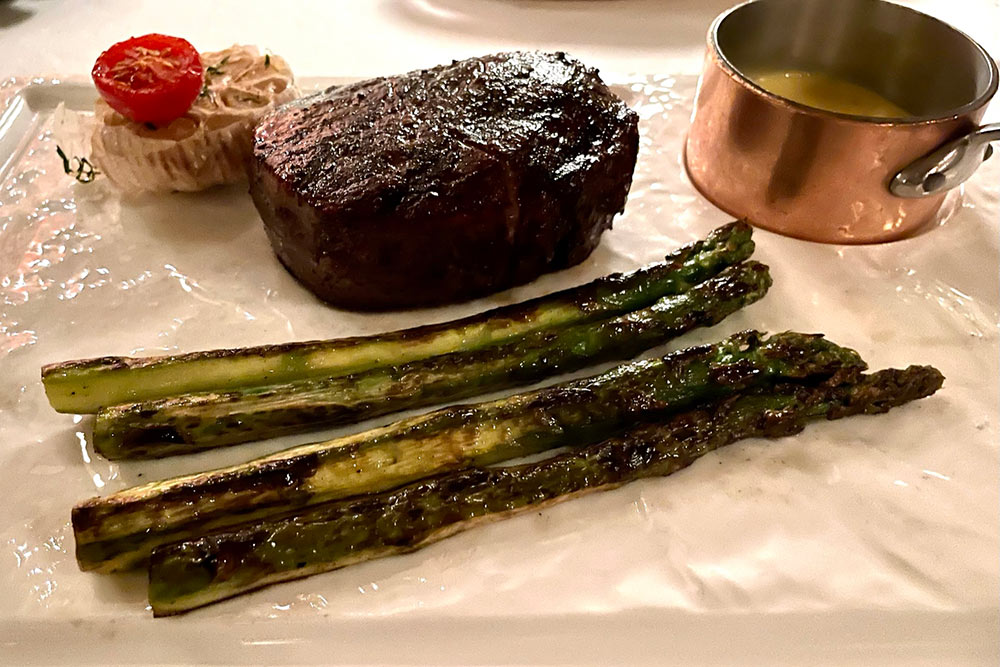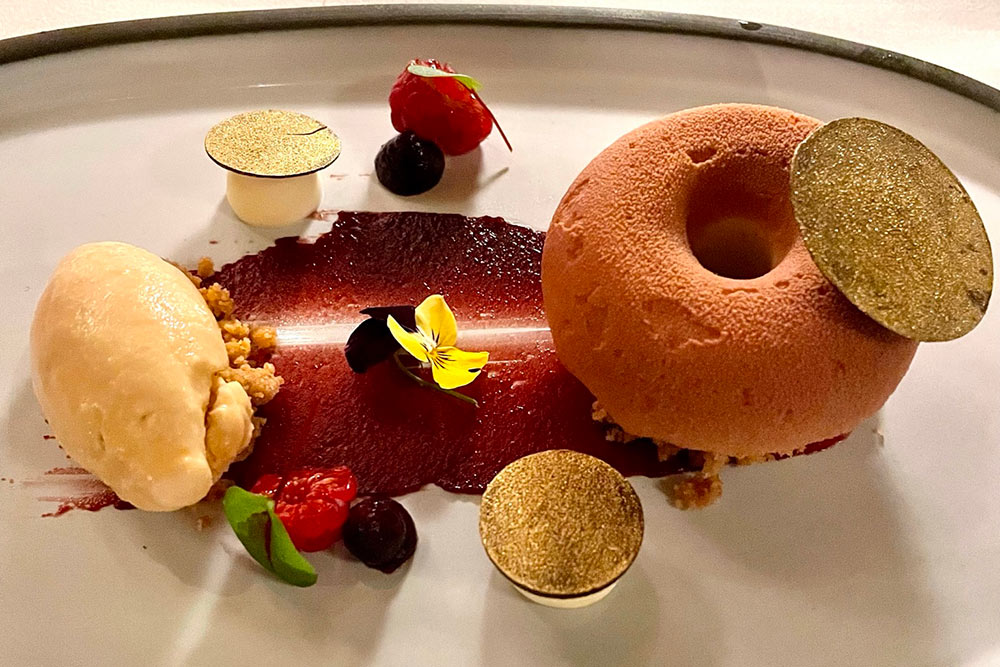 Wavehouse, another signature restaurant, has a beachy, laid-back vibe. Here, you'll find a bowling alley, games arcade, and Surf's Up wave rider. Satisfy your appetite with a selection from the expansive food and drink menu, including my favorites: Rainbow Sliders and the Chocolate Donut Freaky Shake.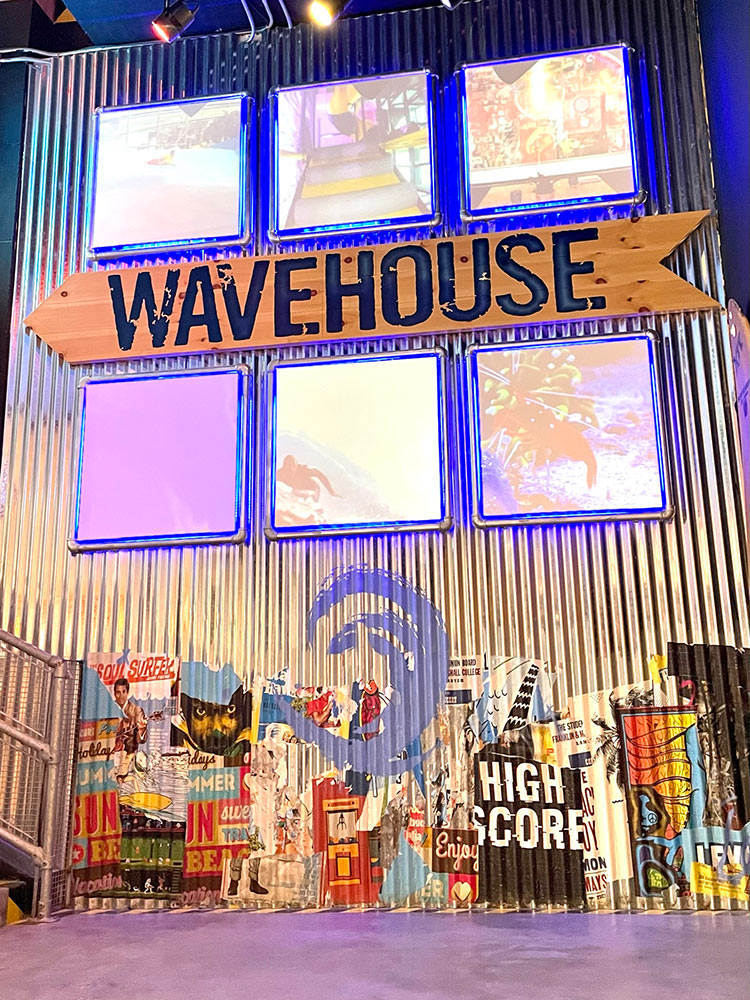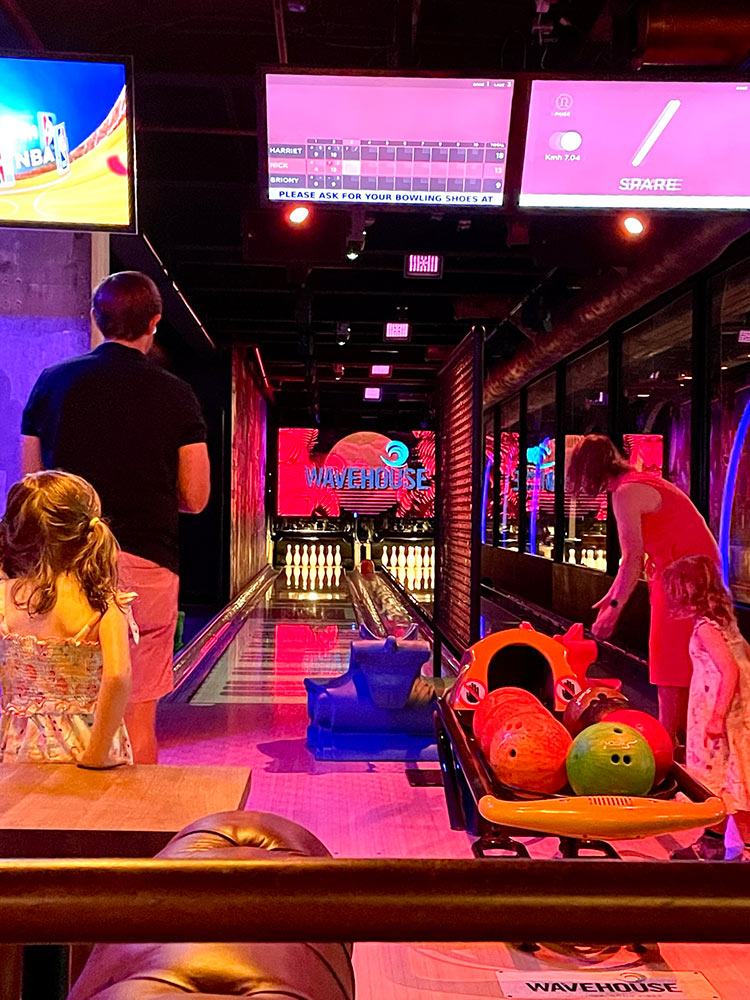 Two of the resort's most romantic restaurants are Nobu and Ayamna. The extraordinary décor and subtle lighting at world-renowned Nobu set the stage for an exemplary meal that included the iconic black cod miso and the whitefish salmon dry miso — both taste bud-pleasing delights.
At Ayamna, recently named the country's #1 Lebanese restaurant, the Insta-worthy entryway with a winding staircase leading to the restaurant below foretold an unforgettable dining experience.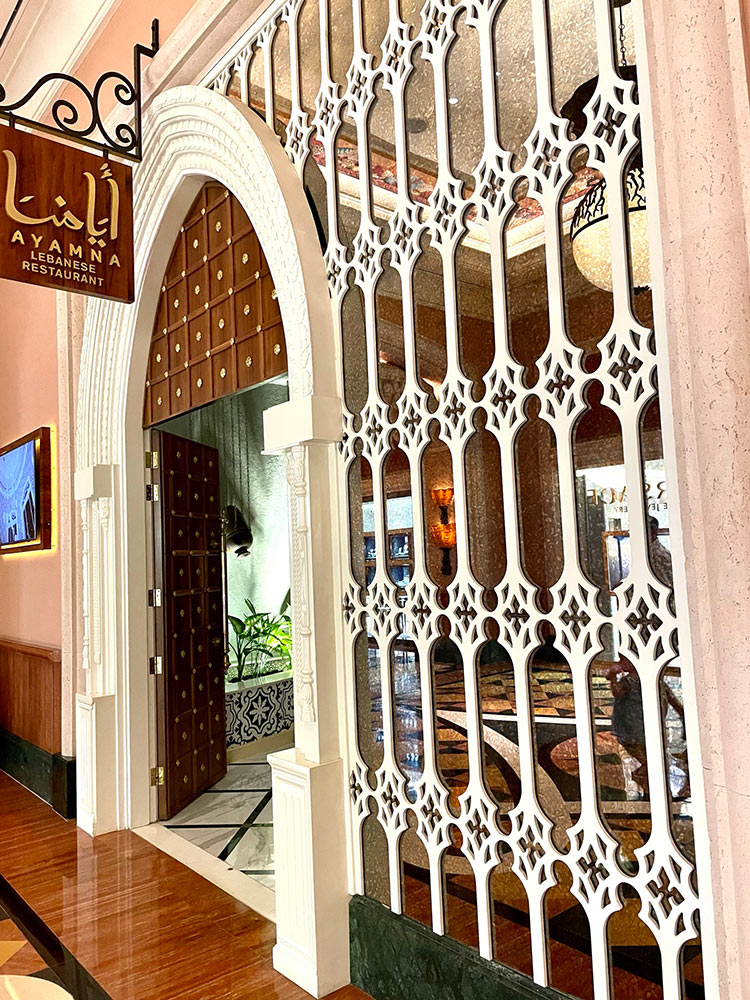 The beautifully-lit outdoor terrace is tailor-made for honeymooners, and the incredible multi-course menu, created by Chefs Shane Delia and Ali El Bourji, features cold and hot starters, main courses, and desserts, all paired with appropriate wines. Trust me, you'll want to save your appetite so you can enjoy everything on this menu.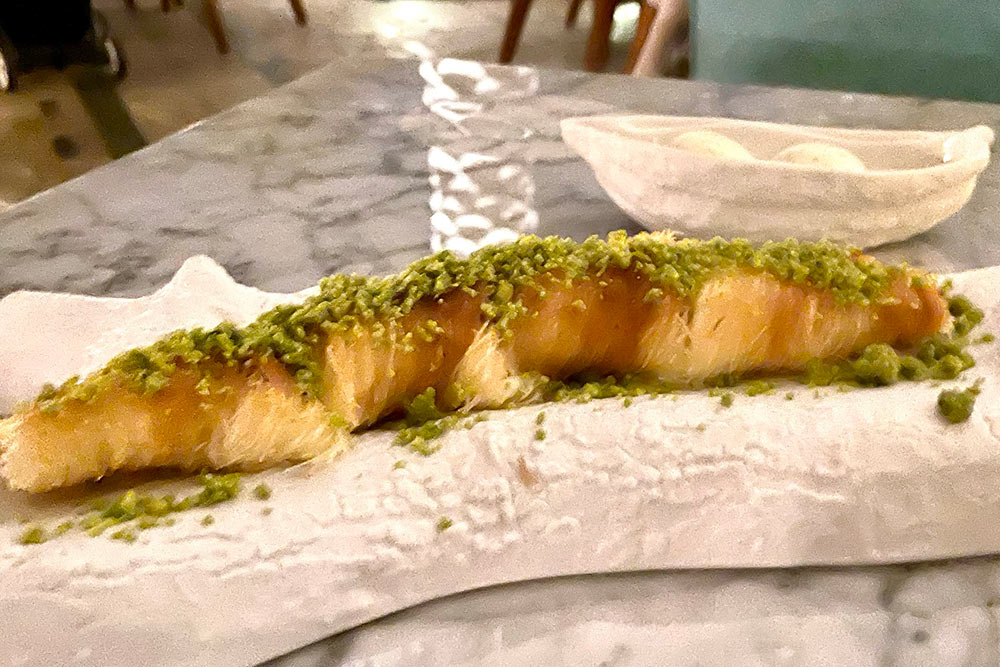 A Wedding Away
For those who might be considering a destination wedding at Atlantis, a dedicated staff is on hand to assist with preparations, from floor plans and venue site to the menu, colors, and themes. This year alone, Atlantis is hosting 98 weddings for couples and guests from all over the world. Caveat: It's best to marry legally in the USA and then re-enact your ceremony at the Atlantis reception, just as recently-married couples from New York, New Jersey, Florida, and California did. Choose from a number of sites on property for your celebration. The massive ballroom accommodates 1,200 and can be easily partitioned to suit your guest-list number. And the Royal Terrace just outside the ballroom is ideal for cocktail hour. A 10-room minimum (guests receive a discount) is required, and couples receive one complimentary night during their five-night stay. Also included: in-room breakfast and a multi-tiered customized wedding cake.
In every way, my stay at Atlantis, The Palm, Dubai was a dream trip and one that promises honeymooners or couples planning a destination wedding top-notch amenities, luxe accommodations, gorgeous pools and beaches, a fun waterpark, and unforgettable dining experiences. Plus, the staff is incredibly warm, welcoming, and ready to assist in every way. Navigating the large resort can be a bit confusing at first, but you'll find staff members everywhere to help point you in the right direction. The genuine hospitality shown at all the venues and restaurants definitely made this amazing trip even more special. Consider Atlantis, The Palm, Dubai your ideal honeymoon destination. You'll not only have memories to last a lifetime, but you'll also want to plan your next visit to this perfect paradise.