Travel to the world's most beautiful lake districts for fairy-tale views, incredible scenery, fantasy resorts, and blissful moments that will last a lifetime.
By: Becca Hensley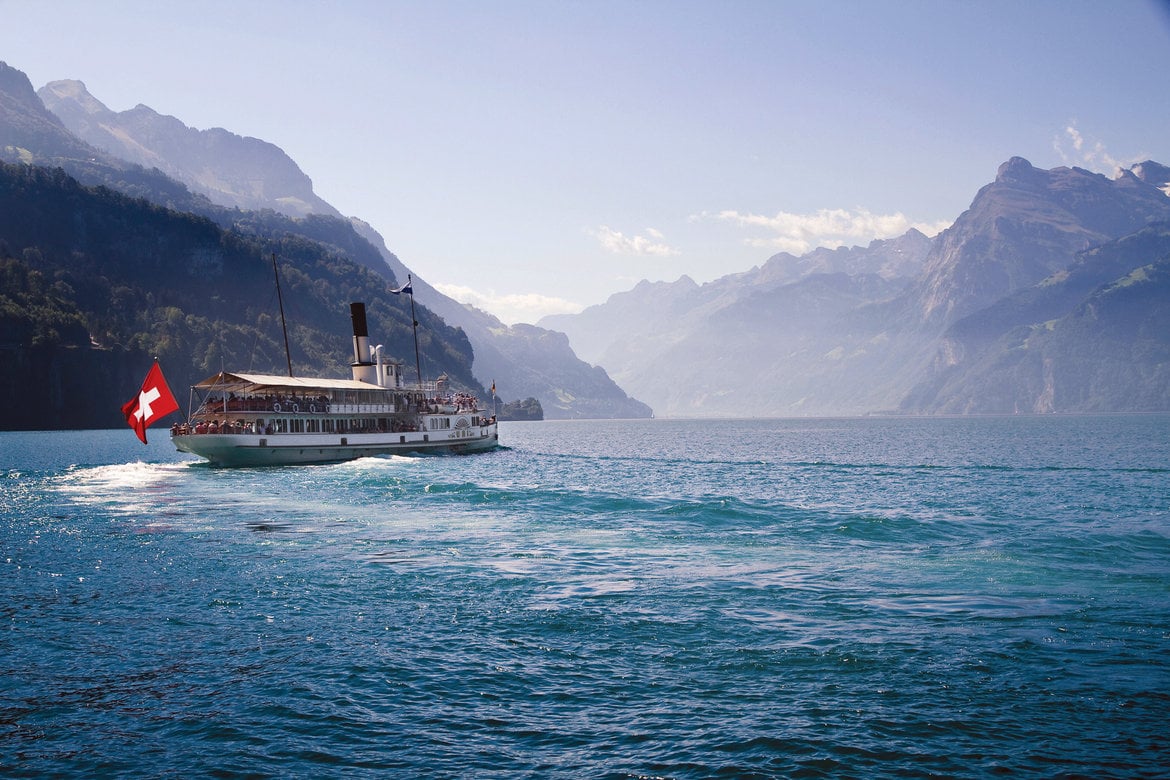 Photo courtesy of Switzerland Tourism
Spend romantic days (and nights) at these dreamy lakeside locales, where the water shimmers in cobalt hues, framed by snow-kissed peaks or fringed with quiet beaches and quaint villages. At night, nothing is more breathtaking than the moonlight shining on the lake and the reflection of the velvety sky and stars.
Lake Lucerne, Switzerland
Lucerne's chalets and houses festooned with flowers, the covered bridges, cobbled streets and white swans gliding near the shore — all are the stuff of Alpine fables. A gateway to hiking and skiing adventures, the town attracts a sporty-chic crowd who travel across the fjord-like lake on vintage paddle steamers. With Toblerone-shaped mountains surrounding the city, Lucerne experiences dramatic sunrises and sunsets, best enjoyed from the lake or atop a mountain peak. Meander well-marked hiking trails (or ski them in winter) to earn your fondue, or just enjoy the view of the gin-clear water from your hotel room along the forested shoreline.
Where to Stay: Live out your fairy-tale romance at the 27-room Château Gütsch, an enchanted castle set on a green mountainside with pennants snapping in the breeze atop white turrets. With commanding lake and city views, its princely rooms, including the positively regal Queen Victoria Suite, are decorated with canopy and four-poster beds, damask and toile fabrics, 19th-century Swiss paintings and claw-foot tubs. Get cozy on the Prussian blue leather banquettes in the Gütsch Bar under a gold-leaf ceiling, or sip champagne in the elegant, duck-egg blue Knight's Hall, a haven of hand-painted walls and superb vistas. Room rates start at $233 a night.

Photo courtesy of Lucerne Tourism
Travel Tip: Spend an afternoon at the Rosengart Collection, a museum that showcases more than 200 works by Picasso and other modern masters. Founder Angela Rosengart, who modeled for Picasso, gives frequent tours.
Lake Como, Italy
Would George Clooney steer you wrong? Discover why the movie star spends much of his time in this bastion of Italian elegance and beauty, long a jet-setter's playground just an hour from Milan. Tanned, shirtless revelers zip across the blue water in handsome sailboats or skip through the wake atop roaring jet skis. Impossibly picturesque Belle Epoque villas with immaculate gardens line the shore, and at the stylish hotels, the staff don black tie. Prosecco, anyone? Sip a glass at the shoreside cafés or dine al fresco at one of the many romantic picnic spots. Explore beautiful villages such as Bellagio and Tremezzo during the passeggiata, a slow walk taken at dusk, meant for savoring life and the person you share it with.
Where to Stay: The 91-room Grand Hotel Tremezzo is an Art Nouveau palace set amid a terraced, palm-and-azalea filled park on the lakeshore. Captivating common rooms showcase exquisite period décor — the perfect place to glam it up — but once you shut the door to your sumptuous room or suite, you can let your hair down in sublime privacy. A large pool and clay tennis court are located on the lush hillside behind the hotel, and tours of Lake Como aboard the hotel's classic Venetian motor- boat with sleek mahogany hull are a must. Room rates start at $450 a night.

Photo courtesy of Grand Hotel Tremezzo
Travel Tip: Part of the fun of Lake Como is the buzz. That happens during the summer months, when the golden rays of the sun caress the hillsides, and the towns and villages are filled with visitors and other beautiful people. 
Lake Placid, New York, U.S.A.
A few hours from Manhattan, the Adirondacks, land of glassy lakes, emerald pines and numerous peaks, can be enjoyed year round. The largest natural wilderness in the eastern United States, the six-million acre region has 46 peaks, more than 3,000 lakes and numerous canoe routes and hiking trails. It's carpeted with old- growth forest that explodes into hues of orange, crimson, yellow and amber every autumn, and in winter attracts skiers and snowboarders to its Alpine peaks. The small town of Lake Placid boasts olympic credentials, hosting the Winter Games not once, but twice, in 1932 and 1980. Its charming streets are filled with antique shops, galleries and unique icons such as the vintage 1926 Palace Theater. Fly fsh for trout River, a bucket list moment for fishermen and a zen activity for honeymooners who spend the day in quiet contemplation, or tour the 19th-century Adirondacks Great Camps open to the public and see how the wealthiest of Gilded Age society spent their summers.
Where to Stay: On the site of a former Great Camp, the Arts and Crafts-style Lake Placid Lodge combines elegant Tiffany lamps and intricate Turkish carpets with twig, hickory and birch bark furnishings for the ultimate in rustic chic. The result is utterly luxurious, but still fully ensconced in nature. Honeymooners are coddled in 30 cozy rooms or cabins like the lakeside owl's Head, which has a bespoke featherbed and stone fireplace. Take another romantic turn and cruise across the lake at sunset aboard the lodge's 35-foot Hacker-Craft. Room rates start at $499 a night.
Photo courtesy of Lake Placid Lodge
Travel Tip: The Adirondack Coast Wine Trail links seven wineries and cideries centered around Plattsburgh on Lake Cham- plain. Bring a picnic or hamper lunch, plus a designated driver.
Lake Nahuel Huapi, Argentina
In the otherworldly lake district of northern Patagonia, Nahuel Huapi National Park encompasses some of the world's most pristine and heart-stopping scenery of lakes, glaciers and mountains. The snow-capped Andes tower above crystalline waters where numerous birds make their presence known in the spring and summer. Glorious Nahuel Huapi is edged with sandy beaches and evergreen trees, and small craft traverse from shore to shore, while trails wrap around surrounding slopes and lead to breathtaking overlooks. Fish for trout, explore verdant islands and bike the bumpy lake- shore roads, and in winter, join the ski bums on the powder trails and pistes (ski runs) for fast runs down the peaks. For a different kind of exploration, spend some time in snazzy San Carlos de Bariloche, where swells from Buenos Aires fll the cosmopolitan restaurants, shops, bars and galleries.
Where to Stay: You'll want to set up an easel the moment you set eyes on the 33-room, modern El Casco Art Hotel, a low building nestled on the shores of Lake Nahuel Huapi. The breathtaking panorama is framed by sharp mountain peaks and enhanced by the nearly 500 paintings, sculptures and other works by revered Argentine artists displayed on the hotel's walls and in the gardens — all part of the owner's private collection. This Argentine appreciation for the finer things extends to the gourmet restaurant and dedicated personalized services. Book a corner suite with immense windows, canoodle by the pool and grab a hotel canoe for a paddle around the lake—and keep your eyes peeled for Nahuelito, Nahuel Huapi's very own version of the Loch Ness monster. Room rates start at $282 a night.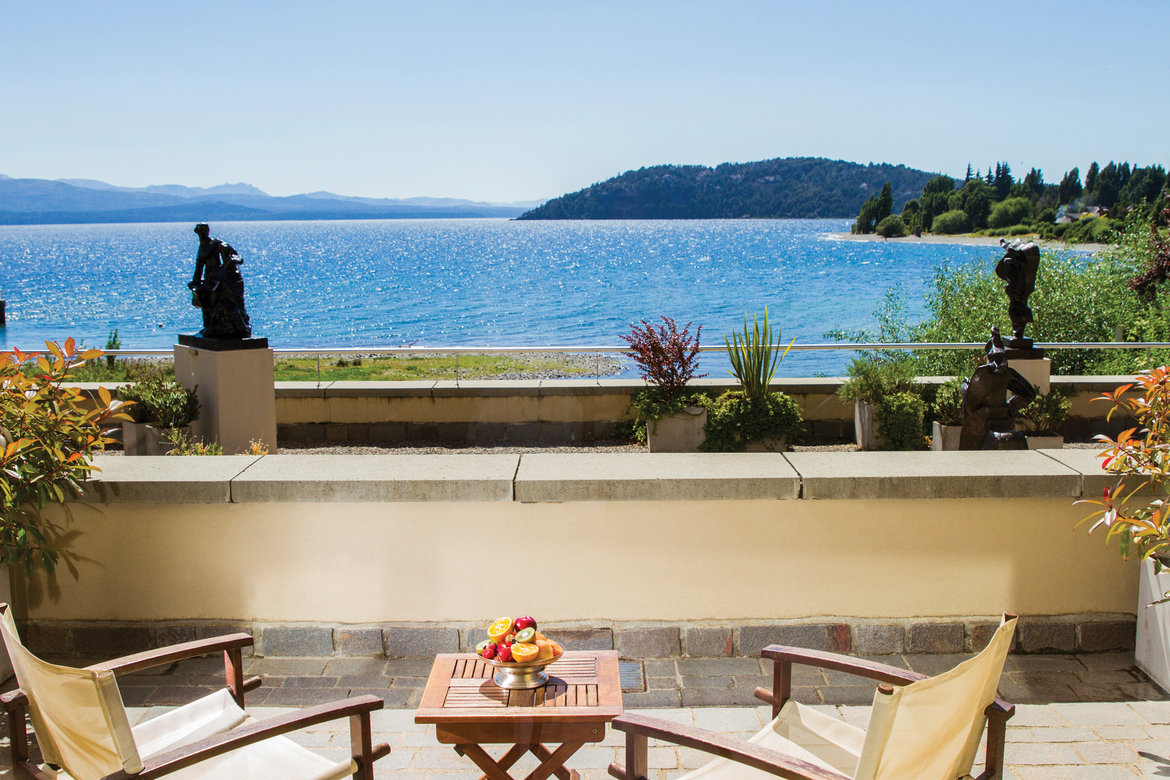 Photo courtesy of El Casco Art Hotel
Travel Tip: Bariloche has numerous fne chocolatiers, thanks to the Germans and Austrians who settled here in the late 19th century. Walk down the main drag of La Mitre to find the best spots, including the mouthwatering Mamuschka.