Get your fill of wanderlust in this incredible honeymoon destination.
By: Abbie Kozolychk

Photo Credit: Rob Suiste 
Chalk it up to the Hobbit effect: Even if New Zealand didn't initially top your honeymoon hot list, the real Middle Earth is looking more and more appealing right about now. Thanks in large part, no doubt, to the finale of the Tolkien trilogy having recently hit theaters — and all the previews and promos having just incited your wanderlust — those limestone cliffs, primeval rainforests, misty fjords, glacial cascades, alpine peaks, turquoise pools and emerald fields are calling louder than a gold ring to Gollum. Here are our picks for best experiencing this real world fantasyland on earth. 
Capitalize on Your Time

Photo Credit: Rob Suiste 
Make Auckland more than the place you fly into and out of, and give yourselves at least a day to experience the area's amazing-in-their-own-right adventures. Head straight to the iconic sky tower, where the 360-degree views of the city and surrounding islands are just the starter course: Maori-British celebrity chef, Peter Gordon, offers a Kiwi-Euro fusion feast at Sugar Club on the 53rd floor. Do the SkyWalk, just above the restaurant, and you'll circumnavigate the building's exterior sans handrail (but in a harness). If the adrenaline isn't sufficiently surging yet, plummet back to earth via the country's highest bungee. The SkyJump sends you down to street level at almost 53 miles per hour. For much mellower fare, take the ferry ride to Waiheke Island, where you'll find a beach, vineyard, farm, olive grove — or a combo thereof around every hilly turn. For a guided excursion, try Andanda tours.

Photo Credit: Chris McLennan
Fun fact: Known locally as "The Land of the Long White Cloud," New Zealand is home to more than 40 million sheep.
Rev It Up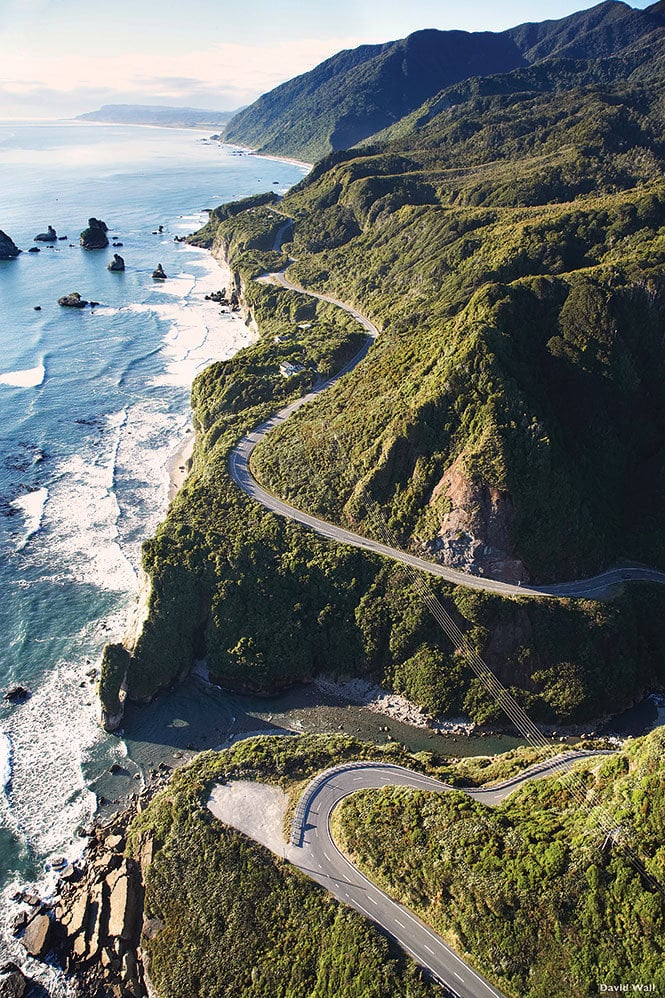 Photo Credit: David Wall

There's nothing more quintessentially Kiwi than touring the country by campervan. And with so much dazzling scenery, you'll love taking your honeymoon on the road — at least part of the time. if you're starting in Auckland, a great way to go is the 460-mile drive to Wellington, through Hobbiton, Mordor and Bree (or at least the real-life stand-ins), as well as a volcanic hiking area (Waikato), kaleidoscopic fields of steaming, bubbling geo-fabulousness (Rotorua) and a natural spa (Lake Taupo's hot springs). Driving along the South Island's west coast (Big Sur on steroids) or east (especially around Victorian Dunedin and the rugged Otago Peninsula) is surreal as well. But arguably the most out-of-this-world drive is the mountainous, rainforested road to Milford Sound.

Photo Credit: Rob Suiste 
Stay with the Stars
"Who needs an after-life when there is paradise on earth?" No less than Gandalf — okay, Sir Ian McKellen — wrote those words of his "favourite hotel" and mid-production hideaway, Blanket Bay. Set on Lake Wakatipu — its surface a sprawling mirror for the misty, massive peaks of the Humboldt Range — these luxury accommodations are close to Milford Sound. The property boasts all the implied amazingness — helitouring the Southern Alps, boating along the waterways and biking and horseback riding through the foothills and more onsite. And the greatest hits of nearby Queenstown — bungee jumping, canyon swinging, river surfing and whitewater rafting — are rarely more than a half hour away. Caveat: during the curvaceous, hilly, shore-hugging drive back, you'll swear that each new combo of water, mountain, mist and sky is the most magical you've ever seen (room rates start at $865 a night; blanketbay.com).

Photo courtesy of Blanket Bay Resort
Mist Opportunities
Milford Sound — the most famous fjord in the South Island's Fiordland National Park — is also said to be the wettest inhabited place in the country. Translation — it's waterfall central. Picture boating through a profusion of cliffside cascades — or as Rudyard Kipling once called them, the eighth Wonder of the World. And though a drive to the sound is devastatingly beautiful, for an even more breathtaking approach, consider a flightseeing tour over the glaciered Southern Alps into Fiordland.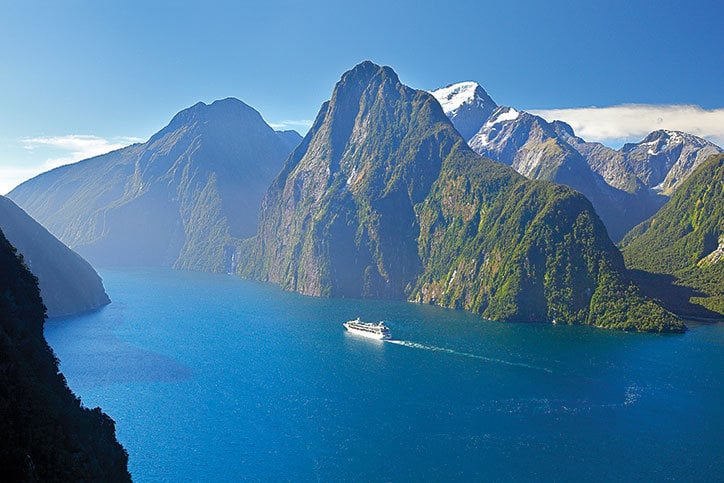 Photo Credit: Rob Suiste 
Walk this Way
Tramping — the local term for trekking — can take you through some of the most remote and romantic places on the planet. One prime spot is Abel Tasman National Park Coast Track, at the top of the south island, where you can also kayak and snorkel your way around the turquoise bays, forested cliffs and wild granite outcroppings — and spend your nights in romantic tents, huts or lodges.

Photo Credit: Ian Trafford