Discover your ideal hideaway with this horoscope hotel guide.
By: Sherri Eisenberg
-AS SEEN IN BRIDAL GUIDE MAGAZINE-

Photo courtesy of Viceroy Hotels
For centuries, adventurers, wanderers and travelers have looked to the stars to chart their course. Why should your honeymoon plan be any different? Astrological signs not only help define our likes and personality traits, they can also inform our best love matches. Here, we studied the skies to discover the perfect honeymoon destination for you and your zodiac sign.
Capricorn (December 22 to January 19)
Loves: You're conservative and restrained, but your loved ones know you're a secret troublemaker.
Honeymoon Vibe: An exclusive retreat that's as much a storybook location as it is pampering.
Your Match: Escape to the all-inclusive Hermitage Bay on Antigua in the Caribbean and repose in your private villa, spend- ing nights in a mosquito net-swathed bed and showering in your private outdoor shower. Built into the hillside overlooking a white-sand beach, many suites even have exclusive plunge pools so you can take a late-night skinny dip if you feel inspired by the moonlit water and the serenade of frogs (room rates start at $1,200 a night and are all inclusive).

Photo courtesy of Hermitage Bay
Aquarius (January 20 to February 18)
Loves: You free spirits embrace varied hobbies and eccentricities; and help be the change you want to see in the world.
Honeymoon Vibe: Deep dive at a destination that's rich in cultural offerings for an educative experience.
Your Match: Check into Cambodia's Sofitel Angkor Phokeethra Golf & Spa Resort for quick access to all Siem Reap's mind-blowing temples and ruins. Take a tuk tuk to Angkor Wat and Angkor Thom, where giant trees grow through the moss- covered stone ruins. Then visit a school for girls to donate much-needed supplies before heading to the night market. Back at the sprawling mahogany-lined resort, stretch out by the pool with a Khmer iced coffee (room rates start at $205 a night).

Photo courtesy of Sofitel Angkor Phokeethra Golf & Spa Resort 
Pisces (February 19 to March 20)
Loves: You're dreamers who love illusion and escapism.
Honeymoon Vibe: Sail away and leave all your cares behind.
Your Match: Want to leave it all for a fantasy-on-earth? Laucala Island in Fiji is an exclusive private-island resort with just 25 villas spread across a coconut plantation. Find a deserted beach to call your own for the day or explore the jungle on horseback. Just be back in time for the evening barbecue on the sand (room rates start at $6,000 a night and are all inclusive with a massage and air transfers).

Photo courtesy of Laucala Island
Aries (March 21 to April 19)
Loves: The adrenaline rush of spontaneity — you adore things quick and action-oriented.
Honeymoon Vibe: A spin-the-globe, eyes closed, finger-pointing approach.
Your Match: Let fate guide your way toward a property teeming with activities. The honeymoon-perfect Lake Placid Lodge in upstate New York has endless options to tempt your sense of adventure. There's canoeing, fishing and hiking in the warmer months plus snowshoeing, ice skating and cross-country skiing in winter, just to name a few. All lakeside rooms are individually appointed; most have replaces and sunken tubs (room rates start at $370 a night).

Photo courtesy of Lake Placid Lodge
Taurus (April 20 to May 20)
Loves: You crave the comfort and luxury of serene settings with soothing smells and sounds and plenty of pampering.
Honeymoon Vibe: A decadent spa property.
Your Match: Desert oasis the Phoenician Scottsdale is just emerging from a multi-year renovation that wows. Amenities include a sleek three-story spa with a mix-your-own aroma- therapy bar. There's also a peaceful pool on the spa roof, plus a massive resort full of newly renovated casitas and multiple pools (room rates start at $579 a night).

Photo courtesy of The Phoenician
Gemini (May 21 to June 20)
Loves: Playful and socially curious, Geminis love a good party.
Honeymoon Vibe: Vegas, baby!
Your Match: Check into the blingy The Cosmopolitan of Las Vegas and you'll have a wide variety of restaurants, bars and entertainment to keep your many interests piqued for your entire stay. Dine at L.A.'s beloved Eggslut, order Spanish tapas at Jose Andres' Jaleo, or visit David Chang's Korean-influenced Momofuku, but don't miss the cabaret-style Rose.Rabbit. Lie and the resort's secret late-night pizza slice shop (room rates start at $165 a night).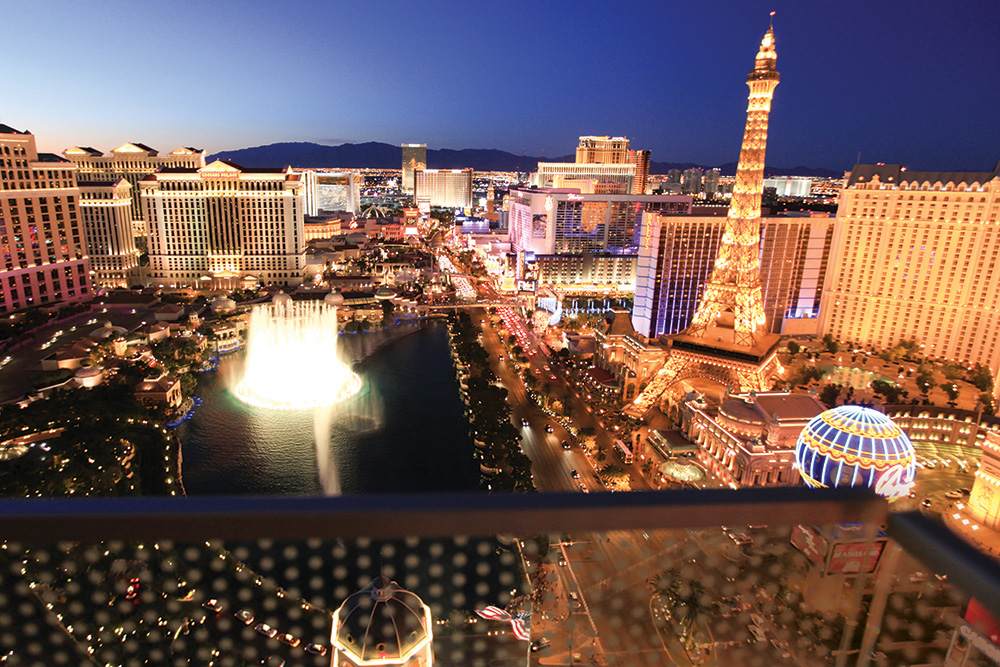 Photo courtesy of The Cosmopolitan Las Vegas
Cancer (June 21 to July 22)
Loves: This water sign only has eyes for the ocean — and home, sweet home. 
Honeymoon Vibe: A far-flung tropical island paradise packed with all the comforts.
Your Match: The South Pacific's Four Seasons Bora Bora is a collection of thatch roofed over-water bungalows that put the least distance possible between you and the clear turquoise lagoon. There's no need to don a snorkel here — just walk down your staircase into the warm water, and the friendly fish will swim around your legs. You'll also never need to stray from your paradise-on-earth accommodations, with romantic dining service and other amenities able to be delivered (room rates start at $1,014 a night).

Photo courtesy of Four Seasons Resorts & Hotels
Leo (July 23 to August 22)
Loves: This sign is the King or Queen of the jungle — or wherever you are. Only the best will do for these theatrical royals.
Honeymoon Vibe: A chic safari getaway.
Your Match: The newly revamped AndBeyond Phinda Rock Lodge in South Africa has everything you want in a safari: Twice-daily game drives to see cheetahs and lions, nighttime dives to swim with turtles, and treks that trace rhinos on foot. When not out spotting majestic wildlife, repose in sophisticated suites that feel at once perfectly blended into the natural setting and over-the-top glamorous (room rates start at about $688 per person, per night and are all inclusive).

Photo courtesy of AndBeyond
Virgo (August 23 to September 22)
Loves: You perfectionists are — logically — detail-oriented.
Honeymoon Vibe: A luxury resort with impeccable service.
Your Match: The Ritz-Carlton Kapalua is paradise made easy. Set on Maui's northwest coast, it offers all the comforts and ease of a polished resort in a U.S. location — no foreign language or currency to tackle – with all the magic of a tropical wonderland. Plan ahead (as all Virgos like to do) for days full of memorable moments, from ziplining to hiking through a rainforest or just spending hours on the beach with nowhere else to be (room rates start at $500 a night).

Photo courtesy of The Ritz-Carlton
Libra (September 23 to October 22)
Loves: Libras love great beauty and high art and are known for their excellent taste.
Honeymoon Vibe: A classic and cosmopolitan metropolis with cultural attractions a go-go.
Your Match: Lovers of the finer things in life always find Paris irresistible, and discovering (or rediscovering) the City of Light in all its glory — from some of the best restaurants in the world, to spectacular architecture and exquisite shopping — makes for a glorious honeymoon. The newly redone and reflagged Hôtel de Crillon, a Rosewood Hotel on the Place de Concorde puts you in walking distance of the Champs-Elysées and the Arc de Triomphe and caters to your desire to be surrounded by beauty— in this case of the historic, elegant variety that will make you feel right at home with your suitcase full of red-soled shoes (room rates start at about $962 a night).

Photo courtesy of Rosewood Hotels & Resorts
Scorpio (October 23 to November 21)
Loves: Seductive and beguiling, Scorpios are the most passionate and sexy of all the signs.
Honeymoon Vibe: Sizzling days that melt into hotter nights.
Your Match: Cabo's luxe Esperanza, An Auberge Resort entices with an adults-only seaside pool where pool butlers bring around everything from loaded iPads to sunglass cleaners, hourly snacks such as margarita sorbet and spiced toasted pumpkin seeds, and silver ice buckets filled with cold water and refreshing lime-scented spritzes. This is relaxation at its coolest and most indulgent. At night, the seaside property is lit with candles and torches and the Mexican fare is unforgettably well done (room rates start at $699 a night).

Photo courtesy of Auberge Resorts Collection
Sagittarius (November 22 to December 21)
Loves: Ruled by wanderlust, you're on a constant quest for knowledge as well as spiritual adventures.
Honeymoon Vibe: Authentic mind-body adventures that also showcase the scenery.
Your Match: Check into the Viceroy Bali, a marriage of spiritual quest and honeymoon decadence. Spend your days in temples and biking through rice paddies, hiking through Ubud's Monkey Forest and taking private yoga classes on cliffs overlooking the jungle. There are also plenty of opportunities to indulge in Balinese-style massages and the island's healthy cuisine (room rates start at $450 a night).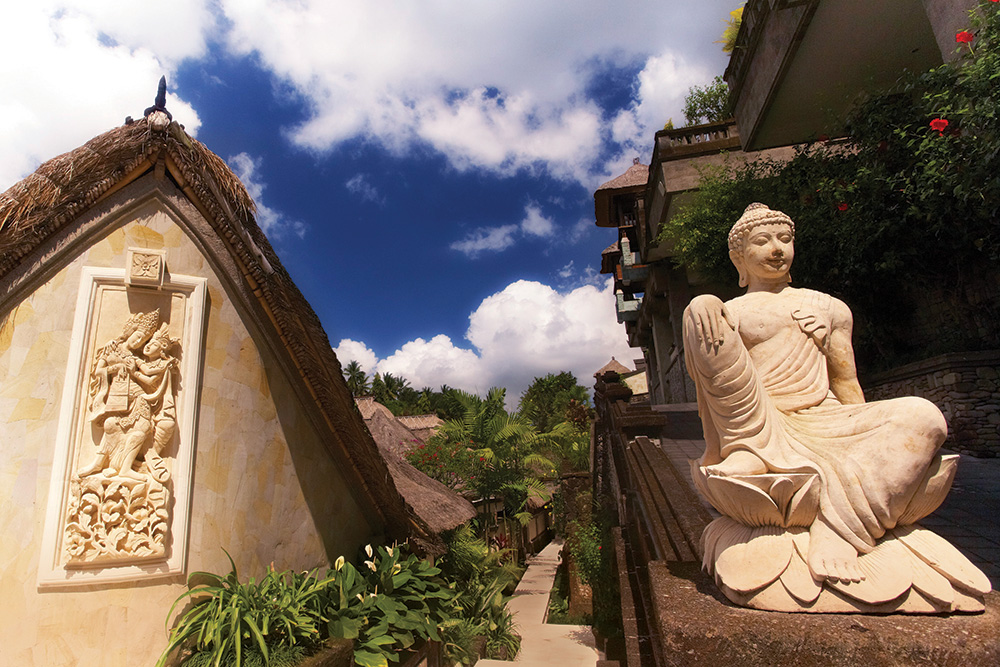 Photo courtesy of Viceroy Hotels