Mexico's wildly popular resort getaway, Los Cabos, keeps adding to its allure with new offerings. Here are the best.

Photo courtesy of Grand Velas Los Cabos
It's safe to say that there are few resort destinations that welcome as many celebrities as Los Cabos, the twin beach towns of Cabo San Lucas and San José del Cabo on Mexico's Pacific coast. With a regular roster of A-list visitors that range from Jennifer Aniston and George Clooney to the Olsen twins, the tony seaside setting is something of a south-of-the-border Hollywood, albeit with amazing pampering amenities that beckon to all luxury-loving travelers. famous for five-star resorts, decadent spas and elevated dining, the romantic destination, which recently underwent a restoration post-hurricane Odile, continues to seduce with new experiences — from luxury accommodations to stellar restaurants and hip clubs — that keep it at the top of must-see and be-seen travel wish lists.
Where to Stay
The honeymoon-friendly Grand Velas group opened its ambitious Los Cabos property last winter to the tune of $150 million. translation: expect an all-inclusive experience that's uber pampering and rightfully touted as "the next generation of all-inclusives." Across the property are sumptuous spaces, including a three-tiered pool set beachside and 304 oceanview suites sized at a whopping 1,180-square-feet (a signature feature for Grand Velas) with private terraces. Many also flaunt private plunge pools. Among five exceptional gourmet restaurants, the fine dining Cocina de Autor is helmed by two-star Michelin chef Sidney Schutte. There are also four swank bars that include premium cocktails and a robust wine program. Detox and rejuvenate in the enormous 35,000-square-foot, 16 treatment-room spa with hydrotherapy facilities. And stay active with extensive fitness offerings that include yoga, pilates, meditation and watersports. For a fully immersive spa experience, book into one of the six two-level suites with lofted ceilings and in-suite juice bars. another bonus is the on-site contemporary art gallery (room rates start at $750 a night and are all inclusive).

Photo courtesy of Grand Velas Los Osos
The multi-million dollar Towers at Pacifica, which opened december 2016, is the premium lodging option in Pueblo Bonito Resorts' portfolio — we're talking "next level." Positioned within the Pueblo Bonito Pacifica Golf & Spa Resort, the ultra-pampering adults-only hotel-within-a-hotel features 47 club-level accommodations, all with ample space and endless ocean views. Six suites also boast personal plunge pools. Guests are privy to exclusive amenities including a whale watching VIP lounge, a new beachfront concept restaurant (peninsula) and the constellation pool, which comes to life every night with hundreds of LED lights built into the bottom of the pool. Fun fact: the display reflects the exact alignment of the night sky's star constellation when the resort first opened.

Photo courtesy of Towers at Pacifica
All rooms also come with private butler service. The 24-hour, British butler institute-certified assistant (the highest official training for butler service) can schedule activities like private dinners on the secluded two-mile beach, spa treatments and the resort's marquee excursion Hook & Cook, where you join the chef to fish and display your catch in a freshly made ceviche. He can even arrange a mariachi band performance in the privacy of your suite if you need some over-the-top FOMO moment for your Facebook live. 

Photo courtesy of Towers at Pacifica
Another special touch is the siesta turndown service, which is a sultry room transformation complete with aromatherapy, sensual music and a butler-drawn bath. The resort partnered with Siestas for Fiestas, a family-run, California-based boutique blanket company benefiting impoverished Mexican communities, to deliver special serapes (Mexican blankets) for late-night cuddles (room rates start at $1,500 a night;).

Photo courtesy of Towers at Pacifica
Situated on Cabo's largest swimmable beach, Chileno Bay, the newest member of the Auberge resort family, sprawls over 22 cove-hugging, intimate-feeling acres, featuring just 61 accommodations (29 guest rooms and 32 contemporary two, three and four-bedroom villas). While you may not need more than one room for your honeymoon, the villas are ultra- sweet pads with private pools or Jacuzzis. All have ocean views; many sport rooftop terraces and are perfect for small-scale wedding celebrations. At an average 885 square feet, these earth-toned guest rooms— complete with indigenous materials and original artwork — feel spacious and flaunt a seamless indoor/outdoor design.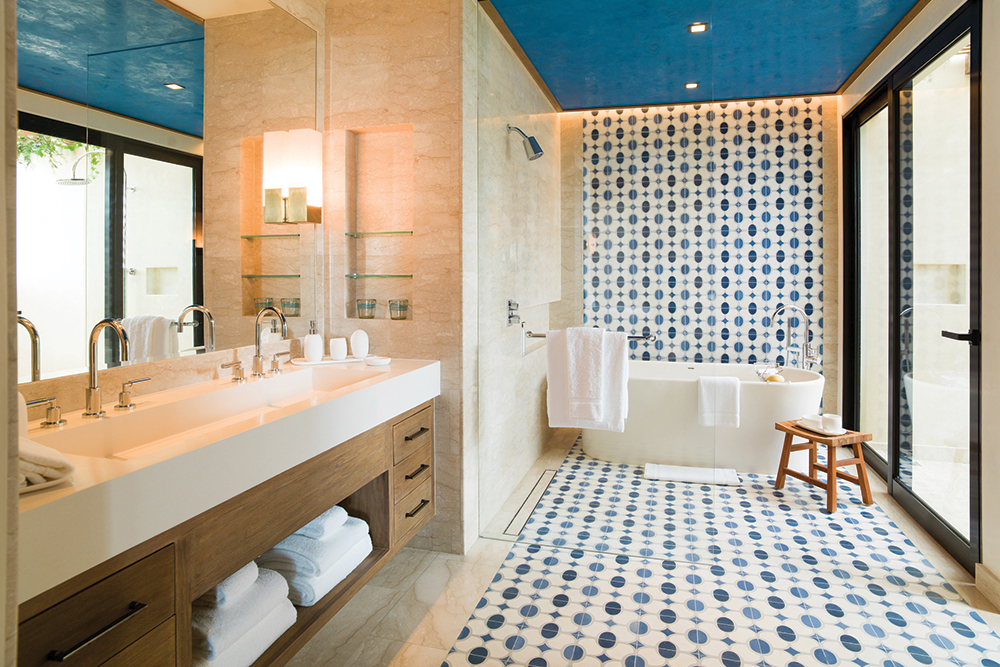 Photo courtesy of Chileno Bay Resort & Residences, An Auberge Resort
 The 450-foot-long, three-tiered pool is a major resort highlight. Flanked by private cabanas, the bottom-level, zero-edge pool is designated for adults only. Once you enter, you'll never have to leave the comfort of the water: the swimsuit-clad bartender will bring cocktails to you. on-site dining options include the signature seafood-heavy Comal, which is brilliantly designed with a floating tequila display and outdoor fire pits. The casual TnT (Tacos and Tequila) beach shack with primetime ocean views is perfect for low-key lunches in flip-flops and sunglasses. Don't forget to slather on sunscreen when you stroll over to H2O, a watersports activity cave that sets you up with kayaks and snorkels in the pristine reefs and perfectly calm waters. Knock out the kinks from a long flight at the tricked-out, world-class spa, which features ten indoor/outdoor treatment rooms and a perfectly zenned-out, outdoor re exology pool (it's layered with massage stones for your feet). There's also a lush garden for sunbathing, a steam bath, salt sauna and cold plunge. Guys can retreat into the men's den, a dedicated, male-specific space with treatments like agave facials (room rates start at $575 a night).

Photo courtesy of Chileno Bay Resort & Residences, An Auberge Resort
Where to Eat
Acre

Photo courtesy of Acre
Executive chefs Kevin Luzande (from award-winning Acabar in LA) and Oscar Torres have amped the dining scene, and their creative, progressive take on the flavorful cuisine is an exciting adventure. It's all about the true Baja journey (the furniture and dishware are also from the region), where couples can make a full afternoon of their visit thanks to the outdoor pool/lounge space. The 25-acre farm features a gourmet restaurant, cocktail bar, event space and surrounding farmland where visitors can take a romantic stroll. The property teems with Mexican-storybook, tropical foliage (fringed palms, palo de arcos trees, green cacti), and "farm to table" is taken literally here. All produce is plucked straight from the gardens. Expect a range of innovative, Baja-inspired dishes like Vermouth-poached snapper and beef-mole sandwich. Set to open next winter are 12 precious, on-property treehouses. These rustic, modern accommodations perched in the treetops will include queen-size beds, bathrooms and terraces with outdoor showers.
Where to Party
Blue Marlin Ibiza

Photo courtesy of ME Cabo
While the upscale nightlife scene in Los Cabos is relatively quiet, it recently received a much-needed beat in its pulse thanks to trendsetting Blue Marlin Ibiza at ME Cabo. Opened last fall, the stylish, afternoon beach club at lively resort ME Cabo has served as a magnet for those in a celebratory mood — day drinkers and happy honeymooners — as well as for no-cocktail-limit socialistas and posing instagram models. Young couples make a beeline here on weekends to sip champagne and knock back shots of tequila on the beach while a flurry of international DJs set the perfect, chilled-out vibes with groovy lounge and house music. Cozy up in a poolside or oceanfront cabana, order a bottle of ice-cold vodka — and cheers! At night, the venue transforms into one of the most exciting outdoor clubs in Cabo (it's one of the few buzzing after-hours spots right on the beach) with state-of-the-art sound and theatrical lighting, VIP bottle service and the perfect ocean breeze.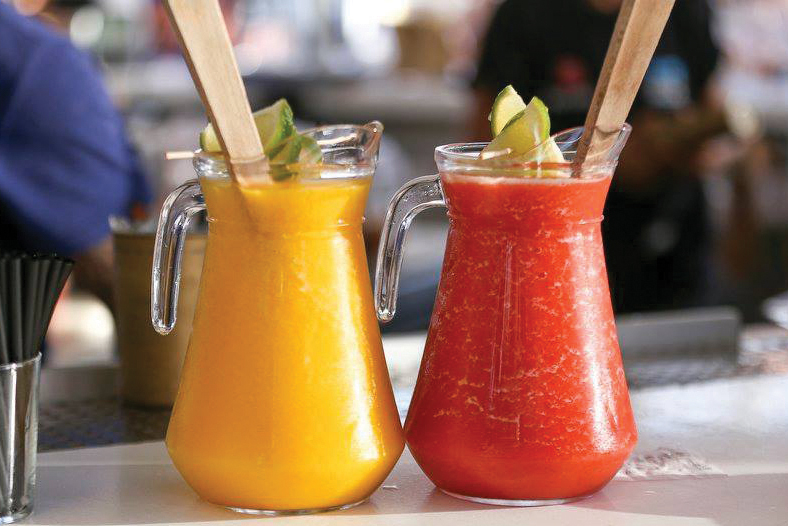 Photo courtesy of ME Cabo
How to Unwind
Eforea Spa
Hilton's signature Eforea Spa debuted last summer after a multi-million dollar renovation, and it's since become one of the most prominent spas for the hotel brand. The first Eforea in Mexico, the 9,700-square-foot, 15-treatment room destination spa at Hilton Los Cabos is imaginative, restorative, holistic and utterly pampering. Most treatments focus on native rituals and ingredients. Honoring local heritage with a spa entrance that mirrors a Mexican-style patio (filled with white jasmine, floating chairs and fresh herbs used in the treatments), Eforea is an unforgettable journey from start to finish. In addition to a salon and movement studio, each separate men's and women's area provides a relaxing lounge and water journey with the works (think hot tub, steam room, sauna). You can also learn a few things while you unwind, such as how to make your own colorful bath sea salts or even a traditional piñata. After a spa lunch, you can opt to receive traditional blessings from a Mayan shaman in the Zen garden. And be sure not to miss the ultimate couples treatment that features a massage, reflexology and herbal bath.