Make footprints in the sand at Mexico's best-kept secrets — off-shore islands that offer all the hospitality and romance of the mainland without the crowds.
By: Jimmy Im
Mexico's glimmering seaside has always lured honeymooners with its picturesque setting, hideaway resorts and romantic adventures. But nothing enhances the loved-up factor like the remote fantasy islands that sit off the country's Caribbean coastline. Exotic and private, these sandy havens are seductive, and their unspoiled shores lure you with the promise of pure relaxation. Head to one of these free-of-crowds refuges and discover an authentic beach life that's as real as it gets.
Isla Holbox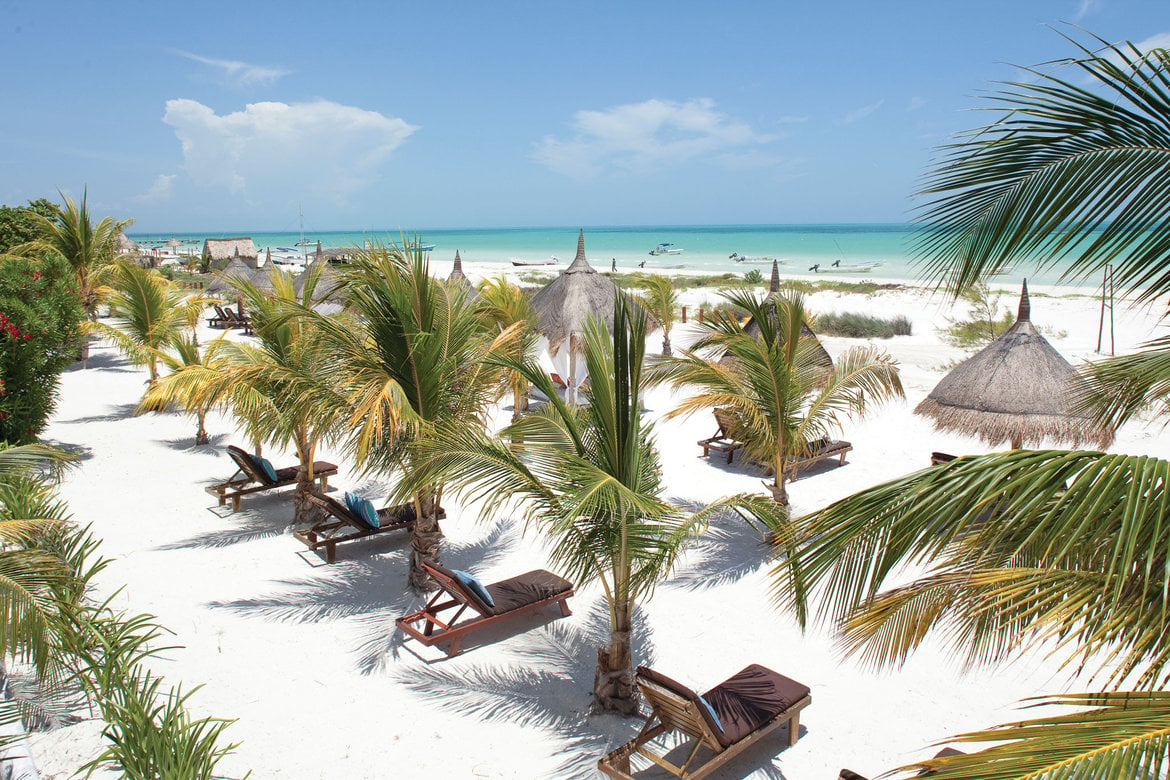 Photo courtesy of Cancun CVB
This is the Mexican island that time forgot. Frequent visitors here would like to keep it a best-kept secret, but word has trickled out about its beautiful beaches and car-free streets. Isla Holbox is about 40 miles northwest of Cancun, and you can drive to Chiquila and take a 20-minute ferry ride or charter an air taxi fight from Cancun or Playa del Carmen. Honeymooners rejoice in the stripped-down feel of the island, with its sand streets, low-rise buildings and back-to-basics, bohemian feel. This is a holiday spot with tons of personality. Cars aren't allowed on the compact island (it's just a mile wide), so visitors and locals get around by golf cart, bike and moped. While the main town is worth a gander and spending the day soaking up the sun on a tranquil beach is enticing, there is also a whole natural world above and below the waterline. Holbox is home to more than 150 species of birds, including exotic beauties you only see in picture books, and adventurous honeymooners can kayak through the mangroves or the shallow waters formed by the sandbars to see them.

Photo courtesy of CasaSandra
What to do: Isla Holbox is located within Mexico's largest ecological reserve, Yum Balam, and there are dolphins near the reefs, pink flamingos, and pelicans in the shallow lagoons, and endangered wildlife such as nesting turtles and sea swallows that fnd sanctuary here. Giant whale sharks visit these waters from June to September, and swimming with them is a singular experience. Most boat tours include a trip to Isla Pasion and a visit to Yalahau, a fresh-water cenote perfect for a refreshing dip.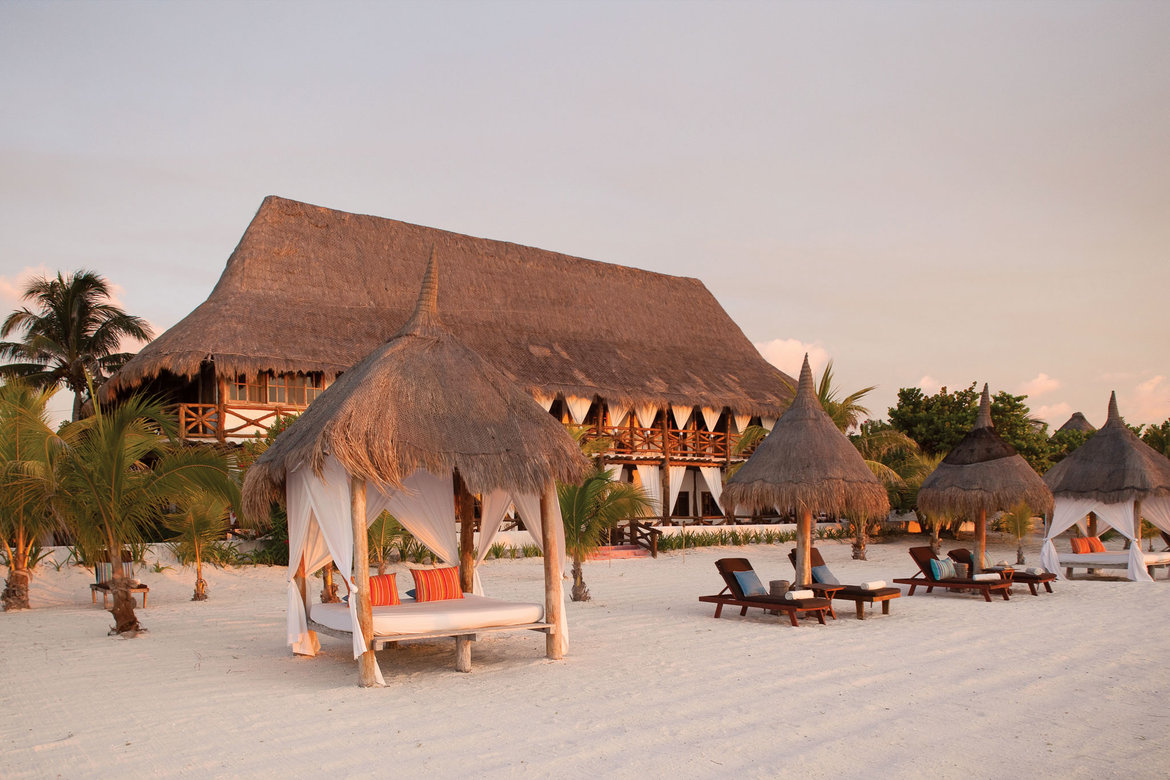 Photo courtesy of Cancun CVB
Where to stay: Colorful CasaSandra is truly a home away from home. Fully embracing the notion of "barefoot luxury," the boutique hotel's 18 rooms are filled with locally made furniture, hand- woven linens and world-class artworks. Rene Redzepi, the chef of Copenhagen's Noma, currently regarded as one of the best restaurants in the world, is a fan of the fresh fsh and seafood served here, and the wind-kissed, thatched palapitas (small day beds) are just steps from the ocean. Rooms start at $279 a night; casasandra.com.
Isla Mujeres

Photo courtesy of Cancun CVB
For decades, Isla Mujeres served as a quick day-trip destination for couples holidaying in Cancun, but the colorful island's soulful allure has beguiled discerning honeymooners, who now spend their entire getaways here. Only eight miles from Cancun, Isla Mujeres is a destination in its own right, with beautiful beaches that rival those in Riviera Maya, and crystal- clear, turquoise waters that cast a tantalizing spell on beach lovers. An underwater sculpture museum draws curious scuba divers, and an important archaeological site in Punta Sur adds a dash of history for a well-rounded experience.
What to do: Adventure-seeking couples can get up-close and personal with whale sharks that congregate here between June and September. The whale sharks are gentle creatures that can grow as large as 60 feet. Have a shark phobia? Visitors can instead choose to stay aboard the charter boat and watch these magnificent creatures swim in the clear waters below.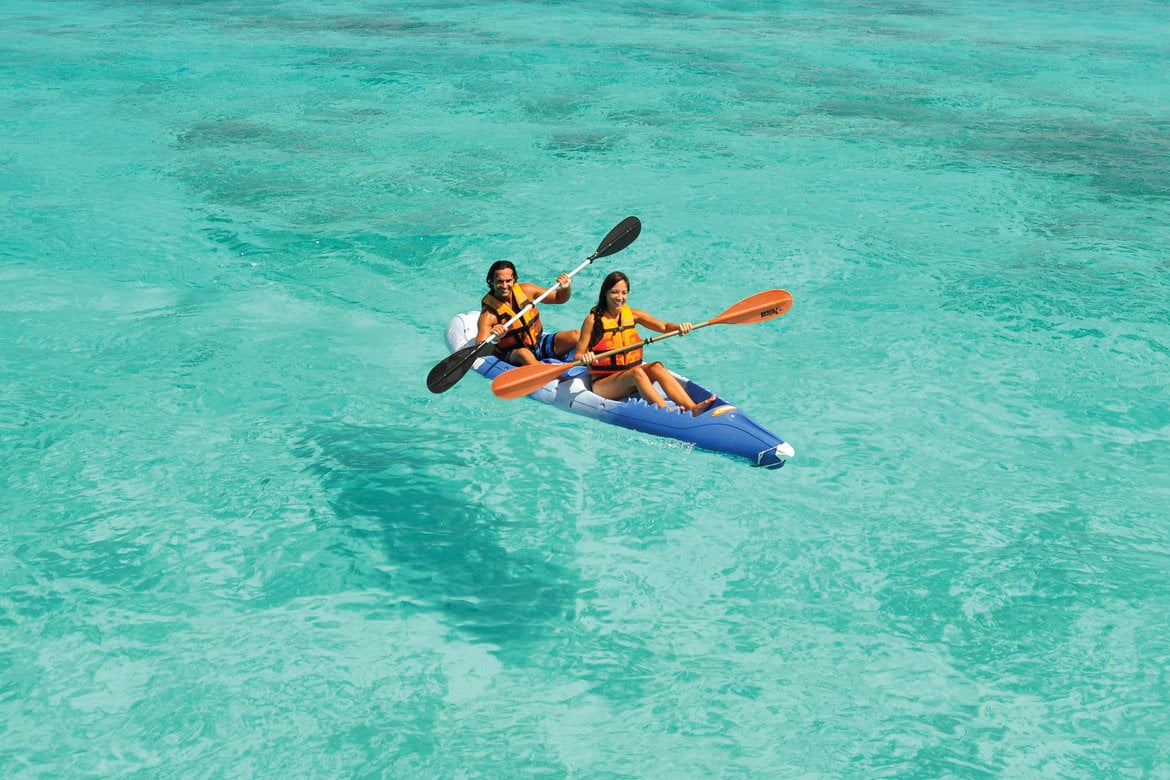 Photo courtesy of Cancun CVB
Where to stay: The zen Zoetry Villa Rolandi Isla Mujeres is a beachside sanctuary with 35 spacious oceanfront suites — each with a private terrace and outdoor Jacuzzi — drenched in sunlight. Most honeymooners find it hard to leave their suite, let alone the sublime beach, infinity pool and Thalasso Spa with outdoor seawater hot tub. Suites start at $691 a night; zoetryresorts.com.
Cozumel
Cozumel indisputably reigns as the island for overnighting honeymooners, and with very good reason. The pristine waters here are just as alluring as Mexico's most ancient Mayan ruins. Snorkeling and scuba diving is a major highlight, thanks to Cozumel's coral reef — one of the largest in the world — and white-sand beaches framed by the picture-perfect blue sea. Less than five percent of its 189 square miles is developed, which gives it bona fide island charm: authentic, family-run shops, pastel buildings and a quaint town square. Most visitors hop on rented scooters to explore small Mayan ruins, the lush marine park and art galleries.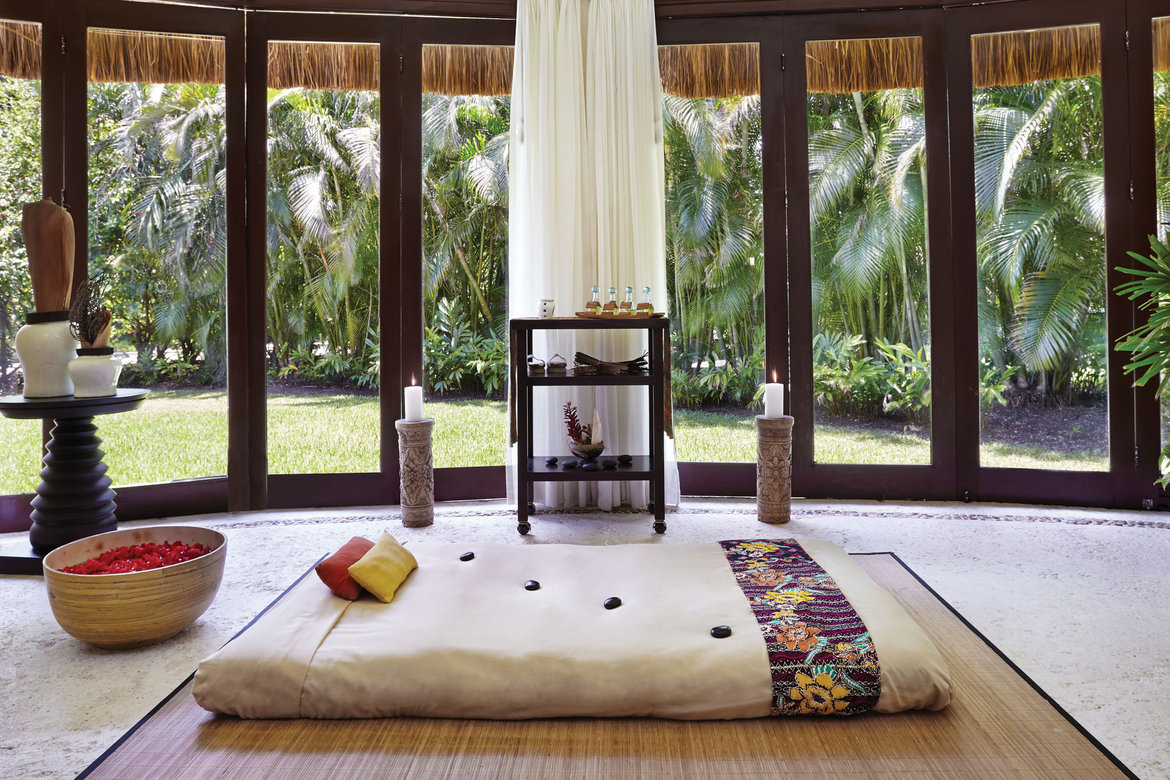 Photo courtesy of IHG
What to do: Don masks and fins for some daytime fun snorkeling in popular spots like Chankanaab lagoon, known for abundant marine life, and Paradise Reef, a gorgeous protected area with exotic fish, lobster and even octopus. Experienced snorkelers head to San Francisco Reef, a shallow wall dive that's home to friendly sea turtles. For day excursions, it's easy to coordinate with your hotel or even hire a driver.
Where to stay: The 220-room InterContinental Presidente Cozumel Resort Spa is the only five-star resort on the island. Its excellent location within the Cozumel Reefs National Marine Park on a half-mile of sugar-white beach means guests have unlimited access to some of the most thrilling swimming, snorkeling and scuba diving on the island. Room rates start at $340 a night; intercontinental.com.