Located on the longest uninterrupted beach in Playa del Carmen, situated between the lush jungle and the azure waters of the Caribbean Sea, Mahekal Beach Resort offers a breathtaking backdrop for weddings and a serene escape for honeymooners. Whether you want to tie the knot in a seaside ceremony, relax by the pool with your bridal party, or enjoy a rejuvenating post-wedding couples massage, you're sure to have a #MagicalMahekal experience.
By: Mary Gillen
From the moment you arrive at Mahekal Beach Resort in Playa del Carmen, you feel as if you're being welcomed home. An immediate sense of calm overcomes you as your hosts greet you with a warm smile and a cool lavender-scented hand towel. Once you check in, follow the winding hand-laid stone walkways to your suite. You'll be captivated by the beauty of the resort and will need to resist the urge to take photos every step of the way.
Family and tradition has always been the cornerstone of Mahekal. The resort dates back approximately 50 years ago, when a local entrepreneurial family built six thatched-roof palapas on the beach for backpackers to rent. Mahekal has grown exponentially since then, and every penny of profit was invested in constructing more bungalows. In 2015, Mahekal underwent a $16 million renovation — adding 74 bungalows to the existing to the 122 existing suites and beachfront palapas.
Say "I Do" in Paradise
The turquoise waters, white sand beach, and lush vegetation of Mahekal Beach Resort provide a truly magical backdrop for a destination wedding. From intimate beach ceremonies beneath swaying palms to a platform stage atop the oceanfront infinity pool, there are a variety of tropical settings where guests can tie the knot at Mahekal. Since the renovation, there are a number of new venue options at Mahekal. If you are looking for a more verdant spot for your big day, the resort's new open canopied chapel is set amongst lavish gardens and the natural jungle. After the addition of 4,500 square feet, the resort's newly transformed "Celebre" event space can easily accommodate all of your guests.
The chef at Mahekal takes pride in crafting delectable cuisine from the freshest local ingredients. From authentic Mexican catering to contemporary favorites designed to represent your personal tastes, Mahekal Beach Resort has a long tradition of creating the perfect menu for every event. Mahekal's creative planning services help guide couples through every step of the wedding process, from selecting the décor and the music to booking a photographer and guest accommodations, ensuring you'll have an unforgettable wedding in Playa del Carmen.
Here is the list of services that Mahekal offers:
- Attendant or minister
- Decorations
- Flower arrangements
- Lighting design
- Beauty services
- Music
- Photography
- Spa treatments
- Open-air wedding pavilion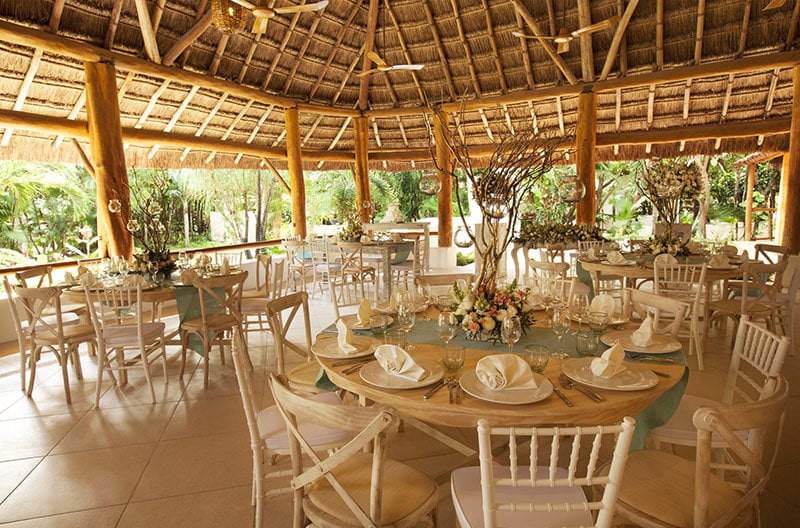 For guests that want complete privacy: Separated from the rest of the resort by just a few steps, the Aventura section of Mahekal is available for exclusive buy-outs. Perfect for private wedding groups, Aventura offers bungalows clustered together and four multi-story penthouse buildings. Each building features six units — one on the top floor, two on the second floor, and three on the first floor. All have some of the largest balconies in the resort. In addition, there are six single bungalows right on the beach — one building is a two unit building with one king bed, and another room with two double beds, as well as a fabulous ocean view (seen below). There are 30 total units in Aventura, as well as Las Olas restaurant and bar.
Pages