Give back without giving up luxury amenities with a stay at one of these eco-friendly — and posh — properties south of the border.
By: Becca Hensley
-AS SEEN IN BRIDAL GUIDE MAGAZINE-
Your lifestyle is all about green juices, eco-conscious clothing, farm-to-table cuisine and achieving balance. And giving back while having an excellent experience is also a topline for you and your guy, so why not book a trip of a lifetime that complements your interests? Mexico's eco-offerings are not only green-minded and earth-friendly, they're also luxe, intimate and utterly romantic.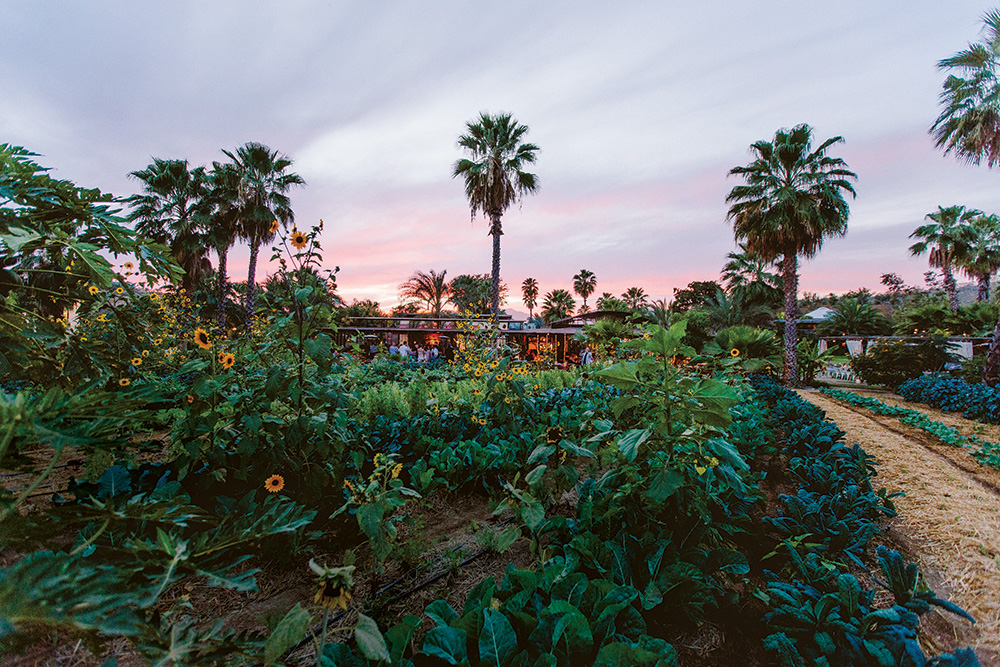 Photo courtesy of Flora Farms/Bernardo Arce
Trailblazing Flora Farms, a 25-acre organic estate in the foothills of the Sierra de Laguna Mountains, is best known for its organic, soil-to-plate restaurant, Flora Farms Kitchen (which serves only what the farmstead makes or grows). Today, the farm also has 10 guest cottages, scattered among the garden rows. Getaways here include harvesting privileges, but guests can also lounge by the pool, submerge in the hot tub, or learn to cook with star chef, Guillermo Tellez, a student of Chicago's Charlie Trotter.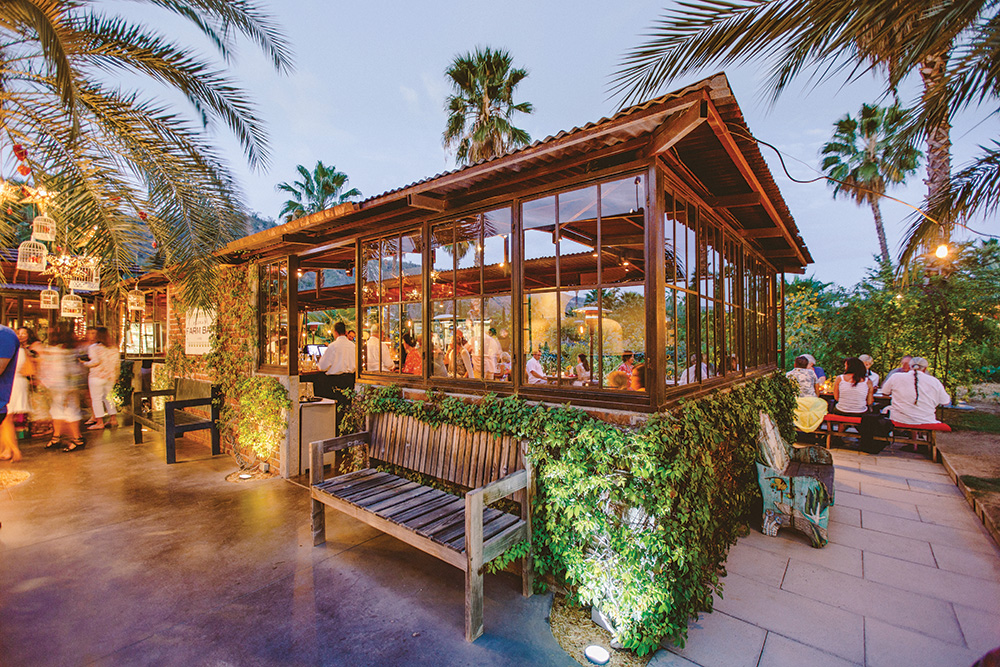 Photo courtesy of Flora Farms/Bernardo Arce
An innovative enterprise, Flora Farms' initiative incorporates a variety of related ventures — including a sustainable ranch, which feeds its pigs and chickens only all-vegetable, hormone- and antibiotic-free feed. Also on site, Flora Grocery stocks products from the ranch (such as bacon, ham and eggs) and freshly picked products. Drawing both visitors and locals, Farm Bar gets accolades for its craft cocktails, Mama's Pizzeria cooks up 15 types of Neopolitan-style pizza in a hand-built wood- red oven and the new Farm Spa offers restorative treatments, using healing oils and creams, enhanced by the garden's bounty.

Photo courtesy of Flora Farms/Bernardo Arce
Classes and workshops run the gamut from yoga to whole-body wellness. Flora Farms has worked without pesticides or genetically modified seeds for more than a decade, and dedicates 100% of its production to local consumption. The farmers' time-tested manual techniques and methods (such as using chili peppers for pest control) successfully yield more than 100 types of herbs, fruits, vegetables and  flowers, according to season. An added benefit to this stay? Honeymooners can take an ocean break as desired at the Sea of Cortez, located just a mile away (cottage rentals start at $995 a night)

Photo courtesy of Rancho La Puerta
More than 75 years ago, the first guests at Rancho La Puerta were tony Hollywood celebrities in need of a total and complete detox. They slept in tents in the garden, learned yoga and noshed on raw food. Today, that vibe remains, though the tents have been replaced by ample casitas, the yoga concept broadened to include fitness concepts from barre to cycling (there are more than 50 classes a day) and the raw food menu enriched with truly tasty, Southwestern-inspired, vegetarian wellness-style cuisine.

Photo courtesy of Rancho La Puerta
Considered by many to be a precursor destination to today's clean living life-in-balance ethos, the Ranch continues its eco and body-conscious legacy. With garden initiatives, natural pest management, green design and building construction, and a six-acre organic farm, which produces more than 250 different varieties of fruits, herbs and vegetables for guests' meals, the ranch keeps an eco-aware profile at all times. When you go, stroll through the garden. Think of it as a metaphor for marriage itself — it's a product of hard work, passion and commitment. As the heart of the resort, this is a logical spot for vow renewals or intimate ceremonies between the two of you. Just over the border to Mexico, discover 4,000 acres to explore — including plenty of hidden nooks and crannies for romantic canoodling in private. Rancho La Puerta also offers stellar wedding packages, including dinners, full-day and elopement options (room rates start at $3,900 for a week stay and are all inclusive).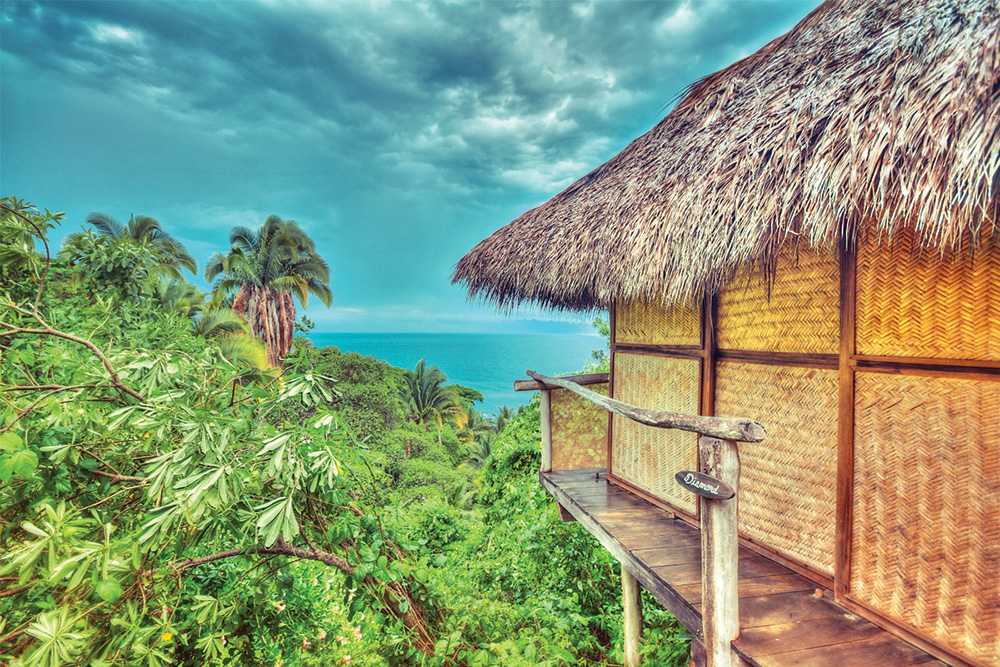 Photo courtesy of Haramara Retreat
Surfers know the funky arts haven of Sayulita, just an hour north of Puerta Vallarta on the west coast, as an ex-pat colony with some of the best beginner breaks in Mexico. Yogis know it for Haramara Retreat, an unplugged portal to serenity.

Photo courtesy of Haramara Retreat
Set in the monkey-filled jungle, this ocean-view hideaway stretches across 16 unsullied acres. Complementing the tropical terrain (an expanse said to be healing by the local Huichol people and noted to emit powerful "feel good" energy by most guests), are 16 stand-alone cabanas and one dormitory. All are hand-built without machinery, using found and foraged regional materials. Electricity-free (except in the dining and yoga huts), Haramara uses candles and oil lamps at night. Screen- free windows draw in revitalizing fresh sea air to override the need for air conditioners or fans. From the kitchen, vegetarian-based meals, part of the all-inclusive concept, fuel your honeymoon fervor. Join sunrise or sunset yoga classes, sweat out those accumulated wedding-planning toxins at the retreat's own temazcal (sweat lodge), learn to cook healthy recipes for your return home or lounge in a hammock and meditate on your future to the sound of the sea. Bonfires on the beach, spa treatments in the al fresco wellness center, surfing lessons à deux, sacred petroglyph hikes, fishing and SUP among the waves round out your good, clean, honeymoon fun (room rates start at $303 a night and include breakfast and dinner and most on-site activities. There is a two-night minimum).

Photo courtesy of Casa Sandra
Nobody on Isla Holbox — a tiny, ivory-sand island off the coast of Cancun — wears shoes, so Casa Sandra literally defines the expression "barefoot luxury." That means you can pack light — really light. Part of the ecological preserve, Yum Balam (which means "Lord Jaguar" in Mayan), the protected expanse keeps wildlife safe in its wetlands, tropical forests, shorelines and seas. From rare cats (jaguar, puma, ocelot and more) to the immense whale shark, some of the world's most exotic creatures thrive here. At Casa Sandra, an eco jewel box, you may be lucky enough to see residents from hawksbill turtles to pink flamingos; iguanas to horseshoe crabs. Board a boat to swim with its top-billed stars, the plankton-eating whale sharks to experience an unforgettable adventure.
Built by artist Sandra Perez as her home, the colorful, oceanfront retreat with its gallery and 18 suites channels the island's snail-paced vibe to offer visitors an unplugged space to recharge. Without televisions or alarm clocks, time stands still. Swing on hammocks or snooze on thatched daybeds beneath shady palms, before cleaning up with the hotel's house- made herbal bath products. Some rooms sport conch-shell shower heads (room rates start at $265 a night).

Photo courtesy of Casa Sandra