Whether you prefer haute cuisine with a view or barefoot beach barbecues, Oahu offers some awesome options.
By: Carrie Bell
Oahu is nicknamed "The Gathering Place," likely because the Hawaiian island is home to the majority of the state's population as well as its capital. But the moniker could just as easily have been earned because such a varied set of cultures, landscapes and experiences meet and coexist on this Polynesian Pacific paradise. Visitors can wander around a concrete jungle and the actual one in the same day, disconnect on the beach or keep the heart racing on ziplines, helicopters, shark swims and strenuous trails, get a deep tissue massage for two or join the crowds at a museum or luau. In fact, there's so much to do that the diversity can become overwhelming when it comes time to choose your own adventure. To ensure that the honeymoon phase is as suited to you as your new spouse we've broken down the best the island has to offer just for you.
Old Souls
If you have a closet full of vintage threads, wax poetic about the good ol' days before social media, or fantasize about recreating Don and Megan's tropical trek from Mad Men, go for a retro respite that's heavy on Hawaiiana, historic hotels and classic cocktails.
Play: The Moana Surfrider has been offering an elegant afternoon tea on the veranda overlooking an ancient and humongous banyan tree since it opened in 1901. Go even further back in island time at the Bishop Museum, Iolani Palace or Pearl Harbor. Stroll along galleries like Nohea or Cedar Street looking for traditional crafts including turned bowls and barkcloth or nostalgic prints to take a piece of the honeymoon home.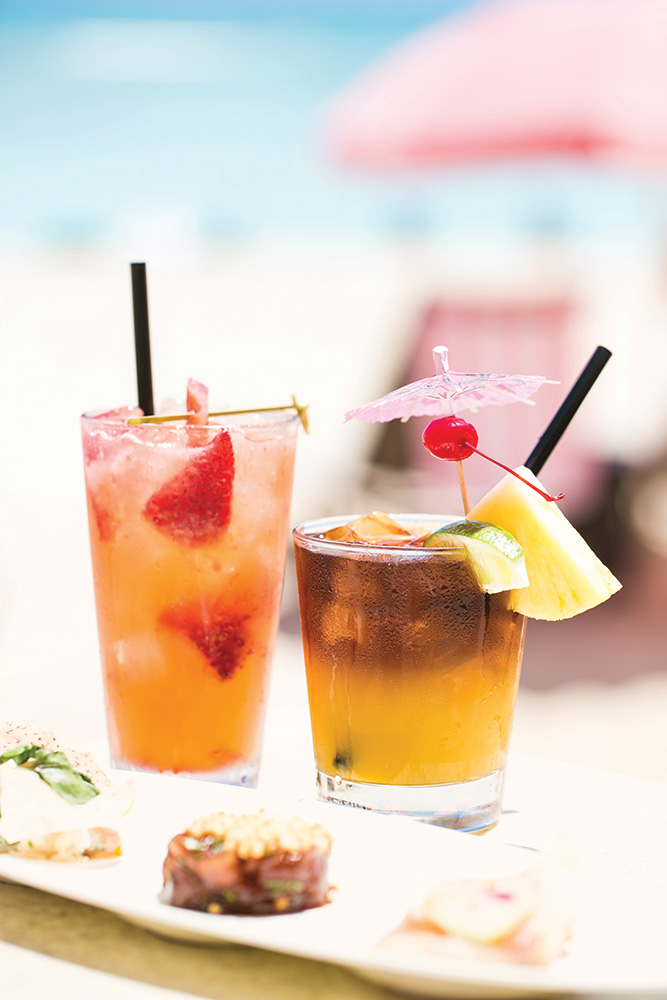 Stay: The Royal Hawaiian, a Luxury Collection Resort is a photogenic potpourri of rosy shades, timeless patterns, Spanish-Moorish architecture and luxury amenities. Guests can dive into the colorful history of the 1927 beachfront beauty on twice-weekly tours. Opt for one of 349 old-fashioned rooms within the Pink Palace's historic building, which also includes the regal Kamehameha Suite where Jon Hamm rolled around on the four-poster and lounged on the expansive lanai. The Mai Tai Bar introduced the isle to the namesake libation, now synonymous with Hawaiian happy hours, and was the birthplace of the Shirley Temple when the child actress visited in the 1930s (room rates start at $339 a night).

Photo courtesy of The Royal Hawaiian
Pop Culture Vultures
If your idea of a good time is keeping up with the Kardashians, Netflix and chilling or memorizing what won Best Picture in chronological order, this is your itinerary.
Play: Kualoa Ranch has been a popular film location for blockbusters and TV series (Lost, Jumanji, Kong Skull Island and Jurassic Park to name a few) since the 1950s and offers multiple entertainment-themed tours. Or venture out on your own to reenact romantic scenes where they were originally shot like Halona Cove (which hosted From Here To Eternity's iconic makeout session) or the Dole Plantation (the setting for one of Drew Barrymore and Adam Sandler's 50 First Dates). End with dinner at the new Mina's Fish House at the Four Seasons in Ko Olina, where Amy Schumer and Goldie Hawn's vacation took an unexpected (and hilarious) turn in Snatched.
Stay: Situated on a beautiful North Shore peninsula, Turtle Bay Resort, as seen in Forgetting Sarah Marshall, Mike and Dave Need Wedding Dates and a Hunger Games installment, is always ready for its close-up thanks to 42 cozy beach cottages and activities like fresh smoothies at the family farm or private surfing lessons alongside the instructor's wave-riding dogs (room rates start at $339 a night).

Photo courtesy of Turtle Bay Resort
Social Butterflies
You do everything else for the 'gram, why not plan your honeymoon with your feed in mind too?
Play: Snap plenty of things that will make your socials pop with color — a heaping serving of all-natural shave ice from The Local in Kailua, the street art-filled walls of the hipster hood of Kaka'ako, the underwater world of Hanauma Bay—and leave your followers deep in FOMO. Become a member of Swim Club at The Surfjack (it's free!) to wade in the Insta-famous "Wish You Were Here" pool. Catching a dive-in movie (a screening experience enjoyed while in the water) or folks talking story (Hawaiian legend speakers) are more only-on-Oahu experiences.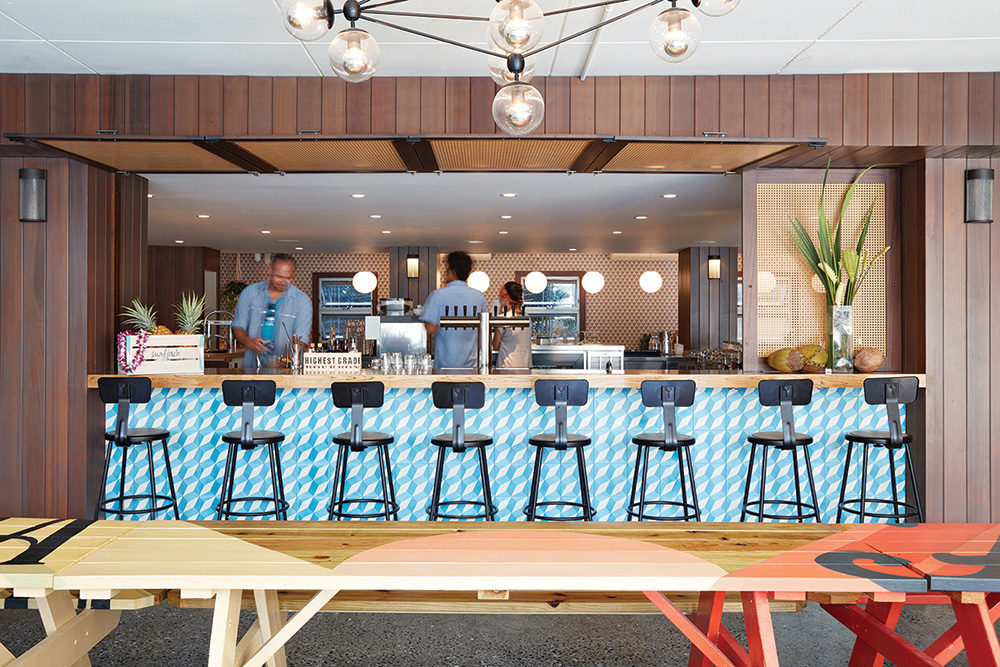 Photo Credit: Mariko Reed
Stay: Adorable details like mid-century modern bucket seats and swings, kitschy hula figurine installations, coffee foam art, bold leafy wallpaper that incidentally matches the flip-flop slippers and partially submerged pool chaises are around every corner at The Laylow, an Autograph Collection boutique hotel that opened last spring in the quickly revitalizing Kuhio Avenue district (room rates start at $299 a night).

Photo courtesy of The Laylow, Autograph Collection
Water Babies
Darling, you think "it's better down where it's wetter" just like the Little Mermaid's lobster pal, which means a beachy keen itinerary is in order.
Play: Once you tire of splashing around epic coastlines, hanging 10 on the North Shore or lapping around the hotel pool, head below the surface aboard the Hilton Hawaiian Village's passenger submarine, Atlantis XIV, to chase coral or in a cage to safely swim with sharks outside of Haleiwa Harbor.
Stay: Until you develop gills, you have to come out of the water sometime. It might as well be at Alohilani Resort Waikiki Beach, because watching more than 1,000 indigenous marine creatures float by in the towering 280,000-gallon lobby aquarium will make it feel like you never left, as will plunging into the saltwater infinity pool or taking an aquatic Vinyasa class (room rates start at $289 a night).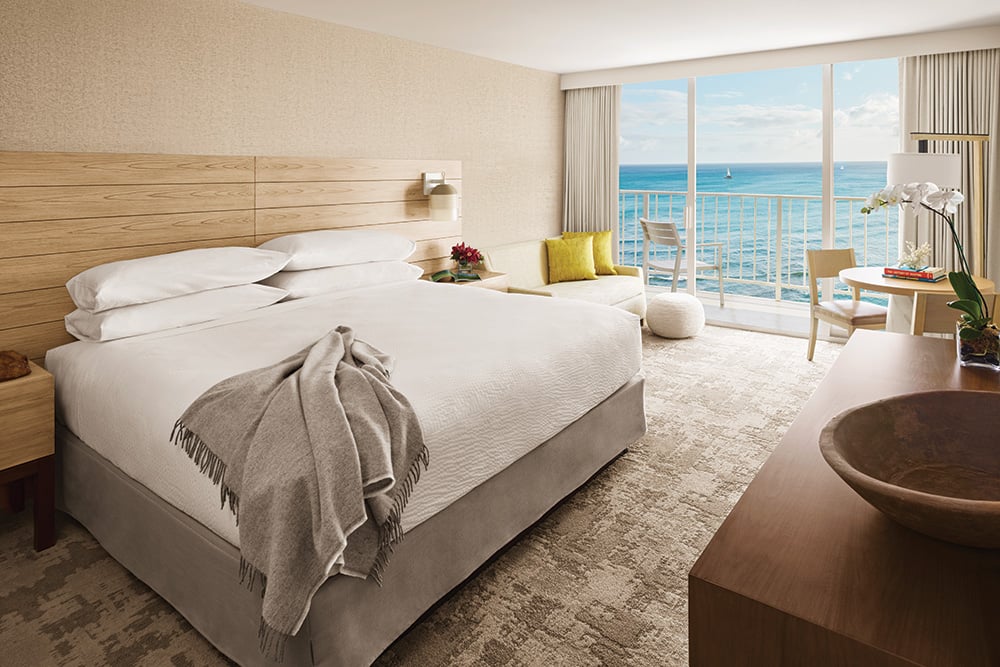 Photo courtesy of  Alohilani Resort Waikiki Beach
Fit-natics
Those who go hard, even while on holiday, will find plenty of ways to keep their blood pumping in paradise.
Play: Find your inner Moana crewing a hand-built Polynesian sailing canoe with Hawaiian Ocean Adventures, which offers embarkation points in East and West Oahu. Come together for a couple's zip after a little friendly competition on Coral Crater Adventure Park's aerial tower course.
Stay: Continue the workout with daily fitness classes, which include hula aerobics, SUP Barre and bootcamp at the beach, and a fleet of complimentary cruisers at the ocean-facing The Kahala Resort. On the beach, you'll find surf lessons, SUP yoga and board and kayak rentals. Recharge with a customized massage at the spa. Or opt for the three and a half hour couple's spa experience, which is utterly indulgent and romantic (room rates start at $420 a night).
Foodies
If the way to your hearts is through your stomachs and an acceptable date night is standing in line for hours to try a cronut, cruffin or a champagne gummy bear, organize a gastronomic getaway and eat and drink your way to a "kanak attack" (local for food coma).
Play: Make a big dent in the Hawaiian food hit list — poke (raw fish salad), garlic shrimp, baked manapua (pork bun), Spam musubi (Nori-wrapped meat and rice) — in a short amount of time on Hawaii Food Tours Honolulu Hole-In-The-Wall or North Shore excursions. Or time your trip to attend the eighth annual Hawaii Food and Wine Festival in October. The popular Madre Chocolate's cacao class starts with a flight of their five most popular flavors and ends with a design-your-own bar session.
Stay: Grab some famous Liliha Bakery coco puffs before checking in at The Ritz-Carlton Residences, Waikiki Beach, where most rooms come equipped with Miele appliances and full-height refrigerators, which can be prepped with your favorite provisions prior to arrival. Restock downstairs at the state's first Dean & Deluca market, making sure to stop at the wine bar for a sip and scenery (it overlooks the sand). It's also home to America's only Sushi Sho, an intimate 10-seat omakase (chef-curated) den hosting two seatings a night of the 32-course tasting menu prepared by Tokyo master Keiji Nakazawa. Not interested in leaving your quarters? The resort can arrange for James Beard-nominated Chris Kajioka of hot spot Senia to whip up a little something fabulous or send up the master mixologist to teach you how to craft one of the property's five signature cocktails (room rates start at $630 a night)