These Caribbean destinations are screensavers come to life — where yours are the only footprints in the sand.
By: Shea Peters
You like to follow the sun, and your default vacation destination is a beach — any beach. But when it comes to your trip of a lifetime, you're looking for something a little more special, intimate and uncharted. Enter this collection of five discreet Caribbean island getaways. All are blissfully secluded yet still relatively close to home with the promise of pristine sands, crystalline waters and fantastic service at beautiful beachy hotels.
Petit St. Vincent
Locally dubbed PSV, Petit St. Vincent is a private island resort that lies 40 miles south of St. Vincent in the Grenadines. And "petit" describes it perfectly — the islet is just 115 lush acres ringed by two miles of white sand beaches. PSV is designed for the vacationer with a discerning taste for luxury, with a world-class open-air spa, bayside yoga and top-notch dining. In late 2014, the resort welcomed a dive center helmed by Jean-Michel Cousteau, son of the famed oceanographer. The island is home to 22 freestanding beachside cottages that come with bespoke butler service (room rates start at $1,100 a night and are all inclusive; petitstvincent.com).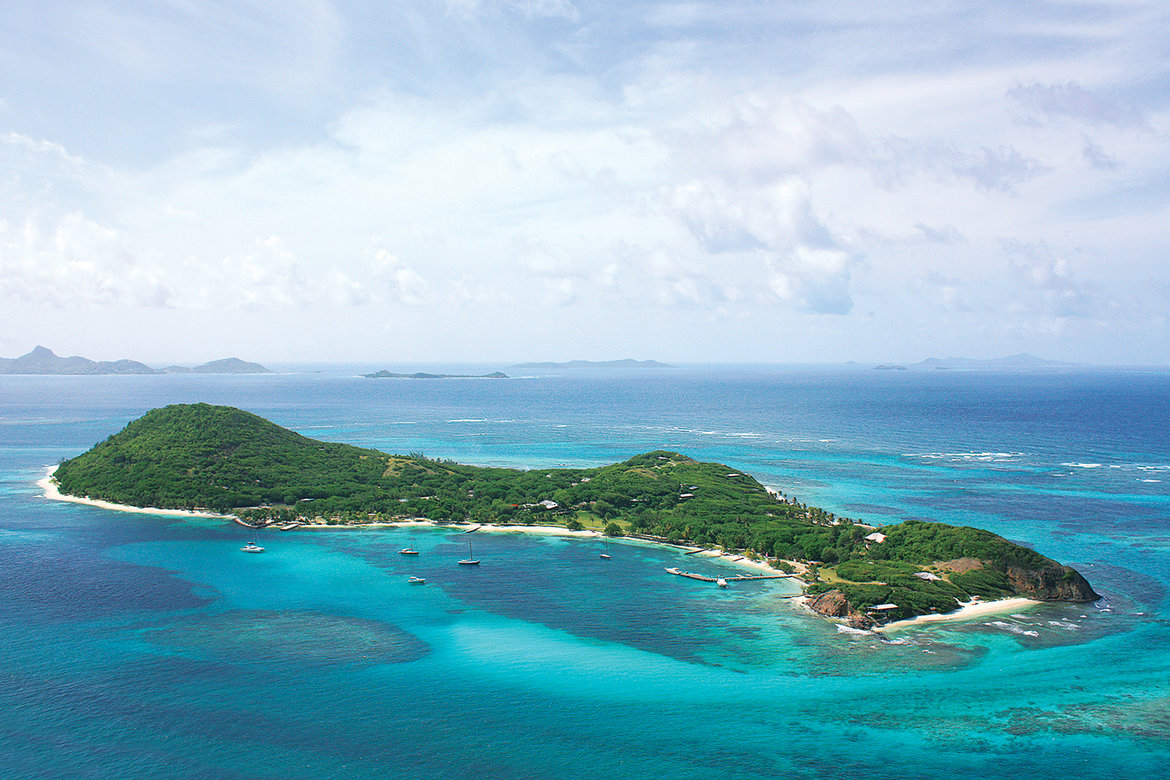 Photo Credit: Mike Semark

Photo Credit: Mike Toy Photography
Saba
Known as the "Unspoiled Queen of the Caribbean," Saba is one of the most secluded islands in the Western Hemisphere. At only 5 square miles and a population of about 2,000 people, this tiny isle's closest neighbor is the slightly larger St. Maarten. Sailing, snorkeling and diving are all local hallmarks. In fact, Sea Saba Dive Center is a celebrated National Geographic Dive Center. Although the center is geared toward more advanced divers, there are also learn-to-dive options on Saba. With only 12 suites, Queen's Gardens Resort reflects the ultra hideaway feel of the island. Each suite encompasses an entire floor and most have private Jacuzzis with Caribbean Sea or rainforest views (room rates start at $255 a night; queensaba.com).

Photo Credit: Cees Timmers, tvc-advertising.com
Vieques
Once used as a U.S. military base, this island off the coast of Puerto Rico was until about eight years ago rendered off-limits to tourism. The prior limited access has preserved the beaches, giving the 21-square mile island an untouched feel. Activities here include snorkeling, swimming and kayaking. You can also take an excursion to the Bioluminescent Bay at night to witness waterborne microorganisms that light up when disturbed (by, say, your kayak, paddle or your hand) leaving a trail of neon blue in their wake. It's a magnificent natural phenomenon. Perched in the hills of Vieques, Hix Island House provides the atypical island vacation perspective with all the expected pampering. The unplugged eco-lodge is rustic, yet modern, with a Zen-inspired vibe that takes its design cues from the surrounding environment. Guest rooms are breezy and open-air; most have sexy outdoor showers (room rates start at $135 a night and include breakfast; hixislandhouse.com).

Photo courtesy of Puerto Rico Tourism Company
Grenada
Set deep in the southeastern Caribbean, you'll find that this little-known gem is undergoing a major tourism push. The Spice Island (thanks to its status as one of the world's largest nutmeg producers and exporters) boasts some of the most unique beaches in the Caribbean. There's the volcanic black sand Black Bay Beach, the romantic Pink Gin Beach and an array of white powdered strands. The island's mountainous interior is also a draw with its lush landscapes crisscrossed with hiking and biking trails and crystalline waterfalls such as the Seven Sisters at Grand Etang National Park. Keep your eyes peeled for the native monkeys! Debuted in 2014, Sandals LaSource is the perfect mix of luxurious and laid-back. Many of the rooms have butler service and private plunge pools and Jacuzzis, others have sultry outdoor bathtubs set on water-facing patios. The resort is home to nine restaurants, a spacious spa, several bars and a large watersports outpost (room rates start at $329 per person, per night and are all inclusive; sandals.com).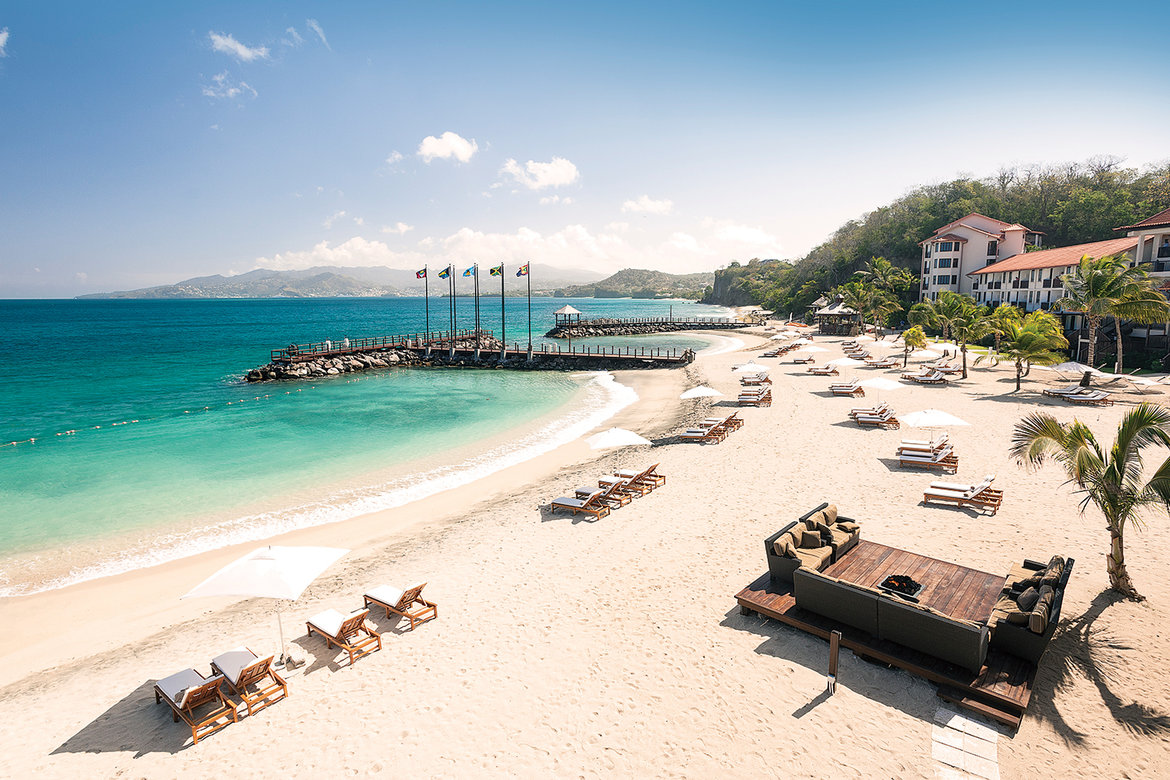 Photo courtesy of Sandals Resorts
Harbour Island
The Caribbean nation of the Bahamas is comprised of seemingly innumerable islands and cays. And the Out Islands are a collection of barefoot, laid-back stretches of sand that feel completely off the grid. One of them, Harbour Island, is home to some of the best strands in the world, including the sparkling Pink Sands Beach. The island is one of the oldest settlements in the Bahamas and the former capital. Much of the area has retained the historic elegance of the 18th century. In fact, it is often called "Nantucket of the Bahamas" thanks to the New England-style architecture. Set on 13 beachfront acres, Runaway Hill Inn is an intimate hideaway of just 11 guest rooms and a private cottage positioned right on Harbour Island's pink sands. The restaurant showcases fresh-caught fish (room rates start at $325 a night; runawayhillinn.com).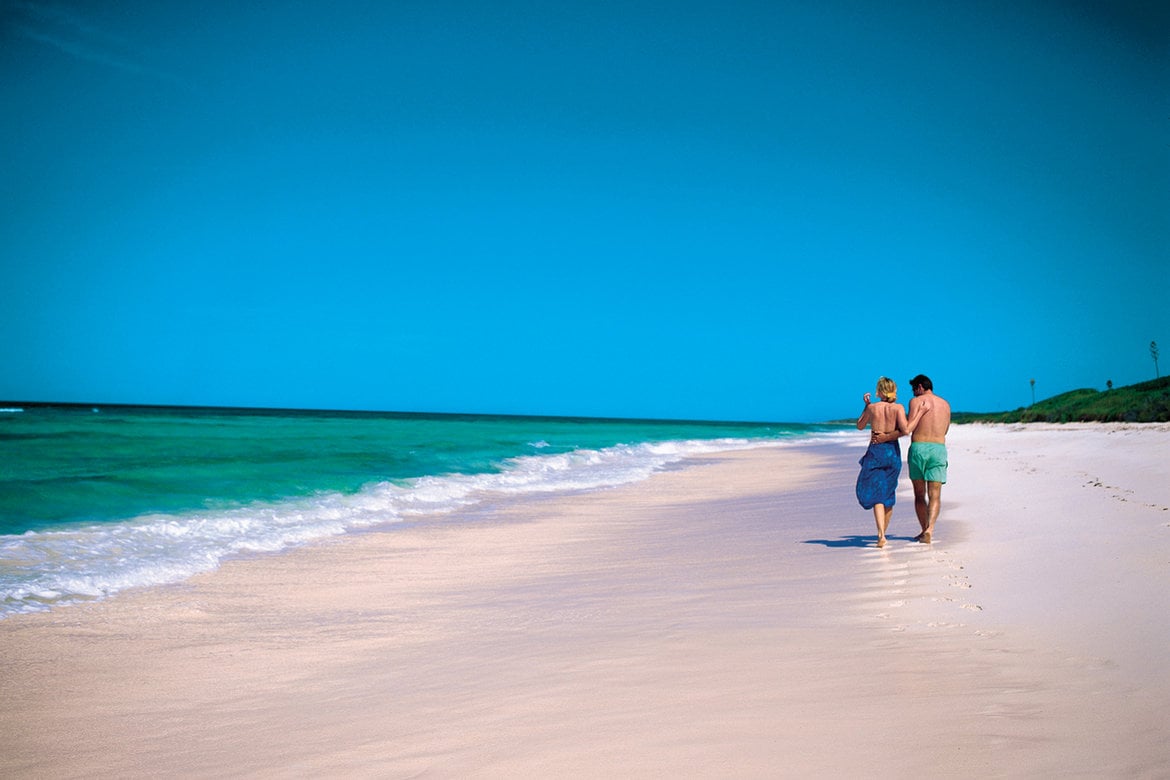 Photo courtesy of Harbour Island, Eleuthera