Live the high life on your Caribbean honeymoon. We've got the scoop on where to save, where to splurge and where to get the absolute best the Caribbean has to offer — no matter your budget!
By: Abbie Kozolchyk
Forget the "go big or go home" vacation mantra. In the Caribbean, you can splurge — or save — and still have the kind of honeymoon that makes you consider dropping out of the daily grind in favor of island life — for all eternity. Hit any of these hotspots (and follow our budget or blowout suggestions) for the ultimate fantasy getaway.
The Cayman Islands
In this trio of islands along the old Spanish treasure-galleon route, the history is so steeped in buccaneers' rum that residents still celebrate Pirates week every November. And the same coves that once sheltered the likes of Blackbeard make for ideal honeymoon hideaways, too — especially if you like snorkeling or diving. Plus, you'll enjoy great food above surface.
Save
Occupying a central spot on famed Seven Mile Beach, the recently revamped Grand Cayman Marriott Beach Resort offers modern guest rooms, four restaurants, an array of water sports, a full-service spa, as well as an eco-feature you've got to check out: an installation of 300 or so coral-growing "reef balls" that draw many a marine creature to the local snorkel zone (room rates start at $203 a night; marriott.com).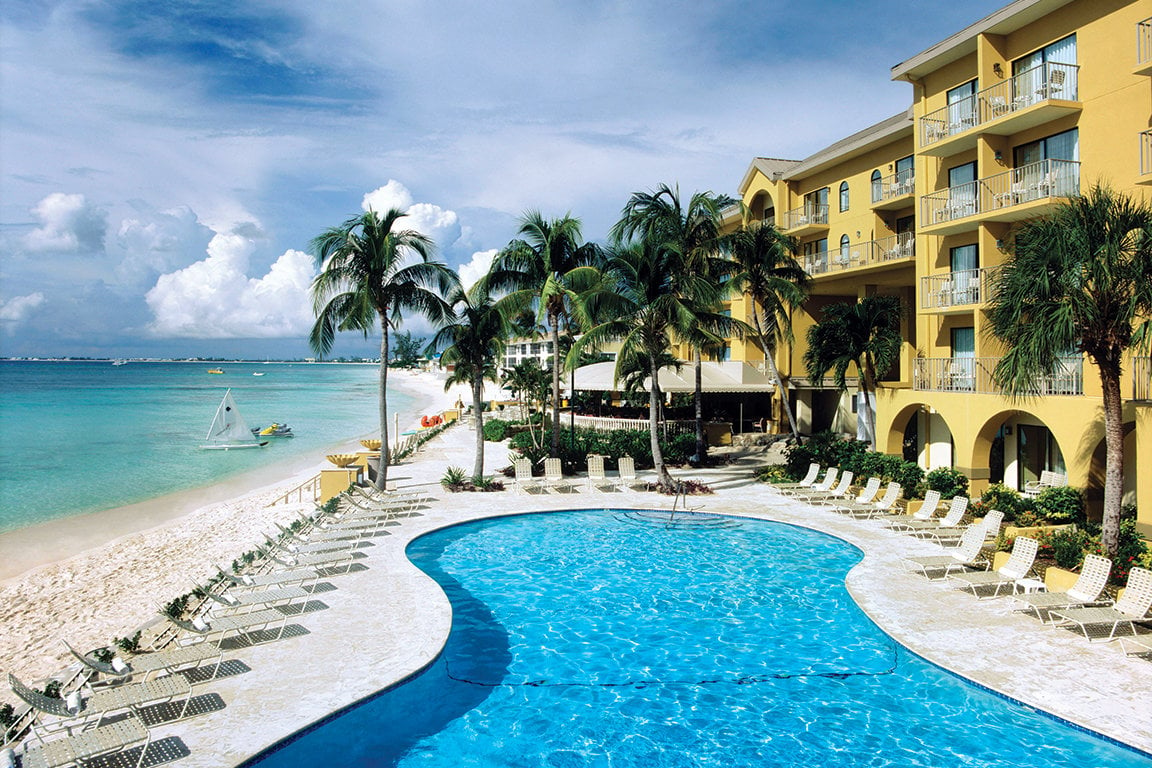 Photo courtesy of Cayman Islands Department of Tourism
What to Do: Go kayaking in a bioluminescent bay — a bay whose microorganisms glow in the dark — where each paddle stroke turns into an amazing, electric-blue swirl. It's otherworldly.
Where to Eat: You can't go wrong at any of the traditional fish fry huts set road- and beach-side, but a perennial favorite is Chester's, where options include not just the requisite fried fish, but jerk pork and chicken among other deliciousness.
Splurge
Check into another esteemed occupant of Seven Mile Beach: the Caribbean Club boutique hotel, where you'll find outsized rooms — think gourmet kitchens, walk-in closets, Jacuzzi tubs in the bathrooms — with spectacular views to match. To ogle the Caribbean from closer range, stake out a spot in a cushy oceanfront cabana or chill in the sea-view pool (room rates start at $750 a night, caribclub.com).
What to Do: Experience Grand Cayman's greatest hits — from Stingray City (exactly what you'd think it is) to the USS Kittiwake (a sunken ship that's as accessible to snorkelers as to divers) to Rum Point (one of the prettiest, mellowest beaches you'll find) — from your own private boat.

Photo courtesy of Cayman Islands Department of Tourism
Where to Eat: Book a dinner at the Ritz-Carlton's Blue by Eric Ripert to see what a New York celeb chef can do with fresh-from-the-Caribbean seafood. And don't be fooled by the menu's humble headings: "Almost Raw," "Barely Touched" and "Lightly Cooked." There's major mastery going on behind the scenes, leading to such decadence as lobster with cauliflower, macadamia nut and truffle butter.
Pages