Sugar sands, crystalline waters, and just the two of you are hallmarks of these less visited — and idyllic — Caribbean islands.

Photo Credit: Kieferpix/iStock
Quick: How many hours do you spend plugged in? Be honest. And we're sure with all the wedding planning and party coordinating, your hectic life has been even more so lately. On your honeymoon, escape all that online agita and more with a visit to a sleepy Caribbean island tailor-made for shedding stress. These are places with few bells and whistles; rather, the main events are the beaches you'll have all to yourself, natural attractions like glow-in-the-dark bays and unique rock formations, along with barefoot beach shacks where you can enjoy the sunset while sipping frothy piña coladas. Explore an unspoiled island that's perfect for unplugging from it all and hooking up with each other.
(Think you don't need to disconnect? According to a study by Pew Internet, 84% of Americans said they couldn't go a single day without their cell phones. 31% of Americans prefer communicating via text message to phone, and 25- to 42-year olds receive an average of 42 texts a day.)
Eleuthera

Photo Credit: David Barlyn/Pineapple Fields
The islands of the Bahamas offer different things to different people. Nassau is known for its nightlife, while Harbour Island brims with upscale boutiques in pastel-hued buildings. But if you really want to get away from it all, head to Eleuthera — one of the Out Islands. Spend days relaxing on strands like Gaulding Cay Beach and French Leave Beach and, if you're feeling active, there's surfng, kayaking and biking. You can also explore attractions like Glass Window Bridge, a narrow rock bridge with the Caribbean Sea and Atlantic Ocean on either side (the contrast of the water color is fascinating!) and the Queen's Bath, rock formations flled with water from the crashing waves.

Photo Credit: David Barlyn/Pineapple Fields
At the approximate midway point of the 110-mile-long island is the pretty little seaside town of Governor's Harbour, where you can stroll its narrow lanes and stop for a snack at the local bakery (try a coconut pastry). Just down the road is Tippy's, a de facto hub of the island for both locals and visitors, serving up conch fritters and blackened grouper on the menu, along with cold Kalik beers and live West Indian-style music. On Friday nights, the fish fry in Governor's Harbour turns into a fun street party. Stay at Pineapple Fields, whose comfortable and fully equipped condos come with verandas — Tippy's, part of the resort, is across the street (room rates start at $299 a night; pineapplefelds.com).
Vieques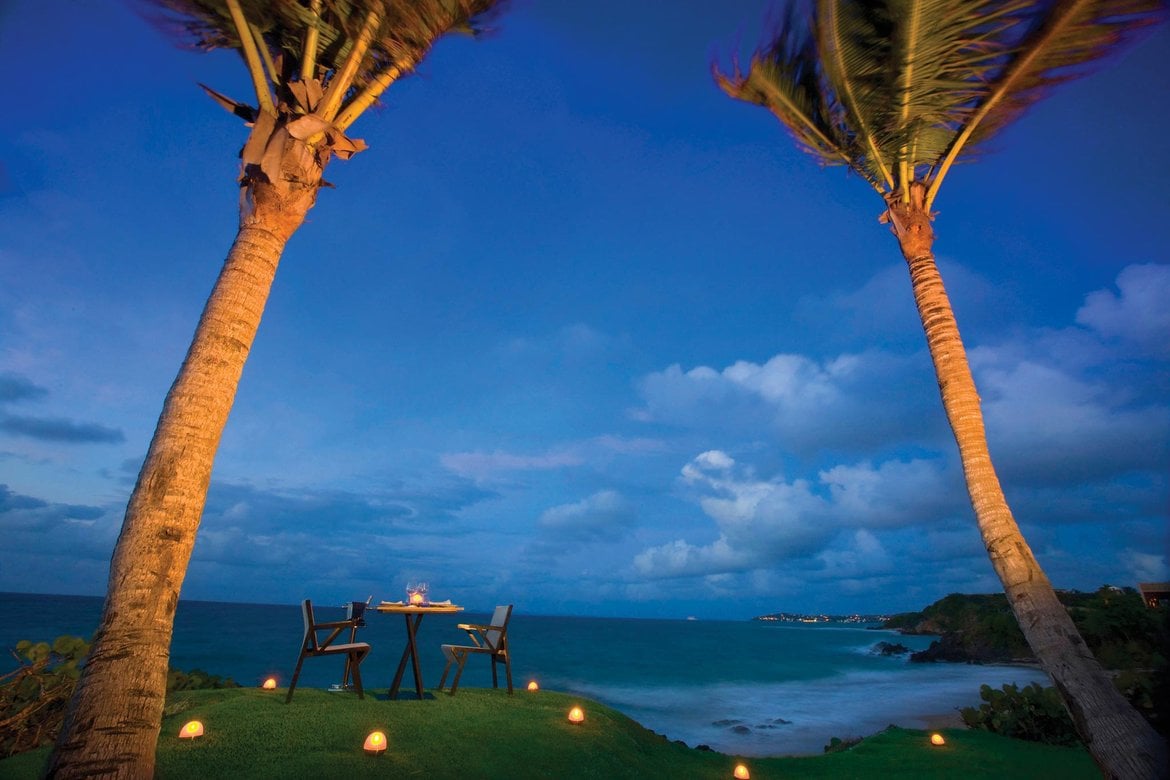 Photo courtesy of W Hotels
Located off Puerto Rico's eastern coast, a stay at this 21-mile-long island (reached via puddle jumper or ferry) feels like stepping back in time, where wild horses roam and fisherman haul in the day's catch. Its dozens of gorgeous, unspoiled beaches are the main draw — there's Media Luna with its super-shallow waters, Navio, a popular surfing spot, crescent-shaped Secret Beach that's a hit with honeymooners, Negra known for its unique black sand (reached via a hiking trail) and Caracas, a broad stretch that has good snorkeling on its eastern end.
A can't-miss activity is to take an evening kayak tour around the Bioluminescent Bay, where tiny organisms light up the water like fireflies — a magical experience. During sunset, have a few mojitos in one of the lively bars lining the malecón (seaside boardwalk) in the small town of Esperanza, then dine on modern Puerto Rican dishes from chef Jose Enrique at El Blok within the hip boutique hotel of the same name. There are a handful of inns on the island but the only resort is the W Retreat & Spa Vieques Island with its own beaches, infinity pool, yoga program, restaurants and a beautiful spa to indulge in romantic side-by-side treatments (room rates start at $289 a night; whotels.com).
St. John

Photo courtesy of U.S. Virgin Islands Department of Tourism
Of the three U.S. Virgin Islands, St. John is the most laid-back. And since the majority of the island is designated as a national park it's likely to stay that way — forever. Connecting with nature is the primary focus here: Spend the day hiking lush forest trails including three-mile Reef Bay or biking along Caribbean Sea-skirting roads. Then cool off in the warm aquamarine waters of postcard-perfect beaches like Salt Pond Bay, a protected cove or secluded Francis Bay, with a Robinson Crusoe-like vibe. Another crescent-shaped beauty with sugar-soft sand is Trunk Bay, where you can snorkel through an underwater trail — watch for sea turtles and colorful tropical fish.

Photo Credit: David Barlyn/Pineapple Fields
St. John has just two little villages, Coral Bay, with a handful of beach- wear and souvenir shops (reached via an unpaved road that you might end up sharing with goats and roosters) and Cruz Bay, where everyone goes to Woody's to sip rum punches at happy hour and dine alfresco on fresh grilled Caribbean lobster in open-air restaurants like the Lime Inn. Caneel Bay, a luxury resort set on a former sugar plantation, also has several restaurants including one built into an 18th-century sugar mill. Stay in luxe, phone- and TV- free rooms and lounge dreamily on a different beach every day— there are seven altogether, including the aptly named Honeymoon Beach (room rates start at $409 a night; caneelbay.com).
Bequia

Photo courtesy of Bequia Beach Hotel
Most people have never heard of Bequia, a tiny isle in the 32-island Grenadines chain, but its throwback Caribbean vibe, sailing culture, secluded beaches and lush scenery are the stuff of vacation daydreams. Located about nine miles from the capital island of St. Vincent, Bequia (pronounced beck-way) is pretty tame. Activities include lounging on dreamy strands like Friendship Bay and Lower Bay, catching a water taxi to snorkel in hard-to-reach beaches, taking a day trip to the exclusive island of Mustique or spending the afternoon swimming and picnicking on deserted Isle de Quatre. Numerous hiking trails wind through former sugar plantations and past the ruins of the hilltop Fort Hamilton, offering fabulous views of the harbor and neighboring islands.

Photo courtesy of Bequia Beach Hotel
Check out Port Elizabeth, the island's traffic-free main town with restaurants and a beautiful harbor. Pop into a small maritime museum, a turtle sanctuary and a few art galleries. After a day of low-key exploring, it's time for a rum punch at Jack's or De Reef where you can wiggle your toes in the sand. Back at the Bequia Beach Hotel unwind in your stylish oceanfront suite or in the spa, then dine on fresh seafood at Bag- atelle or spicy West Indian fare at Fernando's Hideaway above Lower Bay (room rates start at $250 a night; bequiabeach.com).