Occupying only 36 square miles of the Caribbean map and offering a mere 406 hotel rooms, Nevis proves tiny things can pack a big punch.
By: Carrie Bell
-AS SEEN IN BRIDAL GUIDE MAGAZINE-

Photo courtesy of Nevis Tourism Authority
Cooling tradewinds wisp over deserted beaches, lush jungle paths, healing hot springs, colorful towns and numerous open-air restaurants. And thanks to its limited access (most visitors arrive via boat from St. Kitts), the isle retreat is luxuriously private. 
Where to Stay
Unfurling across 100 owering slope-side acres of Nevis Peak, the Golden Rock Inn — a collection of waterfalls, fishponds, stone terraces, brightly hued cottages, and alfresco relaxation areas — is the vibrant vision of married New York contemporary artists Helen and Brice Marden built on (and incorporating) the ruins of a 19th-century sugar estate. Start days with included breakfasts and strolls through the thriving gardens. Dips in the freshwater pool and treats from the homemade popsicle cart are cures for humid afternoons. Nights are filled with stargazing and a constant frog chorus (room rates start at $300 a night).
Treat Yourself
The spa at the Four Seasons Resort Nevis is a magical place at all hours of the day. Free to guests, morning yoga and Pilates classes are held in an intimate outdoor pavilion that looks out on a pool and a cloud- topped mountain and are frequently visited by monkeys. Couples can partake in rum, brown sugar and coconut scrubs and massages in private bungalows throughout the day. After hours, book the sanctu- ary for a private four-course dinner in the moonlight. The beetroot carpaccio and the king crab avocado toast are must-tries.

Photo courtesy of Four Seasons Resort
Buzzed
No Caribbean vacation is complete without rum punch and the place to partake in it here is Sunshine's on Pinney's Beach. The proprietor is said to mix his stiff Killer Bees under the bar to keep the recipe from prying eyes. The honey, orange juice, nutmeg, passionfruit juice, rum, club soda and black pepper (the internet's best guess) concoction goes perfectly with conch fritters, tender ribs, ocean views and reggae.
Orchard & an Orator
Tour the Botanical Gardens of Nevis, a five-acre oasis bursting with tropical plants, sculptures, fountains and talkative parrots. Purchase local honey or hot sauce in the shop after enjoying authentic Thai food and a kitschy karaoke band in the great house. The history museum is set in the 1757 Charlestown birthplace of the first secretary of the treasury/Federalist/ titular subject of the Tony-winning musical Hamilton, who lived here until he was nine. And yes, the cast recording plays on a loop.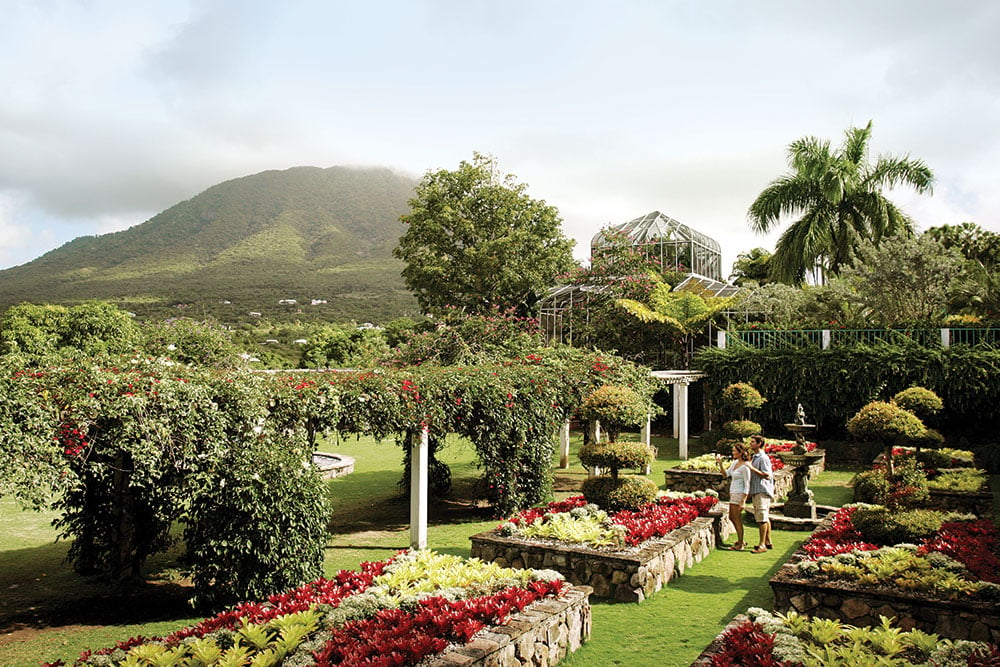 Photo courtesy of Nevis Tourism Authority
Fun fact: Mango-hoarding Green Vervet monkeys outnumber the 12,500 human residents on Nevis. Originally imported as pets by French plantation owners in the 17th century, the African natives easily adapted to the isle's similar climate.

Photo courtesy of Nevis Tourism Authority