Whether you have three days or nearly two weeks, discover the best of several tropical islands.
By: Jill Fergus
-AS SEEN IN BRIDAL GUIDE MAGAZINE-

Photo courtesy of Guana Island
You've jumped the broom and tied the knot with your one and only. And now you and your bae want to hit the tropical paradise of the Caribbean. But settling on a single destination may not be so easy. The good news is that the laid-back region is tailor-made for exploring multiple sun-drenched isles and excellent resort offerings on a single itinerary. Many of the islands are close enough that you can take a ferry or a puddle jumper between them. Here are three fabulous itineraries that feature multiple Caribbean islands.
Fun fact: The region of the Caribbean, aka the West Indes, is a collection of 700 islands, islets, cays and reefs, only 2% of which are inhabited. 
3 Days: U.S. Virgin Islands
Positioned just over 300 miles off the coast of Florida, this archipelago of more than 700 islands and cays fringed with pristine sands offers hideaways for all manner of tastes. Similarly, there are activities and sites à go-go as well as endless dining options, all on offer just hours from the U.S.
Day 1: The capital island of Nassau is serviced by a dizzying number of non-stop flights daily, making it the first stop on most visitors' itineraries. Check into the chic new Rosewood Baha Mar, a sophisticated enclave of 237 rooms, suites and villas ensconced in a lush garden-filled expanse set alongside a golden beach (room rates start at $595 a night).

Photo courtesy of Rosewood Hotels & Resorts
Decompress from the wedding planning stress (and flight) by kicking back at the property's two pools and the famous Cable Beach lined with inviting loungers. There's even a private island for a more castaway day experience. The Sense, a Rosewood Spa enhances all that unwinding with a treatment menu featuring healing and soothing experiences. Cap off the day with an intimate dinner at the Rum Room, an exclusive dining space lined with oak barrels of the Caribbean's most famous libation.
Day 2: Fact: The Bahamas is a luxury shopping paradise. The streets are chockablock with all manner of duty-free shops selling everything from perfume and rum to bling and watches. For handicrafts and classic island-made items like dolls, conch jewelry, and wood carvings, hit the Straw Market right by the cruise terminal before heading out to the airport.
Day 3: A 40-minute ight lands on Great Exuma, the largest — and eponymous — island of an Out Bahamian archipelago. Postcard perfect doesn't begin to describe the scene, with endless stretches of sugar sands and crystalline waters. Sandals Emerald Bay is the island's exclusive resort, offering two pools, a Greg Norman-designed golf course, a private marina and numerous dining options (room rates start at $288 per person, per night and are all inclusive). Book an adventure with Island Routes (we love the kayaking trip or the excursion to feed the island chain's famous swimming pigs) for an insider look at the Out Islands.

Photo courtesy of Sandals Resorts
5 Days: St. Martin, Anguilla, St. Barth's
This trio of sun-drenched isles promises excellent cuisine, posh hotels and a super-chic yachting scene.
Day 1-2: Anguilla is known for its white-sand beaches and turquoise water, and you'll want to spend the next few days sampling both. Book into the Zemi Beach House, a new resort with a stylish sensibility positioned on a marquee sugar-soft strand. All of the 65 rooms are oceanfront and aunt a contemporary and airy design. Activities include sunrise yoga, beach volleyball and standup paddleboarding. The expansive spa showcases healing treatments administered in a 300-year old Thai house (room rates start at $495 a night). Anguilla is a food powerhouse, and upscale gourmet West Indian cuisine can be found on the menus of hotspots like Straw Hat and Blanchards, which excel at inventive takes on local favorites.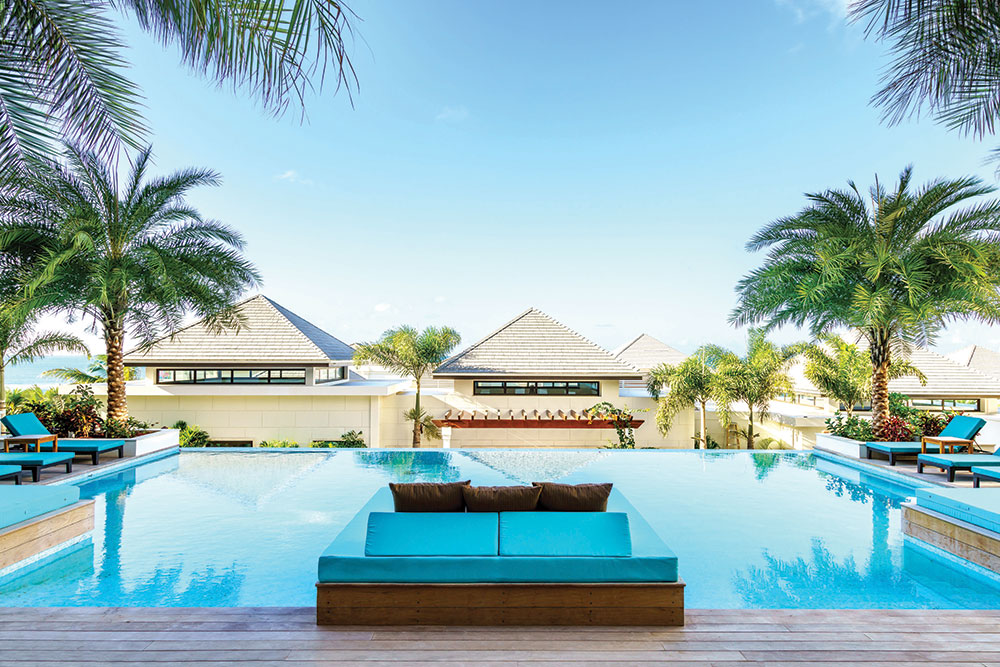 Photo Credit: Dylan Cross
Day 3: Catch an early ferry from Blowing Point for the half-hour ride to St. Martin, famously known for its Dutch and French sides. In the island's French area repose at the golden beach or chic Riviera-esque pool at the newly redesigned and reopened Belmond La Samanna (room rates start at $545 a night and include airport transfers). The main town of Philipsburg has great duty-free shopping and nightlife. The Grand Case area has romantic French bistros like La Villa.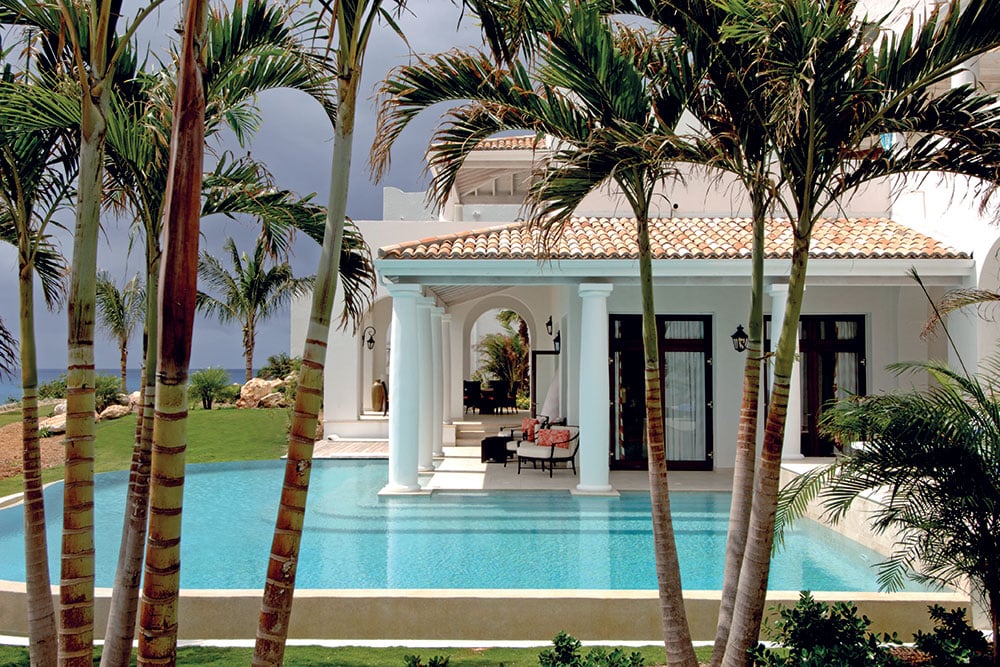 Photo courtesy of Belmond
Day 4-5: Before you board a puddle jumper at the Princess Juliana Airport for the 10-minute hop to St. Barth's, check out nearby Maho Beach and snap some photos when the jumbo jets fly directly overhead. Once on the boho glam St. Barth's, check into the exclusive and Real Housewife favorite Le Barthelemy Hotel & Spa, where you can indulge in a pampering couple's spa treatment, then hit the pool bar for a few rum punches. While the hotel's Aux Amis has superb seafood, you may want to wander into Gustavia with its yacht-filled harbor — who knows, you may even bump into a celebrity. The island is a favorite of Beyoncé and Jay-Z, among other A-listers (room rates start at $780 a night).

Photo courtesy of Le Barthelemy Hotel & Spa
12 Days: British Virgin Islands
A collection of 60 reef-lined isles and cays, the archipelago is well known for the ease it offers to explore multiple destinations via island hopping.
Day 1-4: After your flight into Tortola, the largest island in the B.V.I. chain, a Guana Island representative will meet you at the airport and transport you to its dock for the 10-minute ferry ride to this exclusive, eco-friendly private island with just 16 phone- and TV-free stone cottages. A few days here is #goals in the honeymoon castaway department. Go snorkeling on White Bay Beach, hike amid orchids, picnic on a secluded beach and dine on dishes like scallops and wagyu beef (room rates start at $720 a night and are all inclusive).

Photo courtesy of Guana Island
Day 5-8: As Tortola is the main transit hub to B.V.I.'s other islands, you'll find yourself back there to catch ferries, including the 30-minute ride to Virgin Gorda for your stay at the Bitter End Yacht Club (set to reopen in 2019). Top island activities include visiting the Baths, beautiful grottoes, caves and tidal pools at the water's edge, and taking a scenic drive to the summit of 1,370-foot Virgin Gorda Peak. At the resort kick back at one of three beaches, take an intro sailing course or hop on a champagne sunset cruise from the hotel's private marina. For dinner, it's all about the Anegada lobster dinner back at the Clubhouse set on the water (room rates start at $395 a night).

Photo courtesy of Guana Island
Day 9-12: Ready for another private island resort? Peter Island Resort, reached via 30-minute ferry ride, is quintessentially B.V.I. This 1,800-acre island has dreamy waterfront suites with private balconies and five beaches (including one called Deadman's Beach, named after the pirates who used to roam these shores). You'll also find hammocks for maximum lounging, a soothing spa, water sports, beach volleyball, yoga, tennis and open-air dining at Tradewinds (room rates start at $450). Note: The island will reopen in 2019.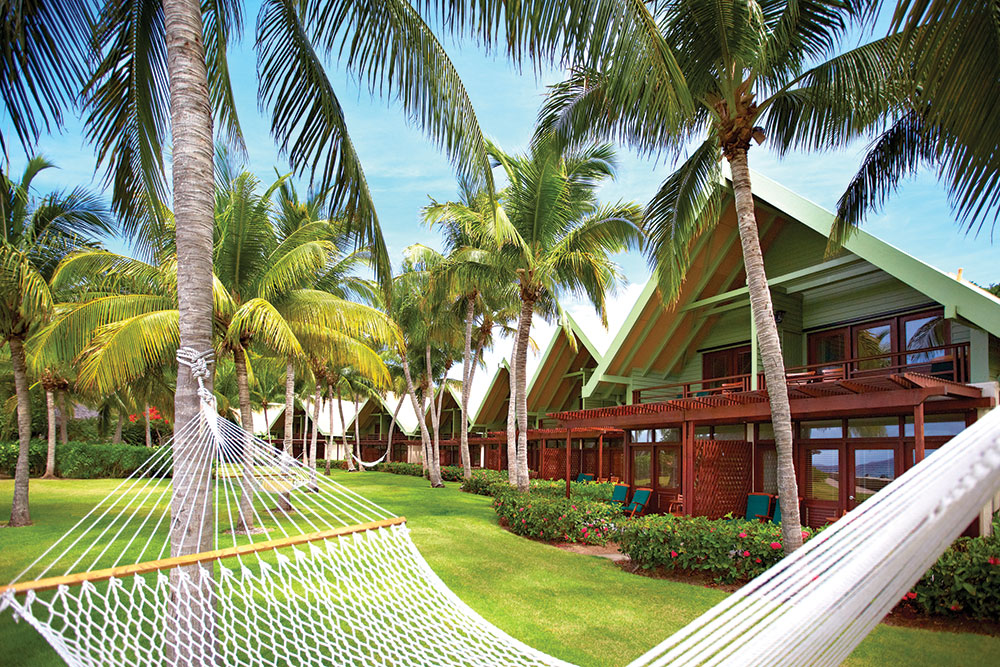 Photo courtesy of Peter Island Resort
Fun fact: Portions of the four movies of the Pirates of the Caribbean franchise were filmed in the region. Star Johnny Depp owns an island; co-star Penélope Cruz wed here.