Stoke the romance with the ultimate symbol of love — chocolate — at these pampering Caribbean destinations.
By: Karin Gardiner
Even before the Aztec emperor Montezuma II extolled the aphrodisiac effects of chocolate — he is said to have drunk 50 cups a day — chocolate has been inextricably linked to romance. From pre-Colombian times, when it was known as "food of the gods" and consumed during marriage celebrations, to the modern-day custom of gifting sweet treats for Valentine's Day, there's always been something sensual about chocolate.
Today, the Caribbean produces some of the world's finest. In fact, a whole culture has sprung up to celebrate this. Hotels and resorts are embracing the region's sweet heritage by offering chocolate amenities in addition to hands-on crafting experiences. Restaurants and spas are utilizing native cocoa in indulgent dishes and spa treatments. And there are factory tours, plantation visits and chocolate festivals. These escapes promise to indulge your cravings on your Caribbean honeymoon.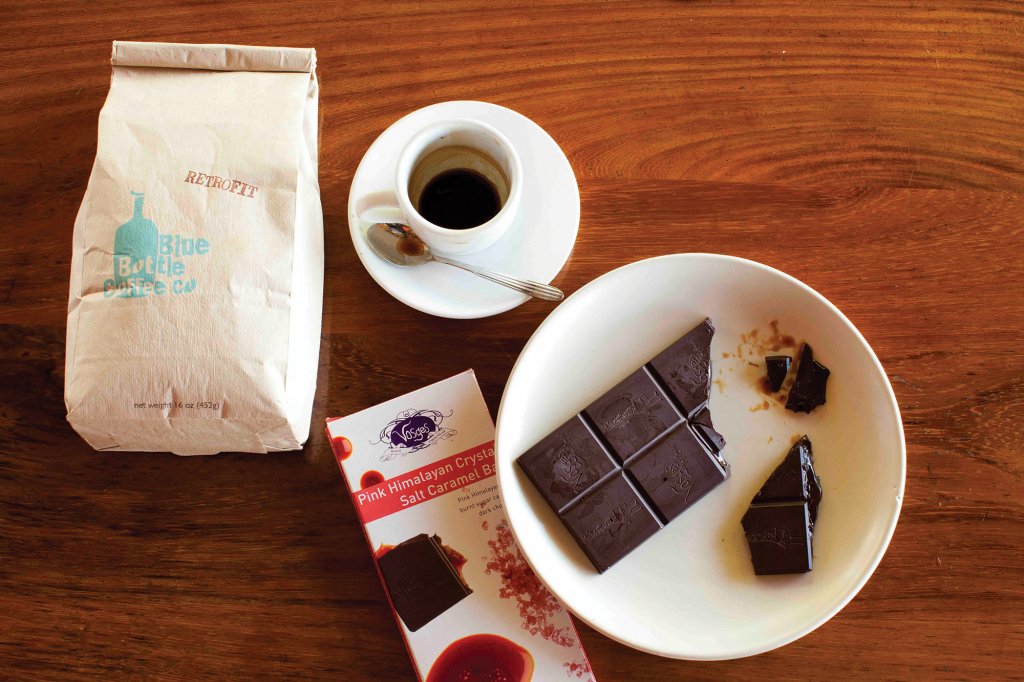 Photo courtesy of Belcampo Belize
St. Lucia
if there were a prize for the Caribbean's most chocolate-obsessed island, St. Lucia could justly lay claim to that title. Here, on the verdant volcanic isle, visitors can get a taste of the island culture and the sweetest part of Saint Lucian heritage via chocolate-focused hotels, chocolate-inspired menus, bean-to-bar workshops and sweet spa treatments. 

Photo courtesy of Hotel Boucan
Boucan Hotel & Resort, along with the luxury British chocolate firm, occupies Rabot Estate, Saint Lucia's oldest cocoa plantation, set 1,000 feet above sea level and surrounded by rainforest. all 14 rustic lodges have romantic four-poster beds, open-air rainforest showers and views of the iconic cone-shaped Pitons; most have private verandas that overlook the mountains and water. take a chocolate-making class, which begins by selecting ripe pods from the estate's cocoa groves before transforming them into your own chocolate bar. Or simply unwind with a treatment harnessing the antioxidant power of cocoa at the Cocoa-Juvenate spa (room rates start at $522 a night).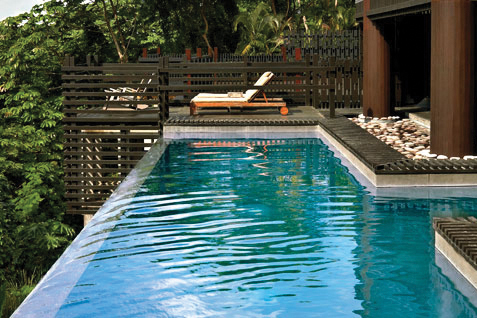 Photo courtesy of Hotel Boucan
Not content with a Chocolate Heritage Month in August, St. Lucia also welcomes the annual chocolate festival each December. Held at the stunning Jade Mountain property, which makes its own chocolate from cocoa beans grown on site, the four-day-long festival includes chocolate workshops, sensory tastings and wine pairings. it kicks off with a chocolate-infused cocktail party with spiced rum punch and chocolate fondue (room rates start at $1,110 a night).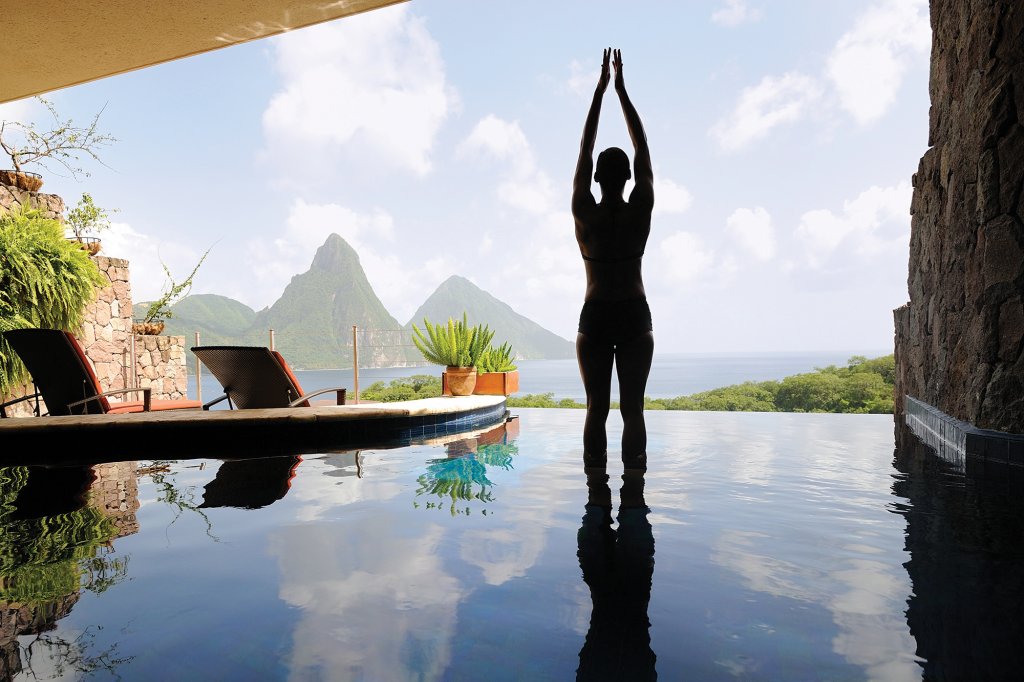 Photo courtesy of Jade Mountain
Belize
Chocoholics, adventure seekers and the sustainability-minded all score at Belcampo Belize, a luxury eco-lodge and 3,000-acre organic farm. Surrounded by a rainforest preserve within the Maya Mountains of Punta Gorda — the southernmost part of Belize — the resort offers a soft-adventure menu including ziplining and river fishing, and boasts a saltwater infinity pool for laid-back days. The property's 16 suites feature sweeping jungle views and some have outdoor soaking tubs and butler service (room rates start at $407 a night).

Photo courtesy of Belcampo Belize
Behind the main vegetable garden (which produces the bulk of the resort's food), tucked under the shade of a large thatched roof palapa, Belcampo's cacao nursery is home to thousands of cacao plants. The chocolate-producing plants are grown here before being transplanted to the jungle understory surrounding the lodge. In 2013, 120 acres of organic criollo (cocoa bean plants) were planted, making Belcampo Belize the largest cacao plantation in the country.
Get an interactive chocolate-making experience at Belcampo's farm center. The Bean to Bar class offers visitors the opportunity to participate in the entire process of transforming high-quality organic cacao into chocolate. Beginning with a tour of the farm, which focuses on cacao and spices, guests then sort, stir and taste their way through the roasting, grinding and tempering processes before pouring their own liquid chocolate into bar molds.

Photos courtesy of Belcampo Belize
Barbados
Barbados may not be the region's biggest chocolate producer, but it is home to the annual Barbados Chocolate and Pastry Festival and the premium bean-to-bar company Agapey. 

Photo courtesy of The Barbados Chocolate and Pastry Festival
Despite the "factory" in its name, Agapey Chocolate Factory is about as far removed from Willy Wonka's colossal operation as you can get. It's tucked away in downtown Bridgetown near the cruise port. Just follow your nose and you'll find it. Only the most simple and pure local ingredients make it into Agapey's dark chocolate bars and visitors can learn about the different types of cocoa beans, while sampling the raw ingredients. Warning: You may need an extra piece of luggage after a stop in the gift shop.
The all-inclusive Sandals Barbados offers a romantic oasis on the white sands of the St. Lawrence Gap. Splurge on a Love Nest Suite with awesome water views, a private plunge pool, and direct access to the Crystal Lagoon river pool. If sweet teeth still need sating, indulge in the chocolate buffet-themed evening accompanied by live music (room rates start at $205 per person, per night and are all-inclusive).

Photo courtesy of Sandals Resorts
Dominican Republic
Cacao pods thrive in the lush hills of the Dominican Republic. They are cultivated by farmers then exported around the world to such prestigious brands as Valrhona and Godiva. If you are visiting Punta Cana, you can trace the pods' journey from those trees all the way to your favorite bar.
Chocolate & CIA, a gift shop in the beachfront complex housing the all-inclusive resorts RIU Naiboa, RIU Bambu, RIU Palace Bavaro, RIU Palace Macao and RIU Palace Punta Cana, is chock-a-block with gourmet treats to overpack your suitcase. There are rich chocolate bars, bath and body products and even chocolate wine. Try producing your very own bar from scratch. Skilled and patient instructors trace the importance of cocoa to the Dominican Republic (fact: The island country is one of the world's largest organic producers), before guiding you through every step of chocolate making — from plucking beans from the pod to adding desired toppings.
Guests at the adults-only RIU Palace Macao have access to the facilities of all five RIU resorts within the neighboring complex, including such activities as windsurfing, sailing and kayaking, as well as evening entertainment that includes live music and a nightclub (room rates start at $115 per person, per night and are all-inclusive).

Photo courtesy of RIU Palace Macao