Whether you have three, five, or seven days, you can experience a variety of Caribbean adventures on one of these cruise itineraries.
By: Donna Heiderstadt
Quick, what do you get when you marry a variety of fun-in-the-sun vacation destinations with the singular romanticism of being on the open water? The answer, of course, is a Caribbean cruise. The all-inclusive holiday experience also offers awesome cuisine choices, cool cultural excursions and activities à go-go. And all of that adds to the allure of being honeymoon-perfect. Even better is that Caribbean cruise itineraries cater to your schedule with adventures from 3 to 14 nights. Here's the long and the short of sailing on the sea of love.
3-Night Bahamas Cruise: Disney Dream
The kid in you will love reliving the magic while the grown-up will appreciate the first-class amenities and excellent service for which Disney is known. Or if you're blending families, consider having a familymoon aboard. a three-night sail promises just enough sing-and-dance-along merriment complemented by chill beach time.
Disney Dream, launched in 2011 and accommodating 4,000 passengers, is the third vessel in the line's four-ship fleet. And while it lures plenty of families with its character-driven productions and meet-and-greets, there are more than a dozen designated adult areas, including nine bars and lounges. The adults-only Quiet Cove Pool and Satellite Falls offer sunny respites from screams and giggles, as do both Remy and Palo, the ship's French and Italian fine-dining restaurants. Other pleasures: the From Stem to Stern winetasting session and a couple's massage in the senses spa. Don't miss out on the pirate's night deck party tip: if you're on a tight budget, Dream's inside cabins have virtual portholes with a live camera feed of the balmy view outside.
Ports Visited: From Port Canaveral, Florida, the ship calls on Nassau, Bahamas, which bustles with duty-free shop- ping, casinos, snorkel excursions, dolphin encounters and miles of sandy beaches. Another day, you'll dock at castaway cay, Disney's private island, for awesome activites and beach fun in the sun. Reserve a cabana on adults-only serenity bay (staterooms start at $631 per person).
5-Night Western Caribbean Cruise: Independence of the Seas
On a Royal Caribbean cruise, can't-sit-still couples can rock climb, test their skills on the FlowRider surf simulator, play mini-golf or ice skate — all onboard. Other ship perks include all-you-can-eat sushi at Jade a state-of-the-art fitness center and plenty of space to sip frozen cocktails poolside — there are three.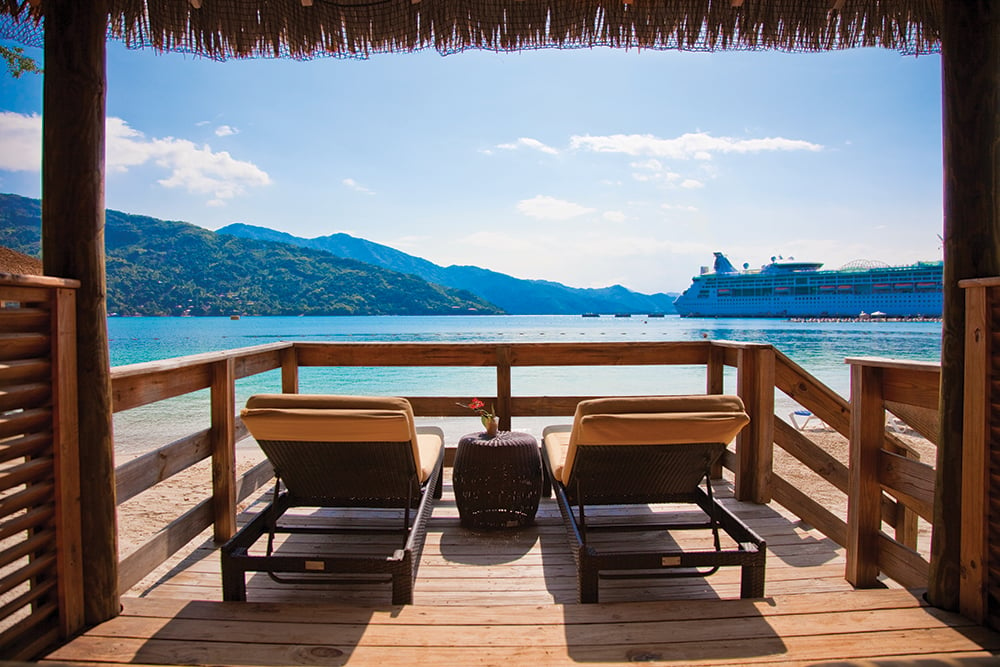 This colorful, 3,634-passenger vessel debuted in 2008 and underwent a large- scale refresh in 2013. Its vibrant decor and focus on nightlife (there are theme nights on every sailing) attracts a lively crowd. The multi-level Royal Promenade buzzes day and night, making it perfect for social couples. You can join a game of volleyball in the sports pool. After dark, toast with mojitos in the boleros lounge, dine on inspired Italian at Giovanni's Table, and kick back in comfy chaises or a hot tub and watch a first-run movie or sporting event on the poolside screen. Later, try your luck in the Casino Royale, enjoy a live performance of Grease, The Musical and heat up the dance floor in the two-level, gothic-themed nightclub the raven. For more intimate moments, repose in one of two glass-paneled, cantilevered whirlpools in the adults-only solarium (they extend 12 feet out over the sea). Book into a Balcony Stateroom, and you can enjoy room-service break- fasts and cocktails by moonlight.
Ports Visited: The itinerary features two sea days and two adventure-filled port calls. The ship sets sail from fort lauderdale to the first port of Falmouth, Jamaica, where you can experience the island's marquee attraction — Dunn's River Falls — and horseback ride (and swim) in the warm turquoise surf. Then it's off to Labadee, Royal Caribbean's private beach resort in haiti where snorkeling, kayaking and ziplining are all offered. Of course, you can always claim two chaises on the beach and kick back (staterooms start at $605 per person).
7-Night Eastern Caribbean Cruise: Regal Princess
Princess's two newest ships (including Regal Princess, launched in 2014) may lack some of the theme-park-like thrills of some other large ships, but they excel with a subdued ambience that's classy, elegant and, well, princess-like. The updated offerings are influenced by the Italian concept of amore, and include the multilevel Piazza with sparkling spiral staircase and the Lido Deck featuring dancing water fountains. And did we mention there's amazing pizza and sinfully good chocolate?
Where 3,560-passenger Regal Princess shines is in its focus on food and wine and in the spaciousness of its upper decks, which are unencum-bered by rock-climbing walls and massive curlicues of waterslides. Food and beverage highlights include lunch at Alfredo's, where personal pizzas are made fresh to order; enjoying a sea-day mojito or two at the SeaView Bar as waves churn 128 feet below the glass panels at your feet; the intimate group Wine Maker's Dinner and private din- ing during the Ultimate Balcony Dinner, complete with champagne. Another ship can't-miss is a visit to the adults-only Retreat Pool both day and night (when it transforms to the al fresco Chill Lounge).
Ports Visited: From Fort Lauderdale, the ship sails to St. Thomas in the U.S. Virgin Islands and St. Maarten, both of which offer snorkeling, ziplining and more duty-free shopping than you could ever imagine. On St. Maarten, you can race on an America's Cup yacht. There's a day at Princess Cays, a private 40-acre resort on the pristine Bahamian island of Eleuthera, where you can kick back in a rented "clamshell" for two on the beach and go on an off-road dune buggy adventure (staterooms start at $799 per person;).
14-Night Southern Caribbean Cruise: Celebrity Eclipse
Sophisticated and contemporary interior design, creative dining and bar/lounge options and an inviting expanse of real grass on the top deck Lawn Club — for croquet, sunning or a picnic at sea — mean that Celebrity Eclipse (and four other Solstice-class ships) can promise a chic, couple-centric experience at sea. There's enough to do (a comprehensive fitness program, spa treatments, wine tastings, mixology classes) but not too much that it gives you FOMO from your shipmates when you just want to chill.
The 2,850-passenger Eclipse, which debuted in 2010, really appeals with a blend of busy and laid back. There's the lively — the GastroBar, Fortunes Casino — and the soothing, which include the adults-only Solarium Pool and cozy-nook Library. The newlywed-perfect AquaClass staterooms include spa- related perks, and the Canyon Ranch Spa Club's Persian Garden thermal suite is the embodiment of relaxation daydreams. Splurge on the wine-paired dinner at French fine dining restaurant Murano and savor the evening spectacular at the aptly named Sunset Bar. After dark, listen to jazz in the Ensemble Lounge and dance at Qsar nightclub.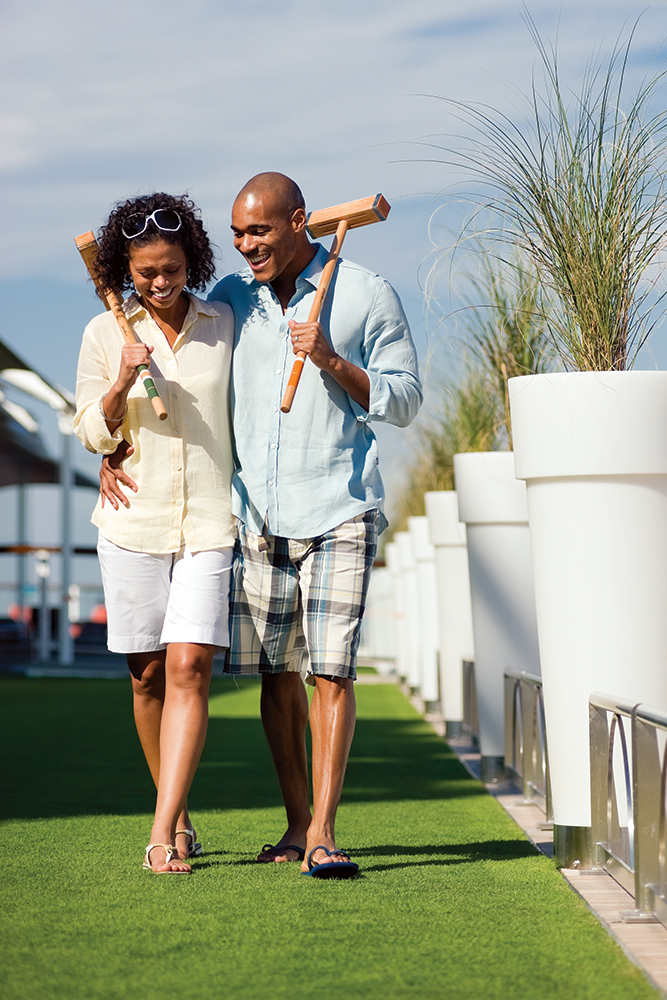 Ports Visited: From Miami, you'll sail to seven southern Caribbean Islands where the landscapes and attractions are varied. There are the arid landscapes and Dutch culture of the ABC islands (Aruba, Bonaire and Curacao); the British colonial charms of Barbados; the Creole culture and volcanic drama of St. Lucia; and the casinos, beaches and duty-free shopping of St. Maarten. Let's not forget the monkeys on St. Kitts (staterooms start at $1,199 per person).