You've jumped the broom, now get ready to take the plunge into a waterfall pool, crystalline sea or visit a hot-spring lake on your honeymoon in the Caribbean. Adventure activities like ziplining, hiking and cave exploring are on the rise across all travel destinations. Not only do such experiences get your heart pumping, they also showcase the individuality of the setting. And the Caribbean, with its variety of islands, is ripe with active pursuits that fit each couple's likes and loves. As you enter into your next great adventure — marriage — get ready for a special getaway that's an extension of how you live your life together — bold, audacious and action-packed.
Grenada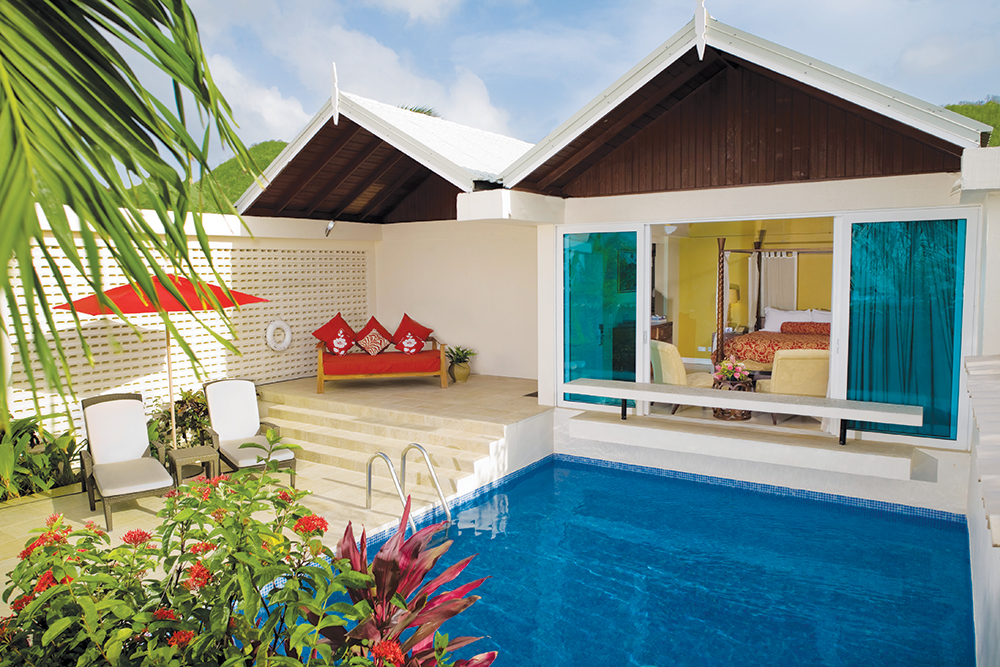 Black sand beaches, spectacular waterfalls and hunter green peaks dot the landscape of Grenada, which is positioned off the coast of Venezuela. As one of the world's largest exporters of nutmeg, the appropriately named "Spice Island" is a haven for nature lovers. For animal-enthusiasts, the Grand Etang Forest Reserve is home to the Mona monkey, an Old World primate found in western Africa that was transported aboard slave ships headed to the Caribbean.
Grenada is the only country outside of the African continent that's home to this monkey. Offshore, deep in the warm navy-colored waters is the Underwater Sculpture Park. Here, you can snorkel with kaleidoscopic schools of fish including the silvery — and toothy — barracuda as you gaze upon sculpture artfully arranged on the ocean bottom.
Spice Island Resort is a delightful all-suite retreat with 64 accommodations. The spa's menu showcases treatments using ingredients that are native to the island, such as nutmeg, coconut and chocolate (room rates start at $1,145 a night and include meals; )
Aruba
Known for its bent trees and unusual desert-like topography, Aruba's climate is warm, arid and perfect for both land and sea adventures. Go on a cave exploration tour and trek across Arikok National Park to spot some of the rare bird species that inhabit this island. Hop on an excursion with de Palm Tours, and you'll steer open-air vehicles over steep landscapes to access hidden ocean coves and swim in Aruba's Natural Pool, a rocky, water-filled outcropping. Along the natural roller coaster ride, you'll maneuver across sand dunes and around boulders toward the crisp blue line of the shore. In the evening, don't miss a hosted sunset cruise while the skies turn pink.
The Hyatt Regency Aruba Resort, Spa, and Casino sits directly on one of the prettiest beaches on the island and offers front-row seats to the evening spectacular with chilled champagne, of course (room rates start at $550 a night).
Turks & Caicos
The pristine archipelago nation of Turks & Caicos has some of the best diving and snorkeling sites in the world. For a thrill, try shark diving along the reefs. Grey reef sharks are commonly spotted here, while nurse and lemon sharks swim freely in the wetlands.
Between January and March, humpback whales dance around the edge of the islands. Sign on for a tour with Big Blue Unlimited for the best itinerary across the whopping 40 islands. On-land activities include tours of abandoned cotton plantations in the Middle Caicos and a visit to picturesque Mudjin Harbor on the same island. Don't miss fresh conch pulled directly from the sea at the eponymous da Conch Shack, which was Prince's favorite Turks eatery. Book into the Ocean Club and Ocean Club West on the main island of Providenciales for a home away from home feel. Condos are equipped with kitchens, washer and dryers and only-in-Turks ocean views (room rates start at $259 a night).
Dominican Republic
The tumultuous waters of the Atlantic Ocean are primo for surfing, and coupled with the island's balmy days, the Dominican Republic is the perfect place for learning how to hang ten. Macao Surf Camp, located in Punta Cana, offers lessons for both beginners and experienced wave riders. Your choice — spend an afternoon in a lesson or get serious with a five-day course. After a day of feeling the stoke, it's time to party. Chic Punta Cana is an adults-only resort that features foam parties, a mermaid pool (yes, they are swimming around!) and an oxygen bar. For couples looking for quiet time, there are beachside lounges and private poolside cabanas that include personal Jacuzzis and butler service (room rates start at $278 a night and are all-inclusive).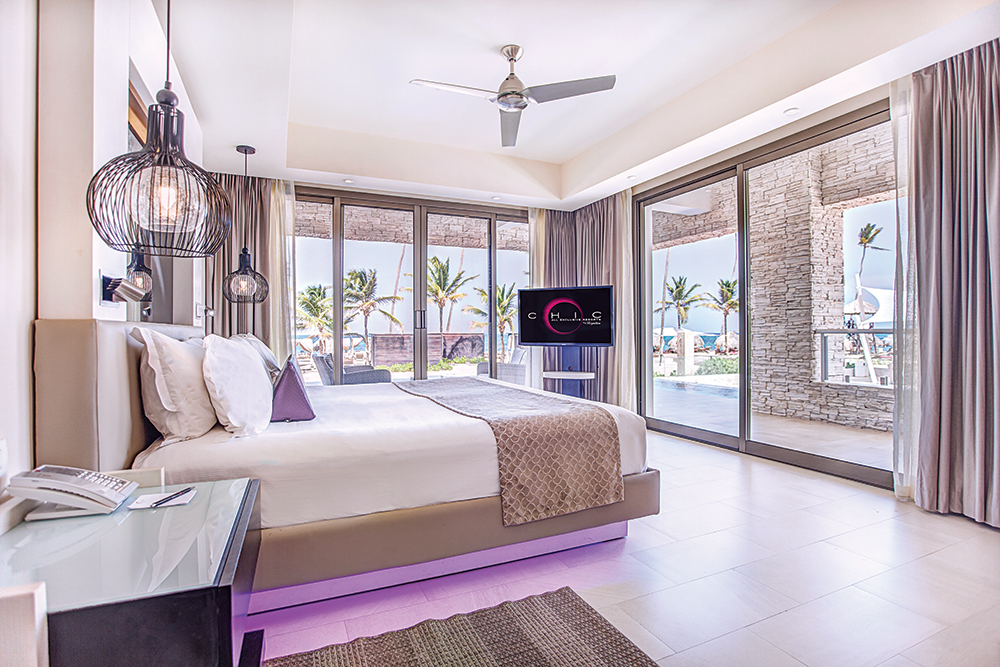 Dominica
The Commonwealth of Dominica isn't one of the region's bold-faced names. Instead, the island, which is known as the "Nature Isle of the Caribbean," is a quiet honeymoon alternative offering some singular experiences. One such adventure is diving with sperm whales. A pod lives off the coast of the powder sand-fringed island year-round. Dominica itself is a hiker's paradise thanks to the fact that it is nearly entirely enveloped in a rainforest landscape. A favorite, but difficult, path winds eight-and- one-half miles through sulfur vents and deep vegetation, aptly named the Valley of Desolation, to the best vantage point for viewing Boiling lake. Set deep in Morne Trois Pitons National Park, where it's surrounded by clouds, the unique body of water is consistently bubbling.
Rest your hiking boots at Rosalie Bay, an eco-resort positioned on a stretch of sand fronting the tranquil Caribbean Sea. During turtle season, witness the births of hatchlings that come onto the property that founded the rst turtle conservation program on the island (room rates start at $250 a night and include breakfast).