From green and white to sorbet pink, the Caribbean offers some of the most impressive — and diverse — beaches.
By: Shea Peters
-AS SEEN IN BRIDAL GUIDE MAGAZINE-
Swaying palms, temperate tropical breezes and an endless array of beaches — this is the Caribbean, a paradise-on-earth region that teems with fantasy islands and is constantly at the top of the romantic travelers' daydream-destination list. And while all the strands of sands are sun-kissed and photogenic, not all are equal in appearance. For the region is proudly home to a kaleidoscope of beaches — from blush pink and powder white to shimmering gold and volcanic black. Here are some of our favorite spots for enjoying a bit of color therapy while making a big splash on your honeymoon.
Pinney's Beach, Nevis

Photo: Four Seasons Resorts
Named "Oualie" or "Land of Beautiful Waters" by the native Caribs, the island of Nevis features gentle waters that melt into some of the most superlative alabaster-colored beaches on the planet. But one particular beach on the island's western edge defies the bleached landscape seen on the rest of the island. Soft ribbons of saffron-colored sand give Pinney's Beach an orangey-peach tint. And at close to four miles, Pinney's is not only the island's longest, it's also one of its most popular with locals and visitors.
Where to Stay: The Four Seasons Resort Nevis, set on the famous Pinney's Beach also has luxury rooms that look onto the island's lush, tropical hill called Nevis Peak. The resort's golf course is a marquee amenity — it features the ruins of an old sugar mill — as are watersports — kayaks, stand-up paddle boards, Hobie sailboats and snorkeling gear are all available. Off-property and guided snorkeling excursions are a fun way to explore the rest of the island. At night, take in the beauty of the beach with a private dinner in the sand (room rates start at $425 a night). 
Black Point Beach, St. Vincent and the Grenadines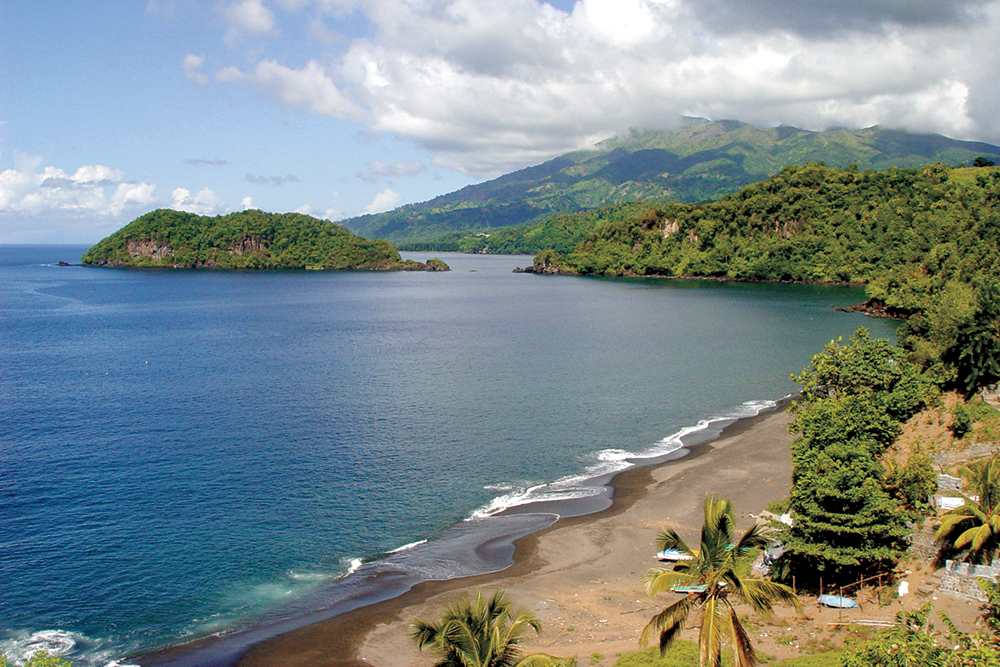 Photo: St. Vincent- Petit Bordel Bay
Gritty and gorgeous, black sand beaches are a moody backdrop for any tropical getaway. Such rare strands are formed when volcanic rock and lava formations erode over centuries. This archipelago nation in the Southern Caribbean is home to some of these hard-to-discover stunners. On the main island, St. Vincent, you'll find the quiet Black Point Beach. A visit here is not only a chance to enjoy one of nature's most splendid creations, it's also an opportunity to learn about often overlooked portions of Caribbean history. Used as a location for the filming of Pirates of the Caribbean: The Curse of the Black Pearl, Black Point Heritage Park is also home to Jasper Rock Tunnel. Constructed by British slaves around 1815, the tunnel allowed access for slaves to move sugar from the nearby plantations to the wharf for exportation.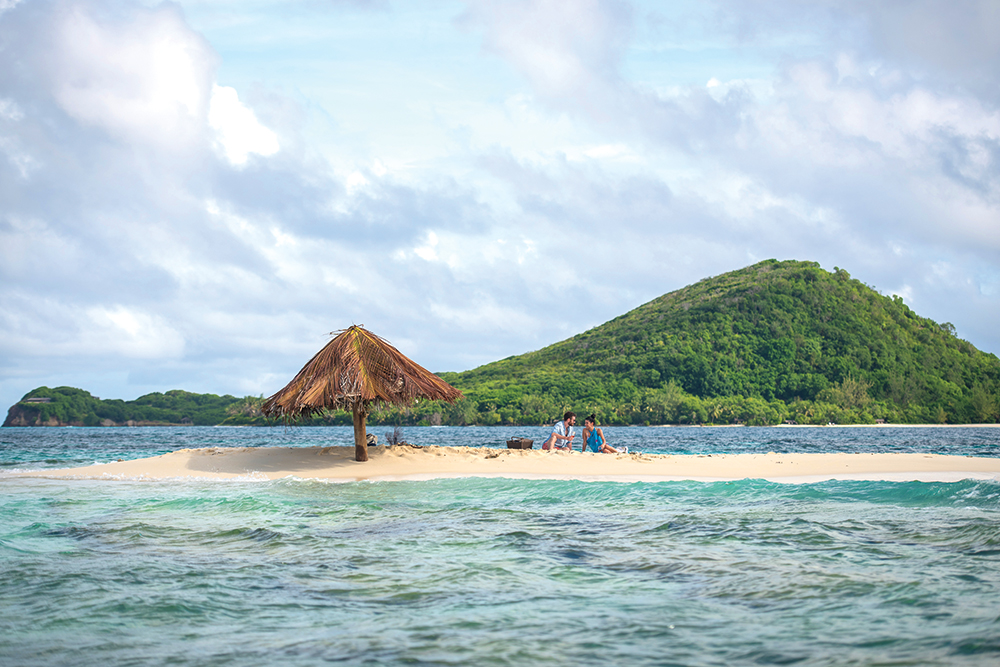 Photo: Rory Doyle
Where to Stay: The private island Petit St. Vincent is at the southernmost portion of the Grenadines. Surrounded entirely by the whitest of sand beaches, you're sure to marvel at the stark color contrast of going from this private resort to Black Point Beach (room rates start at $1,260 a night and are all inclusive).
Pink Sand Beach, Barbuda
Barbuda, the smaller of the two islands that comprise the nation of Antigua and Barbuda, was once home to fewer than 2,000 residents. Following the devastation of 2017's Hurricane Irma, where nearly the entirety of the island was destroyed, the bulk of the population relocated to their neighbor island. Today, however, Barbuda is open for business and welcoming visitors who want to appreciate the island's rich natural offerings and help the locals get back on their feet. The restored restaurants, bars and beaches are at the same time humming and uncrowded. Catch a ferry from Antigua to visit Barbuda's aptly named and off-the-beaten-path Low Bay. Colloquially called Pink Sand Beach, the isolated eight-mile strand is a delightful salmon hue thanks to a blend of crushed coral and white sand.

Photo: Royalton Antigua
Where to Stay: Royalton Antigua Resort & Spa showcases Antigua's only overwater bungalows. The thatched-roof villas feature extra-large master bedrooms, oversize living spaces and enormous decks outfitted with personal infinity pools, overwater hammocks and uninterrupted views of the sparkling Caribbean Sea. Each of the chic hideaways comes equipped with personalized butler service. Located in Deep Bay, it's a short taxi ride from the hotel to St. John's dock where you can hop on the ferry to Barbuda and its Pink Beach (room rates start at $450 a night and are all inclusive). 
Shell Beach, St. Barths

Photo: St. Barths Tourism Committee
Officially known as Saint Barthélemy, this cosmopolitan, French-speaking island is about 9.5 square miles. On this tony escape that's wildly popular with bold-faced names, ivory sands prevail with one exception: Shell Beach is an impressive collection of millions of seashells, mostly in pinks and purples, settled on an intimate cove. Chairs and loungers are available to rent, and there's a beach bar that serves up frothy tropical libations that perfectly coordinate with the cotton-candy landscape.

Photo: Le Barthélemy Hotel & Spa
Where to Stay: Le Barthélemy Hotel & Spa, positioned within the Nature Reserve of St. Barths, is not only pet-friendly, it's also dedicated to conservation of the island's resources. And guests can participate in some conservation efforts that help the native fauna (sea turtles, starfish) and landscapes (coral reefs). The pretty property is the definition of beach chic and boasts an array of perches for lounging. It's also surrounded by pearly-colored sands, and located about a 15-minute taxi ride to Shell Beach (room rates start at $650 a night and include breakfast).
Anse Chastanet Beach, St. Lucia

Photo: Anse Chastanet
Grey is considered one of the few hues that is not actually a "color." It's a neutral blend of other non-colors, black and white. Yet when grey is seen in color palettes, it represents modern elegance and sophistication. The island of St. Lucia is known for its iconic green-carpeted twin peaks called the Pitons and the beaches that sit under their watch. With a mix of volcanic black and the Caribbean standard white sand, Anse Chastanet Beach reveals itself as a pale grey. Snorkelers delight in the waters and easy-to-spot tropical fish swimming close by, while sunners (and let's admit it selfie-takers), enjoy lounging in the silvery sands with a backdrop of the formidable verdant St. Lucian mountains. The sulphur springs are another marquee attraction on the island. The healing waters of the world's only drive-in volcano is a popular day-trip, so be sure to arrive early to beat the crowds.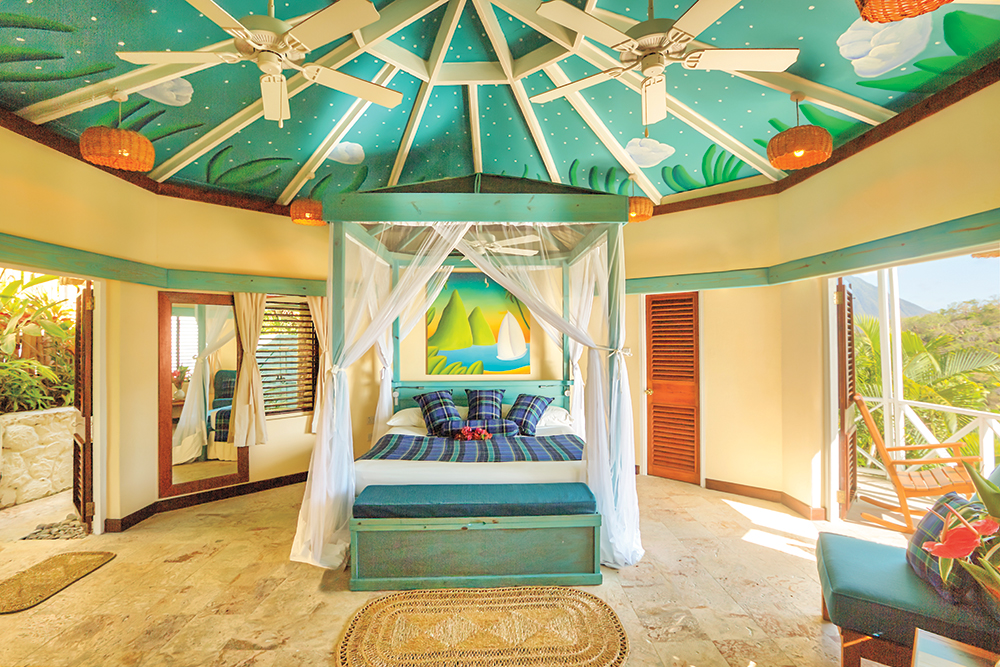 Photo: Anse Chastanet
Where to Stay: St. Lucia's Anse Chastanet Resort is a truly special eco-resort showcasing 49 individually appointed guest rooms with open-air "walls" positioned on the beach or positioned in the foliage of a tropical mountain. All are fashioned from local woods, including breadfruit tree, and are decorated in bespoke "national cloths" (colorful cotton madras). Meals here are also hyper local, featuring island-grown produce, fresh-from-the-sea fish and chocolate crafted on St. Lucia. Book a dinner in the romantic Treehouse, that features a stellar fine-dining menu (room rates start at $500 a night).