You want to go all-in, he wants to drop out. On these awesome Caribbean islands, you can do as much or as little as you like.
By: Carrie Bell
-AS SEEN IN BRIDAL GUIDE MAGAZINE-
Whether your idea of a perfect post-hitched tropical island holiday includes R&R — rum punch and relaxation — on repeat, or non-stop activities that make the heart race and the adrenaline spike or a combo of both, these tropical hot spots have you covered. Even the hotels can feel like two different honeymoons for the price of one. Are you ready to get your heart pumping or set it a flutter? Here's where to book.

Photo: Jeroen Lucas
Aruba
Sometimes big things come in small packages. Such is the case with Aruba, a Dutch isle home to pristine miles of stunning beach, 90 nationalities, 300 restaurants, and at least seven pink flamingos. The northern coast boasts towering limestone cliffs. And the interior is home to a sprawling desert expanse. The waters are also the final resting place of the Antilla, the Caribbean's largest shipwreck and a prime dive spot.
Thrill: Take the wheel of an all-terrain vehicle, feel the wind in your hair and make everyone eat your dust when you go all fast and furious on a De Palm Tours off-road adventure on the cactus-filled desert side of Aruba. Stop long enough to plunge into natural pools, scramble over rock formations and visit a historic chapel and mill ruins.

Photo Credit: Jordy Koolwiljk
Chill: Lather on the Aruba Aloe, grown and made on island, and ease any discomfort lounging in the Caribbean sun may have caused. Eat a subdued supper while almost horizontal at Screaming Eagle, where booths are actually platform beds and the lobster bisque comes on a TV tray.
Stay: Continue with dessert at the Aruba Marriott Resort & Stellaris Casino on Palm Beach. Grab a scoop at Gelato & Co to enjoy in one of the hanging pods in the courtyard or in a cabana at the adults-only pool. Nothing elevates the pulse like laying your own money on the line. Try your luck at the sparkling Stellaris Casino, which features 500 slot machines and 32 gaming tables (room rates start at $550 a night).

Photo Credit: Jetlag Creative Studio
Grenada
As is common in the Caribbean, Grenada has a mountainous middle that gives way to hilly rainforest reserves peppered with waterfalls and plantations (many still produce cocoa and nutmeg), pristine coastlines dotted with sea grapes and clear waters filled with a wide variety of reefs and boat carnage, all teeming with kaleidoscopic fish.

Photo courtesy of Spice Island Beach Resort
Thrill: Spin, swirl, and shoot whitewater rapids on the bumpy Balthazar with Adventure River Tubing, started by a group of 10 local dudes who will instigate a cannonball contest mid-float if the current gets too serene.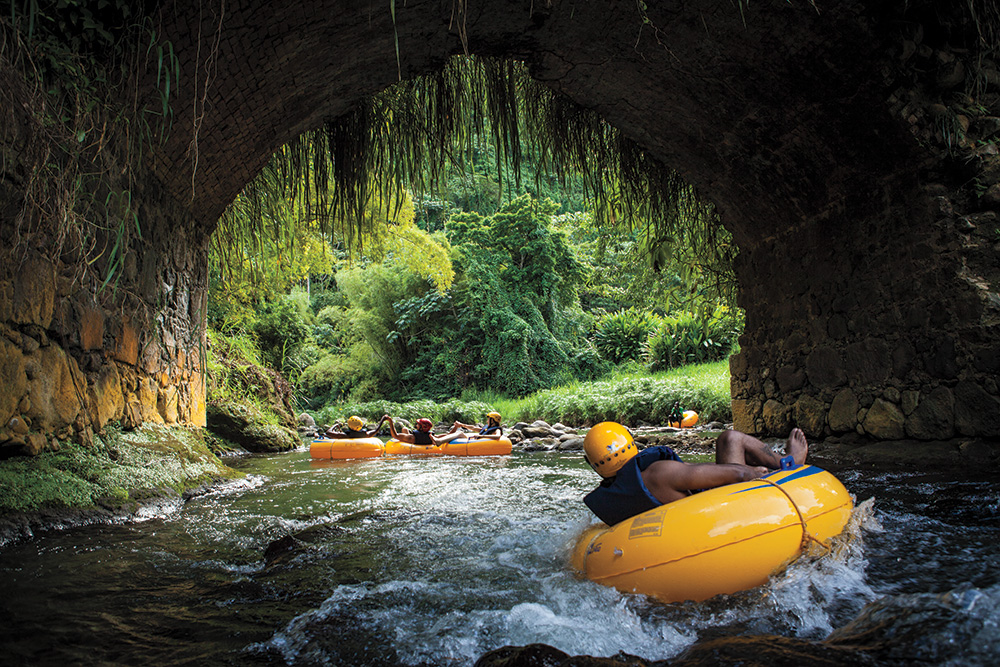 Photo courtesy of Grenada Tourism Authority
Chill: The nutmeg island offers laid-back options by land or sea. Snorkeling in Molinere Bay with Dive Grenada is like combining a day at a museum with an aquarium, as an ever-morphing underwater sculpture park with 14 installations by artist Jason deCaires Taylor chronicling the country's history reside there.
Stay: The new open-air yoga pavilion is one more reason to nama-stay at the postcard-perfect Spice Island Beach Resort. Go with the flow during a private couples session while gazing at the aquamarine water and sugary white sand of Grand Anse Beach. Cool down in your private plunge pool after a rousing round of included golf (room rates start at $1,400 a night and are all inclusive).

Photo courtesy of Spice Island Beach Resort
Jamaica
The land of one love is home to tasty jerk chicken, rich Blue Mountain coffee, and natural attractions including limestone caves and blue lagoons, all set to a homegrown and ever-present reggae soundtrack.

Photo courtesy of Sunset at the Palms
Thrill: Lots of places have cliff-diving locales or shows, but very few encourage visitors to take the extreme plunge. At Rick's Café in Negril — a seaside institution serving stiff drinks, live bands and citrusy sunsets daily — slip on a swimsuit, set aside your fear of heights and leap from two platforms (one high; the other even higher) into the refreshing cove far below while hundreds of patrons cheer.
Chill: Debuted in 2018, Appleton Estate Jamaica Rum distillery's shiny new Nassau Valley visitor's center gives pairs who like to partake in a good excuse to day drink — it's educational. After a welcome sip and before a tasting, the interactive tour walks participants through the brand's creation in 1749 (and hiring of the first female master blender in the world) and the rum- making process from farming sugarcane to barrel aging.
Stay: Answer the call of the wild at Sunset at the Palms Resort by brunching with the resident family of goats. Feed them fresh greens until it's time for them to go to work as lawnmowers around the treehouse-style bungalows while you indulge in copious servings of the resort's legendary bacon. Catamaran trips that launch from the beach go from tame to cheeky (literally!) when you round the bend past the clothing-optional neighbor Hedonism (room rates start at $299 a night and are all inclusive).
St. Lucia
This West Indian wonderland is packed with pretty — imagine waterfalls, stunning panoramas, vibrant flowers, rock formations, and luxurious resorts — and pretty exciting, boasting the world's only drive-in volcano surrounded by bubbling mud baths.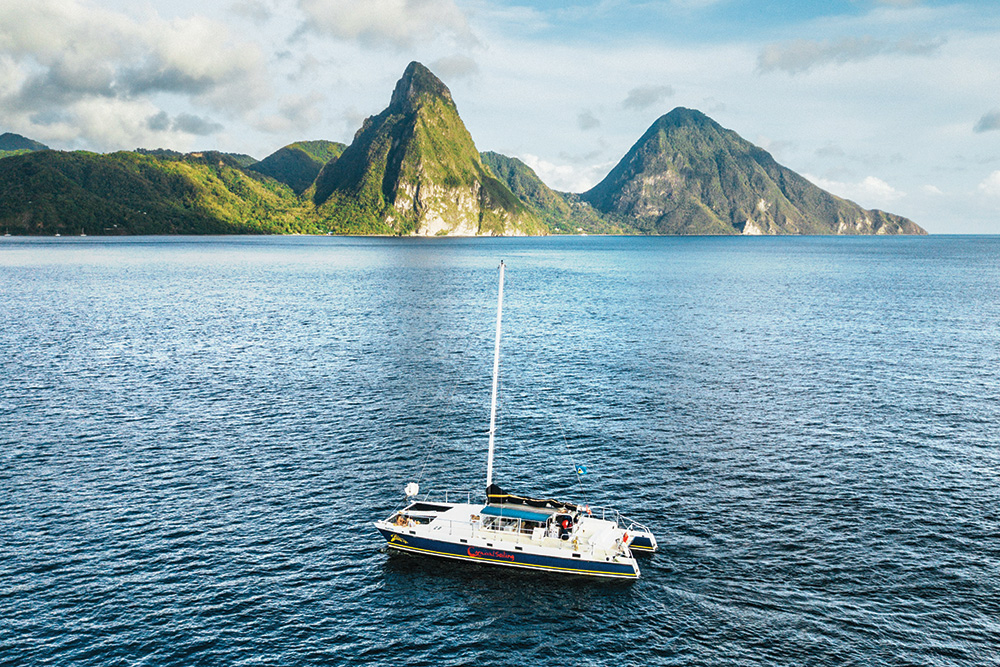 Photo courtesy of Marigt Bay Resort & Marina
Thrill: With dozens of trails over a variety of elevations, the island is a paradise for hikers. Aim to summit both of the most iconic, Gros Piton and Petit Piton. Most can manage Gros, but take to Petit if you want a true challenge that involves no marked trailheads, primitive fixed ropes and steeper ascents. Despite being the smaller of the two, Petit also rewards with a more spectacular view. Have a need for speed? Zipline down hills and over lush canopies with Rain Forest Sky Ride.
Chill: If that sounds a bit too precarious or strenuous, instead enjoy the Pitons while off your feet through a treatment room window at Hotel Chocolat's spa, where locally made healing lotions featuring antioxidant-loaded cacao beans and other farm-fresh ingredients are used in facials, wraps, and massages.
Stay: Marigot Bay Resort & Marina is quite literally the safest port in the storm as it sits in a scenic Hurricane Hole (area for tying off boats in a storm) protected from choppy waves and strong winds. But if you crave a more active aquatic playground, order a change of scenery off the beach menu, basically a passport to other prominent patches of sand. Fire dancers turn up the heat at the barbeque and the dauntless can see how low they can go during the limbo portion (room rates start at $292 a night).

Photo courtesy of Marigot Bay Resort & Marina