Where the artists go, the food, drink and hip hotel scene follows. Take a tour of some of the world's coolest neighborhoods.
By: Karen Gardiner
Miami, Florida
Sure, you can spend your time in Miami enjoying long days on the beach and late, late nights at the club, but make time to soak up some of the city's dynamic art scene, too. Home to the annual Art Basel, a world-famous collection of modern and contemporary art fairs, as well as one of the largest collections of Art Deco architecture in the world, Miami is a must-visit for modern art fans.
What to Do: Find the beating heart of Miami's art scene in the vibrant Wynwood Arts District. Formerly an industrial neighborhood and now home to more than 70 galleries, Wynwood is also something of an open-air museum thanks to its numerous colorful murals. Some of the world's best-known contemporary street artists — including Shepard Fairey (famous for his iconic "Hope" graphic created for President Obama) and Maya Hayuk (known for her colorful geometric patterns) — have made the walls of Wynwood's many warehouses their canvases and transformed the area into one of Miami's hippest neighborhoods. After working up an appetite by touring the galleries and murals, visit Wynwood Kitchen and Bar for Latin-influenced cuisine, creative cocktails and even more art-filled surroundings, including more of Shepard Fairey's work.
Where to Stay: Set on a secluded island oasis, but within easy reach of downtown and south beach, the Ritz-Carlton Key Biscayne, Miami features beautifully appointed interiors and lush tropical gardens. Eight sculptures from local Elaine Baker Gallery are also on view, which you can experience with a self-guided walking tour via your phone. The spa is another highlight, as much for its mosaic waterfall installation and contemporary art displays as for its array of pampering treatments (room rates start at $269 a night; ritzcarlton.com).

Photo courtesy of The Ritz-Carlton Hotels
Valparaíso, Chile
With its charming Pacific oceanfront setting, steep hills, picturesque vintage funiculars and colorfully painted Victorian-era houses, Valparaíso has long drawn artists and photographers to its maze of cobblestoned streets and alleyways. The past decade or so has seen a remarkable revitalization take place in Valparaíso, Chile, most notably with the city's Historic Quarter becoming a UNESCO-designated World Heritage site and the reopening of the Museum of Fine arts, which houses works by Chilean and international artists, after a 15-year hiatus.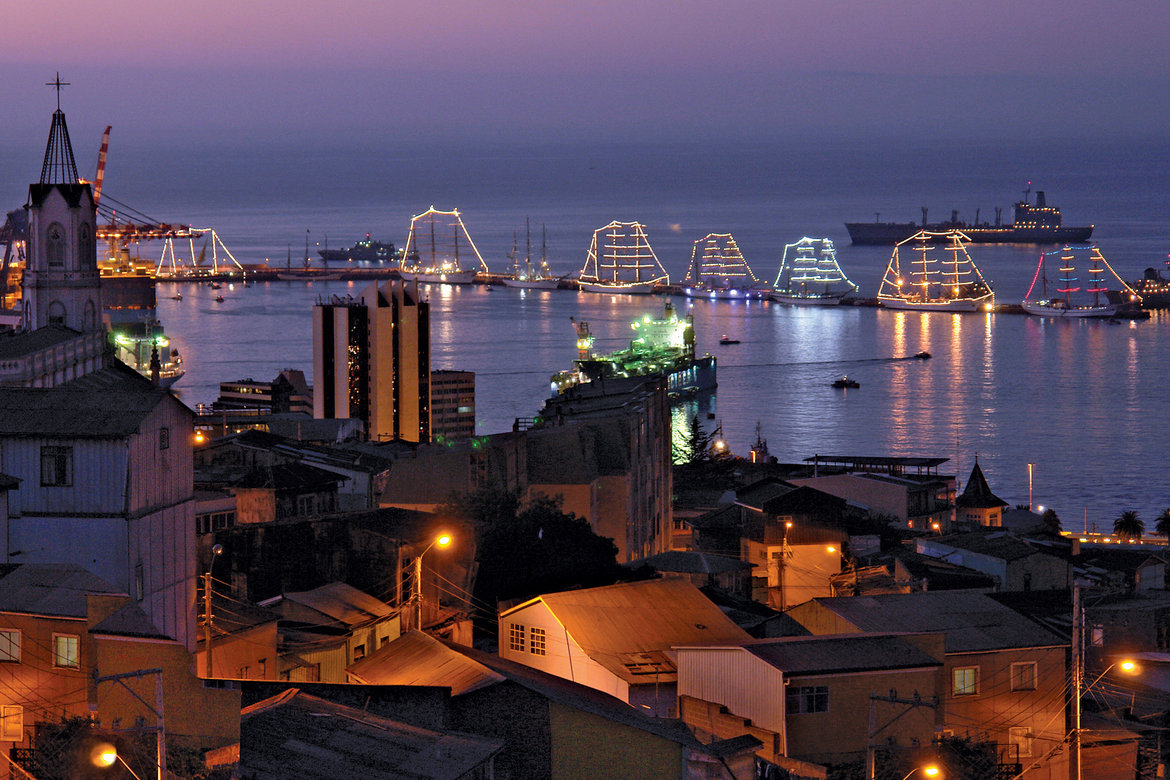 Photo courtesy of Turismo Chile
What to Do: The UNESCO World Heritage site encompasses the Cerro Alegre and Cerro Concepción neighborhoods, which, along with neighboring Cerro Polanco, is where you will find much of the street art for which the city is famous. Public art has long been part of the cultural fabric in Valparaíso, and you can see some of the thousands of works on display throughout the streets by joining the tip-based Valpo Street Art Tours. They'll even let you try your hand at it. La Sebastiana, the art- and trinket-filled former home of Nobel Prize-winning Chilean poet, Pablo Neruda, is a must-visit.
Where to Stay: Housed in a restored mansion in the Cerro Alegre area, Palacio Astoreca features works by Chilean and international contemporary artists in its rooms and communal areas. The hotel further supports artists by inviting them to develop projects locally. The hotel's Alegre Restaurant, helmed by Sergio Barroso, a veteran of Spain's El Bulli, is a top eatery in town (rooms from $213 a night; hotelpalacioastoreca.com).
Pages