Make a wish (or maybe it's already come true) when you marvel at the night sky at these awesome properties.
-AS SEEN IN BRIDAL GUIDE MAGAZINE-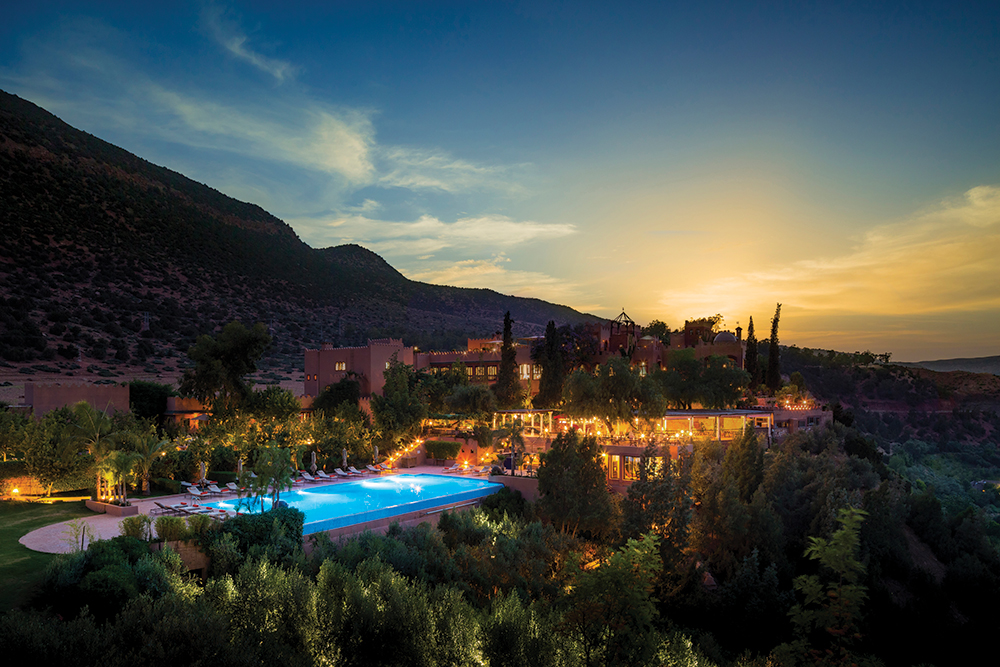 A collection of traditional Berber tents set near a Moroccan style castle with a private pool and gorgeous gardens make up this ultra-luxe property in the Atlas Mountains that's helmed by the Virgin Limited hospitality group. Stays here are likened to local home stays, if bunking in with friends included superlative service, activities and cuisine, and guest rooms featured oversize soaking tubs with unbeatable views, private plunge pools and expansive outdoor dining areas. The secluded setting welcomes awesome stargazing, which is offered on Jeeps guided by resident rangers and naturalists (room rates start at about $580 a night; virginlimitededition.com).
This timber-and-stone sanctuary of just 40 oversized suites and four multi-room homes perched on a butte near Yellowstone and Grand Teton Parks showcases not only its moniker (amangani means peaceful home) but also the jaw-dropping and utterly unique beauty of America's great outdoors. Guided national park tours, immersive wildlife tours and seasonal trekking excursions are among the marquee, nature-first offerings at this ultra-pampering hideaway, as is stargazing. Led by two property partners, each program promises insightful celestial sessions that use telescopes and iPads (room rates start at $925 a night; aman.com).
Tierra Atacama
In the driest desert in the world, Chile's Atacama, the stargazing is so otherworldly that a council on international space observation is located here. The ALMA observatory is said to be able to detect new star life and planet formation. Visits to the observatory are limited, but that doesn't mean that guests to this incredible landscape aren't thrilled with their own night-sky views. As part of their all-inclusive packaging, Tierra Atacama offers night tours that showcase the region's sky. Heralded as the best place in the world to spy stars, guests are treated to magical views of the Milky Way and not-oft spied constellations including the only-seen-here llama (room rates start at $2,490 per person, per night and are all inclusive; tierrahotels.com).
El Careyes Club & Residences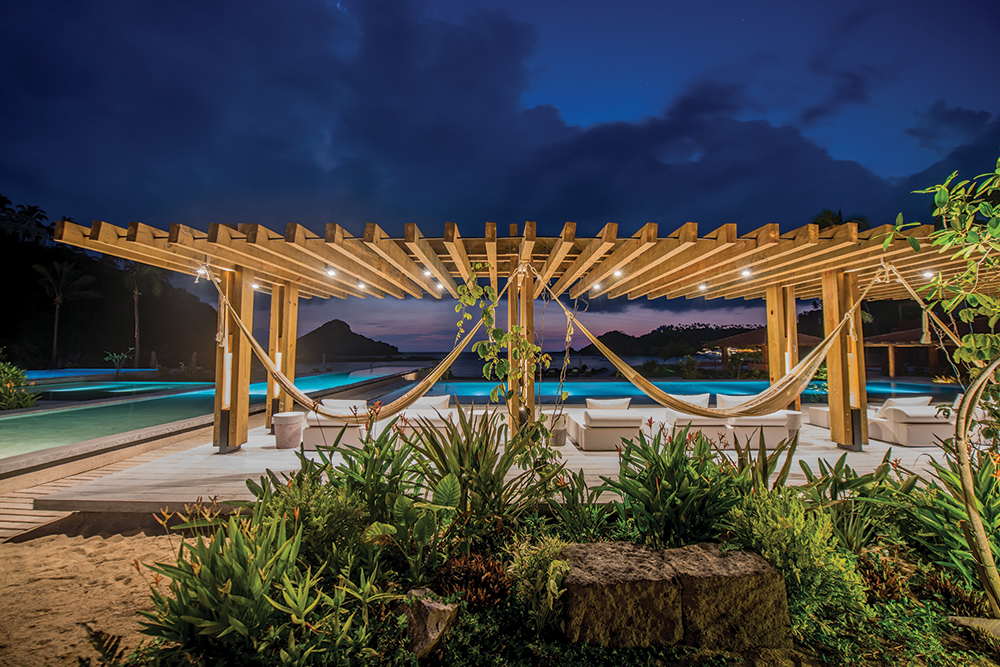 This enclave on Mexico's Pacific Coast is a mystical destination that leans as much into the spiritual and cosmic — the Copa del Sol, an oversized gathering place for rituals including sound baths, is a marquee attraction — as it does its natural setting (turtle conservancy and private boat rides are popular features). Guests to the coastal community spend days lazing at private pools, across the property's golden sands and on individual boats, with evenings reserved for spectacular sunsets that give way to an even more impressive night sky. Of all the spots to spy the brilliant stars, Teopa Beach is said to be the best. Ensconced in a nature preserve, the area, which is locally known as "where the gods go to rest," experiences no light pollution (room rates start at $350 a night; careyes.com).
Nestled between the epic dunes of the restless Atlantic Ocean and a once-sleepy fishing village that's now the height of hip sits this revitalized, low-slung hideaway that looks directly to the sea. A celebration of the simple life, the 96-room boutique hotel is low-fi in presentation and high-def in service level. Activities and food reflect the chic ethos and natural bounty of the area. Beach cruiser bikes, s'mores by the bonfire evenings, poolside yoga sessions and guided evening sky walks are popular — and free — options for guests. The night show is led by a local astronomer who invites viewers to see the sky via on-site telescopes (room rates start at $475 a night; There is a $75 resort fee per night; marrammontauk.com).
Montage Healdsburg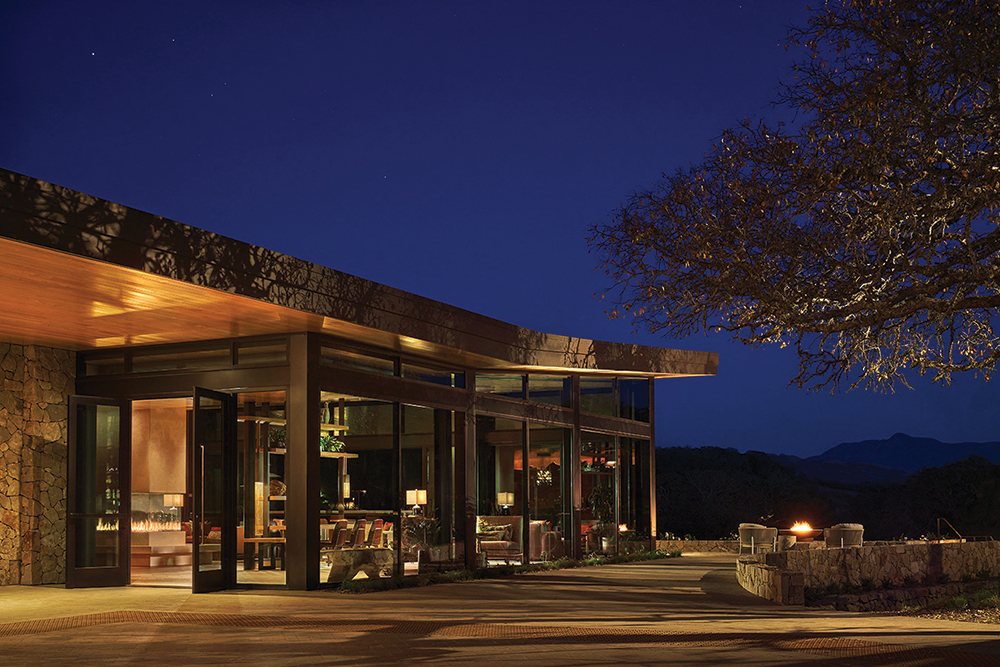 This ultra-pampering 130-room hideaway in California's Sonoma Valley stretches over 258 whopping acres of oak tree groves, emblematic vineyards and organic gardens. Among the nature-first experiences offered on-site is the complimentary Exploring the Night Sky excursion, an hour-long hosted activity where guests can gaze at the moon, planets and constellations. The jaw-droppingly gorgeous property recently announced an even more out-of-this-world package called Sky's the Limit, which includes private observatory tours, exclusive dinner for six, an astro photo session, private jet transportation and more. Bespoke architectural touches, including rooms that feel like individual tree houses, and the hotel's impressive art collection may be the only amenities that rival the natural offerings (room rates start at $1,025 a night; montagehotels.com).