Here's a cheat sheet to the terms and conditions at some of your favorite honeymoon resorts.
By: Carrie Bell
-AS SEEN IN BRIDAL GUIDE MAGAZINE-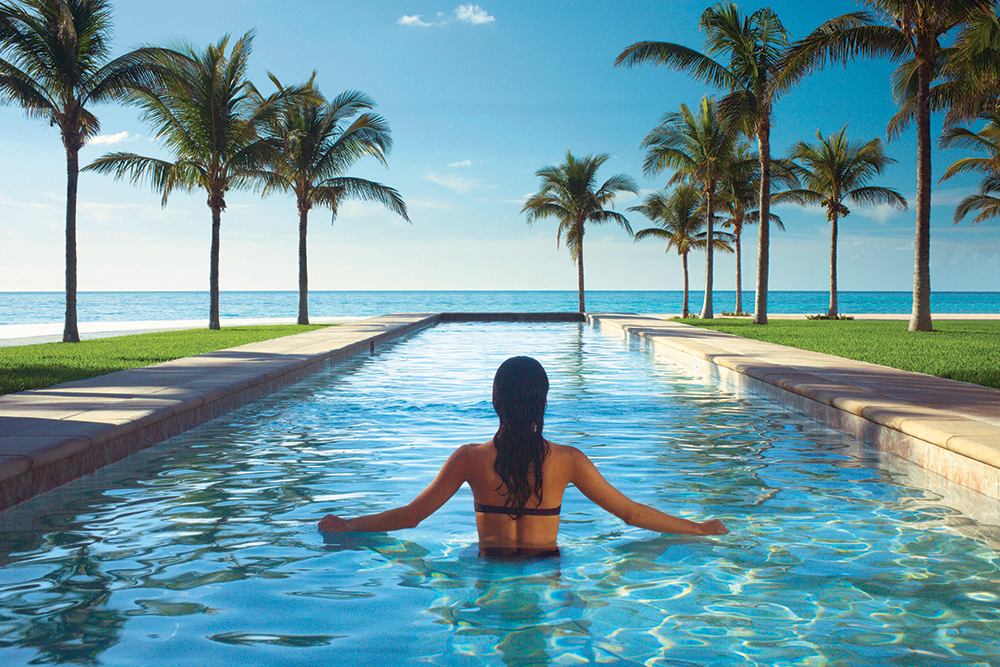 Photo: Grand Lucayan
The Caribbean is calling with the relaxing promise of swaying palms, endless sunshine, sugared sands, succulent seafood, and seas in every imaginable shade of blue, and all-inclusive properties want to help couples answer. Whether pairs picture the tropical paradise as the perfect I-do destination or plan to head there happily ever after getting hitched, all-inclusives offer easy one-stop vacation shopping.
"All-Inclusive is a convenience; a smart plan which discounts all components (room, meals and drinks) activities and entertainment and gives you great savings. It is a dream vacation planned and paid for in advance," says Teena McDonald from Grand Lucayan, an all-inclusive resort in the Bahamas. Before you go, you'll want to know what is available and what is included at your destination of choice. Here's a decoder on what to what to know before saying "I do" to a resort.
Included: An all-inclusive resort booking means accommodations, all meals, alcoholic and non-alcoholic beverages, on-property amenities like fitness centers, kids' clubs and pools, entertainment, non-motorized beach sports, Wi-Fi, taxes and tips are packaged into a single, pre-paid tariff. It's also common for a property to offer premium amenities or add-ons that upgrade elements of a stay like adding top-shelf spirits, suites with on-call butlers and private plunge pools or a daily spa treatment.
Extras: It depends on the reservation and the resort, but typically rounds of golf, off-site excursions and tours, airport transfers, spa services, Jet Ski or boat rentals, and water parks. Some charge daily resort fees to cover some of these amenities.
Tipping: Some brands have policies against gratuities, while most simply include it in the reservation price. Guests can also reward exemplary service by bartenders, servers or housekeepers at their discretion as long as there isn't a rule forbidding it.
Non-Motorized Water Sports: Beachfront all-inclusives often outfit guests with snorkeling equipment, SUPs, kayaks, boogie boards, floats/inflatables and small sailboats. Many also keep a treasure trove of pool and beach games, and sports gear like volleyballs and nets.
A La Carte Dining: Many people associate all-inclusives with buffets. They wouldn't be wrong as massive spreads, especially at breakfast, are the norm. Most resorts feature a variety of casual and fine dining restaurants. Specialty restaurants (such as sushi bars, steak houses and teppanyaki) often require reservations.
Dress Codes: Plan to live in your bikini and short-shorts? Most of the time, (swim)suiting up is acceptable, but nicer restaurants often require shoulders and knees to be covered.
Discounts & Exclusive Benefits: Membership has its privileges, as some brands reward points-programs, frequent guests, club-level reservations and direct bookings with perks including upgraded mini-bar selections, access to VIP beach areas, preferential seating at restaurants or coveted room floors.
Wristbands: Depending on your property, these may be the key to your castle — literally — as they can double as room keys. You'll need them to enjoy restaurants, bars, shows, gyms, activities, and equipment rentals, and sometimes pay for things. Steep fines are incurred in the case of loss.