From Croatia to Vietnam, we've got the best new honeymoon offerings around the world. Bonus: They're also wallet-friendly.
By: Sandra Ramani
There are certain destinations in the world that are classics. They appeal to every traveler in search of amazing food, grand hotels, abundant cultural activities and an inherent sense of romance. But these idyllic locales are so revered that they often come with crowds and hefty price tags. So we scoured the globe in search of some new classics, a collection of destinations that promises authentic cuisine, amazing accommodations and spicy romance, all at alluring prices.

Photo courtesy of Raffles Praslin Seychelles
If You Like The Caribbean, Try: The Seychelles
When it comes to wide, powder-soft beaches, North Americans are spoiled by the sandy havens of the Caribbean. In the island nation of The Seychelles, you are guaranteed a similarly post-card-perfect tropical paradise — stunning beaches, clear waters — along with a relaxed charm missing from some of the more over-developed hot spots.

Photo courtesy of Banyan Tree Hotels and Resorts
What to Do: 
Set in the blue-green waters of the Indian Ocean, about 930 miles east of Africa, this archipelago is made up of 116 granite and coralline islands. The international airport is on main island Mahé, which also has luxury resorts and outdoor attractions. Praslin, the second-largest isle, is dotted with colorful villages, a couple of noted resorts and less-crowded beaches. Throughout, you'll find a unique mix of native Creole, British, French and Indian cultures, natural wonders and some of the world's most unique flora and fauna. The Seychelles has ferry service linking several islands, so it's easy to explore.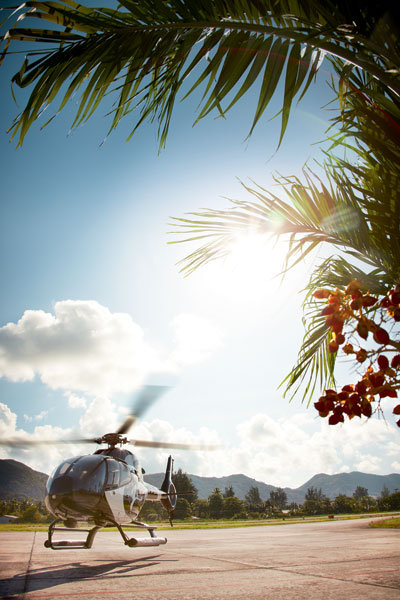 Photo courtesy of Raffles Praslin Seychelles
In the heart of Praslin, the Valle de Mai Nature Reserve is a palm forest that's changed little since prehistoric times. Walk the trails among several types of palm trees and the coco de mer, a super-sized, double-shell nut that's only found here. Also on Praslin is sugary Anse Lazio beach, often voted one of the best in world. Despite the hype, you won't have to fight crowds to find a shaded spot from which to sun, swim and lounge. On smaller La Digue Island, rent a bike to explore spice plantations, a reserve for giant sea turtles and hidden beaches. Grab a Creole lunch at one of the cafés along the marina and pick up souvenirs like scented coconut oil and freshly harvested cinnamon and vanilla.
Where to Stay:
The Raffles Praslin resort features 86 cliffside villas, each with private decks, plunge pools and butler service; many overlook the ocean and private beach where you can snorkel and stand-up paddleboard. There's also a 13-villa spa offering an island-inspired menu (room rates start at $716 a night; raffles.com).

Photo courtesy of Raffles Praslin Seychelles
Banyan Tree Seychelles on Intendance Bay on Mahé has 60 villas with private pools, local textiles and artwork inspired by the coco de mer nut. The restaurants and spa showcase Banyan Tree's Southeast Asian roots and the best local ingredients (room rates start at $948 a night; banyantree.com). 

Photo courtesy of Banyan Tree Hotels and Resorts 
Next: A budget-friendly alternative to Thailand ►
Pages