You're excited about shopping for your wedding gown, but you're not sure where to start? Here are our tips to help you find the dress of your dreams.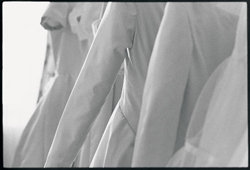 When it comes to clothing purchases, the wedding gown is in a class of its own. No other garment is as "it has to be perfect" as this one, and it's probably the finest and most expensive item of clothing you'll ever buy. Exciting? Yes. Scary? Not if you use these tips:
Start early
Ideally, you should begin shopping nine months before your wedding day. This time frame will allow for a stress-free pace and is very important if you're buying a custom-made wedding gown (as opposed to an off-the-rack one), which may take several months to produce and require at least three fittings for alterations when it arrives. Only have a few months? Most bridal salons can fulfill rush orders, usually for a fee.
Establish a budget
Try to spend no more than 5% of your total wedding budget on a wedding gown and wedding accessories (veil, shoes, jewelry and so on). Wedding dresses can go for as little as $200 to $300; most brides spend about $700. Couture wedding gowns are likely to fetch $2,500 and more. And, don't forget to factor in the cost of alterations like shortening the hem, or adjusting the bodice and sleeves. Prices vary, depending on the complexity of what you need done. Be sure to get an estimate upfront.
Make an appointment
At a bridal salon, or a department store with an in-house bridal boutique, like J.C. Penney or Saks Fifth Avenue, doing so will get you one-on-one attention from a sales consultant who can pull the right styles for your body type, help get you into the gowns (those tiny satin-covered buttons can be tricky) and give you her undivided attention.
Plan your salon visits wisely
Most appointments last about an hour. Avoid feeling rushed by limiting yourself to trying on just five gowns per salon trip. Try not to go on a Saturday afternoon, because the brdial shop will be mobbed, and don't go during your lunch hour or you may feel pressured by the need to get back to work.
Pages