A sophisticated elegance defines Manuel Mota's final collection for Pronovias.
By: Brittany Robins
The inspiration:The latest collection was inspired by a desire to evoke a bucolic universe for brides. Textural components like feathers and embroidery and transparent layering are paired with dainty floral details and petal-accented skirts. The line celebrates a feminine aesthetic, balanced with a lightness that allows the bride to move about with ease. 
Silk blouse over a sequin bodice and feather skirt, about $6,700. 
The fabrications:Without question, the material that is most prevalent throughout the collection is lace. It is the fabric par excellence. Lace can be used to create formal and fashionable gowns. It not only has the unique ability to lend a vintage flair to a look, but it can also be fabricated in a more modern light. The versatility of lace — it can be embroidered with gemstones or cut into delicate appliqués — ensures that it will never fade from this bridal fashion repertoire. 
A beaded mermaid with a sweetheart neckline, cap sleeves, and illusion back, about $6,500.
Design aesthetic:The design aesthetic of this collection can be summed up as simple and functional with a feminine sensibility. The gowns are designed with the goal of flattering the bride; this is accomplished by structuring the dress from within based on gentle corsets inside that support the gown, while also working with sheer, flowing fabrics — highlighting the female figure. The line is comprised of light, ethereal gowns which allow brides to feel comfortable and look beautiful on their big day.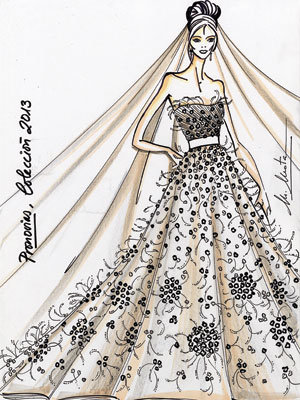 Left: Strapless tulle A-line gown with re-embroidered lace and a ribbon waistband. 
Right: Chantilly lace and silk organza high-low gown with a sweetheart neckline and lace-accented straps. 
Style icons: There are various stars who best embody the design concept of the Manuel Mota collection for Pronovias. The gowns were created to complement the timeless elegance of Audrey Hepburn and Grace Kelly, as well as the ultra-chic, trendsetting style of Blake Lively.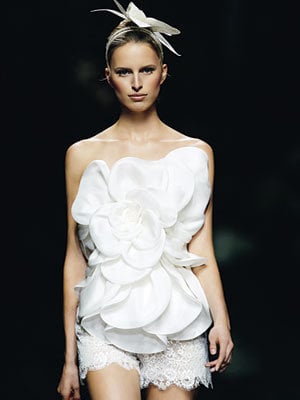 Left: Strapless silk and organza flower petal top with lace shorts, price upon request. 
Right: Silk A-line cocktail dress with a lace overlay, bateau neckline and tulle petal skirt, about $2,400. 
Shopping advice:The Manuel Mota bride is bold and adventurous, willing to turn away from the conventional characteristics of wedding gowns. When shopping, this bride gravitates towards different styles she wouldn't have necessarily considered. After all, if ever there is a time to make a grand statement it's undoubtedly on a bride's special day.