Whether you've dreamed about it for years or never gave it a thought, here's how to find a wedding dress that reflects your personal style.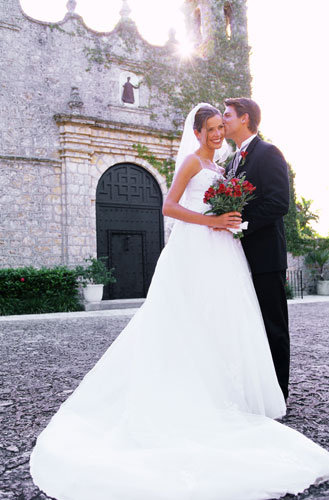 Your wedding gown provides a chance to dress completely differently than you do on any other day in your life, so feel free to pursue your bridal fantasies when you start shopping. Even if you don't choose an ornately styled gown, it can't hurt to try one on; many brides report being talked into trying on a more elaborate dress than they'd envisioned and then falling in love with the look. Experiment with different styles to see what suits your figure, and don't rule anything out based on how it looks on a hanger—many wedding gowns look odd without a figure filling them out.
Consider the formality of your wedding first when selecting a gown style. Generally, the more formal the wedding, the more formal the bride's attire. And keep the season of your wedding in mind, since some fabrics might be too heavy or light for certain times of the year.
Also consider your comfort, both physical and emotional. All eyes will be on you throughout your big day, so this might not be the best occasion to wear your first strapless gown (you don't want every picture to show you looking down to make sure your cleavage hasn't shifted!). And a body-skimming sheath won't let you kick up your heels on the dance floor as freely as you might like.
In each wedding dress you don (and later at the actual fittings), try sitting, dancing, and hugging. Wave your arms around to make sure the shoulders and sleeves aren't binding. Pay attention to weight—will wearing pounds of beading leave you exhausted? Will a full skirt present a tripping hazard? Does the gown's shape cry out for a higher heel than you care to wear? In general, try to visualize yourself wearing the dress throughout your ceremony and reception. When the picture is right, you'll know it.
Pages