Do you have questions about his wedding-day attire? We have expert tips and advice tailored just for him.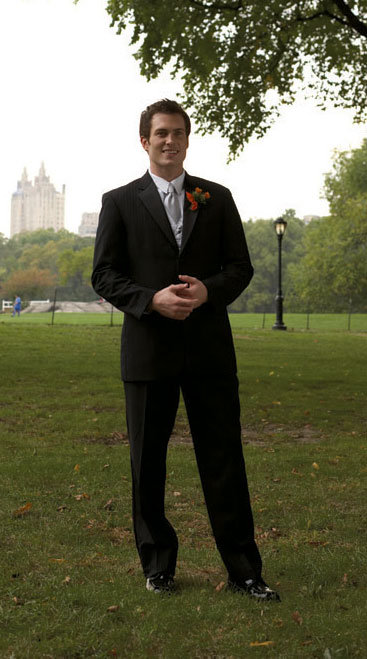 This modern take on a two-buton tuxedo features subtle tone-on-tone stripes; a notch collar with satin lapels and silver-hued accessories lend an distinction. Tuxedo and accesories by MW Tux. Boutonniere by Scott's Flowers; call 212-727-2800 for floral information.
Q: My fiancé's groomsmen live all over the country. Is there any way to ensure their tuxes coordinate?

A: Even within the parameters of a traditional tuxedo, the smallest of details can vary, such as the shade of black, type of trim or width of the lapels. To guarantee a totally cohesive look, try to find a rental chain that has a branch in each of the groomsmen's locales—if they all rent from the same company, you can expect the cuts and colors to match identically. Another option is to have the crew send their measurements directly to the groom, which he can bring with him when he gets fitted for his own tux. Suggest they make an event out of picking them up as a group, perhaps before the bachelor party or the rehearsal dinner. Also, remind them to try everything on at the store, so there are no uncomfortable surprises on the big day.

Q: We're on a tight budget, so we're trying to save wherever we can. Is it OK if my fiancé wears
black dress shoes, which he already owns, with
his tuxedo?

A: If they're patent leather, maybe. Just keep in mind that men's formalwear shoes have a certain construction and a very thin sole, a look that is unique to the category. Anything else, such as loafers, wingtips or cap-toe shoes, just won't look right—even if they're black. The good news is that rental shops often offer shoes in many of their rental packages. Just be sure he tries them on beforehand (and brings the proper socks!) and considers an upgrade to a slightly more expensive (read "comfortable") pair if they're available—you don't want to be forced off the dance floor because of ill-fitting shoes.

Q: My groom-to-be is quite tall and has an athletic build. What style is best for his physique?

A: While almost everyone looks great in a tux, there are some guidelines that promise a great fit for every body type. For in-shape gents like your fiancé, the best bet is a two-button tux with a peak collar; the shape of the lapel will enhance the V of his physique and guide the eye up toward his broad shoulders. Flat-front trousers with a narrow cut and little or no cuff will similarly enhance his shape. If the groom in question tends to be on the huskier side, he should consider the slimming effects of a shawl-collar jacket and ditch the cummerbund for a vest, which will hide a paunch. He could also opt for a plain-front shirt over a pleated one (which will only add bulk), and choose a wider tie—overly skinny ties have the wrong proportions for his frame.

Q: My guy likes to dabble in fashion; what formalwear looks might spice up his
wedding-day look?

A: While it's important that your groom-to-be follows his fashion instincts, you want him to steer clear of being overly trendy: Looking at wedding photos 25 years from now should be a treat—not a cringe-inducing chore. Have him play with the jacket colors (see box, above, for hot new options) or suggest he follow Hollywood's lead and choose a monochromatic look for his shirt and tie (black-on-black is always fashionable; gray-on-gray is a bit more distinctive). He also might consider trading the more conventional bow tie for a long one, and pick a pocket square over a boutonniere.

Q: We're having a formal wedding, but my groom doesn't want to wear a traditional tuxedo. Are there other options?

A: There are plenty of alternatives to the conventional tux that still maintain the proper formality to match the occasion. Many rental companies are now offering tuxes with pinstripes, tone-on-tone stripes and, for the fashion-forward groom, even metallic stripes. These tuxes feel more like a suit, but the tuxedo detailing (such as besom pockets and satin lapels) keeps them in the more formal family. Color is also popular now, with tones ranging from deep chocolate to light tan (appropriate for a summer or less-formal affair) to navy blue or gray.

Photography: Eddie Collins. Grooming: Greg Clark using Redken for Men hair products.