Remarrying? Worried about doing it "right"? Here's everything you need to know.
Planning your second wedding should be a source of joy, not stress, so don't get caught up in what you think you should do differently. This etiquette guide will help you plan your dream celebration with confidence and ease.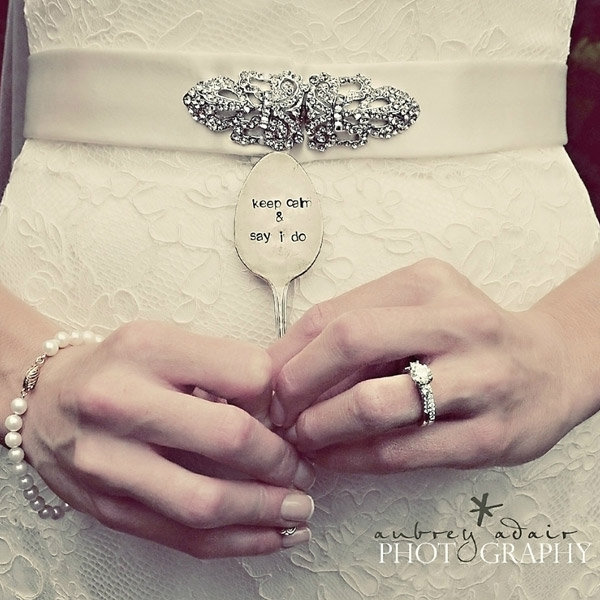 Photo Credit: Aubrey Adair Photography on JessicaNdesigns via Lover.ly
Getting Dressed
Is it okay to wear white? Yes! When it comes to attire, you call the shots. If you want to wear a traditional white wedding gown with all the fabulous tulle and satin trimmings, go for it. The only question that may give pause is whether to wear a veil, or a gown that has a train. Although the majority of second-timers choose not to, we don't see why you shouldn't. Other headpiece options include flowers, a tiara or a pretty, wide-brimmed hat.
Setting the Tone
You might think that a second wedding necessitates modest, low-key revelry, especially if your first wedding was elaborate. Second weddings do tend to be more intimate, with smaller guest lists, but there's no reason not to throw a big shebang. It's your choice: The point is to bask in the glory of your union — don't hold back.
Registering for Gifts
Is this appropriate? By all means. You might already have the fine china, silver and crystal categories covered, so consider registering for "fun" gifts — camping equipment, electronics, sushi sets and so on. Or you might want guests to make an optional donation to a charity in lieu of a gift.
Your Marriage License
In general, the same application process you followed for your first marriage applies to your second, with one exception: You'll need the divorce decree from your previous marriage or, if one of you has been widowed, a copy of the deceased spouse's death certificate. Call your local county clerk's office to find out the specifics.
Prenuptial Agreements
Talk this one over with your lawyer — a prenup might be a good idea if you have considerable wealth, own property that you want to keep in the family or are worried about the financial future of your children. Sure, it's a sticky subject, but someday you might be glad for the extra protection.
Premarital Counseling
It may be helpful for easing any fears you have about repeating past mistakes and for helping you gain a better understanding of each other's expectations. Find a specialist in couples' therapy (try the American Association for Marriage and Family Therapy) or seek help through your house of worship, which may provide this service.
The Honeymoon
Don't even think about skipping it! But should you bring your kids? You're not obligated to do so. If you prefer, plan to take them on a separate get-away to a kid-friendly destination later on. This will be a great way for family members to start to connect.
Married…with Children
It's important to involve your kids from your previous marriage(s) in your wedding. After all, they'll be part of your new union. Here's how:
• Most children will jump at the chance to be a flower girl, ring bearer or junior bridesmaid or groomsman. Giving them these roles will make them an integral part of the event.
• Trust your children with important responsibilities like greeting guests upon arrival or handing out wedding programs or favors.
• Have your children join you at the altar, and exchange personally written vows that emphasize "new family" themes.