Mom was right: Etiquette matters. Here, 10 ways to be gracious hosts — and guarantee very happy guests.
By: Sherri Eisenberg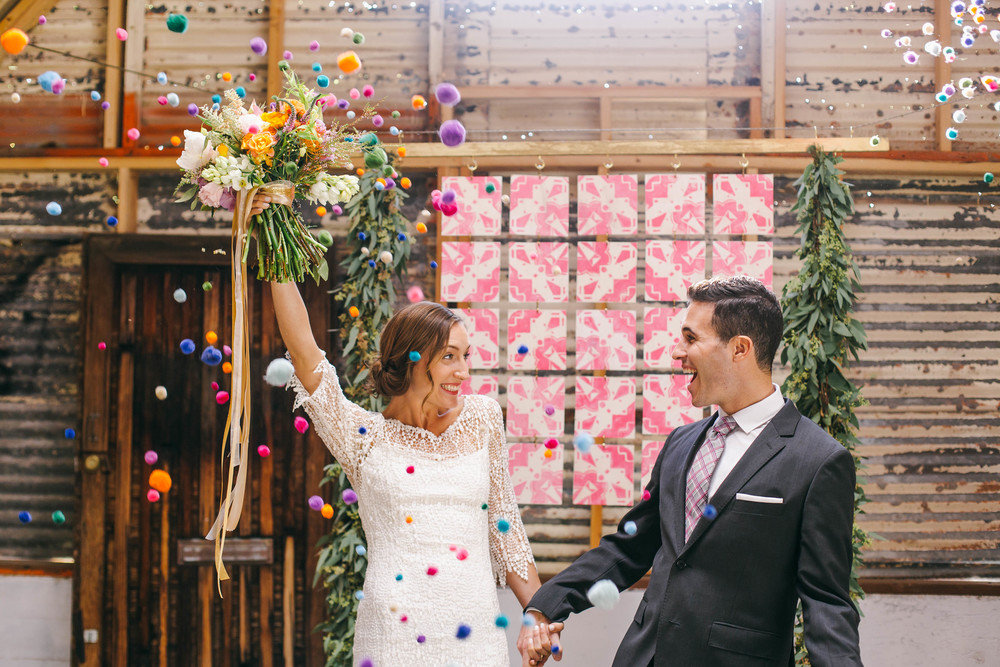 Photo Credit: Hannah Costello
Admit it: You've been to at least one wedding where something about the affair made you uncomfortable. For instance, maybe dinner was delayed an hour while the bride and groom were having formal pictures taken, or you ordered a drink at the bar and were handed a bill. Not so nice, was it? But now, the tables are turned and you're the hosts. If you want to send your guests home happy — and what couple wouldn't want that? — follow these rules:
1. Pick your wedding date carefully.
Sure, holding your affair on a Friday or Sunday night — or even a weeknight — is a great way to save money. But this might pose a problem for guests who don't live nearby. Many will have to take a day off from work in order to attend your wedding; your immediate family and your wedding party may have to take even more time off in order to attend your rehearsal dinner. A clever compromise, if you're really set on a Friday or Sunday affair: Hold your wedding on a holiday weekend, when most working guests would automatically have an extra day off.
2. Don't make guests wait.
Another wedding-day itinerary to avoid, especially if most guests are out-of-towners: a morning ceremony, followed by an evening reception. It's simply not right to expect guests to kill so much time between events. Ideally, you should leave no more than a two-hour window between the ceremony and reception . And if that happens, you ought to plan something fun for out-of-towners to do during that time. Perhaps a good friend or family member will host a cocktail party in his or her home, or you might arrange for a guided tour of your area or a local museum to keep guests entertained.
3. Think your menu through.
Chances are some of your guests observe dietary rules — maybe a few vegetarians or folks who keep kosher. Be sure to take a look at your guest list and see who might fall into this category. Most caterers will provide meals to accommodate these guests for little or no extra charge. Just be sure that the catering manager knows where these folks are sitting, and that your guests know ahead of time that you've taken care of their needs.
Another thing: While you and your fiancé may be bold eaters who like to explore international cuisines and always choose the most interesting dish on the menu, remember that many of your guests may not feel the same way about food. "I went to a Chinese banquet wedding where things like shark fin soup and sea cucumber were served," recalls Tina Woodvale of San Francisco, California. "No one at my table ate, and we all left hungry." If you do serve unusual dishes, be sure to provide at least one alternative selection for less-adventurous guests; in this case, the bride and groom might have offered a simple, familiar dish like lo mein.
4. Cover all the (weather) bases.
You may be dreaming of an outdoor wedding, but what will happen if it rains or the temperature suddenly drops? Unless you've planned carefully, both you and your guests will suffer. If any part of your event is to take place outdoors and the forecast looks bleak, make sure you have access to an indoor space that's comfortable and large enough for your guests.
If such a space isn't available at your venue, it's a good idea to put a tent on hold, says Cheryl Stair, owner of The Art of Eating catering company in Amagansett, New York. "We require our clients to do this, and we even recommend reserving heating equipment during the fall months," she says. "We also encourage greeting guests with a cold drink when it's warm outside, and hot cider when it's cool." Another nice touch: If rain is on the way, you could buy a bunch of oversized golf umbrellas that your ushers can use to escort guests from the parking lot to the tent.
5. Keep your guests' budgets in mind when you register.
Registering for gifts is a wonderful concept — it takes away the guesswork, and it ensures that you'll get the things you need and want for your new life. Just be sure that, in addition to selecting your favorite pieces, you choose items in a range of prices—everything from spatulas, hand towels and cookbooks to crystal stemware, electronics and sporting equipment. This way, every guest will find something within his or her budget.
6. Pay all appropriate expenses for your guests.
As a wedding guest, there's nothing worse than putting your purse down at your seat and heading up to the bar to get a cocktail—only to find that it's a cash bar. "I had to pay for drinks at my cousin's wedding," says Lauren Art, of Norristown, Pennsylvania. "My first thought was, 'I traveled across five states to see you get married, and you want me to pay for my gin and tonic?' It's a totally cheap move." It's understandable that a bride might want to keep alcohol costs down, but asking guests to pay for drinks is simply never okay.
Instead, consider forgoing pricey spirits and champagne and serving only beer, wine and perhaps one signature drink. Additionally, valet parking is a lovely touch — but not when it's the only parking option and guests must pay for it themselves. Hire valets only if you're willing to pick up the tab. Better yet, take care of tips ($1 per car is adequate) for guests, too, and post a sign reading "All gratuities have been paid."
7. Be thoughtful about seating single guests.
It's a tricky question: Do you seat all your single guests together or sprinkle them throughout the room? If you don't have enough single guests to fill one table, make sure you seat them where they'll know other people. For instance, you can put unattached colleagues with other work people; your high school or college buddies can all sit together, whether single or hitched.
Another nice idea: If you're having a small wedding, go ahead and ask your single pals with whom they would prefer to sit—this way, they're sure to be comfortable. In addition, while you are under no obligation to invite single guests with dates (unless they're living with someone or are in a long-term relationship), it's a very nice gesture to do so, and your friends will surely appreciate it.
8. Anticipate the needs of older guests.
We know you love your grandparents, so take a few minutes and think through what your wedding will be like for them. Are the walks from the parking lot to the church and reception venues long ones? (You might want to arrange for, and direct them to, reserved parking places, marked with signs or orange cones, at both locations.) Will they have to stand for long periods of time? (Arrange to have tables and chairs set up at your cocktail hour, and ask a friend or family member to make sure they've found seats.)
Also, don't seat elderly guests next to the band or its speakers. And before booking a prospective ceremony or reception venue with lots of stairs, find out whether there's an elevator your guests can use to avoid the climb (this is particularly important if any of your guests, elderly or not, use a wheelchair to get around).
Of course you talk to every guest when you throw a dinner or cocktail party. But at your wedding, which may very well be the biggest party you ever host, do you really need to talk to everyone? Absolutely. People who have taken time out of their lives to come celebrate your nuptials with you must be personally acknowledged.
While it's easy to make the rounds if you have a small wedding, it can be trickier if you've invited several hundred people. One strategy: Divide and conquer. You visit your friends and family, and let your groom pay his respects to his. Also, this is a good time to give special thanks to those who traveled long distances or were helpful to you during your wedding-planning process.
10. Send thank-you notes promptly.
Guests may have one year to give you a present, but you should never take more than two to three weeks to acknowledge one. To make the process easier and faster, consider pre-addressing and stamping the envelopes before your big day. Then, you and your husband can write a bunch of notes on the plane to and from your honeymoon destination (you may even be able to mail them at the airport). In each one, be sure to mention the gift specifically, as well as how you might use it. And don't think it has to be long — three sentences will do the trick.