We pull back the curtain to see how the Atelier Pronovias team creates exquisite runway-ready styles.
By: Kayla Hayes
-AS SEEN IN BRIDAL GUIDE MAGAZINE-
"I see our newest line as an evolution," says Hervé Moreau, artistic director of Pronovias. With headquarters based in Barcelona and designs made exclusively in-house, the company takes pride in upholding traditional dressmaking techniques while continuously innovating on the fabric and design front. Every gown is handcrafted down to the last detail. "The methods we use to create custom patterns are what make our designs unique," Moreau says.
The 2020 collection explores new patterns, textiles and colors. Focusing on movement, the Atelier team opted for textured fabrics that would allow for more comfort and less weight. "We develop materials exclusively for our Atelier Pronovias line," Moreau tells us — including unexpected sparkle or subtle sheen using metallic yarns. And luxurious new laces — a brand staple — abound.
But before the fabrics are made, the process begins with a sketch, notes Moreau. "The silhouette in my mind gets on paper and the details are added one by one so that the stylists and patternmakers understand the vision." From there, patterns are developed and toiles (a test garment in muslin) are created. The design team reviews each sample and discusses any necessary adjustments. "This is where the piece comes to life," says Moreau.
Once completed, the design and silhouette of each toile is checked against the original sketch. "The craftswomen begin to cut and sew the dress," Moreau says. The intricacies of placing appliqués (something Hervé has an innate talent for) and hand-beading are the final steps in the construction of a truly breathtaking Pronovias gown.
Hervé Moreau starts bringing his designs to life with a sketch.
After the patterns are produced, test designs are made up in muslin.
Bolts of fabric line the wall of the design studio.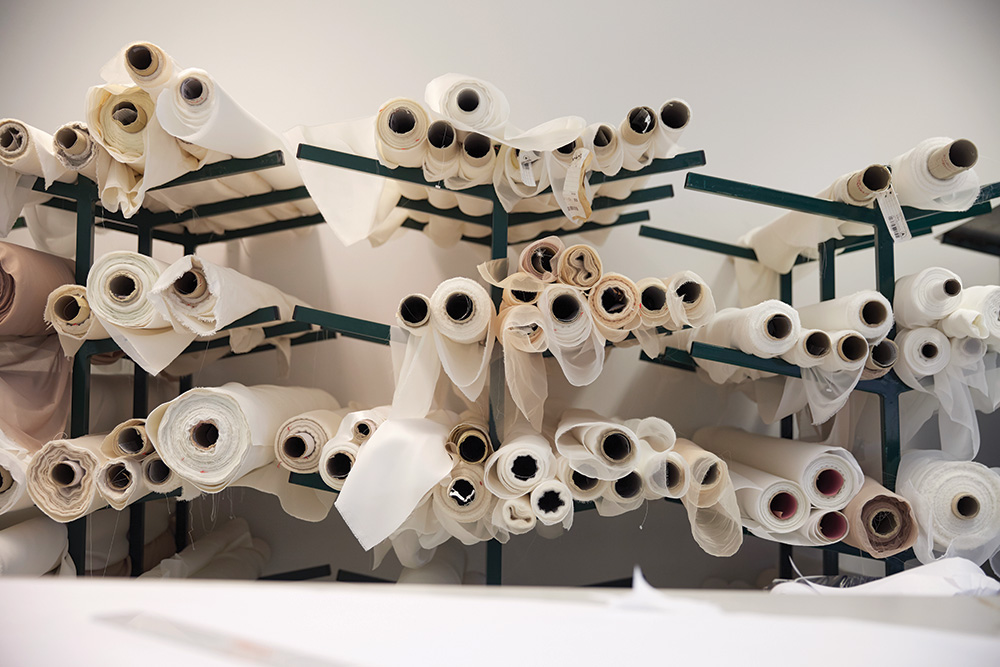 Each beaded accent is sewn by an expert craftsperson.
New lace patterns are created at Atelier Pronovias.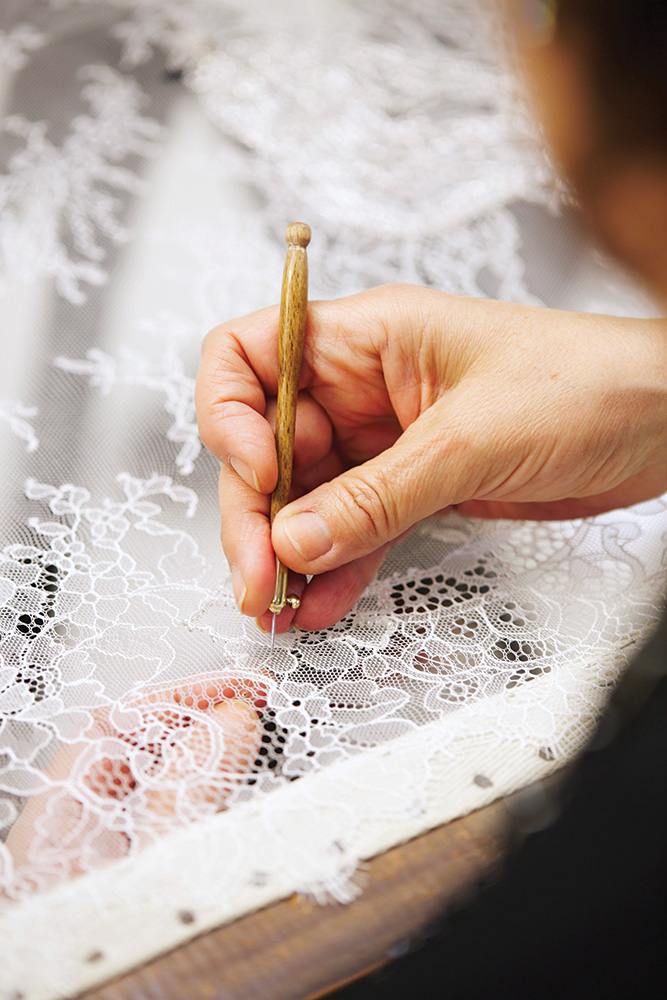 The lace is hand-placed onto a mannequin for the perfect fit.
Hervé on...
Being a Designer: Since I was a child, I've had a fascination with bridal fashion. Working at Pronovias, I'm able to transfer my background in haute couture into this industry — being here has been an incredible step forward in my career.
The Pronovias Bride: Anyone can be a Pronovias bride! We offer so many styles that cater to all women. However, I would say that a Pronovias bride is always confident, true to herself and not afraid to try something new.
Connecting with Brides: We communicate with our brides through social media and our website, and hold consumer events so they can see the entire collection in person. All our styles are available to browse online so brides can begin the planning process and have a better understanding of what they're looking for before they get to the store.