David Tutera unveils a stellar collection of gowns along with his top shopping strategies.
By: David Tutera
-AS SEEN IN BRIDAL GUIDE MAGAZINE-

Designer David Tutera at work in his atelier. Photo: Victoria Angela Photography
"I guess making weddings special is in the family genes," says David Tutera of his new Atelier gown collection. "My grandfather Joseph owned a flower shop, my grandmother Mary was a seamstress, and her sister, my aunt Ida, owned a bridal boutique where dresses were custom-made, including my mom's wedding gown!" Tutera's foray into weddings started with florals at age 19, and "blossomed," as he says, "bringing me into fashion." (We're guessing Tutera plans to design wedding dresses for his two daughters, Cielo and Gracie, when the time comes.) Each dress in the new collection is created with a luxe mix of fabrics and embellishments, Tutera says, noting that his meticulous process ensures each design is unique. "Brides deserve to stand out," he insists. "A bride is like a snowflake: No two brides are alike."

"Joslyn" pleated organza and appliquéd chiffon crepe mermaid with sweetheart neckline and peplum
Allow yourself time to enjoy the process. I ask my brides to find and order their gowns six months in advance of the wedding date. It allows for the gown to arrive and alterations to take place along with any tweaks or changes you may want.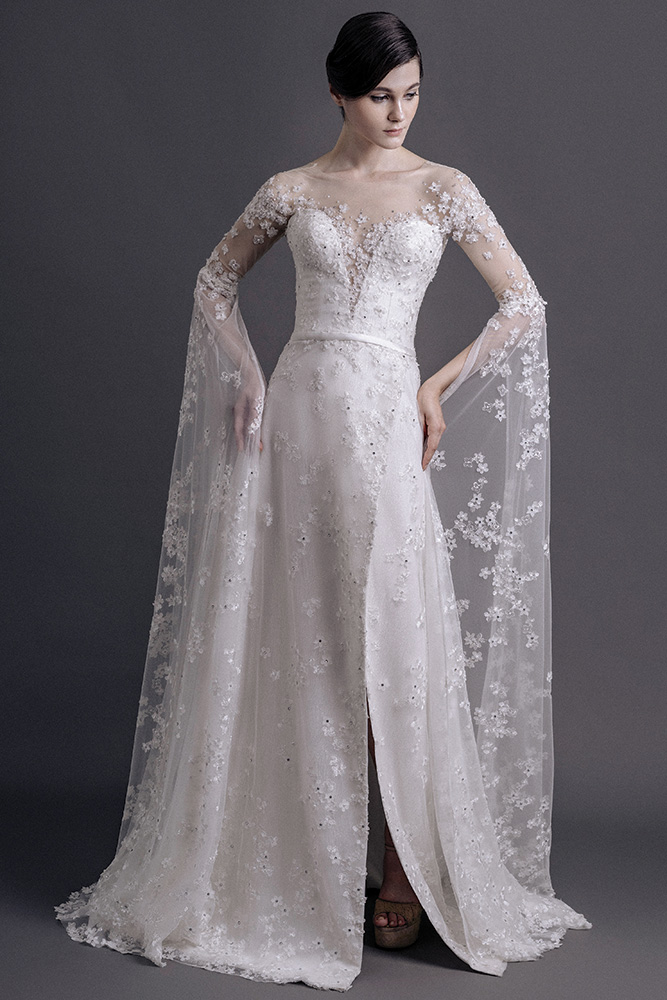 "Mariana" satin A-line with deep-V sweetheart neckline, lace and tulle overlay and detachable sleeves
Be a savvy shopper. Find a bridal boutique that not only has an assortment of styles and designers but that also employs staff who are well-versed in fashion and style. Do some research before venturing forth: How long have they been in business? What is the shop's down-payment and payment process? How long will it take to get your gown after you order it? (Four months is standard.) Do they do alterations, and if so, what is that cost? Be aware these costs are additional to the gown itself.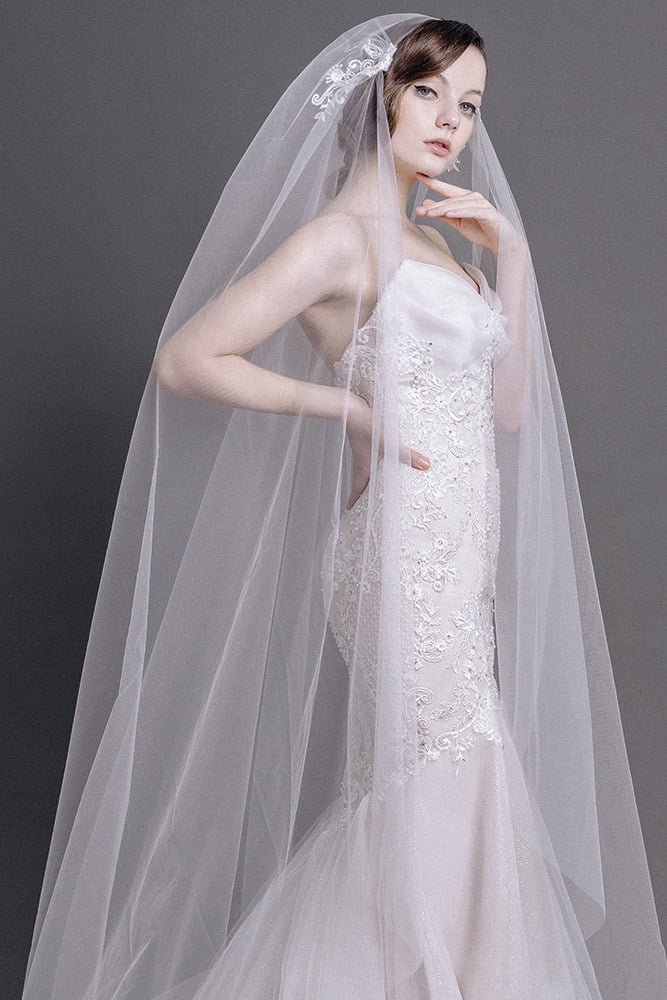 "Kristen" satin, organza and tulle  t and  are with draped sweetheart bodice and matching veil
The fit factor. The fit of the gown is a result of how it's designed and constructed. Some designs have no structure, which is an intentional style, but if you want some extra confidence, look for gowns that have an inner corset that can be tied and secured with buttons or a zipper or a corset that is exposed along the back of the bodice. And keep your body type in mind. Your upper carriage may be narrow or long or broad, and that will help you determine if you will want a gown with straps or an off-the-shoulder or sweetheart neckline, etc.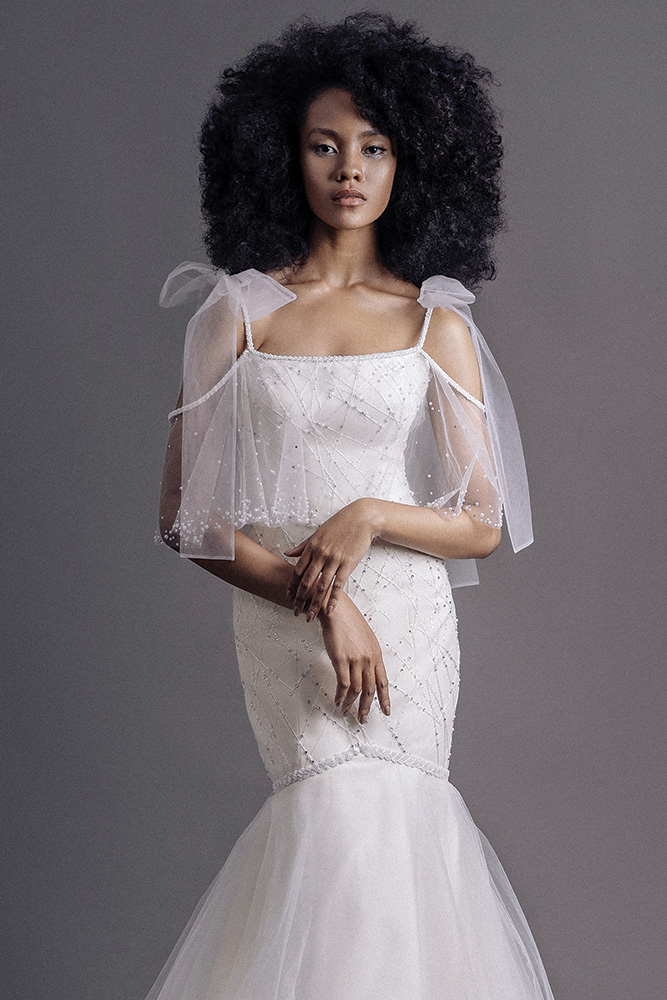 "Jennifer" fit and flare with double straps, soft tulle skirt and detachable tulle overlay
A veil may not be for all brides, but to me, a veil makes you a bride. I love the drama of a veil, and I believe all veils should be long. I call my David Tutera Atelier veils "portrait" veils because I view all my brides as one-of-a-kind art, allowing the veil to frame a bride. A picture is worth a thousand words!

"Joslyn" lace and pleated organza full-length veil
Find the right white. A stark white can wash you out if you are very fair complexioned, for example. Ivory or champagne might be better shades to consider. Alternatives to white such as a pale pastel or rose gold can create a dramatic look as well. Another tip: When trying on gowns, make sure you look special. Wear makeup and have your hair pulled back or up or half up/half down to get a truer picture of how your dress will look on the big day. It's not unusual for brides not to accurately remember how gowns looked from head to toe in the fitting room mirror. So have someone take pictures as you go. Trust me, it helps! 
For more information, visit davidtuteraatelier.com