Autumn in New York only means one thing: it's New York Bridal Fashion Week.
By: Rachel Capo
After a few years of streaming runway shows and virtual appointments, attending bridal fashion week in person still feels like our Super Bowl. The New York shows featured renowned designers we know and love, plus up-and-coming brands to put on your radar. From 90's nostalgia to hi-low hemlines and a resurgance of accessories, scroll on for some of our favorite Fall 2023 trends.  
90's Vibes
From Carolyn Bessette to Victoria Beckham, 90's brides brought high fashion in a classic way. Think: sleek slip dresses, classic spaghetti straps and cowl necklines. This season's wedding dresses prove something old can be something new again. 
Gloves
While gloves aren't exactly a new trend for brides, we are thrilled to see our favorite accessory make a major comeback this year. Gloves are a perfect accent to any style of dress or dress code. From delicate sheer pairs to elegant opera-length silk iterations, our editors spotted tons of chic options to choose from.  
Detachable Elements
Having multiple looks on your wedding day has become popular in recent years, and buying more than one dress can certainly break the bank. Enter: detachable accessories that can turn your gown into several looks, faster than you can change clothes! From detachable overskirts and sleeves to dramatic capes, scroll through our favorite ways to change up your look between your ceremony and reception.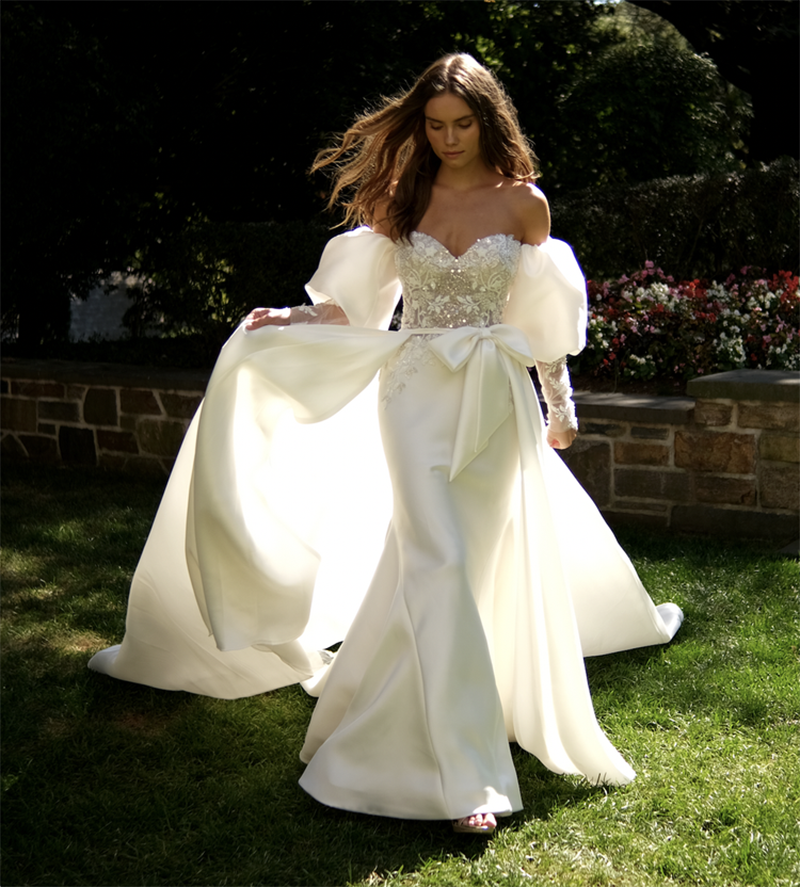 Pop of Color
From sunset hues to bold blues, designers leaned into color this season, and the results were stunning. For a showstopping look, consider one of these gorgeous colorful creations. 
Hi-Low Hemlines
The hi-low hemline can be the perfect marriage between a mini dress and a more formal bridal gown. Designers interpreted this trend in various ways this season -- from party minis with detachable trains to shorter skirts hidden underneath a side slit. All of these fabulous styles make great wedding dresses that provide ease of movement and allow you to show off a great pair of shoes. 
Suiting
From bridal tuxedos to blazer dresses, we saw tons of menswear-inspired looks on the runways this season. Whether you're having a city hall wedding, are looking for a unique outfit for a wedding event, or simply don't want a traditional wedding gown, a bridal tux is an incredibly chic choice.