The stars and planets align to help you say "yes" to a wedding dress! Below, find the perfect gown for you based on your star sign, and gorgeous designs by Maggie Sottero Designs.
By: Emily Goldman
Capricorn (Dec. 22- Jan. 19)
Traits: Independent, Tenacious, Go-Getter
Calling all boss babes! You're not afraid to wear something strong and sexy. Opt for a chic jewel neckline and an open back that's sure to turn heads!
Aquarius (Jan. 20-Feb. 18)
Traits: Creative, Independent, Determined 
Water bearer, you are the epitome of imagination. While you can be a bit stubborn (you know what you want and you're going for it!), you are also original. Reach for a gown that's uniquely you, like this blush mermaid with a black velvet belt.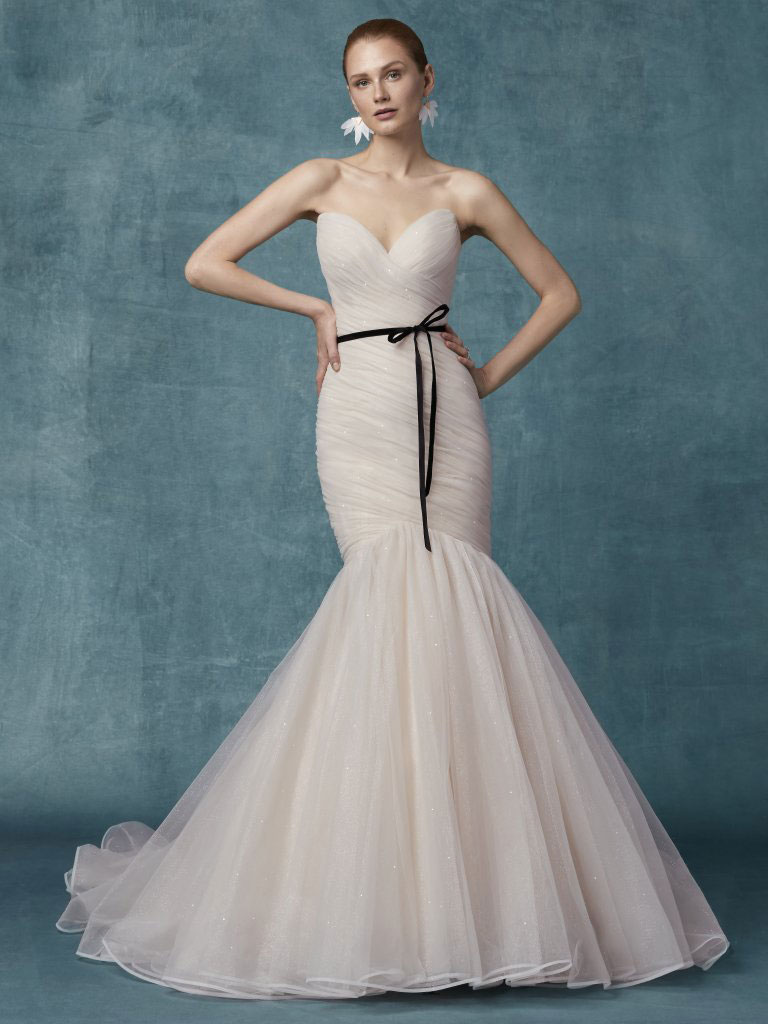 Pisces (Feb. 19-March 20)
Traits: Affectionate, Artistic, Empathetic
Pisces, you are all-things artsy. Ruled by the water element, your creativity and thoughtfulness make you a caring partner and a loving, generous friend. Stun your guests in this floaty ball gown, reminiscent of ocean waves.
Aries (March 21-April 19)
Traits: Competitive, Energetic, Eager
Finding your dream dress is no competition for you, Aries. You can't wait to find the perfect gown, and we've got the one for you! This halter neckline screams power, while the soft lace shows your curious, playful side.
Taurus (April 20-May 20)
Traits: Strong, Ambitious, Creative
You have an eye for beauty, Taurus. Tap into your confident, creative side, and wow your guests in a daring, sparkly ball gown!
Sottero and Midgley – Fitzgerald
Gemini (May 21-Jun 20)
Traits: Versatile, Thoughtful, Inquisitive
Kind and curious Gemini, this gown's for you! The dress's intricate details play into your inquisitive side, while the sequins show off your versatility. You're both sexy and sweet! 

Cancer (Jun 21-Jul 22)
Traits: Compassionate, Nurturing, Sentimental
Cancer, you love the romantic, feminine details of days gone-by. Try a gown with victorian elements, that will transport you and your guests back in time while staying true to today's trends.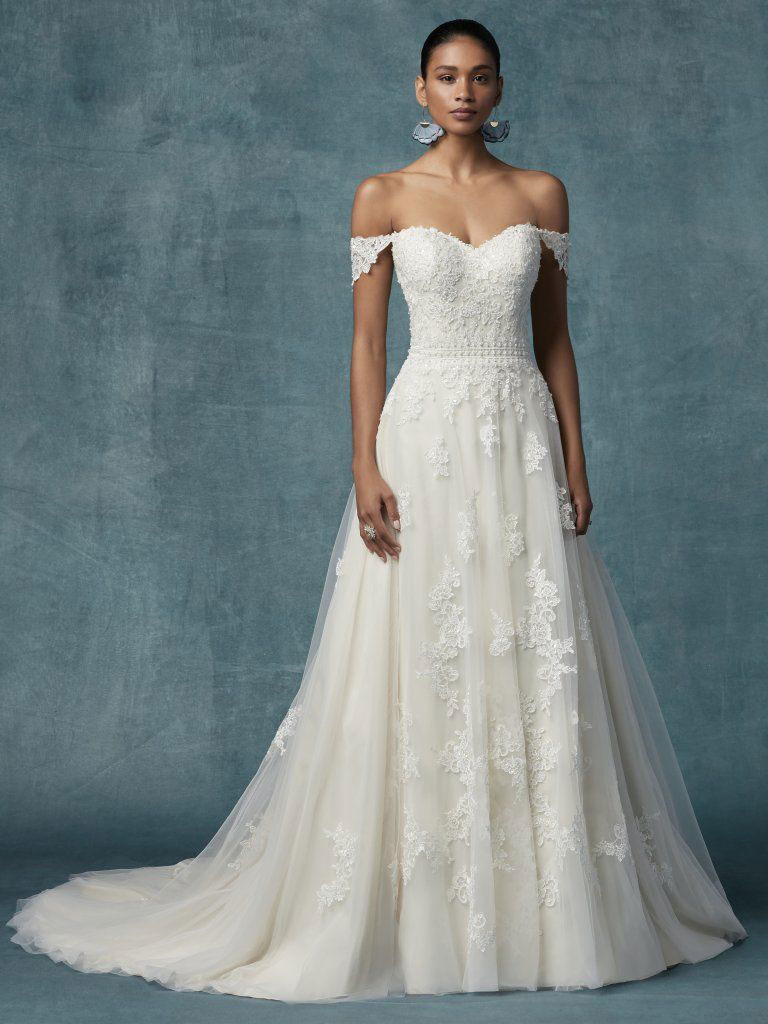 Leo (July 23-Aug 22)
Traits: Dramatic, Outgoing, Feisty
The most extra of all the star signs, Leo's love to make an entrance! Reach for a gown with a delicate, hand-beaded cape, and a sexy lace over a darker nude for a look your guests will be talking about long after the last dance.
Virgo (Aug 23-Sep 22)
Traits: Pragmatic, Loyal, Analytical
Ever so practical, Virgos are loyal and rational. A classic, minimalistic gown with a modern silhouette just might be the dress of your dreams!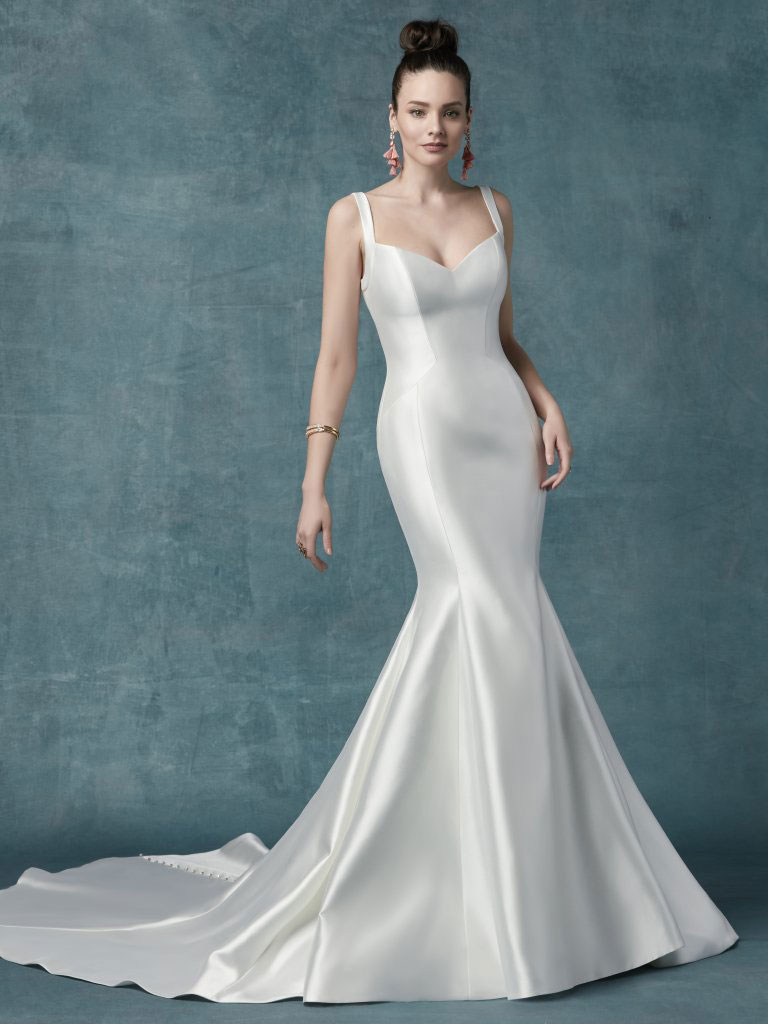 Libra (Sep 23- Oct 22)
Traits: Intelligent, Gracious, Diplomatic
Always seeking harmony, Libra's love to balance classic beauty with soft, effortless elegance. Try a gown with a sweetheart neckline and A-line skirt – with lots of lace for a classic, sophisticated look.
Scorpio (Oct 23-Nov 21)
Traits: Passionate, Stubborn, Brave
If there was ever anyone to pull off a black wedding dress, it's you, fearless Scorpio. Try a stunning black gown with a delicate, lace illusion neckline, and a full A-line skirt.
Sagittarius (Nov 22-Dec 21)
Traits: Extroverted, Gregarious, Optimistic
Sagittarius, if anyone could rock a jumpsuit, it's you! With your outgoing personality, you were practically born for this bridal trend.
For more gorgeous wedding gowns, visit MaggieSottero.com.