Invest in pieces you'll actually want to wear long after the big day!
Pajamas & robes for the wedding morning. "One of the pieces you'll want to invest in for your wedding day is a quality, luxury bridal robe for the wedding morning. Not only will it make for beautiful photos of one of the most important mornings of your life, but it'll be a special item you'll wear again for little moments of luxury throughout your life. One of the most memorable moments on your wedding day will be getting ready with your besties. Wearing a beautiful piece of personalized pajamas will not only make you feel fabulous, but each time you put them on after will be a special reminder of your day. Long after the bouquet is thrown a chic satin set will always make you feel like the star of your own romance. It is a set you can wear on your wedding morning, waking up to breakfast in bed on your honeymoon and for those extra special moments in the years to come!" —Kristy Breed & Helen Semovski, Co-founders, Le Rose Stories

Photo: Le Rose Stories
Designer heels that you can wear for other events. "Your wedding is the perfect place to invest in designer heels you'll wear time and time again. From trendy to timeless, blue to white to Italian leather, there's a style for everyone out there. Trust me, nothing beats donning those babies time and time again and re-living all the feels." —Ashley Lachney, Owner of Alston Mayger Events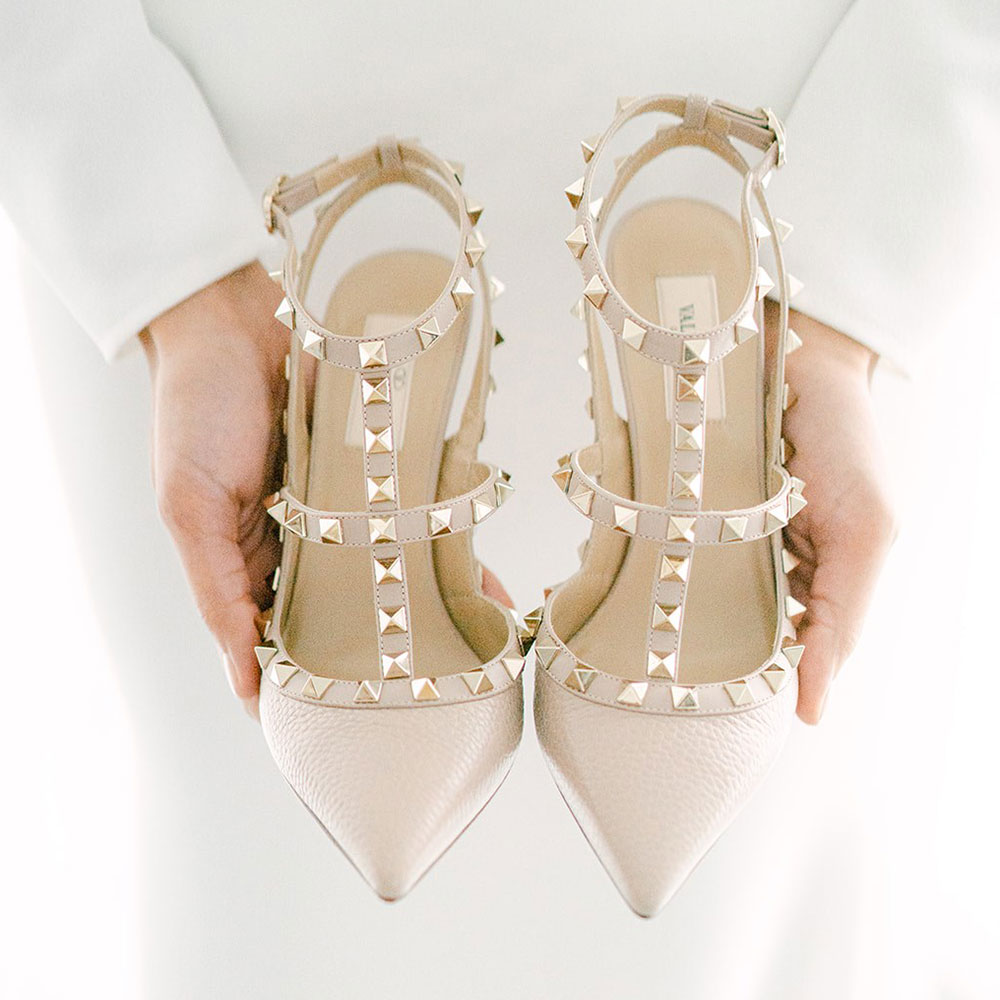 Photo: Courtney Bowlden via Alston Mayger Events
Casual apparel you'll want to wear pre + post wedding. "Featuring a universal fit and a plush, non-shrink polycotton, this sweatshirt is so soft and cozy, you'll never want to take it off. It's the perfect go-to for a bachelorette retreat at the cabin, winter wedding morning, or simply lounging on the couch for your latest binge watch. Wear it, wash it, repeat!" –Caryn Leith, Founder + CEO, The Crew Apparel Co.

Photo: The Crew Apparel Co.
Mix & match bridesmaid dresses."There is no doubt about it, bridesmaids dresses have come a long way! There are many more options available for bridesmaids, and the days of strict adherence to the same dresses for all of the bridesmaids are long gone. Brides are more lenient on letting their friends pick out their own dresses to suit their body types and let them feel comfortable in something that they like. This allows bridesmaids to choose a dress that they could potentially wear again." —Anna Rodenbeck, Co-Founder, Whitehead + Co.

Photo: Oksana Miro Photography via Infinite Events
The accessories you don't think about. "These totes and oversized makeup bags feature gorgeous detailing like vegan leather straps and vibrant, long-lasting prints on durable polycanvas. They're ideal for keeping the essentials in one place on the wedding day and every day. Bonus — paired with a coordinating robe, they're totally #giftgoals for your girls." —Caryn Leith, Founder + CEO, The Crew Apparel Co.

Photo: The Crew Apparel Co.
Shorter, versatile bridesmaid dresses. "Bridesmaid dresses that look like traditional bridesmaids' dresses are becoming a thing of the past. By looking at your color options, choosing shorter lengths, and selecting styles that can easily be worn again for future events, you give your bridesmaids a dress they'll love to wear again and again instead of a dress that permanently lives in the back of their closet." —Hannah Berglund Photography

Photo: Whitehead & Co.
Groomsmen suits. "For the men, let them buy their own suits; just ask for a matching color overall, and you manage purchasing them matching waistcoats, ties, or bowties and pocket squares. That way, they get the most out of their outfits in the future." —Charlotte Ricard-Quesada, La Fête
When in doubt, choose a color palette and then incorporate other patterns & styles. "We've seen it all, and the best option to date is giving your crew a color palette to work within and having them get their own style of dress within that color palette. It can be fun, formal, or sassy, and it's usually something they would wear again. Once the styles come together, they make a unique look for your bridal party, and we are all about standing out." —Erica Trombetti, Infinite Events