We spoke to makeup artist Jennifer Nam to find out how to recreate Meghan Markle's wedding day look.
By: Emily Goldman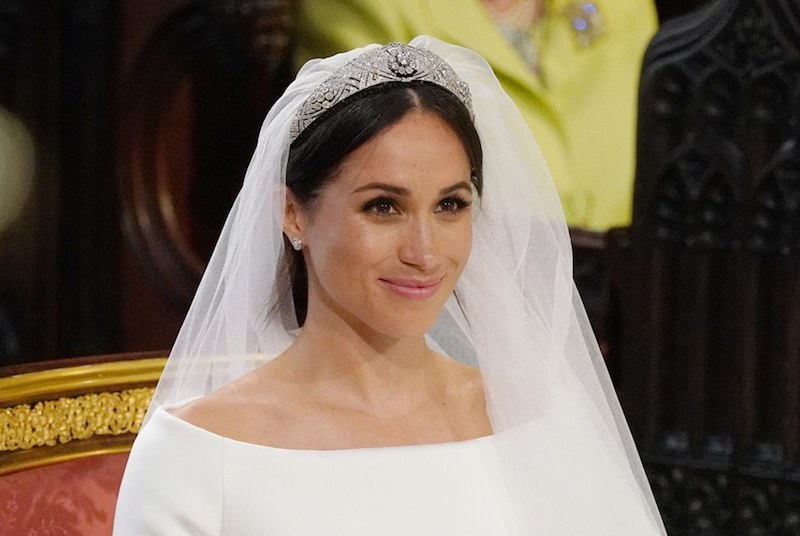 Photo Credit: Andrew Matthews - WPA Pool/Getty Images
Meghan Markle radiated elegance as she glided down the aisle to her Prince at Windsor Chapel on Saturday–captivating eyes around the world with her simple-yet-gorgeous gown and signature glowing makeup. 
For a step-by-step guide on how to get that Markle Sparkle for your big day, we spoke to Honey Makeup Artist, Jennifer Nam, to find out how to look like a royal, modeled by Bridal Guide Fashion and Beauty Editor, Kayla Hayes.
Before:
After applying your face makeup (think: concealer, brightener, toner, etc.), Nam suggests starting with the eyes.
Eyes
Start by applying a medium-tone brown, depending on skin tone, to your entire lid and your lower lash line, to add some warmth and attention to your eyes.
Next, line your lower lash line using a black eye pencil, focusing on the inner and outter areas to accentuate the almond shape of the eyes (as seen below), and at your upper lid lash line.
Then, Nam suggests applying a black, or dark taupe brown powder eyeshadow over the pencil you just applied, to set the pencil and add some extra depth, for a not too-sexy, royal-approved look.
For those with watery eyes or know they will shed a tear on their big day, Nam emphasizes the importance of waterproof mascara, or even eyelash extensions.
"On your wedding day I always recommend to all of my brides to get eyelash extensions from a spa or salon," she said. "They are going to last longer and they are going to stay...if you start crying a lot, the glue (from false lashes) might fall off."
Face
After applying the eyeshadow, eyeliner, and corresponding powders, clean up the under eye by applying more concealer, and applying powder to set.
Markle's natural eyebrows frame and add extra dimension to her face. Nam suggests filling in the eyebrow with your go-to product, like Boy Brow by Glossier, and keeping the look natural.
Next, add some mascara to finish off the eyes. As far as technique goes, Nam shares her tips for applying mascara.
"I like to go in and start at the root and short strokes. Placing it densely in the root of the lash. Then put some on the bottom," she said. "If you're a cryer and are really emotional don't put mascara or eyeliner on the bottom."
Whether you are a naturally blushing bride or need some added color, add some cream blush to your cheeks with your finger, and finish off with a powdered blush to set.
Include some definition with a powdered taupe blush, and use as a contour color in the hollows of your cheeks. 
Next, Nam uses a highlighter on the brow bone, cheek bones, and bow of the lip for a royal glow.
To keep the dewiness and fresh, balmy appearance, Nam says to forego powder at the end, and let that Meghan Markle Sparkle shine.
Lips
Finish off the look with some sheer lip gloss, and you're ready for your royal close-up. 
After
For more on the Royal Wedding predictions, visit our Royal Wedding Page.