Paradise found: The hottest spots to the the knot in Tahiti.
By: Jenna Mahoney
Just mention the words "French" and "Polynesia" in the same breath, and one immediately imagines sugar-sand beaches, endless hours for lazing about and water so many shades of blue that you run out of names to describe it. For decades the Tahitian islands have been a paradise-on-earth for romance-seeking couples. Now, they're also perfect for destination weddings.

                                                  The beautiful Four Seasons Bora Bora (Photo Credit: John Sinal)
 
Four Seasons Bora Bora
At this gorgeous property set on a private motu (small island), you can swap vows on a sparkling strand, a rocky "wild side" expanse that abuts the ocean, on a private islet or out at sea on a catamaran. In addition to the traditional offerings—pareos for the bride and groom, live music and more—the vanilla-scented property offers add-ons, including fire dancers. Receptions are held at any one of the hotel's four restaurants, in the powdery sand or at one of the chic beachfront villas. Resort amenities include a pool lined with cabanas, tennis, watersports, a spa and endless white sand beaches (wedding packages start at about $2,650 and include an on-site coordinator, an officiant, traditional costume, some flowers, a cake, champagne, some photographs and more; fourseasons.com).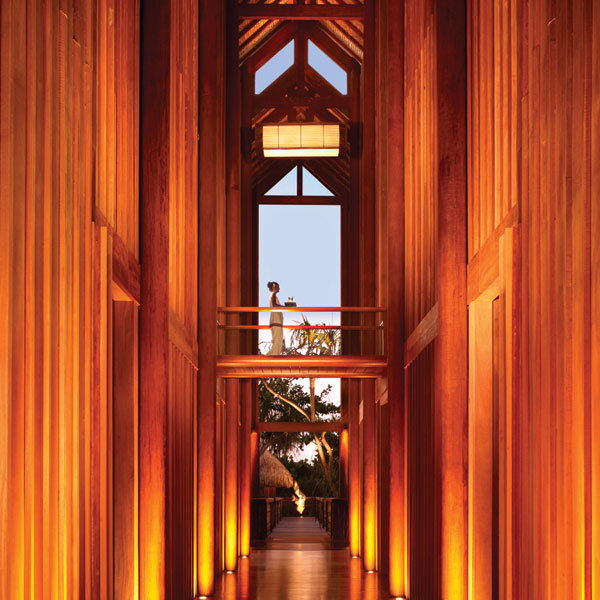 A unique view of the Four Seasons Bora Bora (Photo Credit: Barbara Kraft)

InterContinental Bora Bora Resort & Thalasso Spa
Of all the spectacular spots to swap vows across French Polynesia, perhaps none is as picturesque as the overwater chapel at this resort. The sleek space affords sweeping views of the island's most recognizable site—the hulking Mt. Otemanu—from the glass wall behind the altar, as well as glimpses of colorful reef fish below via the glass floor. Of course, you can always say "I do" in the sand by the lagoon. No matter which venue you choose, tradition is observed; a local elder serves as the officiant and musicians and dancers perform. After, enjoy a fire-dance spectacular on the shore as you sip the resort's signature love cocktail, a mix of champagne and raspberry liqueur (wedding packages start at about $2,500 and include officiant and musicians, some flowers and decor, a cake, traditional wedding costume, champagne and more; boraboraspa.intercontinental.com).

      Taking the plunge at the InterContinental Bora Bora Resort and Thalasso Spa (Photo Courtesy of the InterContental Resort)
 
Moorea Pearl Resort & Spa
Set on nearly eight acres of white sand beach, this breezy resort on the popular island of Moorea is the epitome of Tahitian barefoot luxury. Like the hotel's intimate spa, the garden and beach bungalows feature grass-thatched walls and tropical flora-surrounded terraces, some with plunge pools. And overwater villas offer direct access to the multi-hued lagoon. During your stay, get tattoos—a Tahitian marriage tradition— by the resort's world-renowned artist. Couples swap vows in the sand during traditional ceremonies, which feature musicians, floral leis and an outrigger canoe ride among other local rituals. In addition to complimentary wedding packages, the hotel also offers wedding registries (room rates start $346 a night; spmhotels.com).

Night falls on the Moorea Pearl Resort and Spa (Photo Courtesy of SPM Hotels)
---
Legally Wedded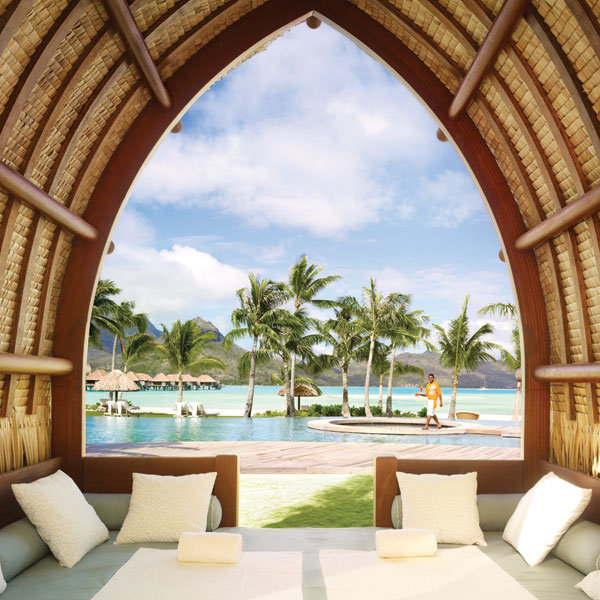 For years, getting married on any of Tahiti's pristine islands was simply a dream, since it wasn't possible for visitors to legally get hitched. That all changed in May 2009 when the French government amended the laws and requirements. Now, couples who are not French nationals, not currently married and are at least 18 years old are welcome to tie the knot in paradise. Most resorts assist with getting all the paperwork in order. At least 45 days prior to the ceremony couples must complete and submit the following documents to the local Tahitian mayor's office: a marriage application, a letter of intent signed and dated by both future spouses, and a certificate that proves that neither is currently married, along with a copy of each person's passport and certified birth certificate that has been apostilled and translated. All forms can be found at tahiti-tourisme.com.
Four Seasons Bora Bora (Photo Credit: Barbara Kraft)
---