Tie the knot on one of these gorgeous islands—no passport required!
By: Jill Fergus
Swapping vows on a picturesque island is as synonymous to destination weddings as celebration is to champagne. But the get-away-from-it-all locale doesn't necessarily need to be some far-flung destination. In fact, there are loads of great island options right here in the United States. The spots have all the makings for the picture-postcard wedding away from home without the hassle of dealing with a passport or foreign marriage laws.
San Juan Islands, Washington
Hiking on wildflower-studded trails and whale-watching in Puget Sound are popular activities on this group of pristine Pacific Northwest islands off Washington's coast. At the 63-room Rosario Resort on Orcas Island, couples can exchange vows on the Point Lawn overlooking Cascade Bay, then sip local Yakima Valley wines and sample Penn Cove mussels and Buck Bay oysters during the alfresco cocktail hour. At the reception—in the Beach House with floor-to-ceiling windows—guests feast on a menu of local seafood, such as wild king salmon, Dungeness crab and halibut. After, sneak off to the Cliffhouse Honeymoon Suite, a luxe cottage with fireplace and ocean-facing deck (wedding dinner packages start at $60 per person, facility rentals start at $1,000; rosarioresort.com).
Rosario Resort in Washington state's San Juan Islands. Photo Courtesy of: Rosario Resort & Spa
 
Mackinac Island, Michigan
The Grand Hotel, Mackinac Island. Photo Courtesy of: Grand Hotel of Mackinac Island
This charmer in Lake Huron, with no fast-food chains or cars, is the jewel of the Great Lakes, and its landmark lodging, the Grand Hotel, dating from 1887, is this island's most sought-out wedding
venue. There are 385 rooms, a serpentine-shaped pool, tennis, golf, and a spa. Couples can say "I do" on the geranium-lined 660-foot porch or beside a stone fountain in the Tea Garden. After arriving via horse and carriage, enjoy an evening of dinner— pecan-crusted whitefish and pork loin with dried cherry chutney—and dancing to the music of the hotel's orchestra in the Grand Pavilion (wedding dinner packages start at $80 per person, facility rentals start at $1,500; grandhotel.com).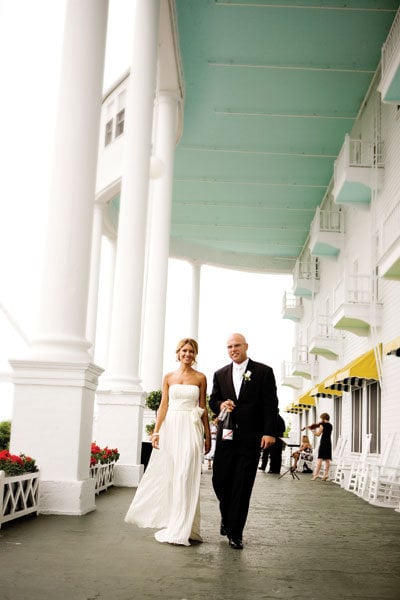 Here comes the bride on Mackinac Island in Michigan. Photo Courtesy of: Grand Hotel of Mackinac Island
 
Mount Desert Island, Maine

The historical Harborside Hotel. Photo Courtesy of: Harborside Hotel
With its charming harbor, quaint downtown and spectacular scenery in Acadia National Park, it's easy to see why America's wealthiest families (including the Rockefellers, Fords and Astors) once summered on this laid-back, yet sophisticated Maine island. Couples can retrace the steps of the
Gilded Age set with an elegant wedding at the Harborside Hotel, a sprawling property with 187 rooms, two pools, an infinity Jacuzzi, spa and several restaurants. After a sunset ceremony on the lawn overlooking Frenchman Bay, enjoy blueberry martinis and mini lobster rolls during cocktail hour on the patio outfitted with a stone fireplace. Then make your way to the historic 1929 ballroom for a dinner of stone-crab claws, steak and lobster tails —by the end of your fairytale wedding, you'll feel like a Rockefeller yourself (wedding dinner packages start at $130 per person, facility rental starts at $4,000; theharborsidehotel.com).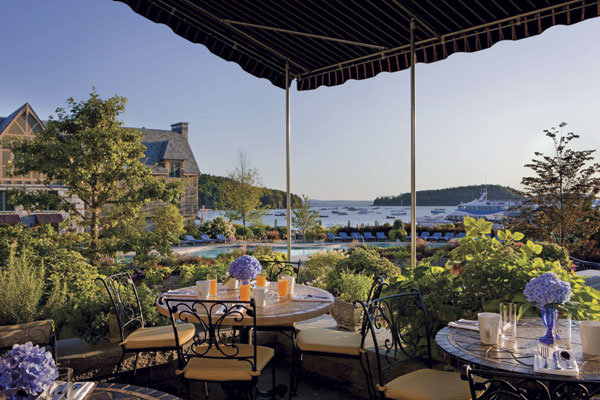 Maine's Harborside Hotel. Photo Courtesy of: Harborside Hotel
Legally Wedded
Although some legal details differ, Michigan, Washington and Maine all require marriage licenses. Blood tests are not necessary in any of the three states. A waiting period of three days exists in Washington and Michigan, as does the presentation of valid picture ID and social security numbers. In Washington, couples must be present to apply for a license at the county clerk's office. In Michigan, only one person is required to apply in person and present certified birth certificates, mothers' maiden names and, if applicable, a divorce decree if the marriage ended within six months prior to the intended wedding date. Depending on the county, applicants in Maine may need to present a photo ID and a certified copy of the divorce decree or death certificate. There is no waiting period. —Naomie Jean Louis