Our top picks in Miami to tie the knot away from home.
By: Veronica Mullen
Sizzling, vibrant and known for its top-notch food and music (and really, what else do you need for a party?), balmy Miami is made for celebrations. And while its wide strands of golden sand provide no-hassle alternatives to a Caribbean-style ceremony, the city is also home to historic hotels, lush gardens and ballrooms with sweeping ocean views—meaning no matter your style, there's a wedding location for you.
The Fontainebleau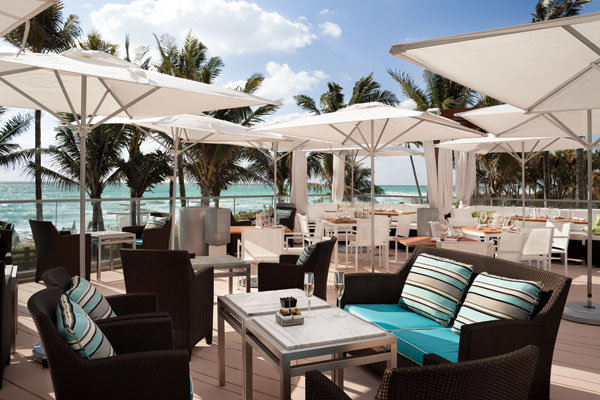 Al fresco dining at the Fontainebleau

When this iconic resort opened in 1954, it was the place to be for celebs of the moment like Elvis Presley and Judy Garland. Today, after a billion-dollar (yeah, that's a "b") renovation, the list of the hotel's bold-face fans range from Lady Gaga to President Obama. Since the Fontainebleau's 22 acres of grounds house 1,504 rooms, 10 restaurants and bars, a spa, two nightclubs and more, you can host a multi-event wedding weekend and never repeat a venue.
Have a rehearsal dinner at Gotham Steak, post-ceremony cocktails at the oceanside La Côte and the reception in the historic Fontaine/ Fleur de Lis ballroom. Follow with an after-party at hip LIV and a day-after brunch at Italian eatery Scarpetta.
The most popular ceremony setting is the candle-lit "floating" cabana in the Oasis pool. And after it's all over, you'll find plush monogrammed robes in your suite (rates for wedding packages start at about $175 per person and include cocktail hour with passed appetizers, dinner with wine, a four-hour open bar, cake, champagne toast and a wedding-night suite. Ceremony location fees start at $2,500; fontainebleau.com).
The Palms Hotel 

The pool at The Palms Hotel sparkles.
Though it enjoys direct access to golden Miami Beach, The Palms skips the party vibe in favor of a cozy, Bahamas-meets-Key West feel. With an inspired-by-nature philosophy, the 251-room resort celebrates the environment in its breezy decor and its weddings, many of which take place in a flower- covered gazebo in the heart of the tropical gardens. Ceremonies, which can be as eco-friendly as a couple desires, are generally held just before sunset, when the sky is ablaze in pink. And fireworks often follow. The hotel's celebrated Essensia Restaurant & Lounge features as many organic ingredients as possible, as well as a list of sustainable wines.

A guest room with a view at The Palms Hotel.
Favorite reception menu items include the Orchid Petal Salad with papaya and homemade Key Lime-Lavender Honey vinaigrette. Other event touches might include tiki torches at the ceremony or a lounge-style, post-dinner after-party (rates for the Silver wedding package start at $110 per person and include a three-course dinner with wine, passed hors d'oeuvres, three-hour open bar, cake and champagne toast. Ceremony location fees start at $500; thepalmshotel.com).
Marriott Miami Biscayne Bay

The lobby at the Marriott Biscayne Bay.

Away from bustling South Beach, but still close to city sights, this 600-room resort is one of only three area hotels to offer a ballroom with water views (all the guest rooms have views, too—plus balconies). Couples can tie the knot outside on the main terrace, stay al fresco for cocktails, then venture to the Bay View Ballroom for Latin-flavored dinner and dancing.

Poolside at the Marriott Biscayne Bay.
Popular menu options include crab cakes with jicama slaw and mahi mahi with a sweet-potato and yucca mash and key lime butter sauce. You can add a dessert buffet or, like one recent couple, a Tequila station.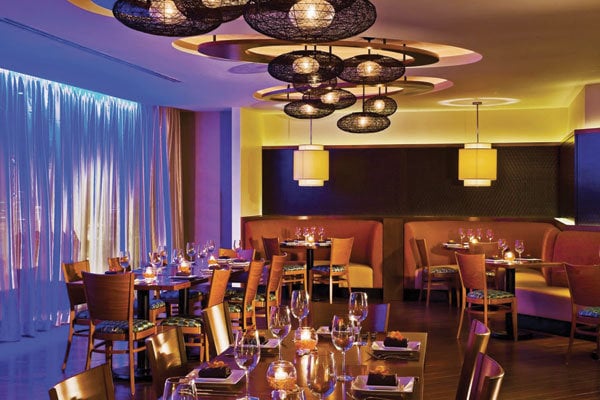 Inside the hip Catch Grill at the Marriott Biscayne Bay.
As the hotel overlooks the Port of Miami, many couples catch a honeymoon cruise from here (rates for wedding packages start at $89 per person, and include a cocktail hour, a four-course meal, a cake, ballroom rental, open bar and wedding-night suite. Ceremony location fees start at $750; marriottbiscaynebay.com).
Legally Wedded Miami 
You needn't be a resident of Florida or a U.S. citizen to get hitched in this state, although a marriage license, which costs $93.50, is required. Couples must apply in person and present a valid form of picture ID, as well as a social security number; non-U.S. citizens should furnish an alien registration card, passport or other legal form of identification. Previously married parties must provide the exact dissolution date of the former marriage whether by death, annulment or divorce. There is no waiting period. However, Florida residents who opt out of the civil four-hour marriage course must wait three days before being wed. No blood test or witnesses are required. –Naomie Jean-Louis