Have kids? Find out how the Club Med experience can help put everyone at ease during the wedding.
By: Jennifer Lazarus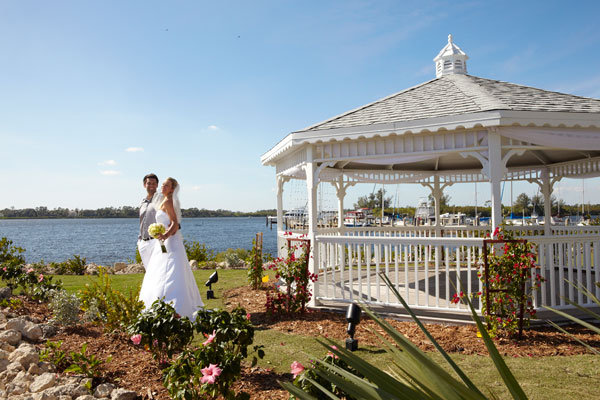 The Wedding Gazebo at the Club Med Sandpiper Bay Resort
So, I'd never been to Club Med, and I have to admit I was feeling particularly uninspired when my marketing director convinced me to join a press tour back in March to the Club Med Sandpiper Bay Resort in Port St Lucie, FL. She was definitely feeling bad about the weathered new–mom look I had been sporting since my son was born 5 months earlier (and had yet to bless us with a full night's sleep). Worn down and exhausted, I packed my full piece bathing suits (baby weight not-be-gone!), my sunscreen and my sheepish attitude thinking there was little chance this trip would change my life. Boy, was I wrong.
From what I remembered about Club Med, people described it as summer camp for grownups so I immediately imagined sports-filled days, rowdy cocktail hours and late night dance-offs, all of which left me feeling that the whole thing just wasn't for me. Wrong again. Within a day and a half (that's how long we were there), and to my big surprise, I discovered Club Med is for me—and, really, for everyone.
But I'm going to focus on the 47% of engaged Bridal Guide readers that have a child or children under the age of 17 living at home because weddings take on a different meaning when you bring kids into the mix. I couldn't get this statistic out of my head the whole time I was there because let's face it, if you're getting married and one or both of you have kids, it can get really sticky.
I come from a blended family – or, as Maja von Schmeling, a wedding planner with Club Med's Weddings by Imagine calls it, a "patchwork" family. I will never forget my father's wedding to his second wife; it was full of awkward moments for my two sisters and me, and I imagine that my stepmother's young daughters, who were just 7 and 9 years old at the time, felt the same way. None of us knew where we fit in, and the Club Med experience would have been a welcome distraction – especially the part where Von Schmeling works with blended families to ensure everyone feels like they play a special role in the wedding.  Their well designed "Families Wedding Package" can include a custom ceremony incorporating children and any other family members. "Most times, kids tend to be from previous marriages and partners and may not always approve or feel ultimately comfortable about their parent's new wedding plans, " said von Schmeling. "Depending on the age of the child, we will add personalized touches to the wedding package, such as bubbles or a sand ceremony, presenting the unity of all new family members."
Bottom line: The whole experience would have been much more pleasant for all of us against the backdrop of Club Med.
Whether or not you have kids, Club Med is a great choice for a destination wedding because you can make everyone happy without doing any of the work. There are camps for kids of all ages, including infants as young as four months (I was wishing I could drop my son off for a few days), where kids can play land sports, participate in a myriad of water sports, put on live shows and much more. Grownups can enjoy an exhilarating air boat tour of the Everglades filled with sunbathing 12-foot long alligators, swinging from a trapeze, indulging in wine and cheese tastings, and rocking out to the best '80s music ever, just to name a few. And let's not forget my personal favorite — the option to do nothing (which I chose) by the breathtaking infinity pool.
Club Med may not have been there to help ease my family into a new union, but I'm counting on the great activities and warm welcoming faces to intervene when all 17 members of my patchwork family head there on vacation during the upcoming Christmas holidays.
For more information on planning your destination wedding at Club Med, check out this brochure or visit clubmed.us/imagineweddings.