Our travel editor goes to paradise to uncover the most romantic resorts.
By: Jenna Mahoney
There are few places in the world that are truly synonymous with romance. And of the elite group, there are perhaps none more coveted than the islands of Tahiti. I recently visited these South Pacific isles, and found that even in paradise, some aspects are more spectacular than others. The water, an artistic mix of blues, ranging from vibrant turquoise to inky navy, is one of the biggest standouts. Here, other Tahitian favorites: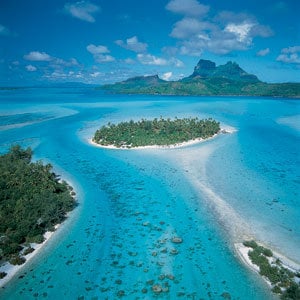 Just Across the Water
One misconception that people have is that Tahiti is exceedingly difficult to get to. In fact, non-stop flights from Los Angeles International Airport are only eight hours, which is about the same time as Hawaii. Air Tahiti Nui offers daily departures.
 
Photo Courtesy of Tahiti Tourisme

Hotel Hotspots
Staying in an over-water bungalow is de rigueur in Tahiti. Most resorts offer these thatch-roofed accommodations that hover above the sea on stilts. There's nothing more refreshing than waking up and jumping into the sea; and an evening float is a special way to end the day. While it's hard to pick a top spot, I love the bathrooms at the InterContinental Bora Bora Resort and Thalasso Spa; the tubs look out onto the ocean and towards Mt. Otemanu, a mossy  peak (rates start at about $1,140 a night; intercontinental.com). The deck space at the Four Seasons Bora Bora is larger than most, which allows for lounging in a chaise, enjoying a meal at the table and sunbathing without having to move anything around (rates start at about $970 a night; fourseasons.com).
Privacy, Please
Although over-water bungalows are ultra-romantic, some resorts place their rooms a little too close for my honeymoon comfort. To insure privacy, ask for a room at the end of the pontoon. Or opt for a beach villa, these tend to be more secluded. The Pearl Resort Bora Bora has a barefoot vibe that is more Polynesian than other properties. The garden bungalows boast an indoor/outdoor living room, a private plunge pool and an outdoor shower—the only one I saw in Tahiti (rates start at about $700 a night; pearlresorts.com). The InterContinental Moorea offers modern beach villas with private pools and water views, and are well shielded from fellow guests (rates start at about $350 a night; intercontinental.com).

Food, Glorious Food
In 1842, France annexed Tahiti and her 118 islands. And to this day, the official language is French, as is the cuisine. Among my favorite restaurants is La Villa De Sens at Legends Moorea, a fine dining experiences that rivals any in Paris. The tasting menu displays the best of French classics, melded with the culinary traditions of the islands and paired with fine wines.


Say "I Do"
Tahiti recently changed its residency requirement from 30 days to zero, so getting hitched here is simple. Resorts have staff to help with legal paperwork, as well as the wedding planning. Popular ceremony options include the beach at sunset or a private motu (island) in the daytime. Since I'm a traditionalist, I prefer going to the chapel. The overwater one at the InterContinental Bora Bora has a glass floor for fish viewing and a glass wall for Mt. Otemanu gazing. The Hilton Bora Bora Nui Resort&Spa has an intimate chapel set high on a hill, affording sweeping views.

Photo Courtesy of Intercontinental Bora Bora Resort & Thalasso Spa

The Best Beach
Although every sandy strand across the archipelago is stunning, the private beach that fronts the two-and three- bedroom villas at the Four Seasons Bora Bora has to be my top pick. Edged with tropical vegetation, the sand literally sparkles. I especially love the fact that this serene spot is only accessible to guests staying in the beach bungalows. Another impressive beach is the one that's oceanside at the Four Seasons. Wildly different from any other beach I saw in Tahiti, the surrounding landscape is craggy and the ocean is rough.

Spectacular Spas
To me, nothing says relaxation like the beach followed by the spa. The spa villa at the Moorea Pearl Resort & Spa is distinctly Polynesian, with reed walls, a thatched roof and an intimate garden with a two-person pool. Treatments use indigenous ingredients, such as oils of vanilla, coconut and monoï. For a more modern approach to wellness, there's the Thalasso Spa at the InterContinental Bora Bora, with its water therapies and massage treatments in sleek rooms with glass floors.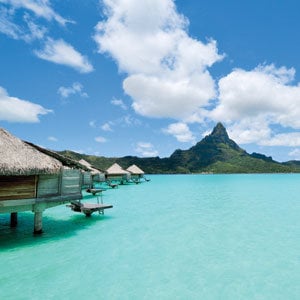 Swim with the Sharks
A can't-miss adventure: an excursion from Temanava Tours that includes feeding sharks and stingrays. With it, you get a few hours to kick back on a private motu and enjoy a traditional Polynesian picnic lunch.

Photo Courtesy of Intercontinental Bora Bora Resort & Thalasso Spa