This couple swapped vows surrounded by friends and family in their favorite setting — their own city.
-AS SEEN IN BRIDAL GUIDE MAGAZINE-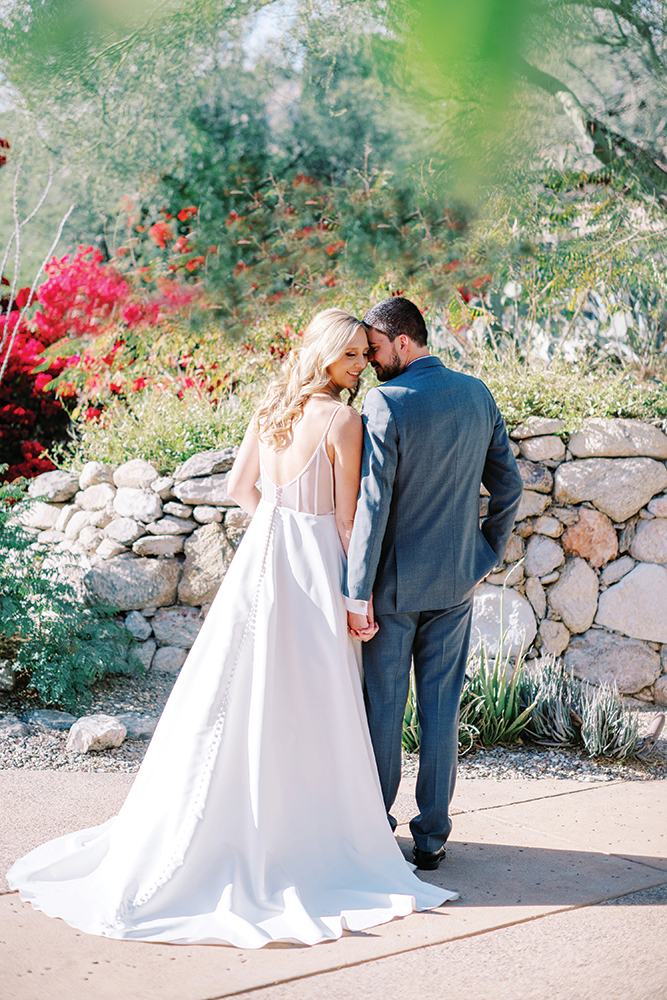 Arizona couple Matthew Lujan and Kristen Jacobsen Lujan knew they wanted a destination wedding. "Since we met in Tucson, it was important to us to show off the desert landscape to our guests," they say. They chose Loews Ventana Canyon Resort, set in the foothills of the Santa Catalina Mountains, because the views are "absolutely stunning." The fact that they were able to host all of their wedding events — welcome dinner, ceremony, reception, and an impromptu golf tournament — at the property while maintaining different venues also sealed the deal. Add the impeccable service and lodging for all and the couple says "we were very fortunate to have had our dream wedding."
Get High
According to Kristen and Matt, the Santa Catalina Mountains boast the most striking and beautiful vantage points in all of Tucson. "The highest point of the mountains is called Mount Lemmon and it is a must-see," they advise. They suggest driving up to the summit and its village called Summer Haven. "It's so beautiful because you slowly transition from desert and cacti to a forest of trees." About halfway up there's a beautiful overlook called Windy Point. They also enjoy catching the sunset at Gates Pass, which has "awesome mountain and desert views,," they say. "We actually got engaged at sunset in Gates Pass."
"The resort has a beautiful private waterfall where we spent a few moments after the ceremony and took our first photos as husband and wife."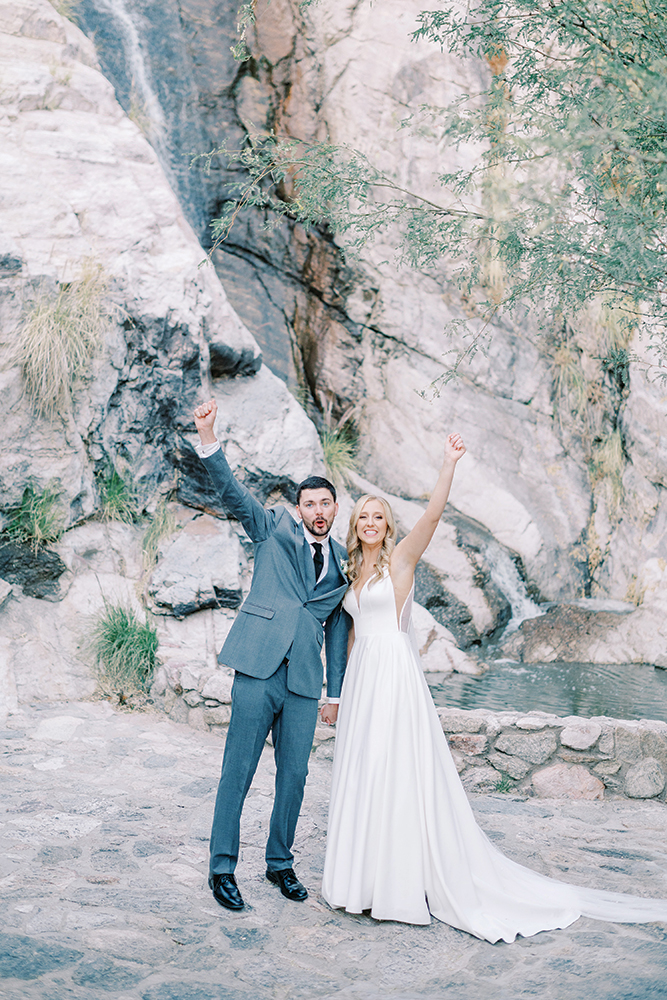 "Our ceremony site really showcased the mountains and desert, giving us dreamy photos we will cherish forever. For our reception, we had dinner and some dancing on a large patio, where we had string lights and enjoyed the beautiful Tucson weather."
Walk This Way
Immediately following the ceremony, guests strolled across the resort property to the reception area. "We turned this walk into a Margarita March, and each guest was offered a Prickly Pear Margarita," explains Kristen. "Prickly Pear, while not exclusive to Tucson, is a cactus fruit that is often used to add flavor to drinks."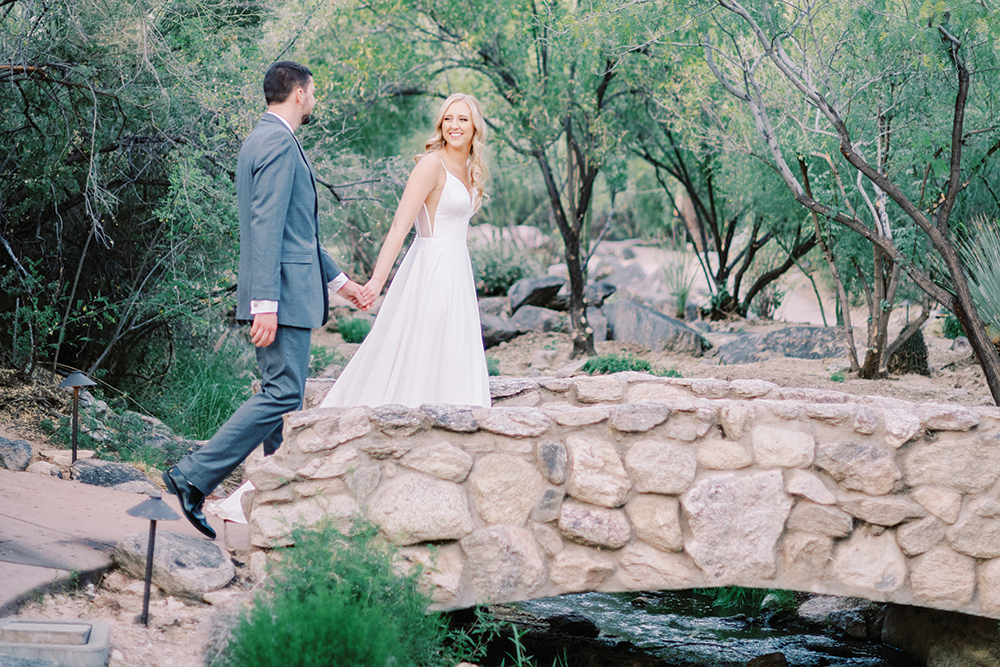 Good Taste
As locals, Kristen and Matt have their preferred eateries and orders. In fact, one of the couple's signature cocktails is a menu item at The Moonstone at The Graduate Hotel. For brunch, their top pick is Snooze Eatery near the University of Arizona — "our favorite is the breakfast burrito, which is enough food to feed two people," they say. "Our favorite lunch spot is Choice Greens with a cute interior and amazing salads." For dinner, the couple enjoy the mac and cheese at Barnyard or meeting friends at the Culinary Dropout, which has ping pong tables, corn hole, and music on the weekends.
Legally Wed
Marriage licenses are required in the state of Arizona. There are no blood tests or waiting periods. The couple must apply in person at a Justice Court office and provide a valid government issued ID and Social Security number. Divorce decrees are not required. Fees are $83. Marriage licenses are valid for 12 months after issuance.
Travel Notes
In the classic Southwest setting of the Saguaro-dotted Sonoran Desert and positioned at the foothills of Tucson's Santa Catalina Mountains, this gorgeous property promises the best amenities and experiences to appreciate the city's endlessly sunny days. There's a championship golf course and picture-perfect tennis courts, a mile-plus fitness trail and hiking path to an on-site waterfall. At the center of it all stands an Instagram-worthy swimming pool edged with desert flora, pretty loungers and luxe cabanas, and flaunting awesome mountain views. Dining options include the alfresco Bill's Grill, with a menu that's heavy on the Mexican fare, and the dinner-only Flying V with its outdoor tables set around an oversized fireplace. After-dinner activities include spectacular stargazing hosted by expert planet watchers, and late-night champagne toasts on personal patios or balconies (room rates start at $189 a night. There is an additional per-night resort fee; loewshotels.com)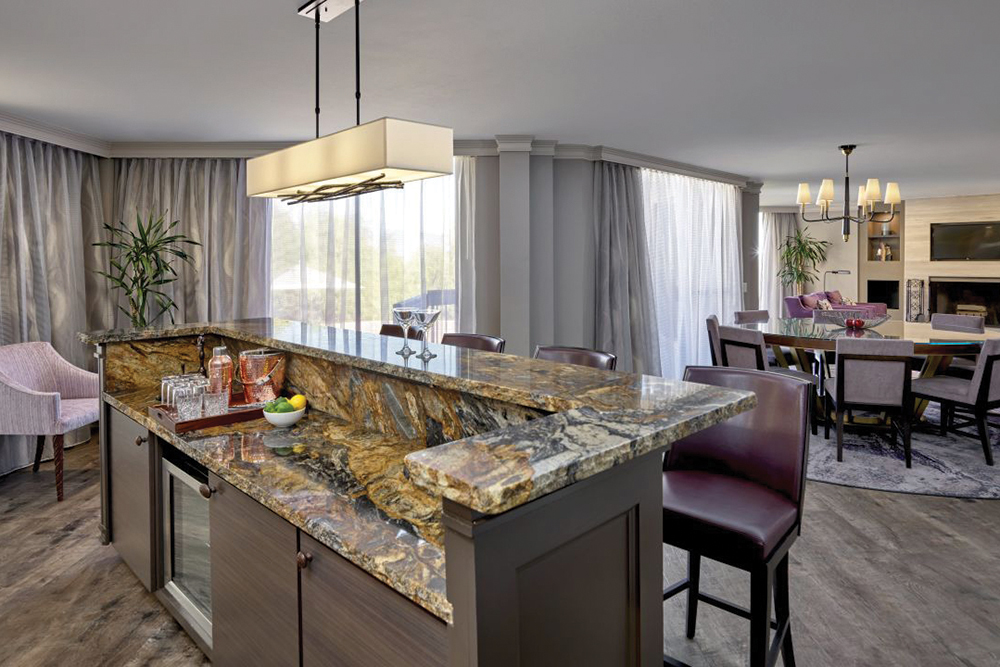 Wedding Details
Wedding Coordinator: POM Events, Mollee Richey
On-site Planner: Naomi Hoisington
Florist: Alexis Grace Florals
Photographer: Tara Leinen Photography
Videographer: TS Cinema, Tad Sallee
DJ: VOX DJs, Jarom Smith
Lighting: Total Lighting Support, Scott Plummer
Table & Chair Rentals: Red Diamond Rentals
Bride's Gown: Genevieve's Bridal Boutique
Bridesmaids' Dresses: Azazie
Hair and Makeup: HVH Faces
Groom and Groomsmen Suits: Generation Tux