A full-service resort on Mexico's Caribbean coast enticed this Chicago couple to host their spectacular wedding weekend, complete with golf outings and a fireworks display.
By: Jenna Mahoney
-AS SEEN IN BRIDAL GUIDE MAGAZINE-
"I wanted to find a venue where the jungle meets the ocean. I wanted the boutique resort feel without too much noise around," says Lacey Bishawi of her idyllic destination wedding setting. The oceanfront Banyan Tree Mayakoba on Mexico's eastern Riviera Maya provided exactly that, she adds as she recalls her made-for-the-feed nuptial event where she swapped vows with now husband Malek and hosted friends and family in February (for the perfect Mexican weather).
"The resort offers privacy, beauty around every corner, incredible photo opportunities, and unique dining experiences," say the couple. Their guests enjoyed much of the amenities, from the pristine beach to the diverse eateries, upscale spa and championship golf course in addition to lounging in the exclusive villa accommodations with private pools. "It was pure magic."
Encanto
With the expert insight of local planner, Patty G of Love on Top Weddings, Lacey was able to realize her "jungle disco, boho vibe." In addition to organizing all the details (including some travel needs), Patty tapped her list of expert local vendors. Among them was the spectacular florist Vanessa Jaines. "She is a floral wizard," gushes Lacey. "The ceremony and reception were dripping with the most beautiful flowers I'd ever seen," she says. "During the ceremony, I kept getting distracted by staring at the gorgeous flowers."
Four resorts comprise the Mayakoba complex. Each is connected by a series of mangrove canals and sandy path- ways. An underrated excursion includes "the eco-boat tour. It's great to ride along in the boat and learn about local nature."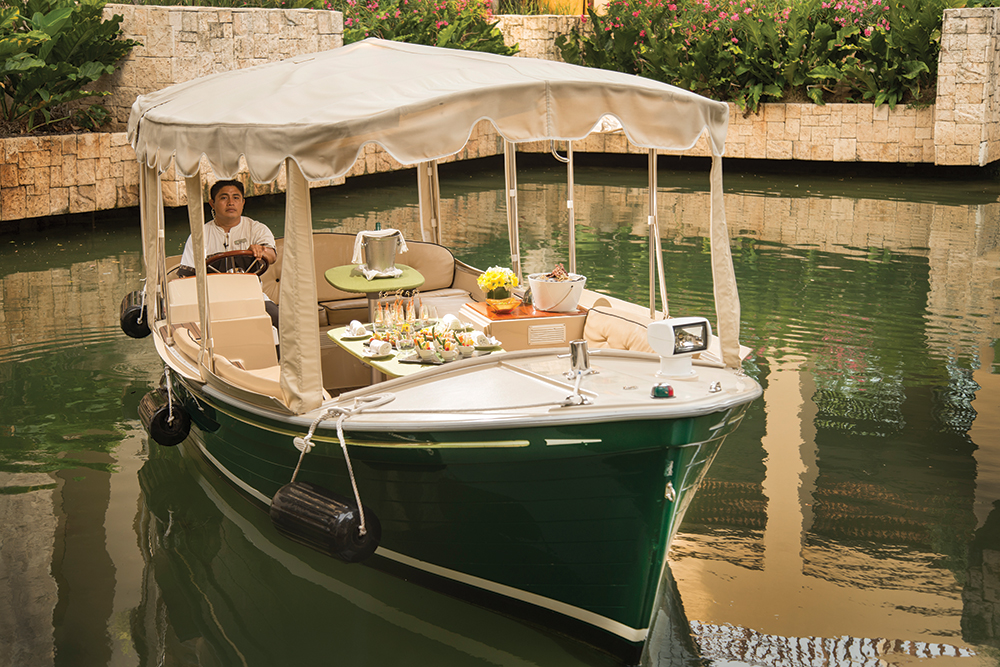 Dig In
"I can never eat enough ceviche or guacamole," says the bride when asked about her favorite foods in the Riviera Maya. The couple showcased both popular options of the area (a welcome party offered more traditional Mexican foods — "we had grilled seafood, meats, tacos, ceviche, and guacamoles.") along with what Lacey calls "more familiar" dishes at the reception. There was also a late-night taco bar and dessert table in addition to the lemon-orange wedding cake with vanilla frosting. Lacey suggests guests at the resort opt for the unique Haab traditional Mayan meal ritual. "It's a three-hour dining experience in the jungle."
Make a Splash
The Banyan Tree is a hospitality group steeped in the traditions of pampering. Fun fact: The Thailand-based company has an exclusive spa academy in Bangkok, where the bulk of the therapists train. A hallmark of this Banyan Tree property is that all accommodations — from seaview suites to multi-bedroom villas — flaunt private plunge pools. And that was a major selling point for bride Lacey. "We loved the setup of the villas for families and groups. We felt this offered a luxury feel for our guests." She and Malek spent their wedding night in a spectacular beachfront villa. "It was stunning and very romantic." What's in your suitcase? "Lots of bathing suits, a hat and SPF. It's casual chic so no need to get too dressed up."
Bienvenidos
"We hosted the welcome party as an upscale fiesta at the Beach Shack. We had a wonderful menu, live Flamenco guitar, bonfires, string lights, high-top tables, and excellent margaritas," says Lacey. The couple was overjoyed to see their guests getting to know each other. "That's the thing about a destination wedding, people are there to have fun," she says. "Everyone was laughing, mixing, and having a beautiful time under the Mexico stars. We were just there to have fun."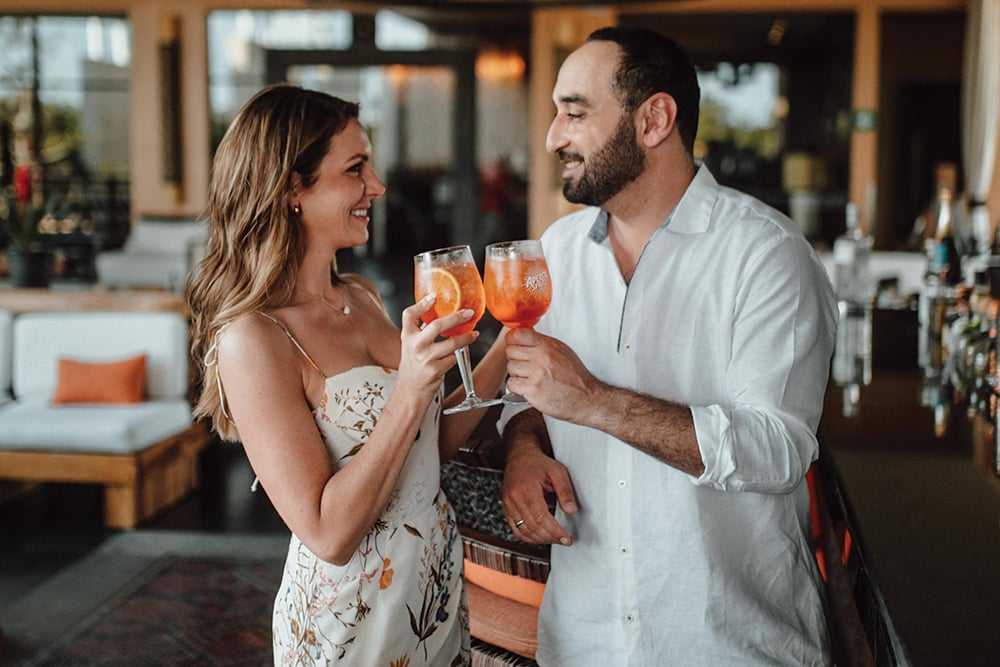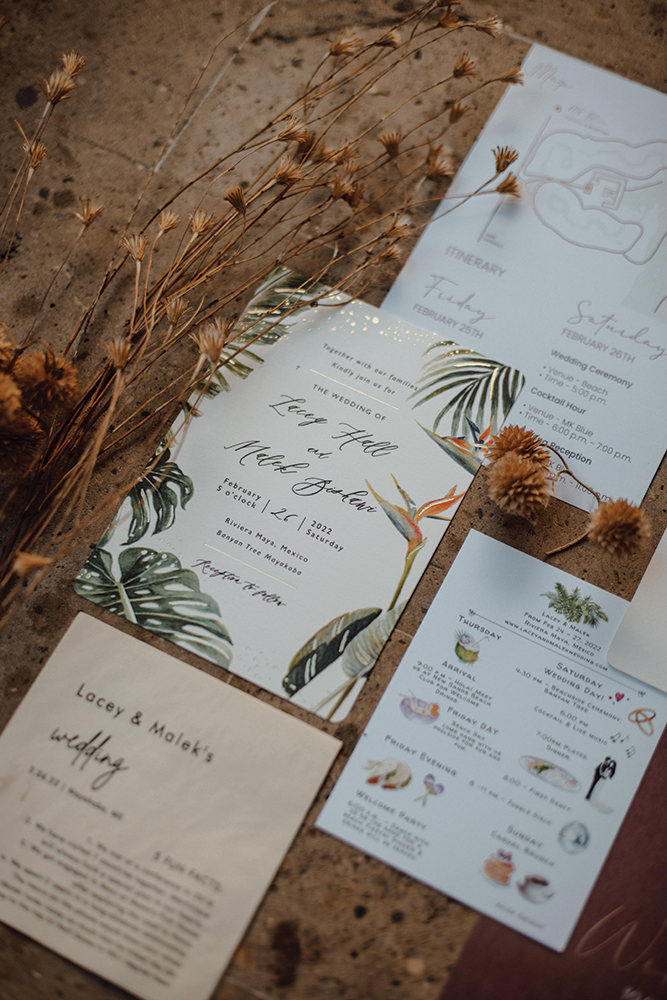 Legally Wed
The requirements for saying "I do" in Mexico are extensive. All couples must be 18 or older and not currently married. You'll need to present a valid passport, tourist card (issued upon arrival), birth certificate, blood test results (done in Mexico), completed marriage application forms from the local registry and four witnesses. All foreign documents, with the exception of your passport, will need to be translated, apostilled and notarized. The couple, and their witnesses, must arrive in Mexico four business days before the wedding day for legal ceremonies.
Travel Notes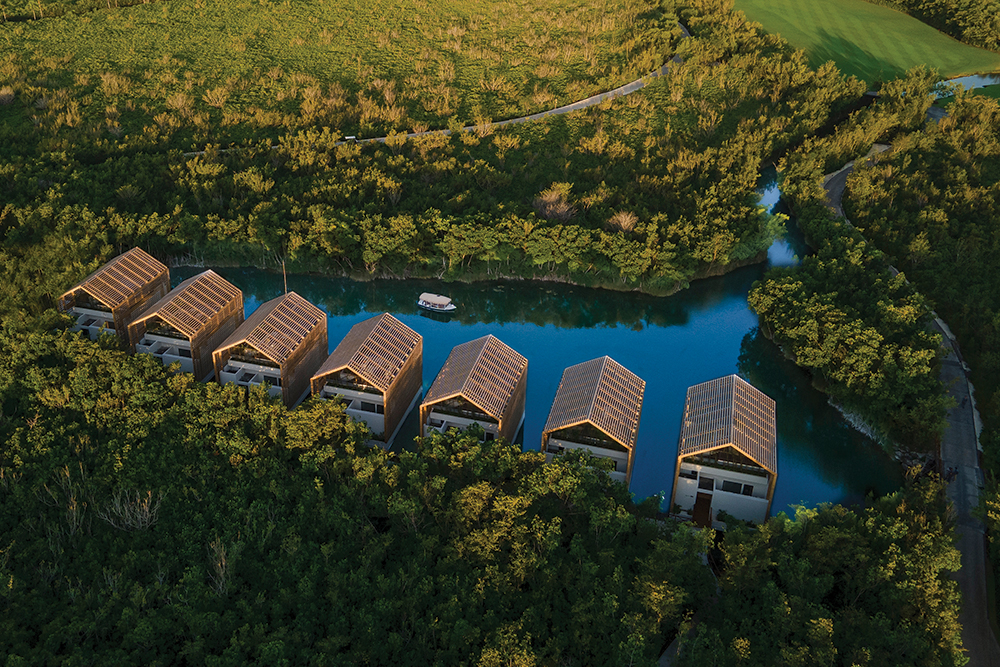 A powerhouse for weddings and honeymoons, the Riviera Maya, which stretches along the Caribbean coast of Mexico, is a magical destination where the jungle meets the white sands and placid turquoise sea. And the Mayakoba resort complex, an enclave of four exclusive water-facing luxury hotels, including the Banyan Tree, is set amid mangrove laced canals, flora-dense sand paths and seemingly endless paradise-on-earth acreage. With its private-pool-flaunting accommodations, the Banyan Tree Mayakoba seamlessly weds the brand's Asian aesthetic and attention to service to postcard-perfect surroundings and vacation-wish-list food and beverage programming (we're looking at you, tacos, ceviche and spicy margaritas).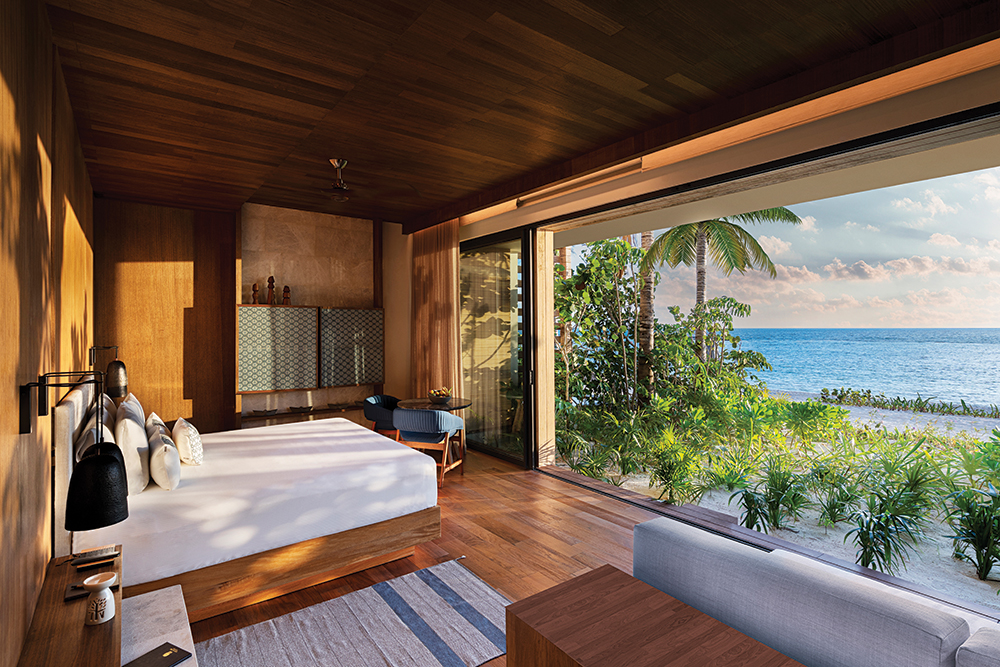 Romantic encounters at the hideaway include private excursions on boats cruising along the canals, candlelight dinners at the sea-facing modern Thai restaurant, couples massages in the award-winning spa and, of course, kicking back in your private pool. Adventure isn't too far either — there's cycling on complimentary bikes around the vast enclave, a private cenote (limestone cave with fresh water) to explore, a championship golf course and some good snorkeling just off shore, and all available within the 240 acreage. Tip: Sunrise is a spectacular sight when viewed from the quiet strand of powdered sands (room rates start at $799 a night).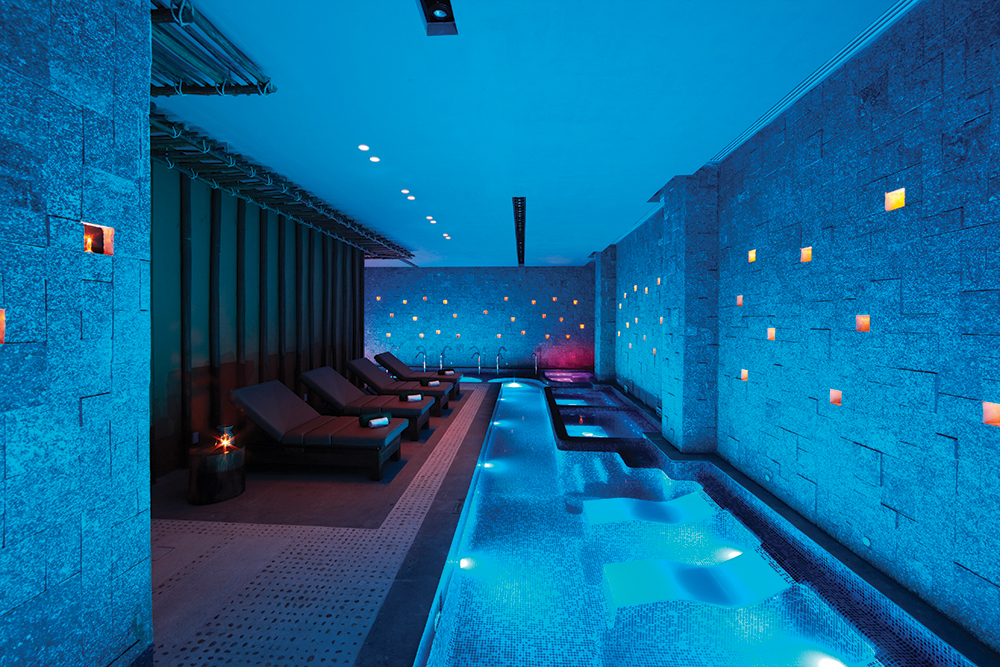 Wedding Details