Planning a wedding in a far-flung destination can be an exhilarating experience – but it can also be an overwhelming one. Karen Bussen, wedding designer for Weddings by Palladium, offers advice on how to design the wedding of your dreams.
- SPONSORED FEATURE -
How to Choose Your Resort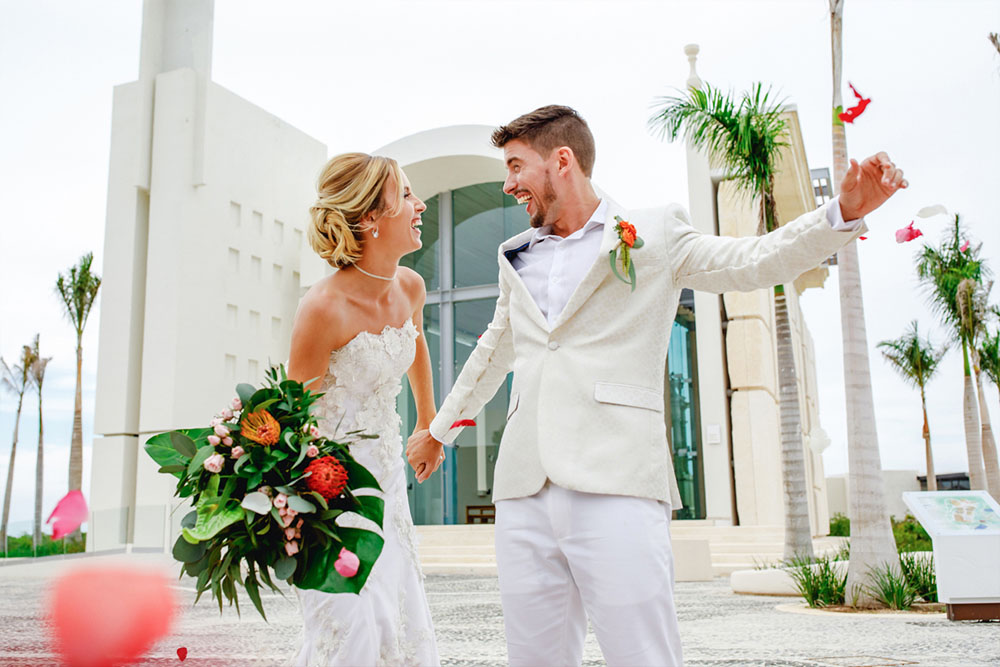 "I always recommend identifying your 'couple priorities,'" says Bussen. "Sit down together and come up with a list of three things that are the top of your list in choosing a destination. Maybe that's a tie to a specific place (you have family there or it's where you got engaged), or maybe it's a spot that offers direct flights from your home region. Maybe it's the overall ambience you want to create, or maybe it's your making sure you can create your dream wedding with a realistic budget."
Once you've narrowed down your options, try to visit the destination you're seriously considering. Plan a romantic weekend away, and contact the weddings team for a site visit. If visiting in person isn't possible, ask for photos of all locations you might use, and make sure you feel an authentic connection with the wedding-planning team. "You want to relax and have fun while planning, and feeling that sense of trust and calm is a big part of it."
How to Design Your Dream Wedding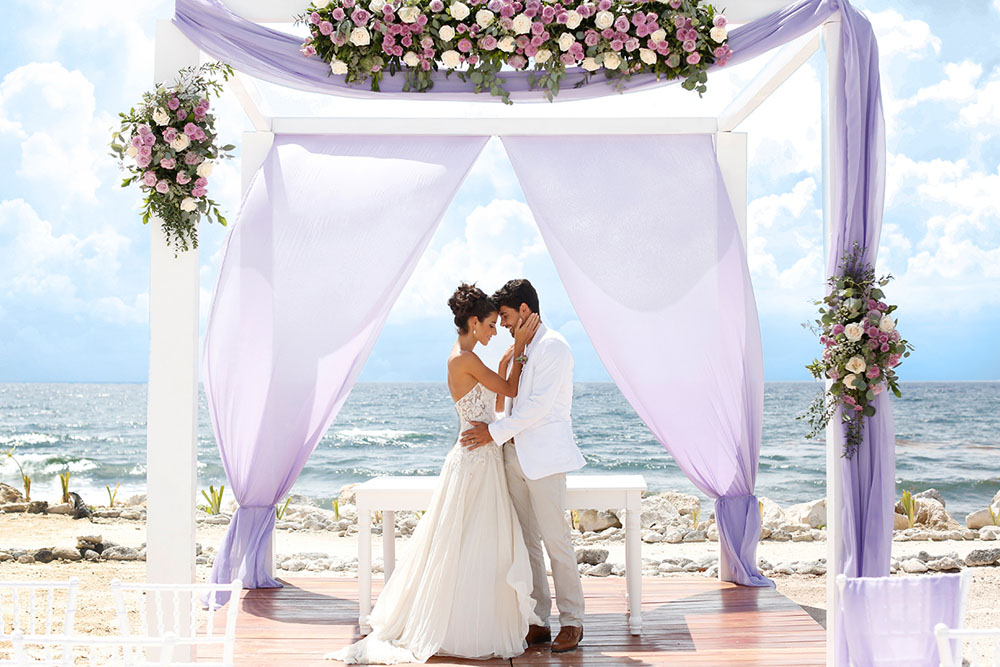 The beauty of a destination wedding in a tropical climate is that the setting itself becomes a major part of your décor. Many resorts also make it easier to plan your wedding by offering set packages, which you can browse online. Bussen designed the packages for Weddings by Palladium with the idea of starting with a mood. "How would the couple describe the way they want their wedding to feel?" The Timeless Collection is all about classic elegance, while the Party Lovers package offers a simple ceremony with a private reception filled with beautiful details.
Not into package deals? Even with set packages, there's typically some flexibility. At Palladium, couples can mix and match elements from different packages to custom-design the wedding of their personal dreams. "At the very core of what we are creating is our desire to make our couples truly happy! We always say, we don't produce weddings. We create magic," says Bussen.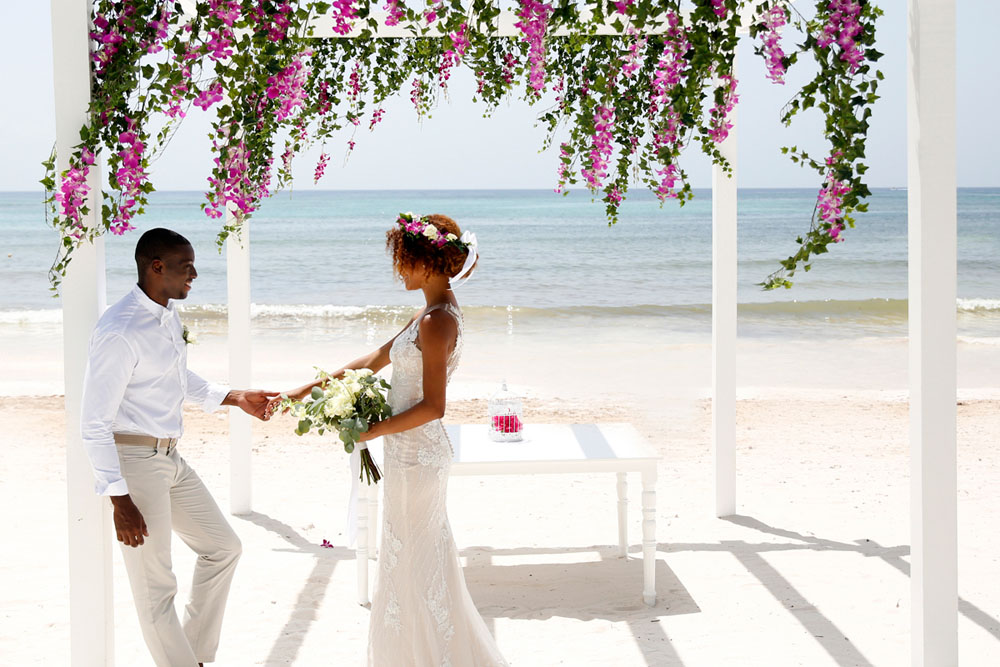 How to Elevate Your Experience
"One of the things that is so fun about a destination wedding is you get extended time with friends and family to chill, party, and enjoy — unlike a 'normal' wedding where folks come for an afternoon or evening and then leave when the festivities are over.
"Back in the day, destination weddings were small, quick events with just a ceremony and a cocktail hour or meal to follow. Now they are absolutely multi-day events with welcome parties, group photo shoots, gala receptions, after-parties, and farewell brunches.
"In exciting destinations, couples are organizing group excursions, hikes, wine or chocolate tastings, shopping, spa days, and other great additions to make their guests feel special," says Bussen.
How to Separate Your Honeymoon
One of the benefits and the challenges of a destination wedding is that it transitions so easily into your honeymoon. But what if your guests are also sticking around for a few extra days, but you're ready for some one-on-one time with your new spouse?
"A lot of our couples like to book their honeymoon suite slightly away from the action, such as in the TRS suites on some of our properties, where we have luxury accommodations in an adults-only setting. Since these are set apart from the rest of the resort, they offer privacy and romantic upgrades, but they're also connected to the rest of the property so you can easily join friends and family at the swim-up bar or for dinner and a show.
"Other couples like to take just a couple of days after the wedding to relax with their group, then come back or visit another one of our hotels a few months later for their honeymoon so they can have not just one experience, but two! From time to time, we also offer great promotions on honeymoons, so this is something you should discuss with your wedding sales specialist or your wedding coordinator during your planning process," says Bussen.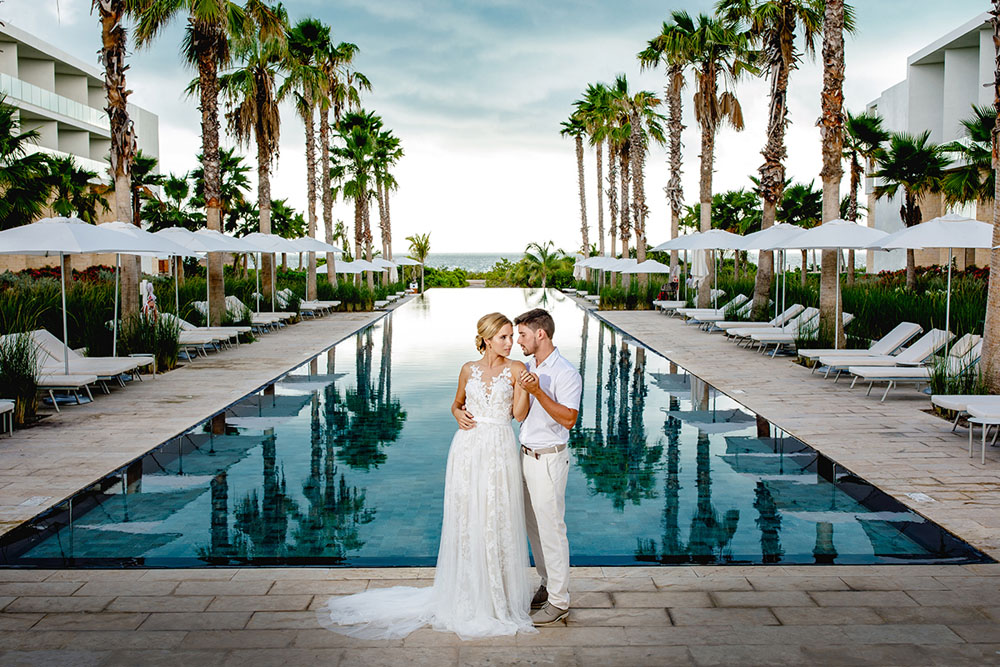 What's the Cost?
By this point, you're likely asking yourself… what's this going to cost me? Like any other wedding, a destination wedding can be as affordable or as splurge-worthy as you desire.
"What's great about a destination wedding at an all-inclusive resort is that there are fewer unknowns, and that these hotels will offer many incentives if you bring a group with you (free rooms, upgrades, and extras are all on the table depending on the size of your party and the number of events you'll host)."
Packages help make the costs more clear, so you're not pricing out each vendor individually. Be sure to ask about extra charges: "Are there additional fees if we want to bring in our own officiant/makeup artist/photographer? If a vendor is not authorized by your hotel or venue, you may incur extra fees, so make sure to find out before you book any services. Also, in general, wedding packages will include certain elements and not include others — so make sure to review your contracts carefully and ask questions where anything is not clear," says Bussen.
Making it Legal
"As in every destination, there are rules and procedures about hosting your wedding in Mexico and the Caribbean, especially if you want the marriage to be legally recognized in your home country. There's paperwork required, sometimes translations of documents are necessary, and you may need to arrive at your destination a few days early to meet requirements," says Bussen. "This is why it's so important to work with a great planning team as you're putting together your destination wedding. Our teams at Weddings by Palladium are experts in all the details — they will make sure you don't miss a beat in your preparations so you can relax and pull it all off with stress-free style!"