Before you book, check out this first-steps planning guide to hosting a destination wedding.
By: Jenna Mahoney
-AS SEEN IN BRIDAL GUIDE MAGAZINE-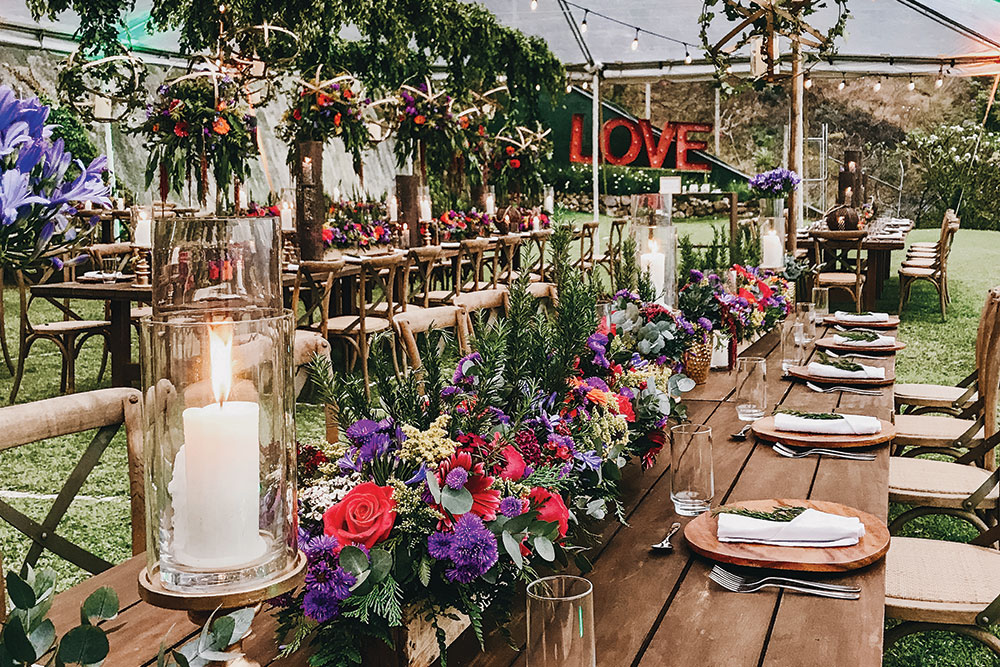 In a world far, far away, when "social" was a dance at the local hall, and beaus asked to "court," weddings were single-evening celebrations with family and neighborhood friends. Today, nuptials are often multi-day fêtes with guests that hail from here, there and everywhere. And that's why the concept of hosting a destination wedding is super popular — according to our surveys, nearly 45% of you are considering hosting your celebration away from home. So where does the planning begin? Right here: These top five tips can make your destination wedding happily ever after.
Make a List
Take two sheets of paper and give one to your fiancé. On it, each of you write three of your favorite destinations (Mexico, Italy, California wine country). Then note three of your favorite settings (beach, woods, farm). Also use three descriptors for your ideal gathering, be it vibe (vintage, laid-back) or décor inspo (bright colors, natural elements). Compare your lists. Use the overlapping concepts to start investigating destinations.
Visit the Venue
While a week-long jaunt to a far-flung spot may not be in the budget, it's a good investment to get an up-close and personal look at your sites of choice. You'll be able to test the waters — assess various event spaces, taste the food, etc. Many resort groups either gift or discount a scouting room rate based on a wedding booking, so be sure to ask before visiting and signing the contract.
Remember Your Guests
No matter what locale, vibe and first dance song you choose, your wedding will be a memorable event. What you don't want is for it to be memorable for the wrong reasons. Think about the cost burden on your loved ones — airfare, accommodations, resort fees, activities charges, etc. — and select your destination accordingly. You'll also need to consider hosting multiple meals and a few only-in-this-spot excursions, so make a budget for these as well. Also remember guests are traveling to celebrate with you; carve time out of your weekend to visit with everyone. This doesn't mean you need to have individual appointments, it is more about keeping them in mind when planning outings (sunset sail, wine tour) and events (the hair and makeup prep sesh is the perfect time to toast with your girlfriends).
Go Local
It's a good idea to hire a local wedding planner. (Many resorts and hotels have dedicated romance team members who serve in that role.) She can help with all the details from  owers and any necessary transportation to suggesting the perfect wel- come-bag contents and interpreting regional cultural norms. A planner will also streamline the hiring of vendors, and execu- tion of specialized decor needs. Most importantly, having trusted boots on the ground means way less stress for you.
Carry On
Repeat after me: "I will not check my wedding attire. I will not check my wedding attire." Unless you are flying private, do not give in to the urge to be hand-luggage free on the flight to your event. Ask the gate agent if you can pre-board. Once on the plane, seek the assistance of a friendly flight attendant. She can store your gown and suit in a first-class closet or in an overhead bin so it doesn't get smashed or wrinkled. 
Legally Wed
Getting hitched abroad legally can be a hassle thanks to paperwork, blood tests and waiting periods. While most resorts help with the process, consider getting married legally at home, then having a ceremonial service with friends and family.