From swapping vows under the sea to getting hitched on a roller coaster, these wedding packages are upping the unique factor in ceremonies.
New York, New York in Las Vegas
Sure, there are still quickie weddings in Las Vegas, but these days, ceremonies here are totally bespoke. And you can really have your heart soar as you take the plunge! At the classic Vegas hotel New York, New York, couples can marry on the property's epic roller coaster. Pick your pleasure — get hitched on the loading platform before sealing it with a kiss on the coaster or swap vows in the front seat with your guests/passengers looking on. Either way, you'll swoop, swirl and, yes, take the plunge high above Las Vegas's infamous Strip (the Take the Plunge package starts at $600; newyorknewyork.com).

Photo courtesy of MGM Resorts International
Phulay Bay, A Ritz-Carlton Reserve
The Underwater Romance experience at this sumptuous property on the Thai coastal spot of Krabi is seriously splashy. Aboard a speedboat, couples and their guests are whisked among the towering limestone islands and picturesque rock formations of the Adman Sea. Then it's time to dive in — literally. Wearing scuba gear, you'll swap vows under the water amid colorful sea life that teems around the sea's endless coral formations. Then a school of energetic clownfish is released in a symbol of new beginnings. Photo sessions, champagne toasts and celebratory meals happen aboard the boat before setting sail to island hop around the translucent sea (the Underwater Romance package starts at about $12,000; ritzcarlton.com).

Photo courtesy of Phulay Bay, A Ritz-Carlton Reserve
Stoweflake Mountain Resort & Spa
Even in the most Americana-esque places, brides and grooms can customize ceremonies with some unexpected and high-flying experiences. At Stoweflake Mountain Resort & Spa, an intimate, family-run property in Vermont, couples can soar above the green mountains in a hot air balloon during or post wedding ceremony. If you'd like to get your guests in on the fun ask about the balloon tethers. Set up during cocktail hour, the balloon is roped to the ground, which allows folks to climb in, float up about 80 feet and then return to the earth to enjoy the reception (post-ceremony balloon rides start at $750. Reception balloon tethers start at $1,500; stoweflake.com).

Photo courtesy of Stoweflake Mountain Resort & Spa
andBeyond Ngorongoro Crater Lodge
Tanzania's Ngorongoro Crater is the world's largest caldera (a cauldron-like crater formed by a collapsed volcanic eruption). Its ultra-rich soil makes it an A-plus grazing (or hunting) area for the planet's most exotic animals including hyena, lions, leopards, hard-to-spot black rhinos and endless flocks of flamingos. And that's what makes this national park one of the natural wonders of the world. Located on the rim of the crater with endless views of its awesome expanse sits the ultra-luxe andBeyond Ngorongoro Crater Lodge, offering a variety of wedding packages that take full advantage of the jaw-dropping natural landscape. Some include endless displays of rose petals and the assistance of local Maasai warriors. Receptions can be held either at the lodge or alfresco on the crater floor (wedding packages start at $600; andbeyond.com).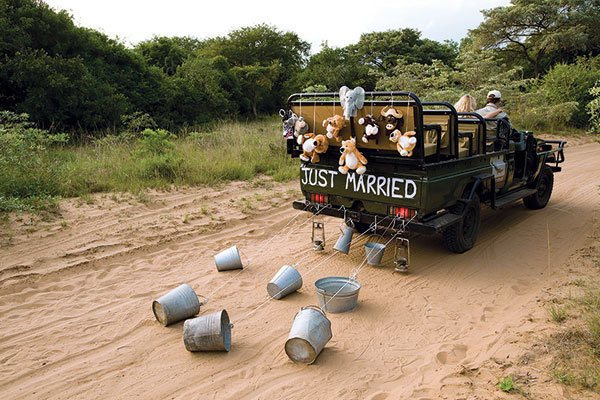 Photo courtesy of andBeyond