In every issue, we scout a spot that's perfect for tying the knot away from home.
By: Jennie Nunn
Consider the concept of a private island resort: Inherently romantic, it conjures feelings of being gloriously swept away and blissfully secluded. There's also the posh factor — since you're among very few guests. Now you can sail away to such fantasylands and bring all your closest friends and family, since many private island resorts offer wedding packages. From Maine to Fiji, we've scouted the best island backdrops for your big day. Are you ready to be the happiest castaways?
Royal Davui Island Resort, Fiji
A private hideaway since the 1800s, the 10-acre Ugaga Island was given to a tribal leader in exchange for defending the nearby Naceva Village. Today the reef-ringed island is a postcard-perfect example of a true Fijian escape. The sugar sands are home to only 16 thatched-roof villas, which are all built in the traditional manner. Each has a sumptuous four-poster bed, private deck and sweeping views of the Beqa Lagoon.

Photo courtesy of Royal Davui
The boutique property's open-air lobby and Banyan Restaurant are ideal for welcome drinks and pre-ceremony cocktails. There's a lookout point fit for small ceremonies aptly named Love Shack and, of course, there are innumerable spots to swap vows in the sand. While you escape for a special bride-and-groom-only picnic on a secluded private cay, your guests can enjoy the spoils of being on a far-flung tropical island, paddle boarding and snorkeling and enjoying a luxe spa. Decorated with Fijian artifacts and local artwork, the breezy spa features Pure Fiji organic products and indigenous ingredients such as banana leaves.

Photo courtesy of Royal Davui
Adventurous guests will want to go off-property for white-water river rafting on the Upper Navua River (wedding packages start at $3,115 and include a Fijian choir, a Fijian lei, a Fijian warrior guide and escort, registration and documentation fees, a champagne toast and a couples massage; royaldavui.com).
Scrub Island Resort, Spa & Marina, British Virgin Islands
Situated east of Tortola in the sparkling Caribbean Sea, Scrub Island Resort, Spa & Marina is a veritable playground for wedding parties. The sprawling 230-acre island features 52 plantation-style suites with mahogany-and-rattan furnishings and oversize bathrooms, as well as seven butler-serviced, multi-bedroom villas.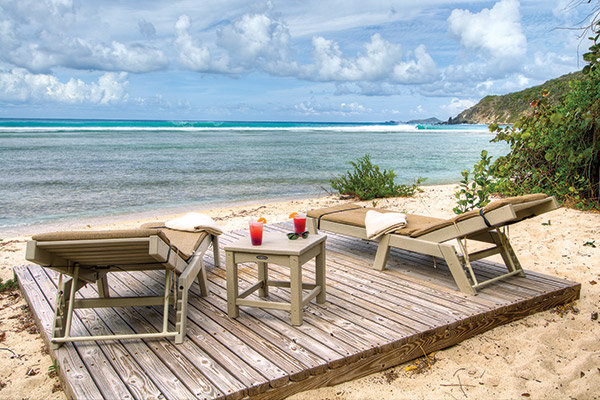 Photo courtesy of Scrub Island Resort, Spa & Marina
The resort's exclusive 55-slip marina is also home to a sailing school where guests can learn to hoist, tack and come about in the picturesque waters. Daytime activities include scuba and snorkeling, island-hopping trips and swimming with dolphins. But the biggest draw is the beach — there are three, including Honeymoon Beach, which is reachable only by kayak. 

Photo courtesy of Scrub Island Resort, Spa & Marina
Weddings here can be held in a variety of locations across the tropical expanse; the resort arranges guest transportation. Host a no-shoes-required rehearsal dinner featuring Caribbean rum cocktails and a live steel-drum band (wedding packages start at $150 per guest and include buffet dinner, two-hour open bar, coffee service and champagne toast; scrubisland.com).
Inn at Cuckolds Lighthouse, Maine
Lighthouses are a marquee of Maine, AKA "Vacationland" and the state that boasts the longest coastline in the U.S. The rocky expanse is dotted with offshore islands, many of which are private family residences. This inn, located at the entrance to the channel of Booth Bay Harbor, was once a station house and working lighthouse that dates to 1892. In recent years, the interior has been exquisitely restored and appointed. Guests have exclusive access to the inn and entire island beyond, including the cozy parlor room, kitchen with fireplace and outdoor lawn area.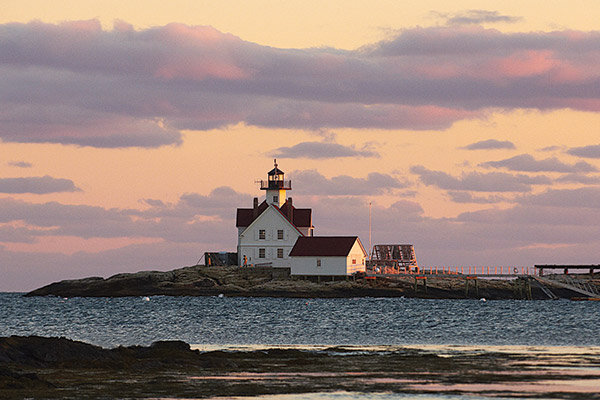 Photo Credit: Bob Mitchell
Innkeepers and proud Mainers Dan and Barbara Aube can assist with all your wedding needs, including help with setup and catering and shuttling guests to and from the island via boat. Host a sunset ceremony and savor the 360 views before digging into a down-home, traditional Maine lobster bake dinner and dancing under the stars (wedding packages start at $6,000 and include site and service fees, private launch transfers and overnight lighthouse accommodations for the couple; innatcuckoldslighthouse.com).
Legally Wedded: All three locations require marriage licenses. Couples must present legal ID and proof of marital status in each location. They must apply in person in Maine and the fee for the license is $15 per person. There is no waiting period. Fiji requires passports and proof of residence in addition to furnishing two witnesses, completing an application request and providing fees that total about $117. The British Virgin Islands has a waiting period of a single day and couples must apply in person with two witnesses, as well as furnish proof of residence and a fee of about $220.