Thinking about a wedding in a far-off locale? Here's everything you need to know.
By: Denise Schipani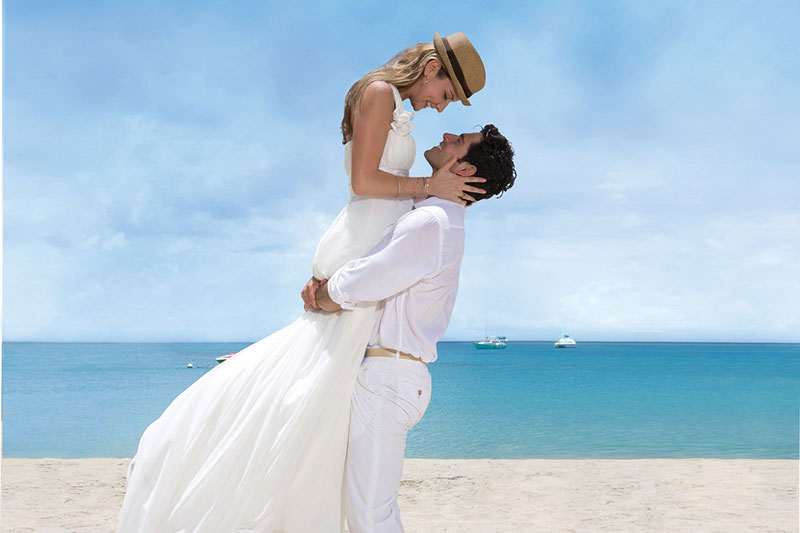 Why Have a Destination Wedding?
Well, we're tempted to say, "why not?" Planning a wedding away from home is attractive to different couples for different reasons. Here are just a few: 
1. You've always imagined your nuptials in a certain vacation spot. Maybe you spent an idyllic vacation earlier in your relationship at a gorgeous Caribbean resort or a laid-back Key West hotel. Or maybe one of you spent summer holidays at a quaint New England inn or a rustic Montana ranch. If it's easy to graft a picture of yourselves in wedding duds onto those wonderful holiday memories, a destination wedding may be just the ticket for you.
2. Your families and friends are from here, there and everywhere. Many a couple with far-flung families have thrown up their hands in despair at trying to find a spot that suits everyone. Soon it occurs to them: If everyone's going to have to travel anyway...Voilà, destination wedding.
3. You're not into traditional hotel/ reception hall weddings. You've been there, done that (you know who you are—you've attended a wedding approximately 40 out of the last 52 weekends). All of these kinds of options are leaving you cold. But someplace warm? Ah, now that's a different story.
4. You want to make the planning easier (yes, easier). It's true that any wedding—whether at home or away— can morph into a logistical nightmare. But because many resorts and hotels have on-site wedding coordinators that do all the legwork for you, a destination wedding can be less stressful to plan.
5. You want to streamline costs (or even, in some cases, save money). No one can definitively say that a destination wedding costs less than an at-home reception. But no one can say it costs more, either. However, it often turns out to be easier to keep costs in check in a faraway locale. Two reasons: One, you're likely to have a smaller guest list (the biggest way to save $$ on your wedding is to keep the list lean); and two, your choices are less copious than they might be at home. When you're planning from afar, it all seems exotic and wonderful, so you're more likely to be happy with the simple clutch of local flowers the hotel provides, whereas at home you'd be visiting a half-dozen florists and being tempted by a more lavish (and pricey) bouquet.
Ah, it all sounds soooo delightfully dreamy. But a destination wedding still needs to be planned, in the everyday practical sense, same as any wedding. Here, three points you simply must consider: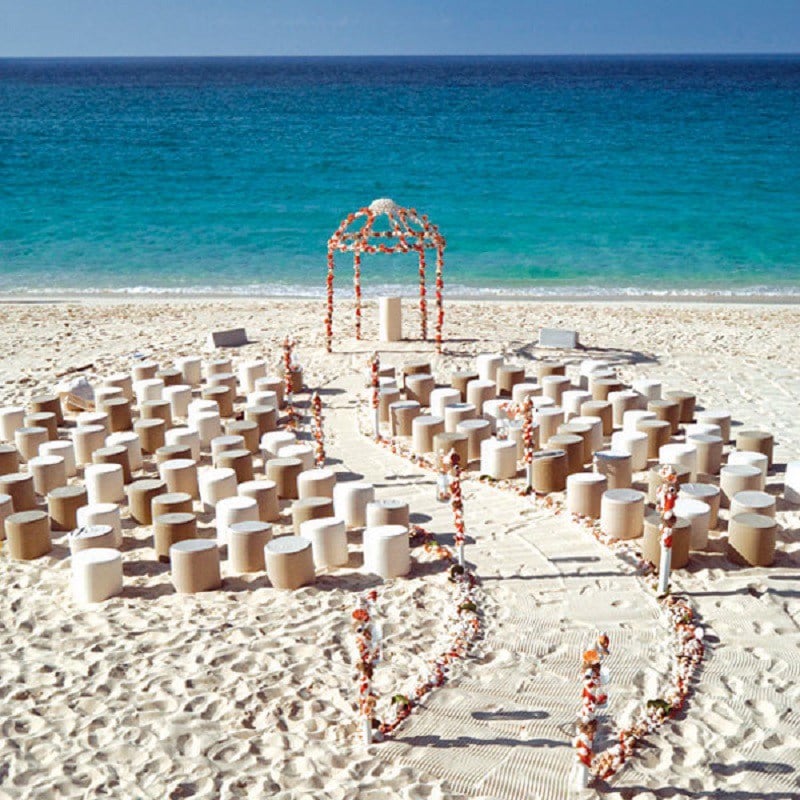 Photo Credit: Colin Miller
1. Start early. You may think you have plenty of time, but when you start investigating your first choice locale, you may learn it's a lot pricier than you thought, or getting there is too complicated for you and your guests. And speaking of guests, they need lots of time, too. While six to eight weeks ahead is fine for sending invites to a traditional wedding, you'll need to give four months' notice—minimum—to guests invited to a wedding away.
2. Stick to your budget. While it's true that it's easier to keep costs in check with destination weddings (it's that all inclusive thing), it's still wise to keep an upper limit firmly in mind. That way, if you happen to start tooling around online and see the ever so slightly ritzier resort just a few steps down the beach from the first place you loved, you'll be far less inclined to spend more.
3. Be communicative. Send out save-the-date cards as soon as you know when and where you'll be wed. It's always a good idea to set up a wedding website to keep guests apprised of details. Let them know if you've set aside blocks of hotel rooms and how to book them, what to pack, what the itinerary of the event will be and so on. (Caveat: Keeping guests up to date is not the same thing as boring everyone to tears with details about the search for the perfect strappy sandal. Only give them the info they need.)
You are set to have the time of your life. But your guests? Let's face it: If you hadn't invited them to your wedding, they may not have chosen to visit this particular spot. So be sure to include warm and welcoming touches (and plenty of fun aside from the wedding) to keep guests happy.
This is simple to do and well received by travel-weary guests. Offer things like a map and a list of local attractions, an itinerary for wedding-related activities, bottles of water and snacks for the room. And toss in fun stuff—flip-flops for your beach wedding, a waterproof one-time-use camera, a spa gift certificate if you can swing the cost.
2. Investigate activity options to please a wide range of ages and proclivities. If your locale is great for hiking, kayaking or windsurfing, schedule a group activity for the day before or after the wedding. For those who may not want to take part, arrange a sightseeing tour.
3. Figure out if anyone will need special help, and take care of it. Does your grandmother need a wheelchair or your sister a crib for her baby? Arrange these things with the hotel in advance. If there will be children, check with the resort about babysitting services.
4. Make reserving a no-brainer, and pay for whatever your budget allows (such as breakfasts or a group activity). Generally accepted etiquette says that guests, including the bridal party, pay for lodgings, but do fi nd out if your hotel offers a discount for groups (many do). Arrange a welcome cocktail party or light supper, as well as breakfast or brunch the day after the wedding.
Photo Credit: Courtesy of Maptotes
Inevitably, there will be a group of people at home—work friends, parents' friends, relatives who couldn't manage the trip—who missed out on the fun. If you can, plan a followup reception for when you arrive home—and make it as formal or casual as you like. You might hold a sit-down dinner at a favorite local restaurant or serve cocktails and hors d'oeuvres in your backyard. Be sure to have your wedding video and photos on hand; some couples create digital slide shows of their wedding pictures so guests can truly savor the place and the event. They'll feel as if they were right there with you, and you'll get to experience your wonderful day all over again.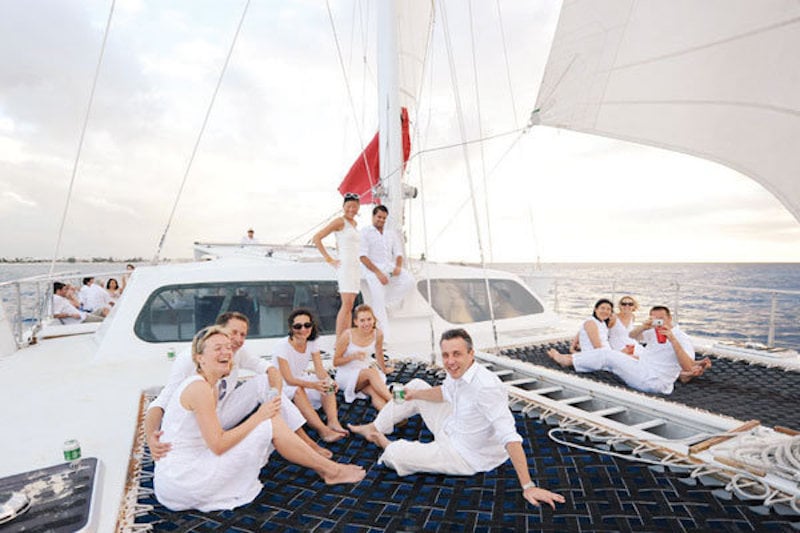 Photo Credit: David Wolfe Photography
Where to Go...and How to Book
If you already know the resort where you want to wed, then you're ahead of the game. Simply call them or visit their website and find out if they have a wedding coordinator and what you need to do next. If you're less sure (or know the overall location—Mexico, Jamaica, Hawaii, the Caribbean—but not the specifi c spot), work with a travel agent, or check out these one-stop-shopping destination wedding sites. These are free for you:
The Wedding Experience: This site specializes in cruises (though you can book trips that visit a wide variety of destinations).
Destination Weddings: The site lists a large number of destinations around the world and offers the practical advice you'll need.
Island Brides: This one focuses exclusively on Caribbean beach weddings.